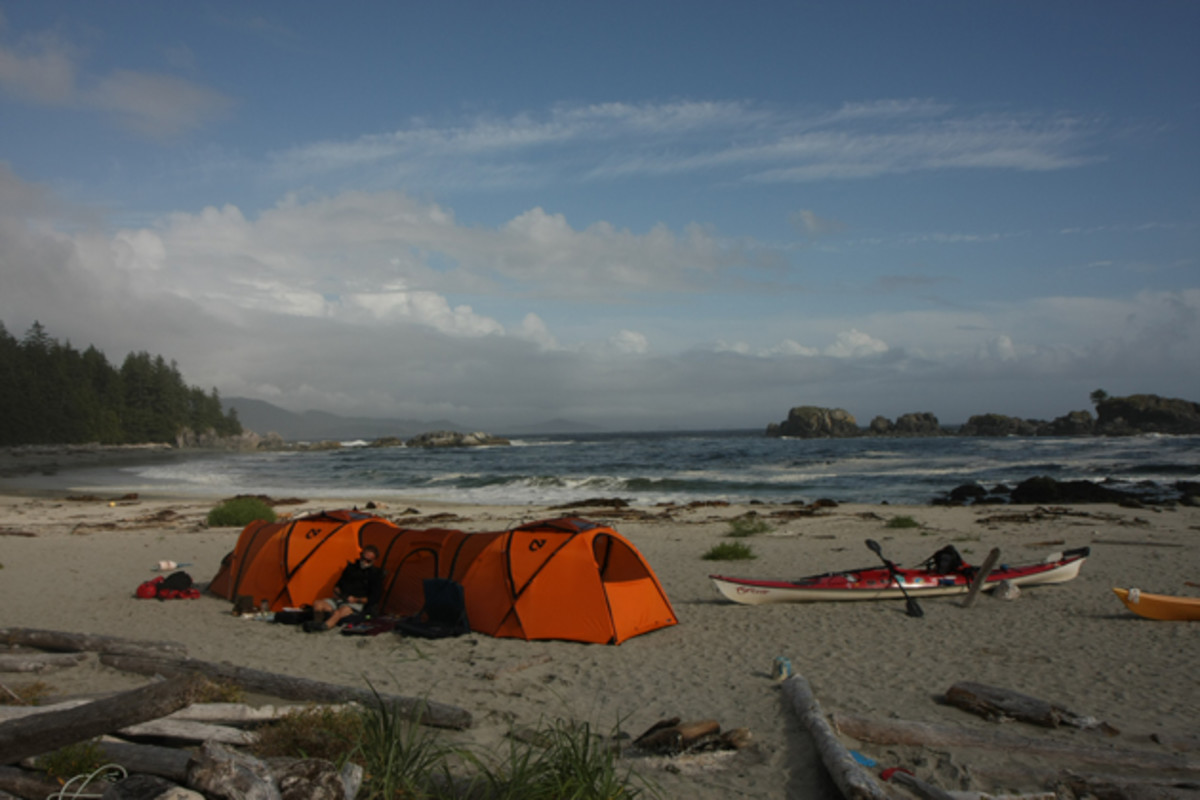 By Rob Lyon
When I made the pilgrimage to Aspen from SoCal in the late 60's and found myself in the heart of the Rockies, the first thing I did was buy a tent; then I set out to explore the surrounding peaks and valleys that beckoned me. Years later, when I moved to the Pacific Northwest and discovered sea kayaking in the coastal wilderness, I was equally blessed. Edgy like the mountains, wild and remote, but dangerous if you weren't careful. I found the shelter situation a little different there too. High-end mountaineering tents were de ri·gueur to withstand torrential rains and hurricane force winds that visited the north coast on occasion, but most of us carried roomier models to accommodate a slew of dry bags and to provide a more comfortable lifestyle when we were weathered in.
Coastal sea kayaking is as much about the beaches where we go ashore to spend the night as the water we paddle over. Northwest marine weather is fickle and prone to surprises gales and storms, particularly in fringe seasons. Even in mid-summer the chance of a steady downpour is a good bet. While some of us simply put on the rain gear and carry on with business as usual, or throw up a tarp to hunker under, others relish the downtime, relaxing in a trusted sanctuary while leaden skies piss and moan. Regardless of whether you've packed along a portable manse or a nylon tarp, when the rains hit the fan you'll crawl inside or under whatever you've brought along and pray your long anticipated kayak trip doesn't go from ecstasy to misery in short order thanks to a poorly chosen kayak tent.
One word of warning. Tent designers, driven by a market economy, like to bring a new face to the market place each year. Caveat Emptor is a good rule of thumb to bring along when you shop. Not all that's new is good or better than what came before. Excellent warranties exist from all manufacturer's listed here.

The Big Question: Tent, Tarp, Bivy or Hammock?
 CLICK A SHELTER BELOW TO READ REVIEW
Big Agnes
Royal Flush
Hennessy
Hammock
Hilleberg
Staika
SansBug
3-Person
Kelty
Gunnison
Kelty
Noahs Tarp
Mountain Hardwear
Trango
Nemo
Moki
Nemo
Gogo
Nemo
Pentalite
North Face
VE25
Sierra Designs
Meteor
The article was originally published on Canoe & Kayak
For access to exclusive gear videos, celebrity interviews, and more, subscribe on YouTube!