Creativity and skateboarding go hand-in-hand. For a few decades the majority of that creativity has happened on man-made things, with a lot of it going down in the streets of cities.
But in recent years, skaters have been awakened to natural spots and utilizing nature within their skateboarding. This has created an even bigger sense of freedom and possibilities within the skate world.
RELATED: Norwegian skaters prove you can skate on frozen sand and water
Full parts are being dropped these days utilizing nothing but nature. So we put together 12 times that skateboarders creatively utilized nature for some of the best skating you'll see in the great outdoors.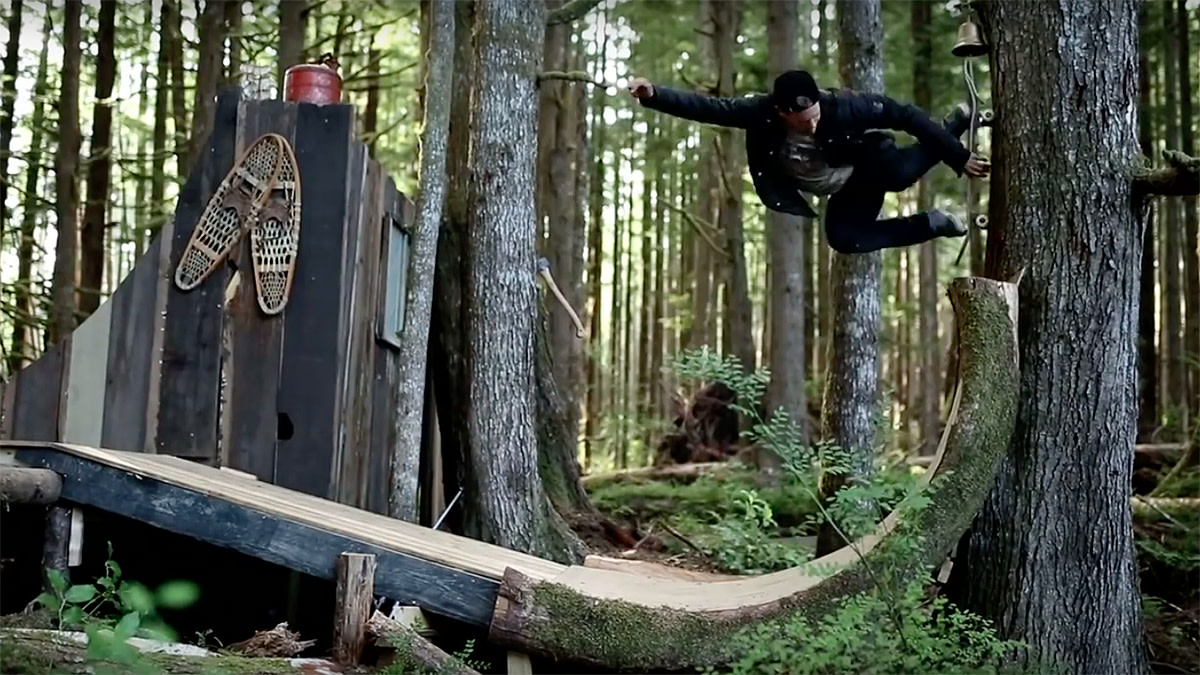 1. Bob Burnquist Lake Tahoe Floating Ramp
https://www.youtube.com/watch?v=FmHDfTBXEE0
Arguably the most gorgeous floating mini ramp ever constructed, Bob Burnquist put this dream ramp together in Lake Tahoe for a California tourism campaign. What better way to promote travel to California than with Burnquist skating in the middle of Lake Tahoe?
2. "Mouse" Forest Scene
Rick Howard's skit from the 1996 Girl Skateboards film "Mouse" by Spike Jonze was an early adopter to the nature concept in skateboarding. It showed that skaters don't have to confide to the norms that are being pushed to them and set a precedent for every single instance within this article.
3. Frozen Beach Skating In Norway
"Northbound" recently changed perceptions about what surfaces are possible to skate on. Frozen beaches, while cold, can also offer up some incredibly fun sessions.
4. "From The Borders"
The crew from The Worble is consistently skating amongst nature in Vermont, proving that rural areas have just as much for skaters to advantage of as cities do.
5. Bob Burnquist in the desert
Burnquist makes this list again, this time for just using what nature has provided with these natural desert rock formations that mimic a skate park.
6. Dirt jumps
Pro skater David Gravette is no stranger to offroad skateboarding, and here he and his crew tackle some BMX dirt jumps on skateboards like they were meant to do it.
7. Natural Rock Skate Park
Another natural rock formation resembling a skate park, this one lies deep in the Sierra Mountains and well worth the hike.
RELATED: Skateboard legend Jamie Thomas skates the secret Jamie Collins forest ramp
8. "True To This" Floating Ramp
The highlight of Volcom's "True To This" skate video, this floating mini ramp scene being taken on by Grant Taylor and David Gonzalez is one of the most memorable skate sections in the last few years.
9. Jamie Thomas Finds Secret Forest Ramp
Jamie Thomas did some digging to find the secret woods ramp that Jamie Collins built years ago.
10. Hemp Field Ramp
Afends wanted to make a statement back in 2015, so they took off for an Australian hemp field and put together a mini ramp. Skating in the middle of a hemp field certainly makes for a witty title.
11. Finland's Tree Ramp
Who builds a floating ramp that they can use in trees or in the water? Roope Tonteri did in Finland and he's got one of the best-looking setups we've ever seen.
12. "Into The Thicket"
Deep in the forests of Vancouver Island, Sitka took skaters Chris Haslam, Todd Myers and Mat Howell to build and skate one of the coolest builds we've seen.
For access to exclusive gear videos, celebrity interviews, and more, subscribe on YouTube!