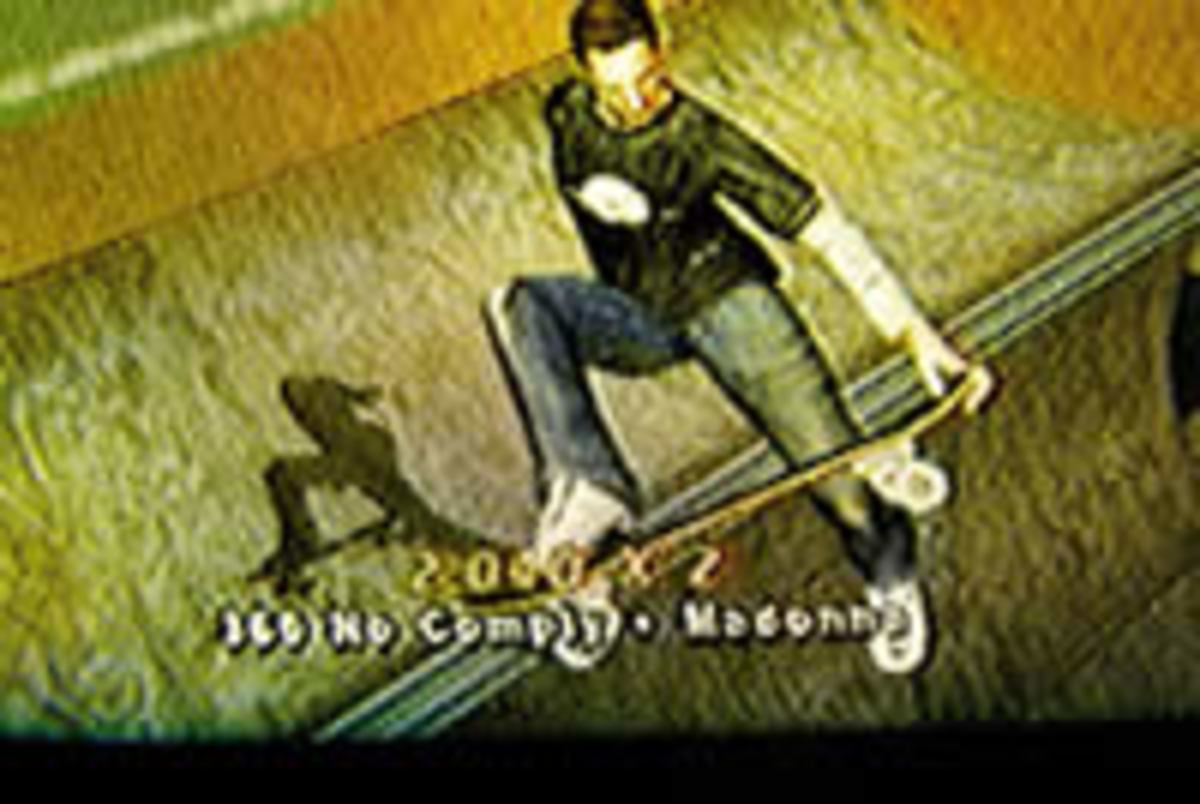 1. Tony Hawk negotiated with two other game developers before signing on to Activision, one of which made the Thrasher game. When Activision approached him with a rough draft for THPS, Tony saw that they were on the right track. Tony signed on under the condition that he would be heavily involved in its creation. The game was released just over a year later.
2. About a year before striking a deal with Activision, Tony had two meetings with Midway, the makers of 720, the original skate arcade game of the '80s. He unsuccessfully tried to convince the president of the company that a skate game was a good idea. Tony was sent on his way after being told, "There isn't an audience for a skateboarding game."
3. 411 issue #36 showed footage of Tony skating in a spandex body stocking with Ping-Pong balls connected to all the pertinent areas. This was a motion-capture suit, designed to assist in "mapping" his movements in order to create a digital rendition of his skating. Despite suffering through the humiliation of skating in an outfit reminiscent of something worn by an Ice Capades performer, it was all for naught. The process turned out to be too time consuming.
4. After ditching the motion-capture suit, the programmers referred to pre-existing video footage to animate the game-allowing them to give each featured skater his or her own style.
5. Although recent sales figures are not available for THPS 4, the last tally for the three previous games came in at more than 15 million sold. Activision's early forecasts for sales were only at a few hundred thousand copies.
6. When asked how board sales compared to game sales, Tony said, "They don't. I couldn't have bought my house without THPS royalties."
7. Tony landed his first 900 at the '99 X Games, one month prior to the launch of THPS, causing sales to shoot through the roof.
8. When the THPS was released in Europe and Australia, Activision called it "Tony Hawk's Skateboarding," due to the fact that the word "skater" could have mislead youngsters into thinking the game was made for ice skaters.
9. When Tony plays the game, he admits he plays his own character, but only because he's "Familiar with all of the button combos for the moves." Apparently, his kids aren't as familiar with their dad's button combos. While Riley chooses the Geoff Rowley and Andrew Reynolds characters, the younger Spencer has taken to creating his own characters, with colorful hats and shoes.
10. During the development of THPS 3 in '01, part of the game included terrorists taking over the airport and stirring up all kinds of trouble for Tony and company. After September 11, programmers wisely took the too-close-to-home terror scenario out of the final cut.
For access to exclusive gear videos, celebrity interviews, and more, subscribe on YouTube!