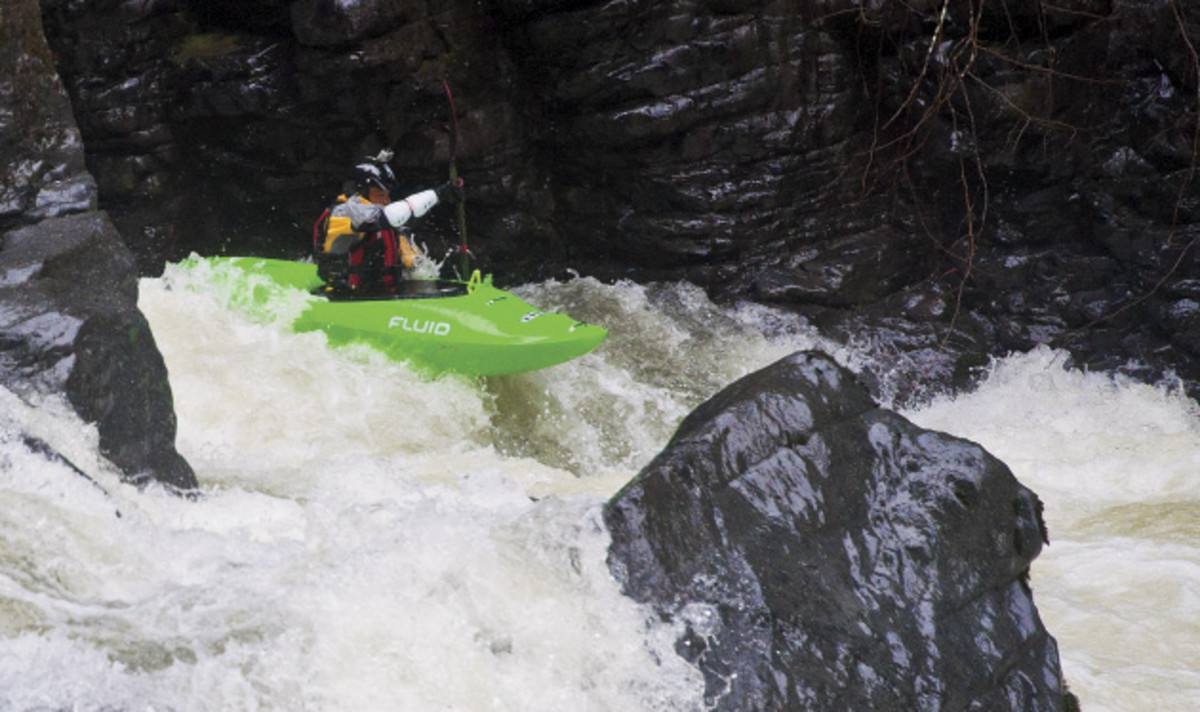 FLUID BAZOOKA
($1,099, in roto-molded polyethylene, fluidkayaks.com)
S / M / L — L: 7'6" / 8' / 8'6"; W: 25.5" / 26.75" / 27.5"; 75 / 87 / 100 gals.; 43 / 45 / 47 lbs.

As the name would suggest, the new Fluid Bazooka is meant to bomb the big stuff. And it's got the performance capabilities to do it. Steve Fisher just signed on as a Fluid paddler to start using it. "Like any planing-hulled boat with rails, you've got to know how to use its edges to make it perform," our testers agreed. "But it rips." Like the Shiva, The Bazooka was one of the more sporty boats in our test. "Not entirely unlike the Burn," one tester observed. "But with more volume and slightly less edge." It's got unending primary stability, is easy to carve, and easy to control while resurfacing. "This boat goes through stuff well," every one of our testers said, "and it resurfaces with the most control out of any of the boats in this group." Just make sure you get the right size. This bomb-dropper has a high deck (think Jackson Super Hero) with lots of internal volume that would make for an apt and comfortable overnight machine. Our 175-pound tester felt too small for the Large, but also discovered how exceedingly easy it was to roll on his first run down the rock-choked Canyon Creek of the Stilly. "Thankfully, this boat's pretty forgiving and wants to be upright," he later said.
CLICK A BOAT BELOW TO READ REVIEW
Liquidlogic
Stomper
Pyranha
Shiva
Dagger
2012 Mamba Creeker
Fluid
Bazooka
The article was originally published on Canoe & Kayak
For access to exclusive gear videos, celebrity interviews, and more, subscribe on YouTube!