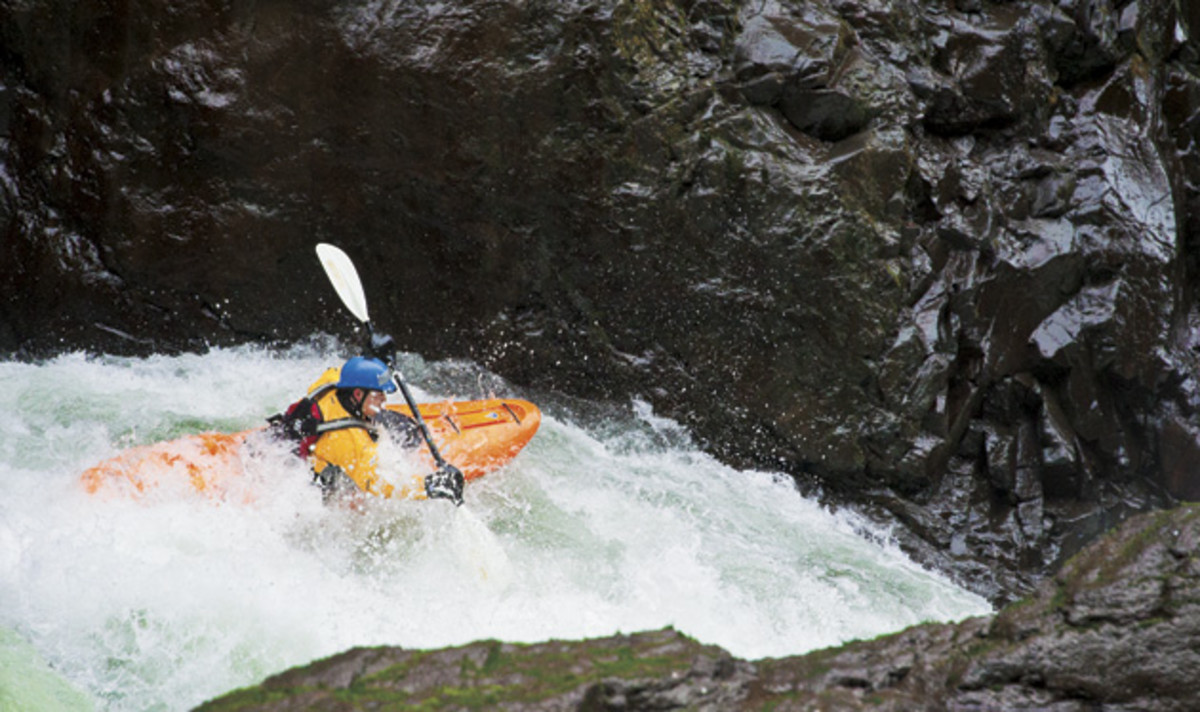 LIQUIDLOGIC STOMPER
($1,099 in roto-molded polyethylene, liquidlogickayaks.com)
S / L — L: 8'2" / 8'5"; W: 26" / 27"; 80 / 90 gals.; 46 / 49 lbs.

Although the new Liquidlogic Stomper bears a strong resemblance to company's displacement-hulled classic, the Jefe, this is definitely not the same boat. Depending on your hull-style preference, it may even be better. Designer Shane Benedict kept the Jefe's length, volume, and deck design, but added a semi-planing, continuously-rockered hull with a rounded edge. It looks almost exactly like the Jefe above waterline, but it's a much more predictable and easy-to-paddle creeker beneath the surface. "And it pretty much auto-boofs you on everything," our testers agreed. The Stomper holds a line easily, resurfaces "under complete control" (said after plugging 17-foot Kahuna Falls on Canyon Creek Lewis), and rides up and over waves and holes, rather than through them. "Primary stability is bomber," one tester observed. "But secondary is a little more fluid on account of the rounded edges." Liquidlogic also added some innovative tweaks to its outfitting, like a stow in the bow and a pivoting back-band, which make packing overnight gear much easier. There's not as much foot room as you might expect (size 11 is a squeeze in the 80), and our testers agreed that more aggressive thigh hooks would improve the outfitting, but in the end, it was the ride of choice for the Californians in our test crew, who were coming off the couch after an extended dry season.
CLICK A BOAT BELOW TO READ REVIEW
Liquidlogic
Stomper
Pyranha
Shiva
Dagger
2012 Mamba Creeker
Fluid
Bazooka
The article was originally published on Canoe & Kayak
For access to exclusive gear videos, celebrity interviews, and more, subscribe on YouTube!