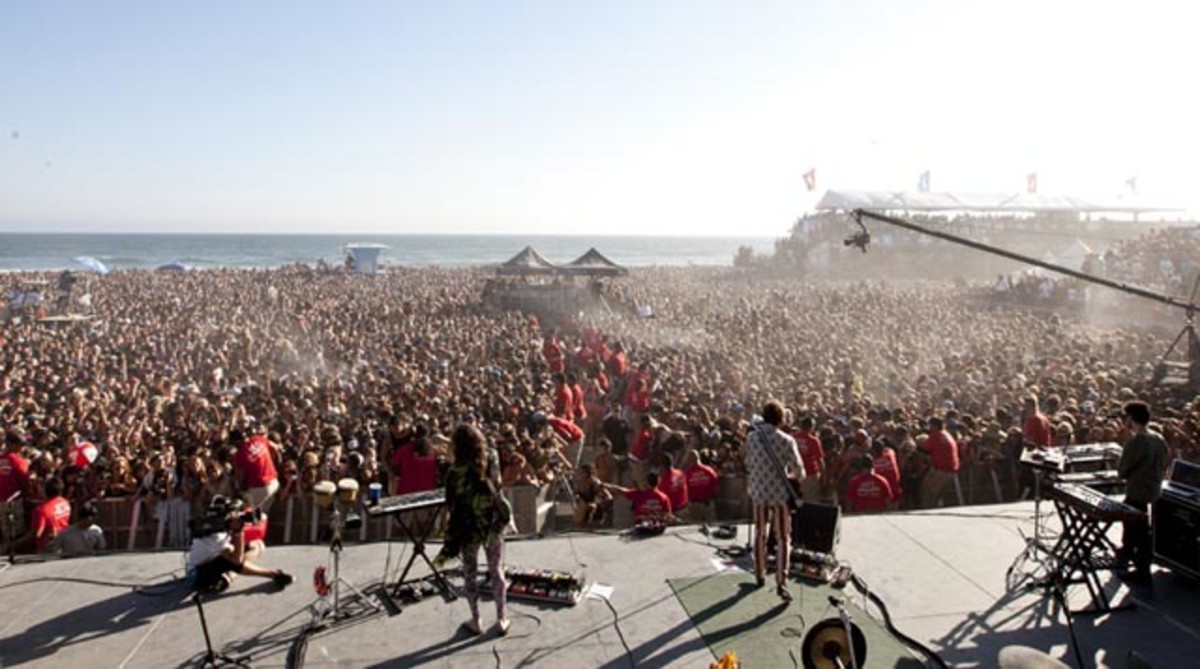 2012 Nike US Open Of Surfing Readies The Beach For Three Packed Nights Of Music
TV On The Radio, Grouplove, Best Coast, Toro Y Moi, White Arrows, Hindu Pirates And Walk The Moon All Join The Line Up For The Biggest And Best Free Concert Of The Summer
Huntington Beach, CA – The 2012 Nike US Open of Surfing will spill over from the ocean to the sand when bands like TV on the Radio, Grouplove and Best Coast take over the Music Stage with three nights of music in front of hundreds of thousands of fans with each night being presented by a different brand: Nike, Hurley, and Converse respectively. The music stage has become one of the most anticipated programs during the Open and has grown to be the largest free concert series of the summer.
"Every year the crowd looks forward to our music series," says James Leitz, Senior Vice President of IMG. "And every year Nike, Hurley and Converse bring the best bands to the beach during the US Open of Surfing. Music, sport, beach. What more can fans ask for?"
This year's musical line-up melds the laid back surf-vibe of rockers Best Coast with the post-punk electronic rock sound of TV on the Radio and the alternative stylings of Grouplove. The series will also include sets by emerging artists White Arrows and Hindu Pirates.
"For years my brother and I have been going to the US Open to watch the competition, so to perform and hang with the best surfers in the world is such an honor for me," said Grouplove's Andrew Wessen.
Known as the world's largest youth culture and action sports festival, the Nike US Open of Surfing will feature daily concerts Wednesday through Friday, August 1-3, at the conclusion of the surfing competition. All concerts are free and open to the public.
About Nike
Engineered for world-class athletes, Nike Action unites the performance innovation of Nike with a deep commitment to the history, creativity, and raw athleticism of action sports. With a focus on Skateboarding, Snowboarding and Surfing, our footwear and apparel merge advanced materials and design with classic styling, driven by the voice of our athletes. Based at Nike headquarters in Beaverton, Oregon, Nike Action is dedicated to inspiring and supporting the world of action sports. For more information, visit www.nikeinc.com.
About Hurley
"Hurley is a company based on inclusion," says chairman and founder Bob Hurley. This philosophy applied to Bob Hurley's early years as a Huntington Beach shaper, working with friends alongside the world's best athletes to make a better surfboard. It applied to the company's launch in 1999, when Hurley decided to start a brand that was a true microphone for youth. In 2002, Hurley was acquired by Nike the largest and most influential sporting brand in the world. Inclusion remains a guiding principle of the company today, where innovative products like Phantom Boardshorts and game-changing events like the US Open of Surfing continue to redefine what is possible in our world. Hurley headquarters are in Costa Mesa, CA with international offices in Sydney, Tokyo, Barcelona and Bali. www.hurley.com.
About Converse
Converse Inc., based in N. Andover, Massachusetts, is a wholly owned subsidiary of NIKE, Inc. Established in 1908, the Converse brand has built a reputation as "America's Original Sports Company"™ and has been associated with a rich heritage of legendary shoes such as the Chuck Taylor® All Star® shoe, the Jack Purcell® shoe and the One Star® shoe. Today, Converse offers a diverse portfolio including lifestyle men's, women's and children's footwear, apparel and accessories. Converse product is sold globally by retailers in over 160 countries and through 63 company-owned retail locations in the U.S. For more information, visit Media.Converse.com.
About IMG
IMG Worldwide is a global sports, entertainment and media business, with nearly 3,000 employees operating in 30 countries around the globe. IMG's areas of expertise are diverse and wide ranging: IMG College; IMG's Joint Ventures in China, Brazil and India and Turkey; IMG Media; IMG Events and Federations; IMG Fashion; IMG Models; IMG Art+Commerce; IMG Clients; IMG Academies; IMG Consulting and IMG Licensing. More information is available at www.imgworld.com. Follow us on Twitter and like us on Facebook.
For access to exclusive gear videos, celebrity interviews, and more, subscribe on YouTube!