By Conor Mihell
Last Thursday, July 21, Skip Ciccarelli set a new standard for the fastest through-paddle of the Northern Forest Canoe Trail. Ciccarelli, a high school shop teacher from central Massachusetts, completed the 740-mile route across parts of four northeastern states and one Canadian province in 25 days—besting the previous record by a full seven days.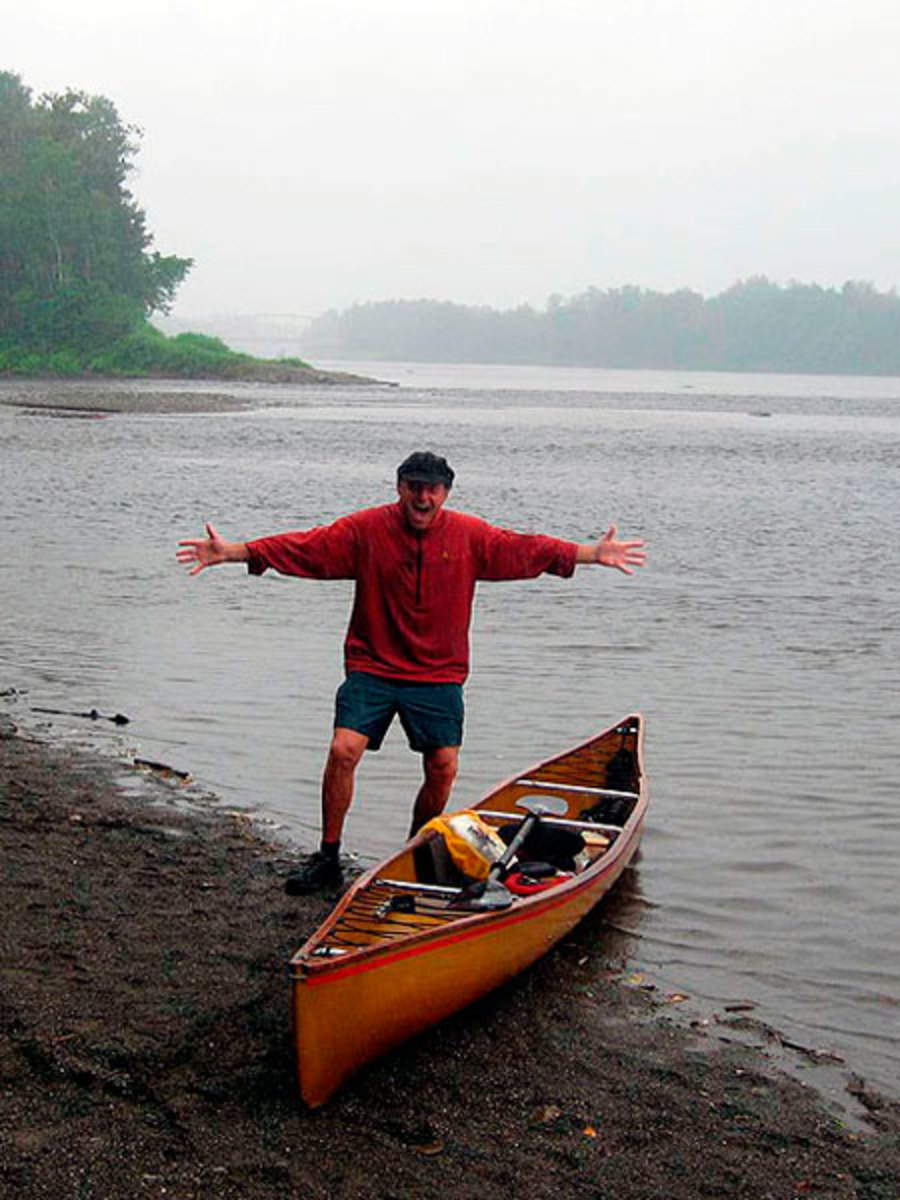 Ciccarelli may have shattered a few unofficial NFCT records as well: Longest portage (10 miles on a bike trail in Vermont when upstream work on the Missisquoi River became too tedious) and most pairs of portage cart wheels worn out on a trip (nearly three sets). Though the trip was challenging (including a whopping 75 miles of portaging), Ciccarelli says his fondest memories stem from the spectacular scenery, wildlife and friendly people he met along the way.
High point: "I came onto Lake Champlain after dealing with the Saranac River. I'm an open water paddler and am in my element on lakes. Champlain was just great and Mother Nature was favorable to me that day. I had a wind out of the south and I was surfing on the waves with the canoe. At one point my GPS said I hit 7.5 miles per hour… that was also one of my 40-mile days. But the thing that made it most memorable was that I paddling and I could see Jay Peak and Mount Washington. That made me think, 'Oh my gosh, I'm going to be on the other side of that peak next week.' It gave me this neat visual perspective on things—a real third dimension."
Low point: "Mud Pond Carry [1.8 miles] lived up to everything that anyone has ever said about it. I was in water and mud up to mid-thigh at different points. Luckily I hooked up with a father and son team beforehand and we endured it together because it's true that misery loves company. It was just crazy… doing this portage in the mud and the bugs."
"The other day that was tough was on the northern part of the Missisquoi. I was just getting tired of lining my boat upriver. At one point I just said I'm done with the river and I bushwhacked my boat up to a bike trail. I did 10 miles of portaging and it tired me out in a very different way."
The routine: "I didn't lose sight of the fact that I was on vacation. I slept in late a few mornings and I didn't get on the water until a little before 8 a.m. But usually I was on the water at 7 and stopped paddling by around 5:30. A couple of the longer days I paddled right out to 8 p.m."
The gear: "Remember I had that fantasy of 35 pounds of gear? Well, I'm guessing it had weigh at least 50 to 55 pounds and with the boat I'd say everything weighed 100 pounds. I went minimal with the clothes, ate freeze-dried food and stopped at restaurants along the way, but I don't know, I guess it all added up."
Nature and wildlife: "One of the things that intrigued me is that there are some old elm trees on Round Pond coming into the Allagash River. They survived Dutch elm disease because they're so far north. I stopped and got out to take some pictures and hug one of the trees."
"I saw eagles, moose, deer, great blue heron, river otters and loons. At one point the loons were so close that I could see the beads of water on their heads. Then on the Dead River I came around the corner and there was a doe lying down in a mud bank with a little tiny baby that was all spotted and about the size of a small terrier dog."
The weather: "I lucked out until the last day. At times it was raining so hard there was more rain coming in than I could bail out of the boat with a sponge as I was coming into Fort Kent, Maine. But actually, that last day on the St. John River was pretty nice. The river was really moving along because of all the rain. Once again it was like Mother Nature was smiling down on me."
The record: "Twenty-five days is a push. I'm not trying to pat myself on the back, but the effort that I put into it was significant and I would have a hard time imagining other people doing it again. I was fortunate—on the big lakes the wind was to my back and it really helped me. I can't imagine doing it in less, especially if the water levels were higher in the upstream sections."
The article was originally published on Canoe & Kayak
For access to exclusive gear videos, celebrity interviews, and more, subscribe on YouTube!