Cuba might seem like a world away from the United States, but in fact it's only 113 miles from Key West to Havana across the Straits of Florida. Thousands of Cubans have attempted this treacherous paddle in search of a better way of life in America since President John F. Kennedy placed embargoes upon the country of Cuba in 1962. Many have lost lives en route, or were simply captured by the Coast Guard and sent back to a land with little to no economic opportunities.
These very embargoes were eased by President Obama in 2016, creating a path to diplomacy between the two nations. But President Trump reinstated some of these sanctions in 2017, eroding the short progress that had been made.
Which brings us to three friends: Andy Cochrane, Luke Walker and Wyatt Roscoe. On May 29, 2017, the trio landed their kayaks on Stock Island in Key West 27 hours, 12 minutes and 30 seconds after leaving Havana. It is the first documented "unsupported" single kayak crossing from Havana to Key West.
And the crew undertook it to promote open borders. The goal of the project, dubbed Kayak Libre, is "to pay homage to the tragic history of the crossing, celebrate the current legal status, and advocate for continued open borders in the future."
ASN caught up with Cochrane, who is recuperating from blisters, callouses and chaffing, to see how Tropical Storm Alberto altered their plans, what it was like on the open water and what they hope comes of their efforts.
How did Tropical Storm Alberto change your plans for the excursion?
It was a little bit bigger than we thought (wind and waves wise). Overall though, we got somewhat lucky with how it all played out. It was supposed to hit in Havana on Thursday, but it didn't really hit until Friday. So essentially, we were dealing with it the entire time. It was cooling down and we knew the waves might lie down a little bit after the storm passed, but it just sat in the Gulf for a long time. It didn't push north, so it meant the wind started going north, which was super helpful for us.
How do you know Wyatt and Luke?
They grew up in Jackson and have known each other for a long time. I've paddled more with Wyatt when we both lived in the Bay together five or six years ago.
You guys attempted the paddle last year also, right?
We did pretty much the same thing last year, unsupported. I mean there's a support boat, but we don't interact with it at all. It's a contingency if things go south. We attempted and got hit by a big storm and some food poisoning last year. And pulled out less than halfway. Wyatt paddled the furthest last year, he got some 40 miles in.
So you learned some lessons from last year then?
Nutrition, pacing and a whole litany of things. Overall, we gave ourselves a lot better chance. And we had to follow a game plan but also adjust it along the way. The single biggest variable was weather. At any given time, it's going to be a lot different how you handle that and adjust for it.
We had a pretty developed nutrition plan – we had a coach who was helping us. She's an elite distance runner, 100-miler and ex-Olympian, and very talented runner. So she coached us in how to handle 25 hours of straight activity. The plan of how to eat and when to eat. It could be as short as every half hour or every two or three hours we'd stop to eat. But we had it dialed enough to where it didn't take you that long. Each boat had close to 25 liters of water in it, and mostly goo in powder form mixed in. During the day when it was really hot, it's really hard to eat and get calories. But you still need carbs, so we were getting most of our carbs by drinking.
Every once in a while we'd stop and eat bigger meals of pasta and peanut butter and jelly. With most of those, the key is to actually eating like a 12 year old. White bread, nothing processed, you don't want your body to expend energy putting anything down. So you don't get any protein or fat, it's just really simple carbs and sugars.
Did you guys have any serious issues this trip?
No big issues. All three of us did puke a little bit, which was similar to last year because it's just hard to keep food down. I think it's just heat and exhaustion and your body not wanting it. That became a big issue, just having enough energy. We have blisters and callouses and chaffing to show for that much time in salt water.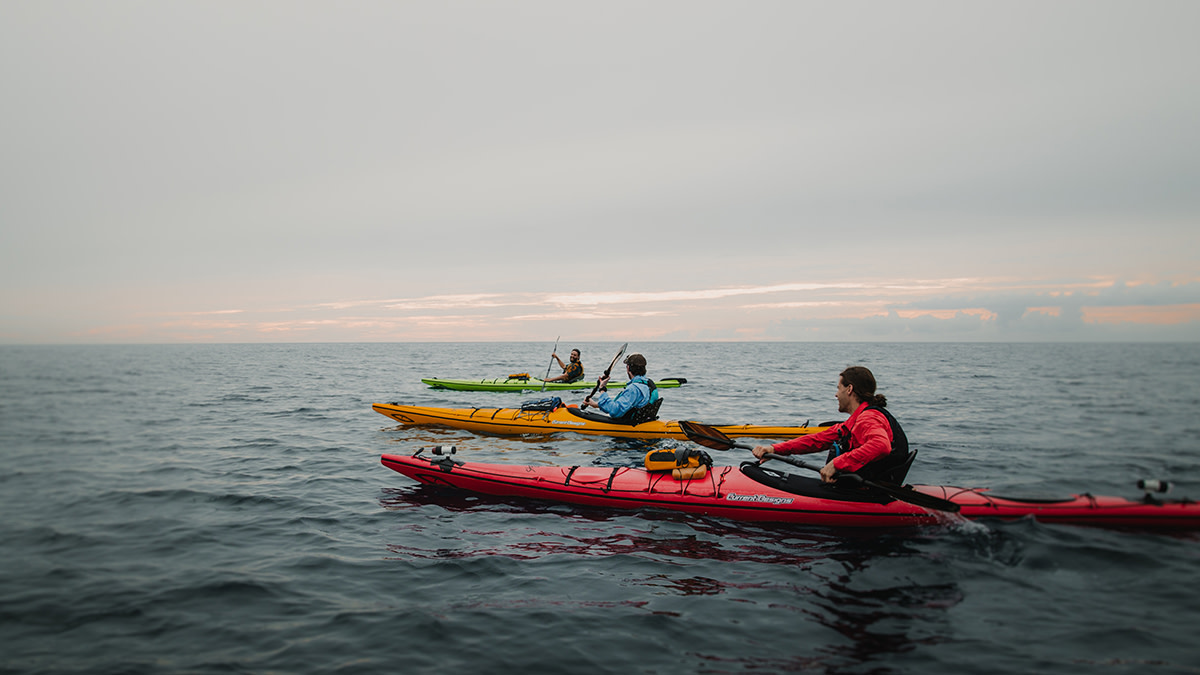 What was it like being on the open water like that for so long?
Paddling for that long is surreal. A wave of ups and downs, much like many people describe an ultra marathon. You're in control of your mind, but not many other factors, like the weather. Our coach, Magda Boulet, reminded us to "control the controllables" and let everything else go.
We had moments of pure bliss – surfing waves, riding a high, and moments of stress or worry that we wouldn't make it, and almost everything in between. Ultimately the trust between the three of us was what we relied on, paddling through a stormy night and into the next morning.
Did it give you any sense of what refugees attempting this venture may have gone through?
The paddle gave us a little taste, yes. I think we understand the struggle a little bit better, at least in a physical sense – and some sense of what it might have felt like to finally land in the U.S.
The time in Havana and with Cubans in Miami helped a lot, too, as far as understanding what political refugees have gone through for the hope of the American dream. I'm definitely not saying we're all-knowing, but I do think we were successful in opening our minds to what the Straits mean to so many refugees.
Tell me about the project's goals.
The goal when you do anything this big and dumb is to challenge ourselves. I think the question of what are you going to feel and how are you going to deal with that is pretty cool to take on and experience. What are you going to feel like when you're 12 hours in and hate your life? Are we going to be able to support each other and pick each other up when someone goes through one of those moments?
The bigger one to us was that we developed some pretty cool relationships with Cuban-Americans and feel like this is an opportunity for us as experienced paddlers to use this skill and knowledge to advocate for open borders.
At its broadest extent, to respect people of different backgrounds. We wanted to raise the voice of past and future immigrants. Cuba is this weird geographically close country, but people consider it so far away, and sometimes third world.
You mentioned a film project, any details on that yet?
The film is still super early – we are planning a 6-8 minute short doc about our time in Havana, the paddle and the inspiration … all tied together with stories from three actual Cuban refugees.
For access to exclusive gear videos, celebrity interviews, and more, subscribe on YouTube!