30 Years: Grand Canyon of the Stikine
Eds. Note: This story originally ran in the June 2011 issue of Canoe & Kayak, now available on newsstands. Anson Fogel of Forge Motion Pictures recently announced, after press time, that plans to shoot Lesser: A Life Less Ordinary have been canceled for 2011, "due to a variety of factors," and that the expedition/film crew tentatively plans to start production in fall 2012. "There is no easy single issue, it's a complex logistical issue and combination of different problems," Fogel says. For more information on the project, visit Lesserfilm.com.
By Eugene Buchanan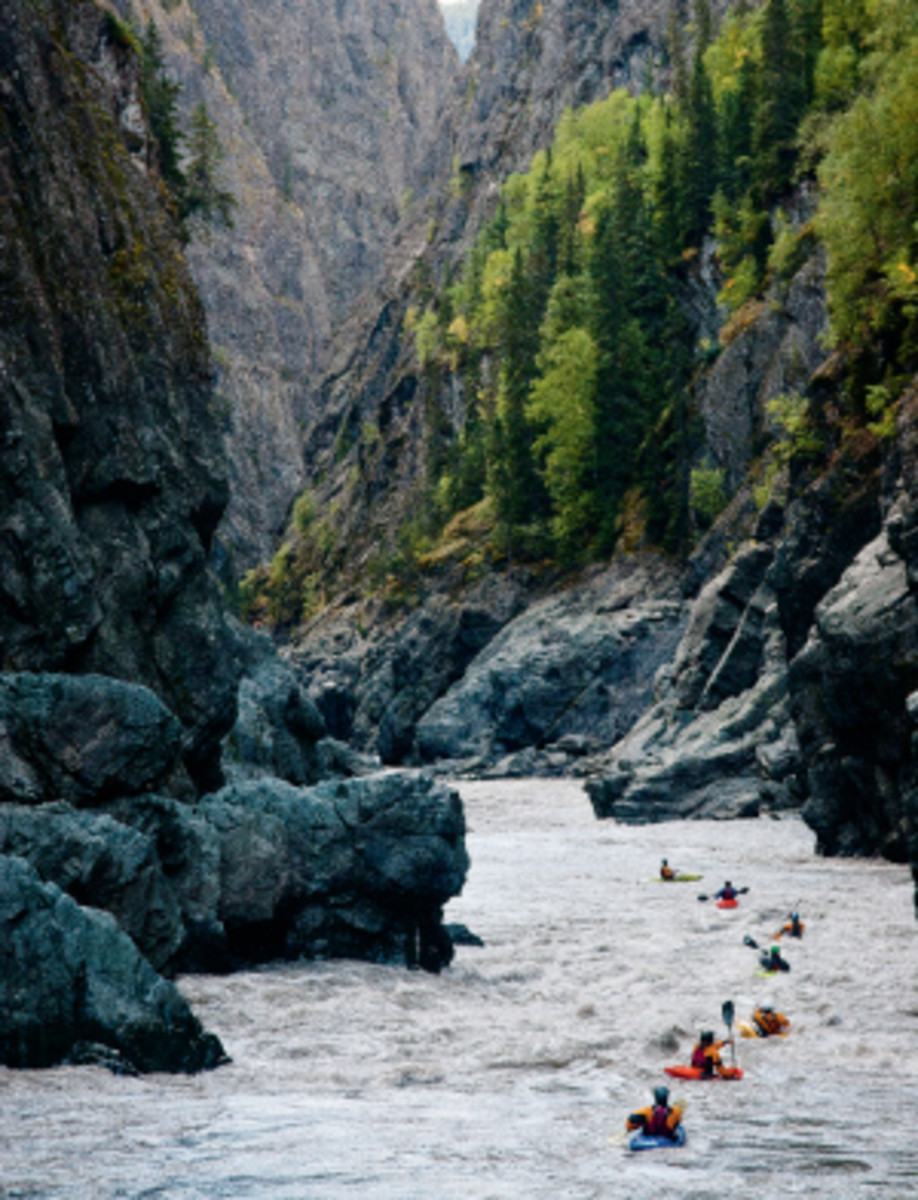 Thirty years ago, Idaho's Rob Lesser led one of the more audacious whitewater feats of all time: the first descent of the Grand Canyon of the Stikine. This summer, at the ripe age of 65, he's going back-not necessarily to run the tortuous rapids of the 45-mile-long canyon, but to pay his respects.
"It's not exactly my intent to go run the canyon again," Lesser says. "I'm old enough to realize that just because you feel like doing something, it doesn't mean that when the shit hits the fan you're ready to deal with the consequences."
There's plenty of that on the Stikine. Located 1,000 miles north of the Washington border in British Columbia, the river drains 20,000 square miles of wilderness in its 350-mile course to the ocean north of Wrangell, Alaska. The crux: the 45-mile-long Grand Canyon, a cataract of massive, Class V-VI rapids surrounded by inescapable, 1,000-foot vertical walls.
Even on the 30th anniversary of its historic first descent, it's still considered the benchmark of big-water boating and remains one of whitewater's biggest prizes. And this means it still lures the sport's best every year. Last fall, Erik Boomer, Jeff West and Todd Wells paddled it in a single day. They were only the second group to do that, ever. In mid-September, Maxi Kniewasser, Ric Moxon, Ben Howthorne, Cody Howard, Taylor Cavin and Daz Clarkson ran it on Kniewasser and Moxon's Triple Crown tour, also knocking off the Alsek and Susitna.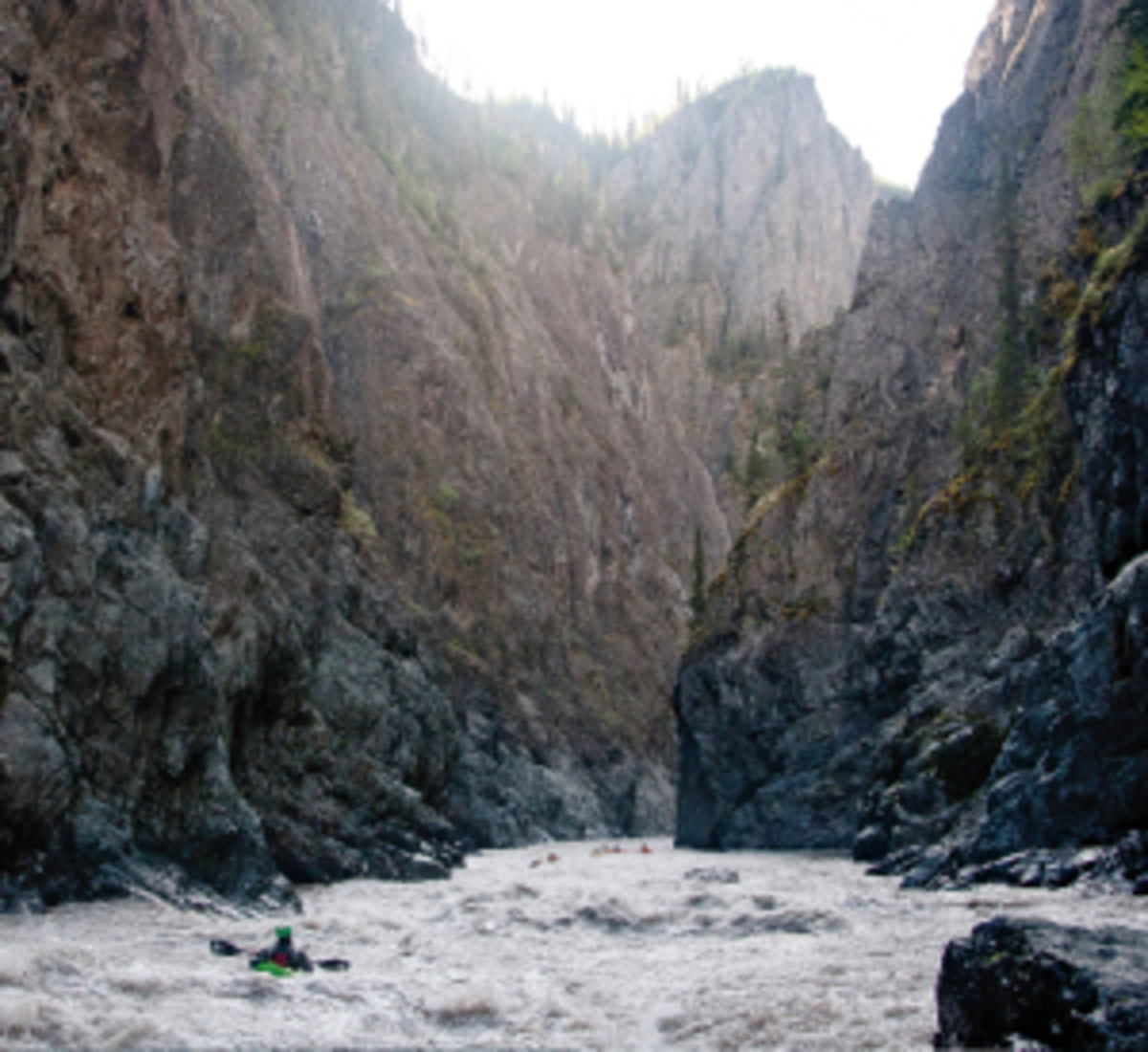 "The run was perfect, but still it's the Stikine. We still had some big trashings," Kniewasser says. "Ric's skirt blew and he had to swim for his life upstream of The Wall and I got stuck in The Hole That Ate Chicago."
Indeed, even though its siren call still lures kayaking's upper echelon, the list of those willing to attempt it is small. To date less than 100 people have paddled it, and in the three decades since Lesser's first descent in 1981, only 15 teams have repeated the feat.
"Lesser accomplishing the first Stikine descent was truly epic. It's hard to imagine what it felt like to be the first people paddling through there," says Boomer, who claims five and a half Stikine runs-the "half" coming when limit-pushing high water forced him, Tristan McClaran and Ryan Casey into an grueling bushwhack out after paddling roughly one-sixth of the run.
Abandoned Stikine runs are commonplace, despite the committing canyon walls that make escape a dangerous and arduous undertaking. The reason is simple: The Stikine has dealt some of the world's best boaters the beatdowns of their lives. There was John Wasson's brush with mortality in 1981, resulting in the name of Wasson's Hole; Bob McDougall's near-death swim and epic cliff-scaling escape in 1989, recounted in his essay, "Drowning;" Jay Kincaid and Taylor Robertson's quickly aborted high-water attempt in 2000, leading to a two-and-a-half-day hike out; and Austin Rathman's life-altering swim at Site Zed, the run's one consistently necessary portage, during a high-water attempt in 2007. "The Stikine will change how you view yourself, the world and everyone in it," he says.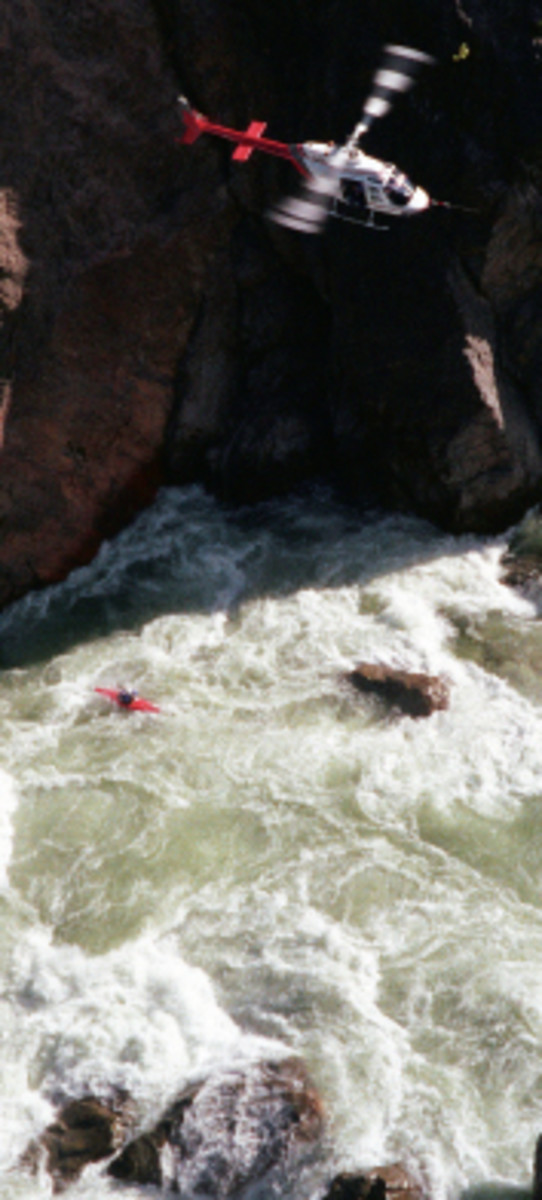 And that's exactly why Lesser is returning to the Stikine for the first time since 1998, when he ran it at age 53. This time he'll be accompanied by a top-notch camera team filming Lesser: A Life Less Ordinary, which focuses in large part, on his five trips to the Stikine and historic return. He'll be in good company. Joining him on the 350-mile, source-to-sea expedition will be filmmakers Anson Fogel of Forge Motion Pictures and Bryan Smith of Reel Water Productions, as well as National Geographic cinematographer Skip Armstrong.
"The film will be about Rob returning with his heirs to the river that shaped so much of his life," Smith says. "This is a story about a quiet hero, in a deafening place of almost incomprehensible power."
While the list of canyon paddlers for this summer's descent and film isn't finalized, on the short list are McCall, Idaho, paddlers Brian Ward, Melissa Newell and Fred Coriell; Small World Adventures kayak guides Darcy Gaechter and Don Beveridge, and Boomer. Happy to hang out on the canyon rim and assist via helicopter, Lesser plans to paddle the 170-mile upper section leading to the Cassiar Bridge and the 135-mile lower section from the canyon takeout at Telegraph Creek out to the ocean.
"I'm primarily there for the history aspect of it all," Lesser says. "But I'm still very attached to the canyon. The Stikine occupies the top rung on my list of paddling accomplishments, but I really have no interest in going in there and puckering myself up again. My basic plan is just to go up and enjoy the canyon… you don't get to do that too much when you're inside paddling it."
The article was originally published on Canoe & Kayak
For access to exclusive gear videos, celebrity interviews, and more, subscribe on YouTube!