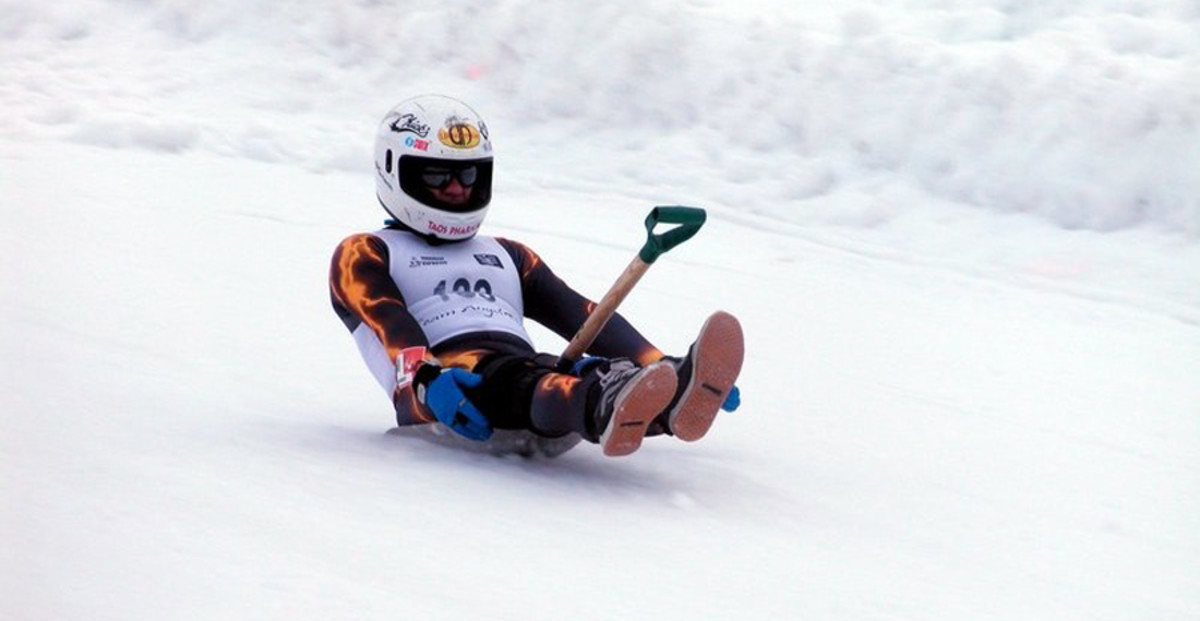 If you think about it, it took some serious creativity to come up with our favorite winter sports. (Sliding down a mountain on some slabs of fiberglass? Attaching sharp blades to your shoes and walking around on a lake?)
Yep, it seems like people will try just about anything to pass the time when they've been snowed in for months, but these five inventive winter sports might just take the (really weird) cake.
Skijoring

If you have a pair of skis and a 900-pound animal, you're in luck. That's because you already have all the gear you need to try skijoring, a type of ski jumping where the skier is towed and propelled (usually into big-air jumps or through obstacles) by a horse, dog, snowmobile, car, dirt bike or even a reindeer.
Helmets recommended.
Urban Iditarod

Held in a few cities across the country — Boston, Chicago and New York City included — these contests, inspired by Alaska's famous sled-dog race, pit teams of costumed racers against each other as they tow themed shopping carts across the city streets.
Shovel racing

You know that sudden urge you get to hop on your shovel and go for a ride while clearing your driveway? No? You might after learning it's actually a competitive sport wherein participants slide down race courses on snow shovels.
The event actually used to be part of the Winter X Games, but was deemed too dangerous.
Snow-chariot racing

The Cutter Races take one of the oldest sports in the world — chariot racing — and put it on ice. Literally. The Jackson Hole, Wyoming, tradition is a classic winter event that pits riders with two-horse teams in short chariot sprints across the packed snow.
The Outhouse Classic

One part speed, one part construction know-how, this annual Michigan favorite asks teams of runners to build an outhouse out of wood, plastic, tape and other materials, which is then strapped to a set of skis and let loose down a sloped street.
One team of two runners can push their outhouse at a time and compete for the title of fastest potty. Even the slowest runners have a chance of winning the creativity award.
More from GrindTV
Why the Bozeman Ice Festival is the heart of ice-climbing culture
What should I put in my wilderness first-aid kit?
Here's where to experience 'Star Wars' right here on Earth
For access to exclusive gear videos, celebrity interviews, and more, subscribe on YouTube!