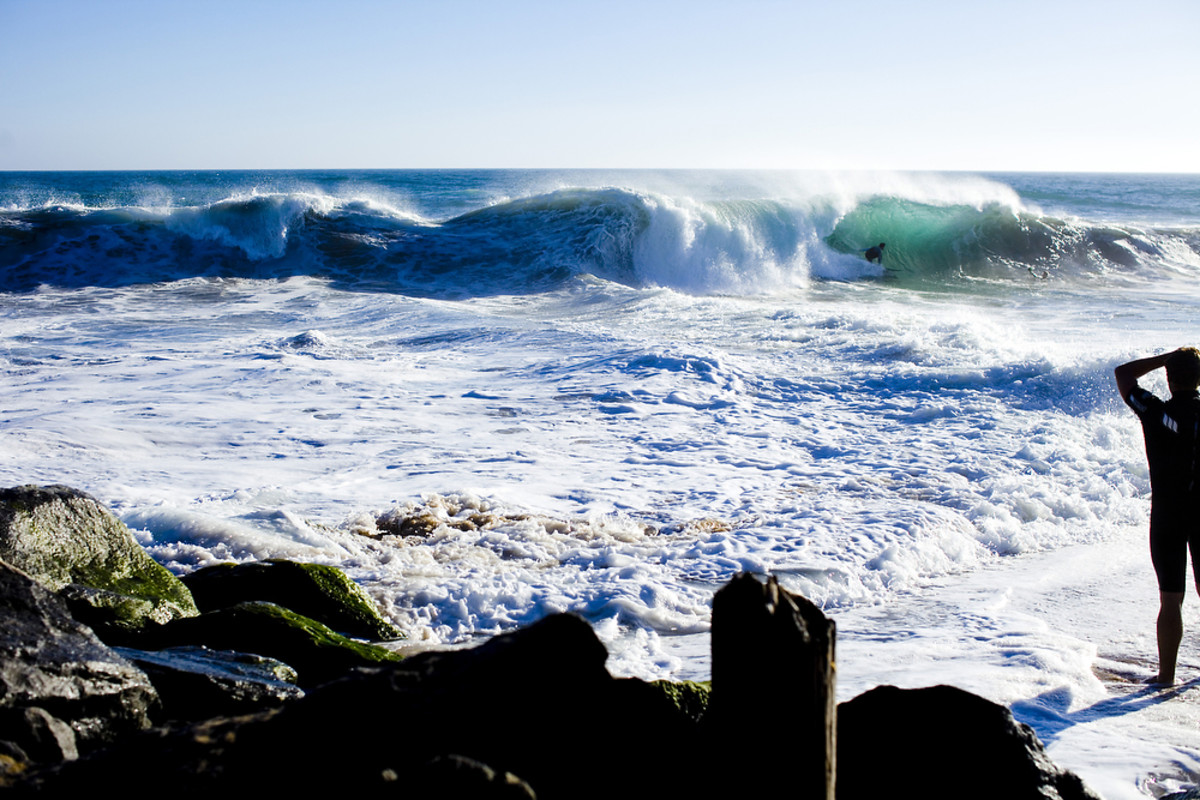 If you think about it, perfect waves are actually relatively easy to surf. Stand up, drop in, go down the line, get tubed, do turns, etc. Don't get us wrong, we love perfect waves as much as the next surfer, but there's something about wacked-out, weird waves that gets some surfers really stoked — sometimes even more so than perfection does.
"I love novelty waves," laughs the world's best "perfect" wave surfer, John John Florence. "I've been on trips where all we surfed were these weird little pointbreak spinning waves and backwashy shore pound and had the best time ever."
Here's a list of five of the world's most bizarre, but also most fun, "novelty" waves that attract the world's best surfers.
Wadi Wavepool, Abu Dhabi, United Arab Emirates
Surfing the Wadi Adventure wave pool is like nothing you've ever experienced. This is the best wave pool in the world and ranges from beginner-friendly peaks to downright rippable wedging closeouts that allow for some of the best air surfing you could ever ask for. There's no wave on Earth that is more of a skatepark that Wadi Wavepool (just ask Chippa Wilson and Dion Agius).
But the wave isn't really the weird part — it's the setting. It's in the middle of the desert at the base of a mountain that looks more like something you'd find on Mars rather than Earth. Located an hour or so drive from Dubai, the pool is a bright-blue oasis that appears to have a neon glow in contrast to the tan and grey surrounding desert. A large neighborhood is sprouting up around the pool, which will no doubt make the landscape more inviting, but for now the Wadi Wavepool truly is a diamond in the rough.
Tanker Waves, Galveston, Texas

The waves that are created by massive oil tankers cruising through the Galveston Ship Channel are probably the most famous examples of weird or wacky waves in the world. First surfed more than 20 or so years ago, Texas tanker waves were a bit of a local secret — that is, until the film Step into Liquid showed these waves in all their glory.
These days, Texas tanker surfing is bigger than ever, with surf charters that will actually take you right to the takeoff spot and make sure you get the best and longest waves possible. And we're talking long: With the right conditions, you can ride these tanker waves for up to 15 minutes at a time!
The Wedge, Newport Beach, California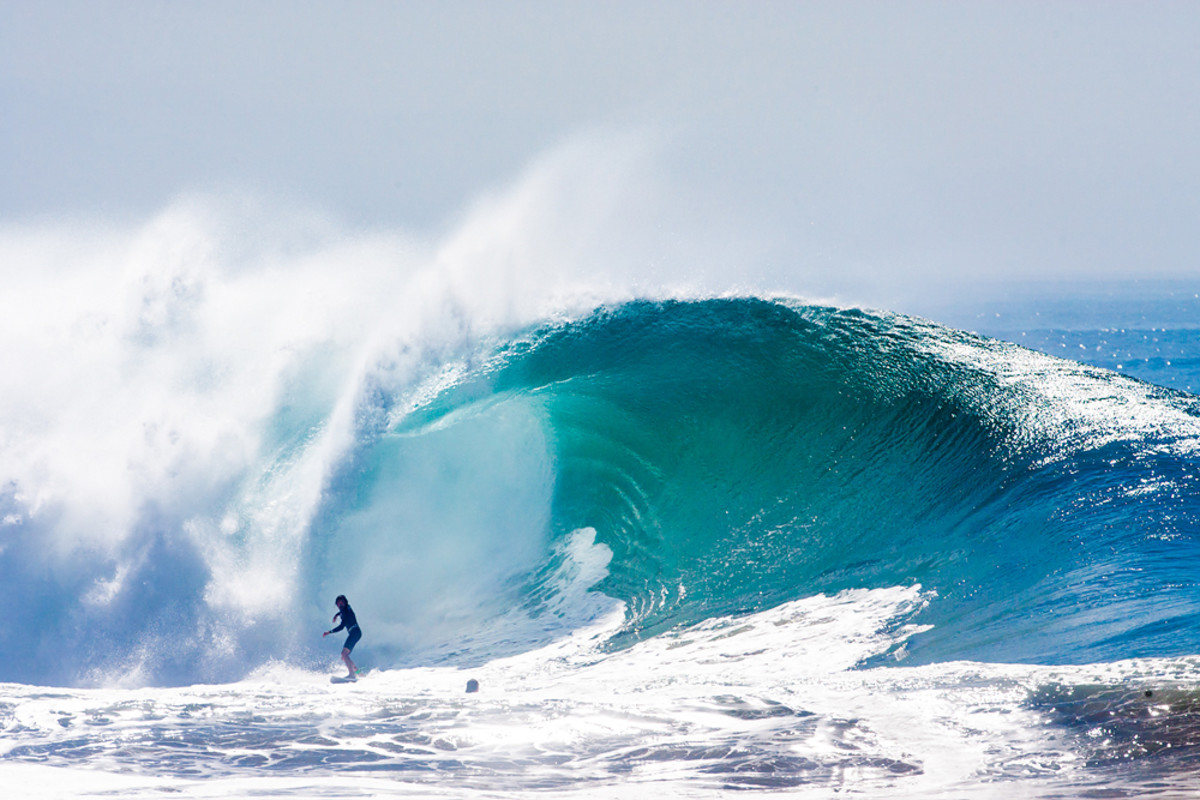 The Wedge
in Newport Beach is a very strange and dangerous wave, but what happens here on south swells that wrap up the California coast during summer months is nothing short of spectacular. The wave itself is caused by waves refracting off the long jetty that extends from the beach a few hundred yards out into the ocean. It's called The Wedge because when ocean swells bounce or refract off the jetty, they form a large, triangular-shaped peak of a wave.
RELATED: Drones capture massive waves at The Wedge
The Wedge is mainly surfed by bodysurfers, skimboarders and bodyboarders, but when it gets big enough, surfers paddle out and risk their necks riding big waves that break directly onto dry sand — crazy. "When it's small, you can take off on what is called a side wave that literally slingshots you into the bigger wedge section," says pro surfer Dylan Graves. "It launches you into a giant teepee-shaped wave, and you either get tubed or get blasted. It's so much fun."
Qiantang River Tidal Bore
Known as the world's largest, longest and most dangerous tidal bore, the Qiantang River Tidal Bore (also called the Silver Dragon) can reach speeds of up to 25 miles per hour and can be more than 20 feet tall and hundreds of feet across. The wave is powerful and dangerous on its own, but when you surf it, you have to surf through multiple bridge crossings and deal with the constant threat of undertow and random obstacles in the water, including logs and parts of destroyed boats.
In 2013, Red Bull put on a surf event on the Qiantang River Tidal Bore featuring big-wave surfers including Kohl Christensen and Jaime Sterling. After surfing the tidal bore, Sterling said, "That was one of the craziest experiences of my life." When a guy as gnarly as he is says something like that, you know that it is indeed one of the wildest "novelty" waves in the world.
Sandspit, Santa Barbara, California

This is a wave that varies from wild and wacky to one of the best waves in all of California. Sandspit is a fast right-hand pointbreak that breaks super close to a sandbar inside the Santa Barbara Harbor. Some waves are beyond perfect, offering surfers potential 10-second tubes. Other waves at Sandspit can get weird — very weird.
This spot is known for its incredible backwash, often sending waves and even surfers 40 feet in the air. The backwash is unpredictable; a surfer could think he's on a great wave only to have the backwash pop up and literally launch the unsuspecting surfer into oblivion.
More on GrindTV
Mud runs: America's fastest-growing sport?
7 #vanlife Instagram accounts to inspire your next road trip
The essential guide to cold-weather surf gear
For access to exclusive gear videos, celebrity interviews, and more, subscribe on YouTube!