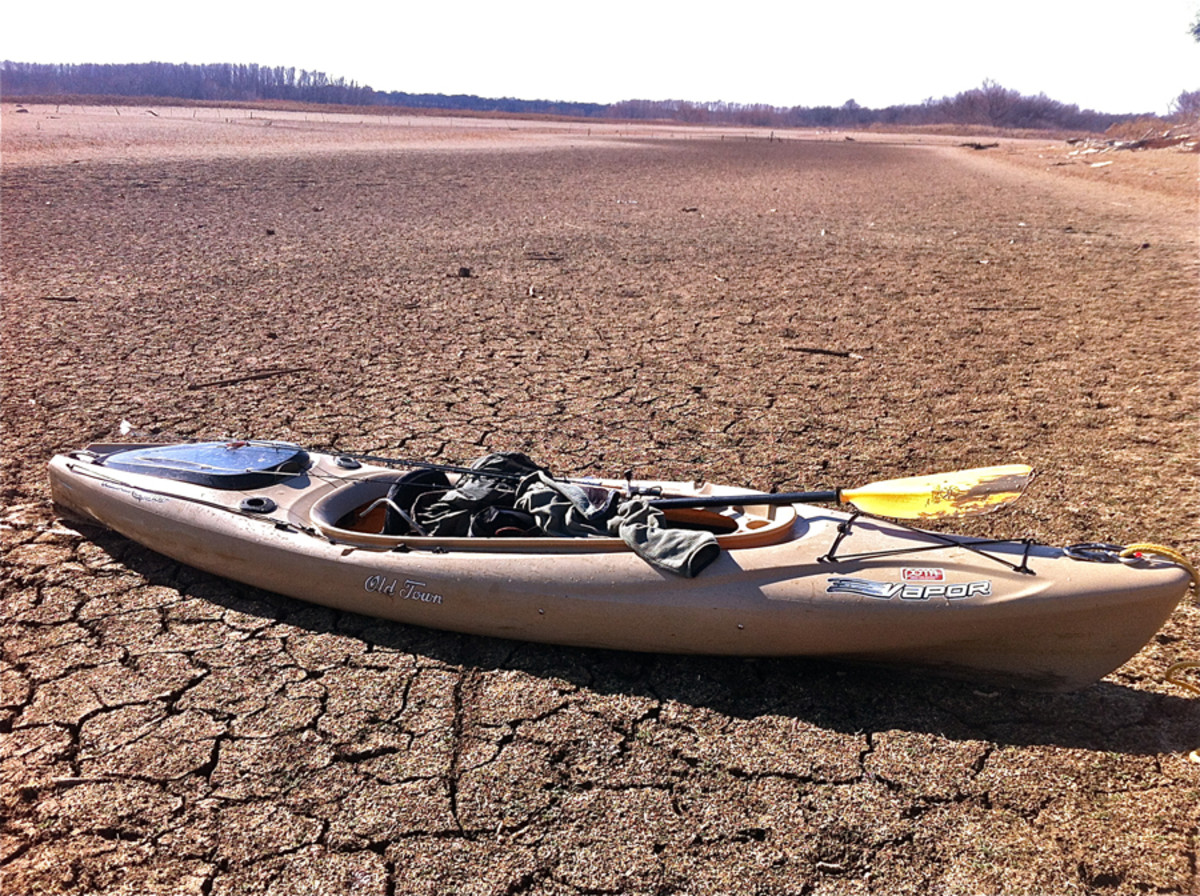 By Shane Townsend
Texas is dry. Drier than normal. It's really, really dry.
"We're in a drought that is drying wells, fueling fires, and depleting reservoirs," says Meredith Blount Miller, Senior Program Coordinator at the Meadows Center for Water and the Environment, a leading water conservation organization. "If trends continue, we could see conditions rivaling those of the 1950s 'drought of record.'"
Water weighs heavily on the minds of Texans
Homeowners debate the ethics of sustaining tropical St. Augustine grass and the aesthetics of native xeriscapes. Ranchers buy hay from as far away as Mississippi. Ray Williamson, a long-time Lake Buchanan fishing guide, has moved from the boat to the books to become a certified arborist who tends to drought-stricken trees. And, at this moment, State Senator Troy Fraser and other lawmakers are battling to find and fund programs that protect the state's threatened water resources.
Meanwhile, rising temperatures signal the coming of summer, and a wave of new paddlers who will search maps for places to float. The blue spots on maps don't mean what they once did. But, know this: There's water enough in Texas for a lifetime of paddling.
The waterways below are among those that, while not drought-proof, are fighting like hell and unforgettably floatable.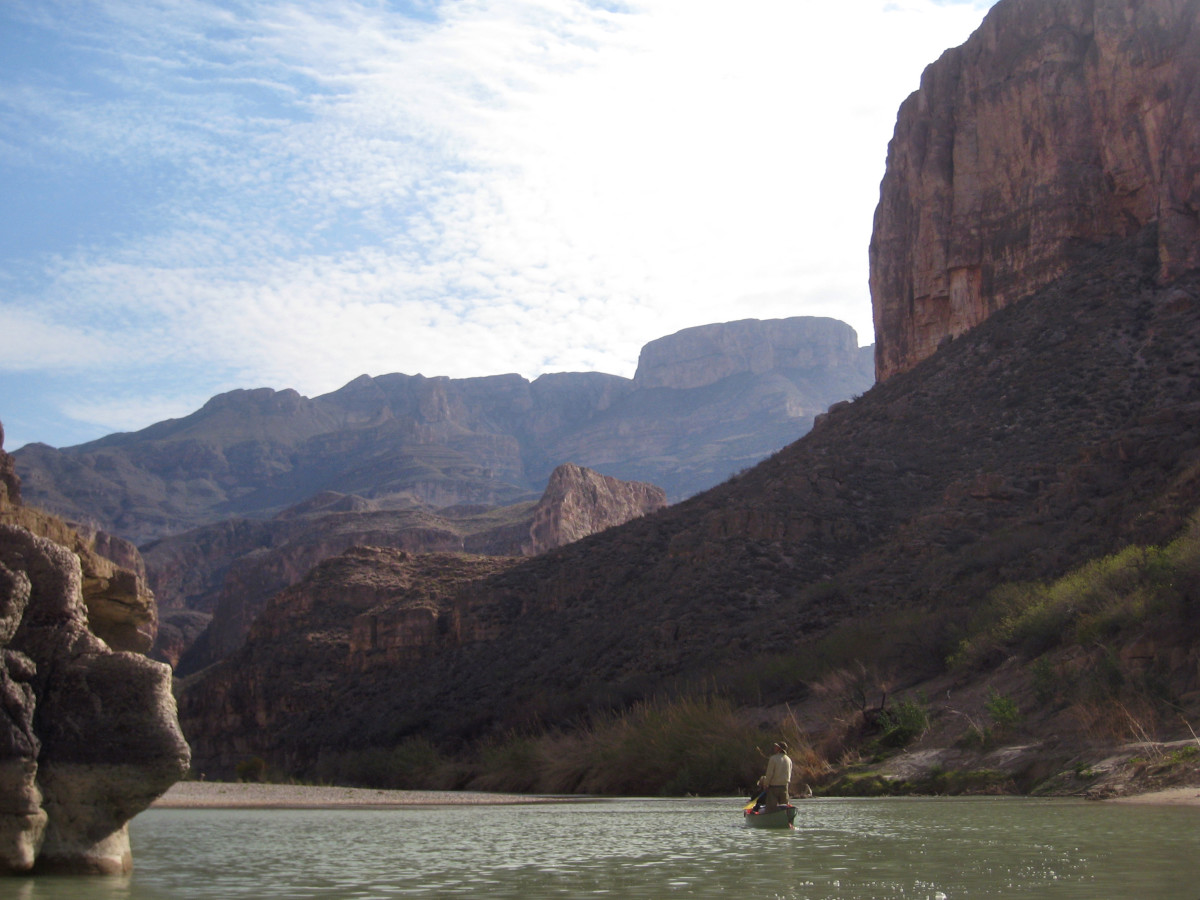 Rio Grande
Thanks to a convoluted equation of sources, tributaries, allocations, and precipitation, nothing could float the length of the Rio Grande, not a leaf. Because though it may today reach the Gulf of Mexico, says Sally Spener, Foreign Affairs Officer at the International Boundary & Water Commission, parts of the riverbed are bone dry.
The true measure of the big river's grandeur is not in its volume, but in the cathedral it has, over the millennia, carved into the unholiest of desert places. In Boquillas Canyon, the river runs cold, clear, and the color of jade at the foot of 1,200-foot bluffs. Huisache bloom in yellow bursts. Bats pour from crevices at dusk. Victor, the backcountry troubadour, belts romantic ballads. And, candelilla wax mining camps lay dormant on the Mexican bank. The 33-mile Boquillas Canyon float through Big Bend National Park is a rare backcountry paddle that is worthy of experts and fitting for groups with a novice or two. Desert Sports offers expert service.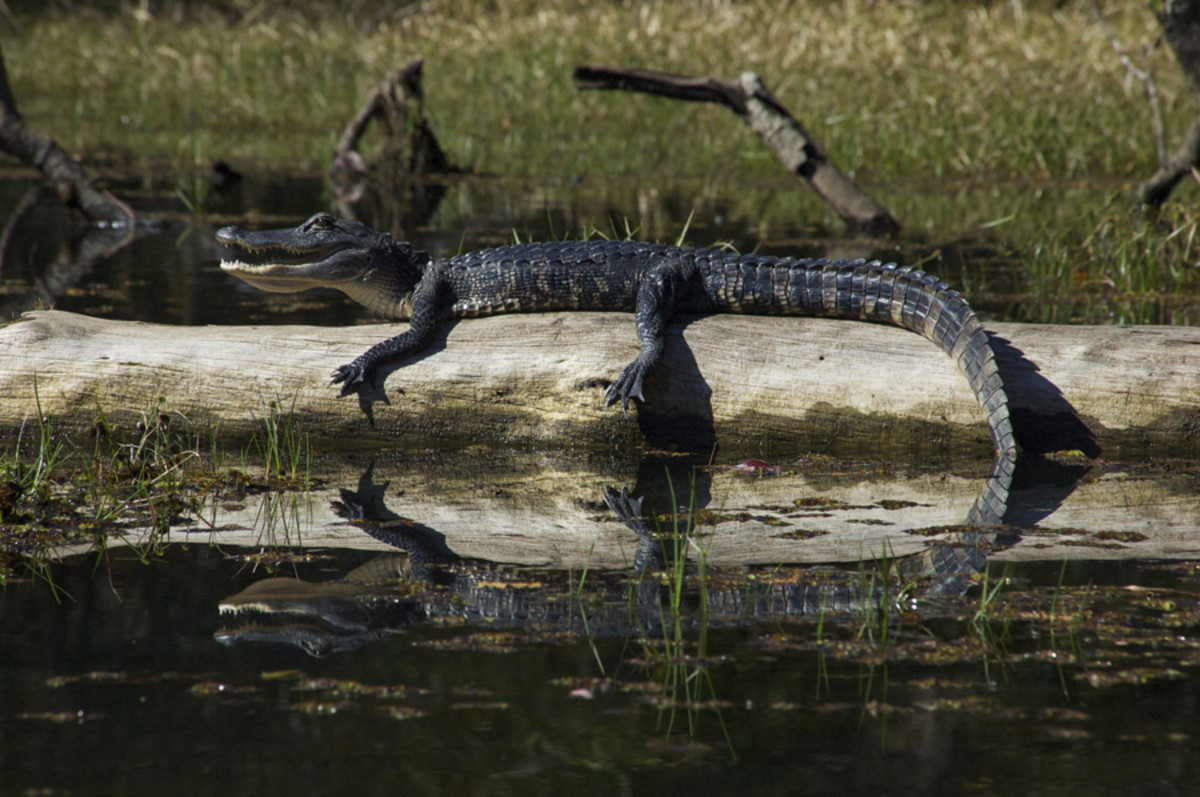 Photo: Shane Townsend


Angelina River and Neches River
Between Bevilport and Martin Dies, Jr. State Park, the Angelina and Neches Rivers plunge paddlers into a uniquely east Texas setting. Spanish moss hangs like beards from high, bald cypress. A two-foot alligator chirps and works through mats of grass. Sunfish pop, pop, pop insects at the water's surface. A hawk whistles overhead. This 9-mile stretch offers hunting, fishing, wildlife watching, backcountry camping, and a chance to see remnants of 19th-century log rafts.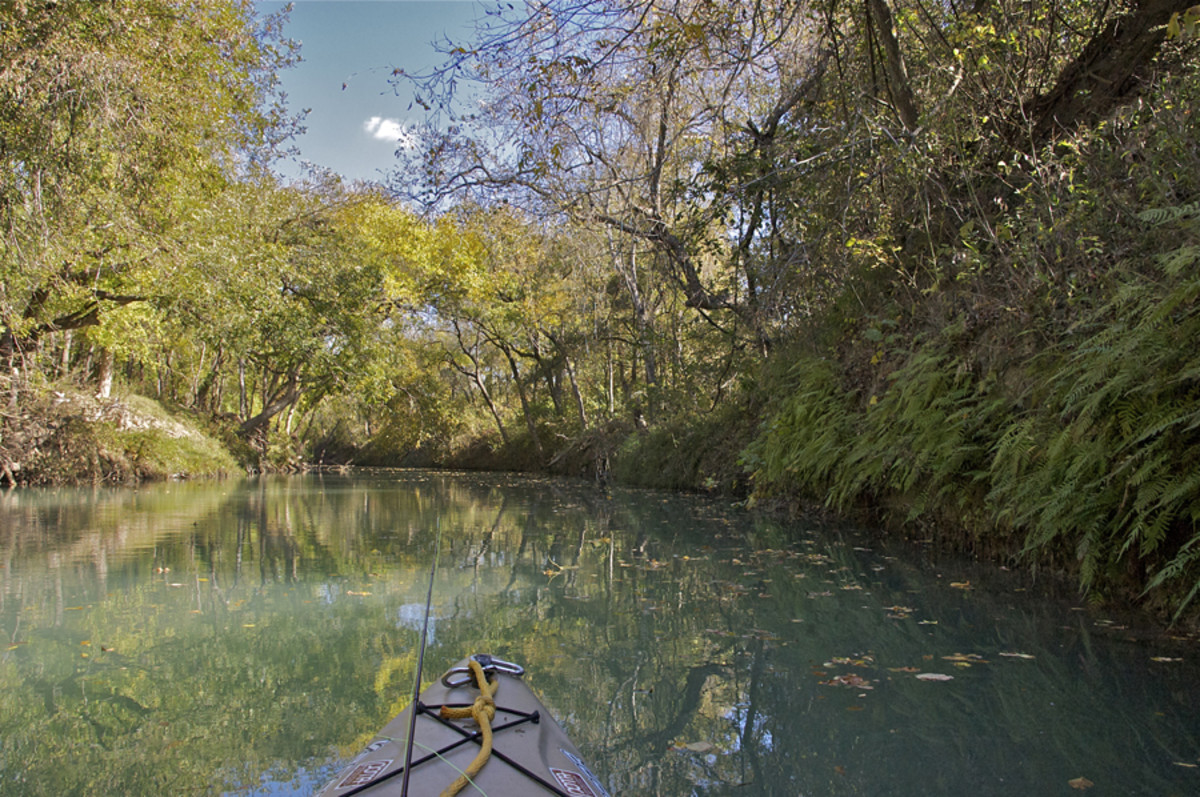 San Marcos River
In 1962, Bill George and Frank Brown paddled from San Marcos to Corpus Christi. The 260-mile Texas Water Safari was born in 1963 and it has run the San Marcos River ever since.
Few of us are paddle-mad enough to take on "The world's toughest canoe race." Still the San Marcos River above Zedler Mill gives bird watchers, anglers, and lazy floaters a great day on the water. The upper stretch runs fast and clear. The lower crawls dark and shady. Guadalupe and largemouth bass, catfish, and sunfish are abundant. Deer, wild turkeys, feral hogs, and countless bird species are common companions along the rural corridor.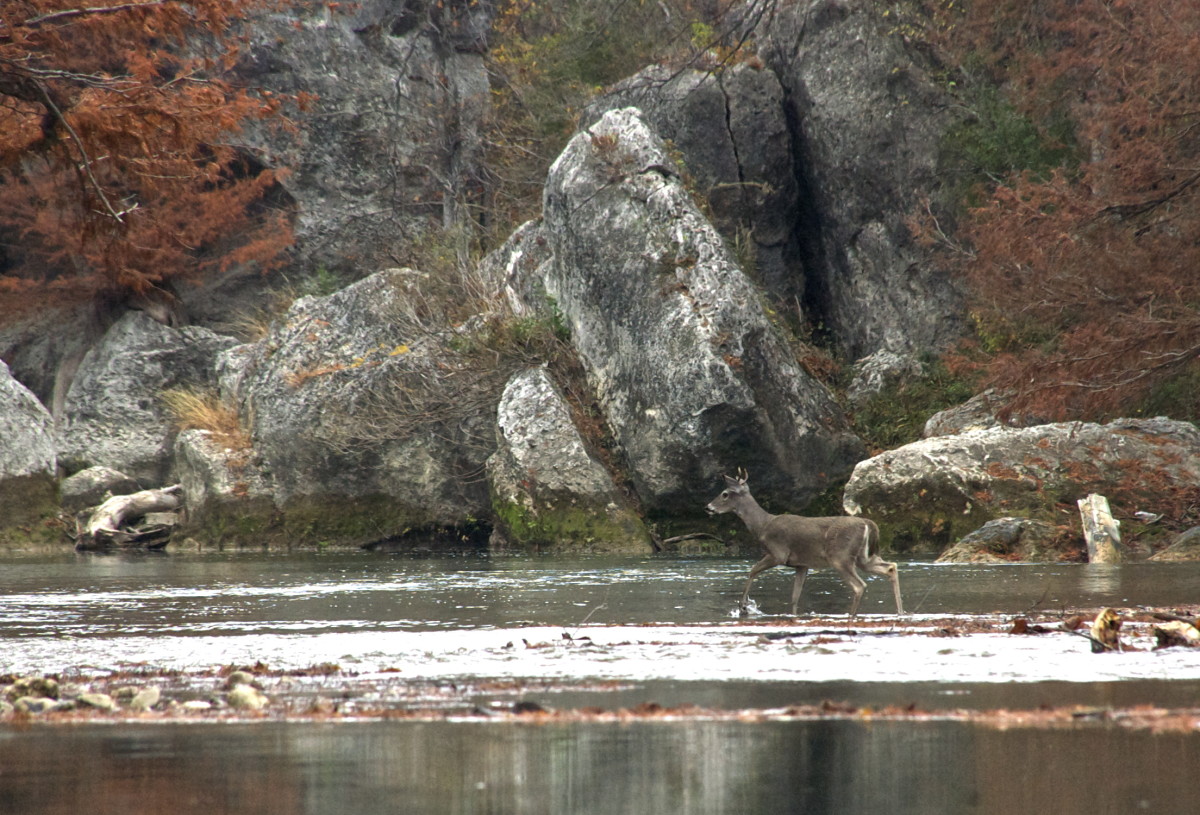 Guadalupe River
In the land of 100-degree days and 60-degree waters, the Guadalupe River is a highly regarded head-dunking destination. It curls cellophane clear and cold around ancient cypress. It tumbles over limestone ledges. And, it rests in shady pools.
Paddle the 9–mile stretch above the Guadalupe River State Park and run Class II rapids, cast for Guadalupe bass, or photograph wildlife. The park offers kid-friendly swim areas, hiking trails, and a Saturday tour of Honey Creek State Natural Area.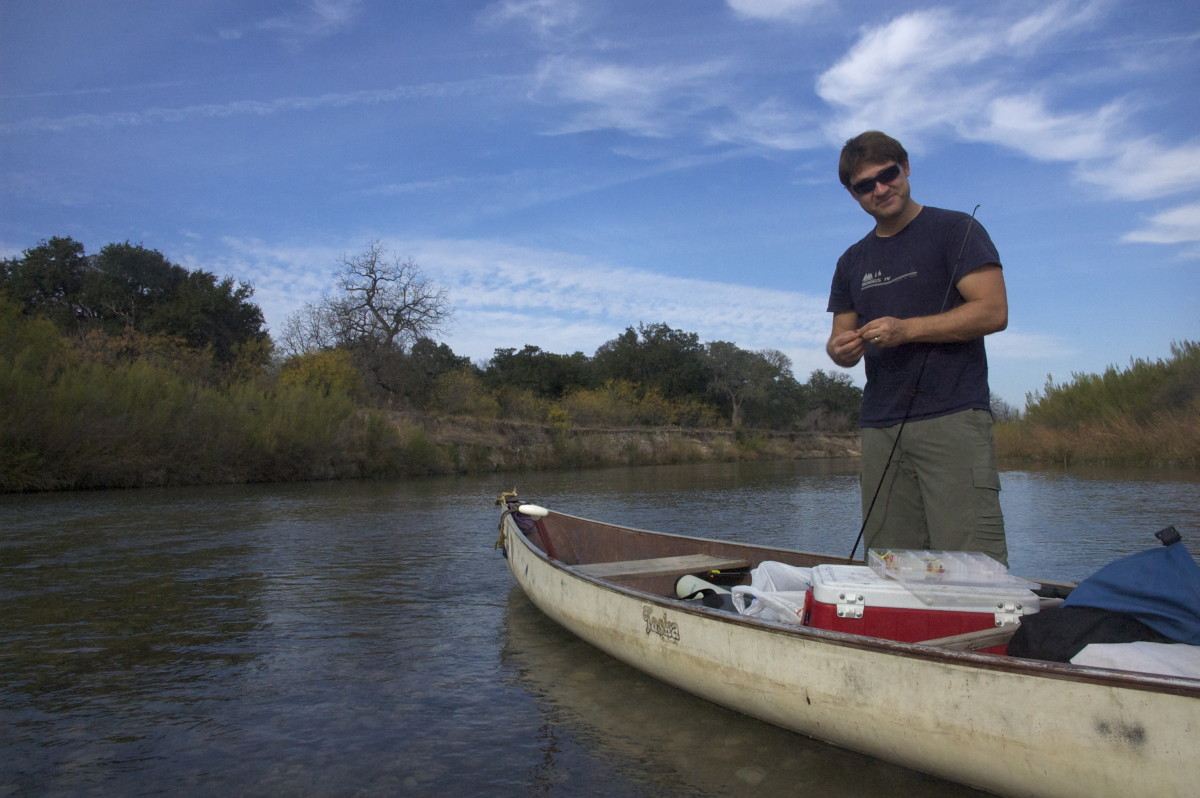 Photo: Shane Townsend


South Llano River
"We have 700 springs here," outfitter Dan Meacham says, "The South Llano hasn't dried up when other rivers have. That's what makes this place special."
The South Llano River carves through the limestone cap of the Edwards Plateau. Springs spill from the coulee walls to feed the river. And, even in the driest times, the South Llano River flows through miles of hill country to a confluence with the North Llano River.
Locals say the six-mile stretch from the South Llano River State Park to Junction may be as close to a guaranteed river float as you can find in Hill Country. The woodland is home to walnut, persimmon, hackberry, and oaks; kingfishers, phoebes, wild turkeys, and finches.
In October, summer lingers in 80-degree days when anglers from across the state congregate for the Oktoberfisch Flyfishing Festival.
Shane Townsend has paddled in the Amazon basin, Southeast Asia's Ring of Fire, and much of the United States. In 2014, FalconGuides will publish his first book: "Paddling Texas." Find him at www.BatCityOutdoors.com

The article was originally published on Canoe & Kayak
For access to exclusive gear videos, celebrity interviews, and more, subscribe on YouTube!