Halfway through a new surf film "New Moon" featuring Rob Machado and Mikala Jones, a surfer is seen speeding through a very long tube. Just as you expect him to exit the tube, instead, out of nowhere, a boat pops through the breaking wave and is briefly suspended in the air, and then folded over backward. It's all rather startling.
Boats, surfers and breaking waves shouldn't mix, as the following examples show.
Ghost Boat at Nias
 

View this post on Instagram

 
"We saw the boat coming from about a mile away and were worried," says professional surfer Ian Walsh. "The surf was massive at Nias and we thought if there were people on board they'd be in serious danger."
As the boat edged closer though, Walsh saw that the boat had no crew onboard. "We paddled around the vessel before it was picked up by a wave and launched toward shore, splintering into a thousand parts," Walsh says. The images and videos were spine-tingling, but no one was injured in the incident.
Capsizing at Jaws
"We saw the wave lurch up and I thought oh, we are in trouble," videographer Grover Cleveland explains what it's likes to capsize a 22-foot boat at the infamous wave of Jaws. Luckily for Cleveland, the professional big-wave athletes and their safety teams came to his rescue, pulling him from the water and eventually righting the boat.
"I just thank God that it wasn't even more uglier than it was," says Cleveland. "I really don't need that in my life."
Josh Kerr Boosts Over a Boat
 

View this post on Instagram

 
Kevin Seaman (yes, that is his real name) made the news recently when he refused to be rescued off his boat after he had ran it aground at Carlsbad. His abrupt mooring happened to be directly in front of professional surfer Josh Kerr's house. The next morning Kerr decided to make a memento of the event and snapped this image before the boat (and Kevin) were taken to safety.
Speedboat's Wave of the Event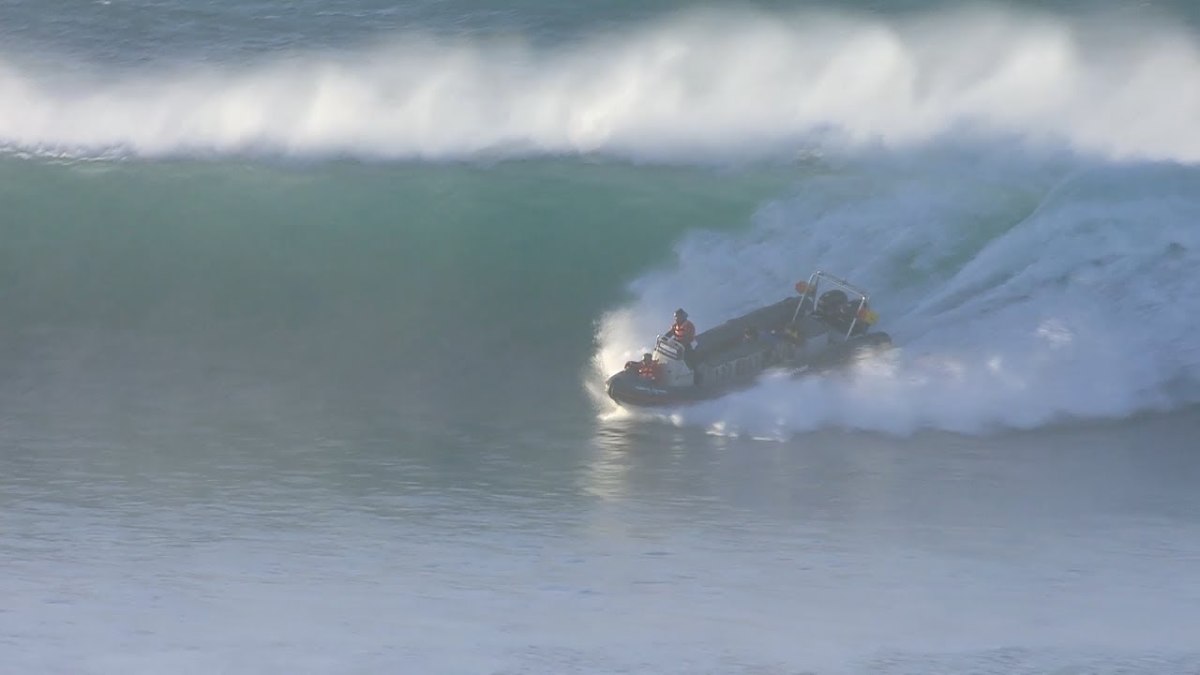 The 2017 Corona Bay J-Bay Open had everything. Four days of perfect waves, multiple shark sightings and eight 10-point rides. However, despite all the excitement, it was a speedboat that perhaps rode the best wave of the event.
The crew of the safety boat employed to spot for sharks were caught inside as a giant set of waves pulled through the lineup. With little choice the driver hit the throttle and rode the wave as a surfer would. Through an extraordinary mix of skill and dumb luck he didn't capsize the vessel and emerged unscathed. Perfect 10s all round.
Yacht Climbs Whitewater at Waikiki
It might seem strange, but trying to exit Waikiki's Ala Moana harbor on a 40-foot sailboat with a massive swell running isn't such a good idea. As surfers watch on, a set breaks out past the buoys and the yacht is forced to climb over massive walls of whitewater, somehow managing to not lose its crew or a boatload of tourists.
Raimana Ducks Under A Jetski
"I saw a shadow over my head," said Tahitian surfer Raimana Van Bastolaer after nearly being decapitated by a jet ski at Teahupoo. "And it was not a shadow I'm used to seeing."
That's probably because the shadow wasn't a shadow, but a 1200 horsepower jet ski going over the falls only inches above his ducking head. The ski had been piloted by Reef McIntosh who (before this session) had never towed anyone into a wave, let alone into a 12-foot Chopes bomb.
"It's only a machine and a machine can be repaired or replaced, but not a man," said Raimana. "I was just happy me and my partner were okay."
For access to exclusive gear videos, celebrity interviews, and more, subscribe on YouTube!