The last time we checked in on serial trans-Atlantic kayaker Alexander 'Olek' Doba, the 70-year-'young' Polish adventurer was in a bad spot. After two false starts, he finally escaped the gravitational pull of New York City on May 16, only to be blown in circles for three frustrating weeks. Then, as Doba slept through a Force-8 gale in the tiny cabin of his 23-foot oceangoing kayak, the vessel's rudder became fouled in the rigging of his sea anchor and was damaged beyond repair.
Doba was more than 400 miles from the nearest land and though he was in no immediate danger, the kayak was impossible to maneuver. He was weeks behind schedule, with the European storm season fast approaching and more than 2,300 nautical miles still to paddle to his planned destination of Lisbon, Portugal.
Worse than all of that, the Pole's famous resolve was fading.
Doba already had twice crossed the Atlantic in the custom-built kayak he fondly calls Olo. He'd been blown in circles before, during his 2011 crossing from Africa to Brazil, and again during his 2015 voyage from Portugal to Florida. On that trip his rudder had also failed, but his determination had never wavered, even after losing all contact with his support team for 47 days.
This time though, for perhaps 24 hours after the rudder failure, Doba finally contemplated quitting. It was only a matter of how. The nearest land, Bermuda, was a small target some 400 nautical miles southwest, against the flow of the Gulf Stream. Impossible. America's Eastern Seaboard lay some 650 nautical miles to his west, against the prevailing winds. Absurd. Europe, more than 2,300 nautical miles over the horizon, was still his best option.
Doba pointed his crippled craft toward Portugal, and with the help of supporters in the U.S. and Poland, began to make a plan to continue. His friend and communications director Piotr Chmielinski was preparing to charter a boat from Bermuda to deliver a new rudder when providence intervened.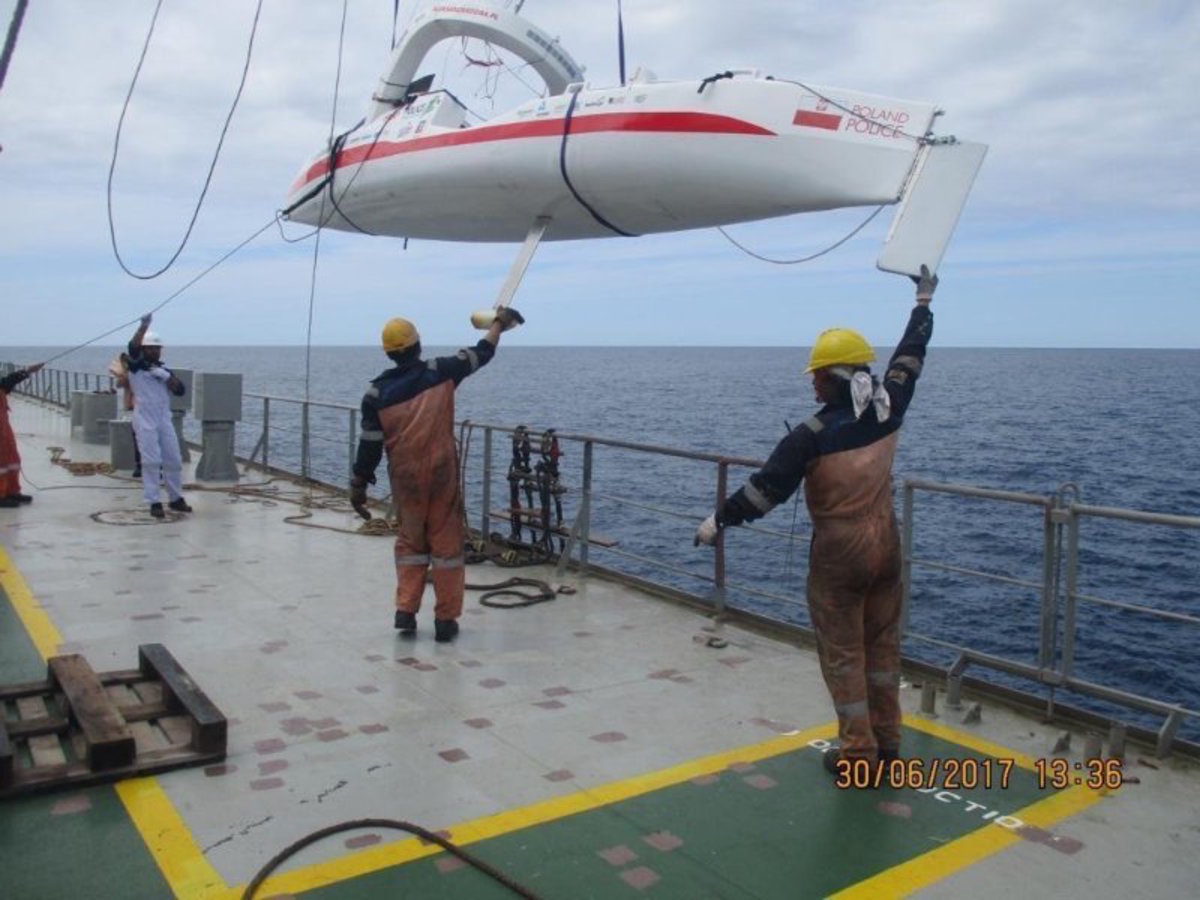 Friends of Doba somehow convinced the owners of the merchant vessel Baltic Light to interrupt its voyage long enough to repair Olo's broken rudder. Like most ships of its size, the 656-foot bulk carrier boasts a machine shop with more tools than Spicoli's dad. Sailors hoisted the 1,500-pound kayak aboard the larger vessel and set to work, using plans transmitted from the kayak's designer in Poland. It was a truly international effort. The Norwegian-flagged vessel is owned by a Singapore-based firm, and had been chartered by an American freight company. The captain is Italian and most of the crew Filipino. Within hours the people on board this floating Tower of Babel had completed the necessary repair, fed Doba a hot meal, and lowered him and Olo back into the Atlantic.
Doba watched the merchant vessel sail away, and again confronted the crushing loneliness of his transatlantic voyage. Though this was his third solo ocean crossing in less than seven years, he found the isolation far more difficult than during previous expeditions.
"Solo sailing, especially long-haul, on a yacht or kayak is undoubtedly one of the extreme sports, often compared to flying in space," expedition navigator Dr. Robert Krasowski noted on Explorer's Web. "Actually, results from psychological research conducted on the participants of such trips are used by NASA in the planning of space flights."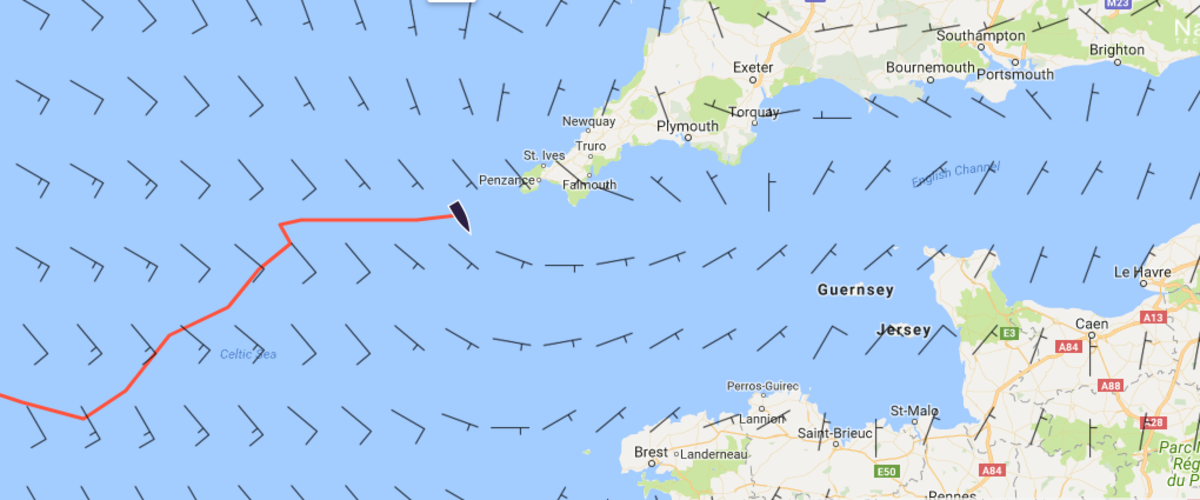 Despite the loneliness and some communications glitches, the weather had turned in Doba's favor. He made good time across the central Atlantic, though winds pushed him north of his planned course. Somewhere in the mid-Atlantic, he decided to go with the flow, changing his destination from Portugal to northern France. (Track his progress in real-time.)
"I'm thrilled to reach the world's most difficult-to-navigate waters, the English Channel, as the finishing point of my third transatlantic kayak expedition," he texted Chmielinski. "The Channel contains big tides and strong currents in addition to very large ship's traffic, which I feel already." He sent the text Aug. 21 using a satellite communications device, when he was about 80 nautical miles west of Cornwall.
His course brought him within miles of the Isles of Scilly, a small archipelago off the southwestern tip of England. Thursday morning he tied up in the harbor at Hugh Town, where he is now waiting for a weather window to make the final fraught crossing to France.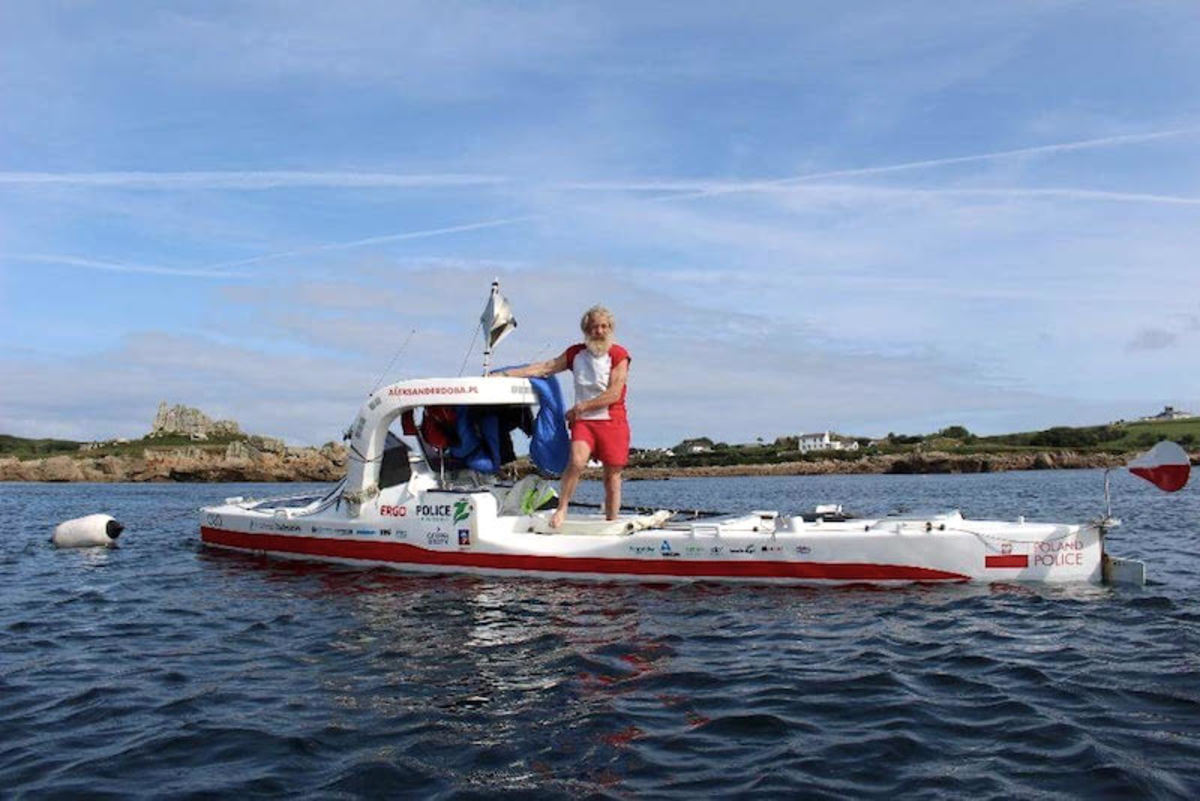 Doba has yet to commit to a final destination. Brest and Cherbourg are closest, but he seems inclined to try for Le Havre, which lies deeper in the English Channel. "It is a very complicated and difficult task," Doba texted from sea. "I decided to challenge myself at the end of the Atlantic kayak expedition."
His unwieldy craft remains, as ever, at the mercy of wind and current. The English Channel is the world's busiest shipping lane by tonnage, with more than 500 ships transiting the Straits of Dover each day. Krasowski likens the ship traffic to Marszalkowska Street, the busiest boulevard in the Polish capital. But there are no crosswalks in the channel and container ships don't have brakes. After all the storms, equipment damage and communications failures he's endured in three Atlantic crossings totaling more than 10,000 miles, this last 100 miles is likely the most dangerous challenge Doba has yet undertaken.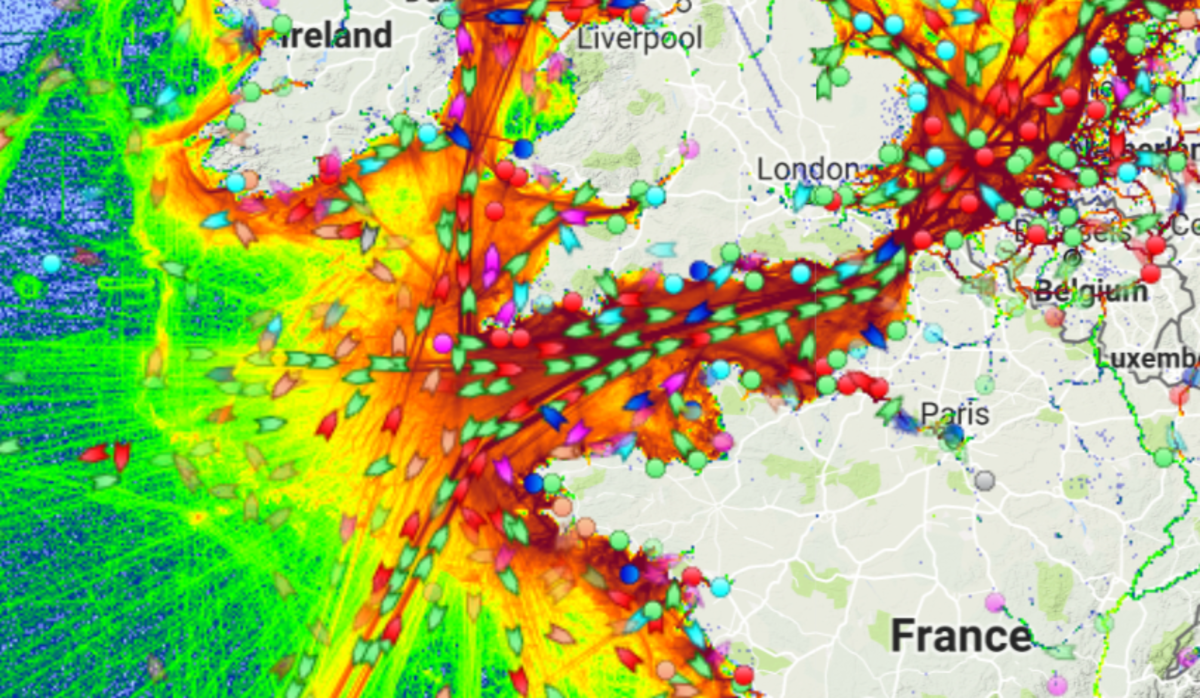 The shipping represents the biggest hazard, though far from the only one. Doba calculates that he needs to be 150 nautical miles offshore to be safe from storms that could push him ashore. The Channel is just 50 miles wide. Krasowski notes that the winds in the channel are erratic. "To shoot in means to wait for the winds blowing from the west to the east. With their help Olek should enter the English bottleneck and then within a few days reach the target of his choice."
Barnegat Light, the New Jersey lighthouse he passed 101 days ago on his way out to sea, is already 2,800 nautical miles behind him. Accounting for all the extra distance he's paddled thanks to storms and the broken rudder, Doba has covered more than 4,000 nautical miles.
No one can say for certain when Doba will reach the French mainland, but if he can safely run the gauntlet of ship traffic, he should arrive in time to celebrate his birthday on terra firma. He turns 71 on September 9.
---
— Read more on Aleksander 'Olek' Doba, ocean kayaker, Polish national hero.
The article was originally published on Canoe & Kayak
For access to exclusive gear videos, celebrity interviews, and more, subscribe on YouTube!