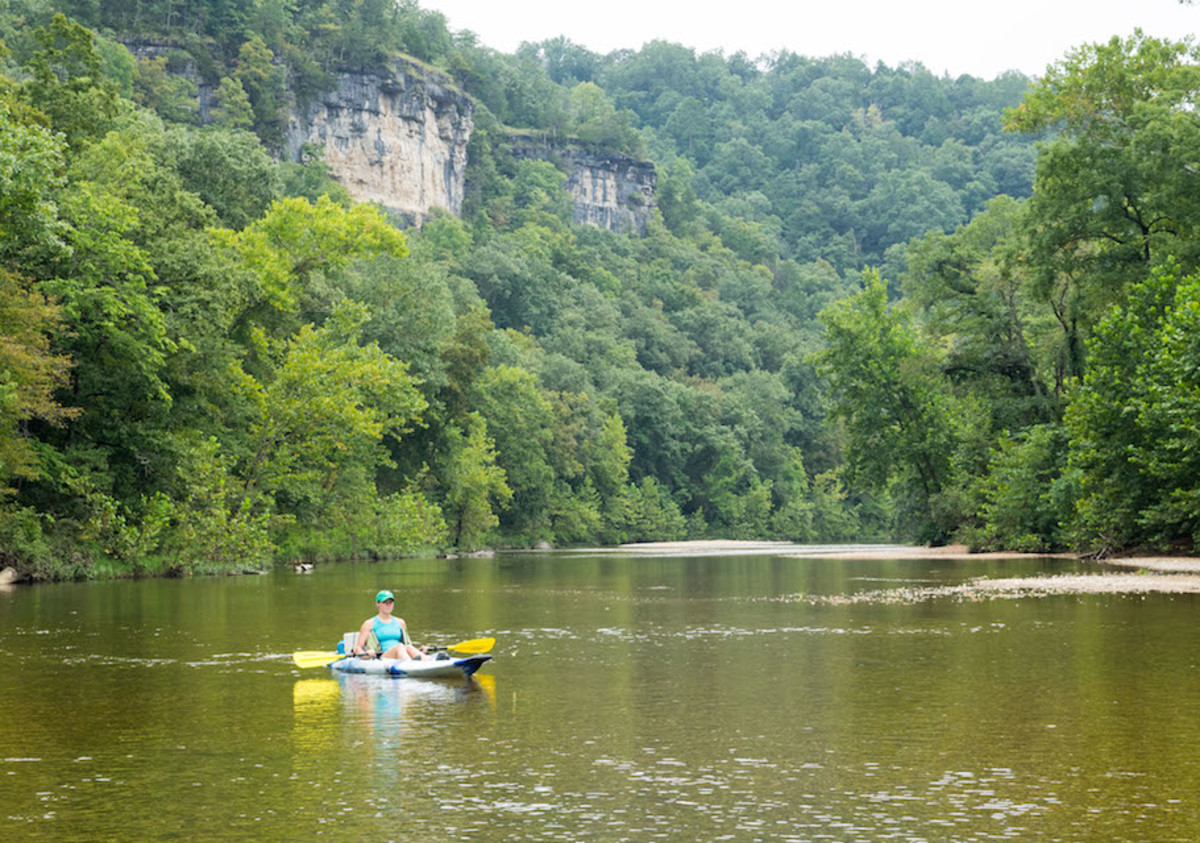 The truck crested another blind ridge, our stomachs dropped, and my wife grabbed her seat with a gasp. I reached out my open window to make sure the kayaks were still attached as we zoomed along MO-106—more an asphalt pump track than a highway. Up ahead, a wooden sign stuck out from lush hardwood forest. Entering Ozark National Scenic Riverways.
This welcome sight meant a few things. First, we'd successfully followed a half dozen lettered and numbered highways from St. Louis, like a three hour traverse across a Scrabble board. Second, this confirmed my distant memories of a national park lurking deep within the Ozarks. And third, having lived in-state for nine years, I was kicking myself for not returning sooner.
Twelve years before, I'd road-tripped across two-thirds of America, stopping to paddle Missouri's famous Jacks Fork River. Back then, I was mostly focused on guiding class IV-V California whitewater, but still the float stream made an impression. Clear water rippling over gravel, hillside bluffs, deep caves with albino salamanders, and humid nights filled with fireflies.
When chance relocated me to St. Louis, I explored the occasional float gem with friends, but most of my paddling was spent on the Ozarks' few whitewater offerings, plus frequent trips to the Southeast for steeper rivers and creeks. But lately, I'd been stepping my paddling down and seeking out experiences. Returning to the Jacks Fork for an August float with friends seemed a perfect opportunity. Plus, I could bring along Lara, my infrequently paddling wife.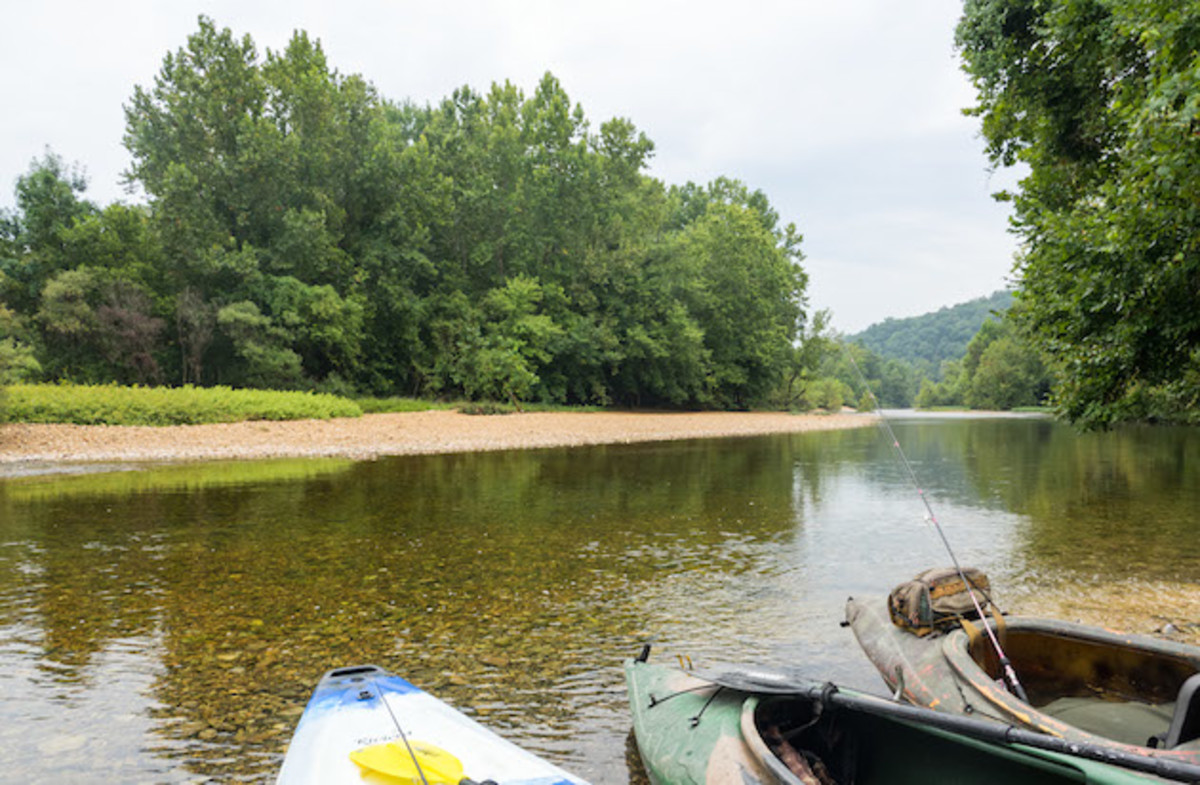 We crossed a bridge over the park's other famous river, the Current, which flowed wide and clear below cliffs.
"This isn't going to be hard, right?" asked Lara.
"A class I stream with a class III approach road," I bloviated like a boater.
Lara rolled her eyes and pulled out her Paddling-Jargon to English dictionary to translate.
We stopped in Eminence, the one horse, thousand boat hub of Ozark paddling. A classic rock band blared from a nearby resort. After burgers at the Dairy Shack, we met the others at an NPS campground near Alley Spring.
The next morning, a steady rain kept us counting clouds until 11. After a short drive, we unloaded an 8-boat flotilla on the gravel bar at Bay Creek. Stubby fishing yaks, long sit-on-tops, and my go-everywhere Pyranha Fusions.
Once departed upon crystal clear water, our fisherman cast for the deep holes, aiming between rocks and under snags. The pursuit here is Small Mouth Bass and Goggle-Eye, a.k.a. Northern Rock Bass. Soon, lines were snapping taught, fish were flopping, and quick hands were releasing them back into the depths.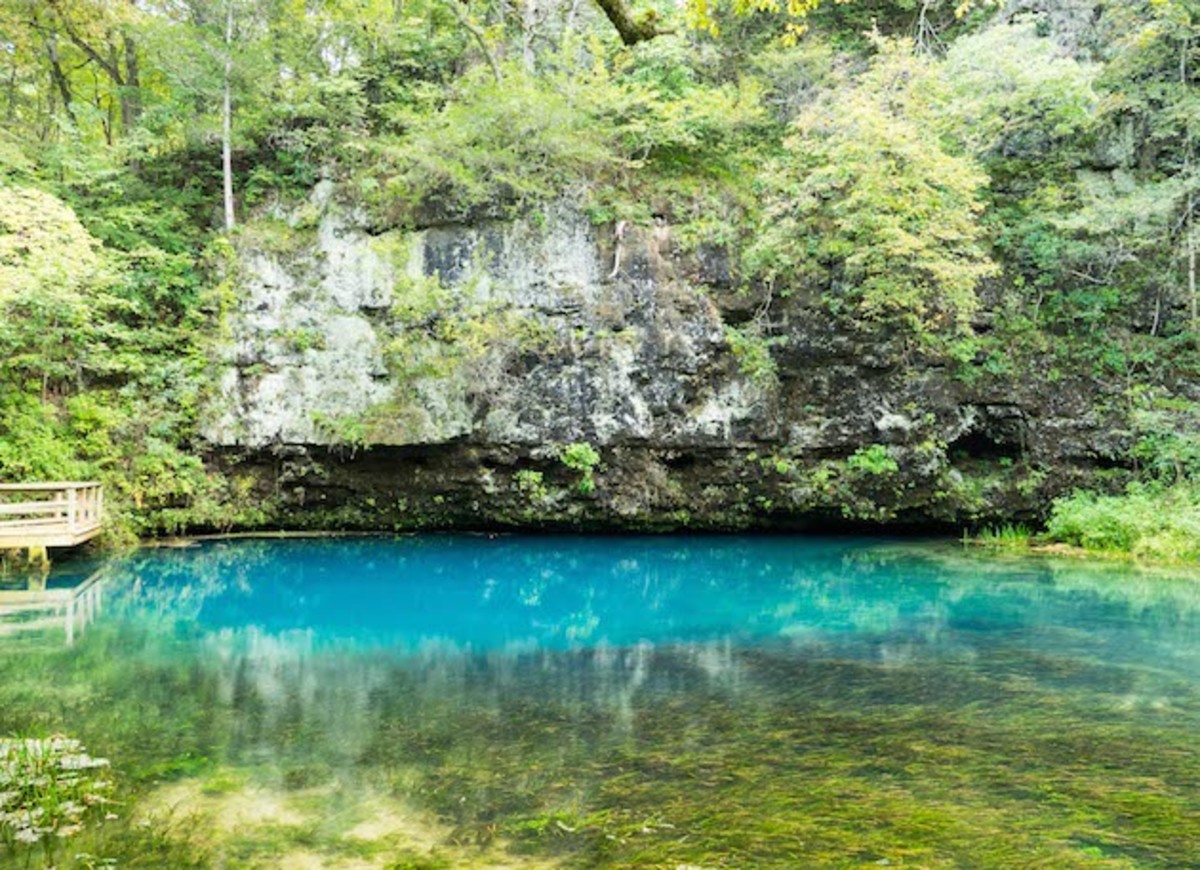 In the pools, we floated on steady current, following adult and baby turtles skirting along the bottom. On a midstream log, rested a Northern Water Snake. Between pools we zipped down runs and in the shallows, we raced to scrape the furthest before hopping out to drag. Familiar dolomite bluffs with black streaks jutted up from stands of sycamore and maple.
When the clouds conceded to a sunny day, we swam in the deeps. Two paddlers reclined in their boats and read e-books through plastic zipper bags, a.k.a. Ozark waterproofing. A few miles from take-out, we passed a feeder creek and noticed high water signs. A debris line above our heads, undercut banks, downed trees, and increasingly large snags collected in the cut banks. Later, a ranger described a July flood that closed the campground.
That night our fish fry potluck turned into a what-else-can-we-fry experiment. Turns out plenty. S'mores, cookies, bagels, breakfast burritos, even Clif Bars, which look and taste the same before and after.
On Sunday, we decided not to paddle—a blasphemous decision if made in my early boating days—instead opting to explore a few sights.
First was Alley Spring. With a near constant flow around 125 cfs, it's the tenth largest in Missouri and one of many keeping the Jacks Fork running year round. Adjacent to the turquoise waters of the 32-foot deep spring was a bright red Grist Mill, now a museum. Next, we detoured to Rocky Falls, where a creek tumbled over smooth bedrock through a rhyolite shut-in.
We ended our trip with a hike to Blue Spring along the banks of the Current. Regularly flowing about 140 cfs, it's Missouri's 6th largest, and the deepest at 300 feet. An old trail-side sign said it was also "conceded to have the deepest blue color of any." While I imagined a pair of old-timey hydrologists throwing fisticuffs over color intensities, the others pushed ahead and were soon clamoring.
I found Lara captivated by a pool of sky, halfway between azure and cyan, framed between green water grasses, mossy cliffs, and hanging ferns.
"That's really blue," was all I could say. Lara nodded.
This confirmation meant a few things. First, the trail-side sign—and old timey hydrologist—was right. Second, it's like someone dropped a piece of Costa Rica into Missouri. And third, Ozark National Scenic Riverways isn't worth two visits—it's worth dozens.
More from Mike Bezemek's 'Regular Paddler, Remarkable Waters' series
The Benefits of Stepping Down your Paddling
Regular Paddler, Remarkable Waters: Flaming Gorge, Wyoming
Regular Paddler, Remarkable Waters: A Friendly Paddle in Central Germany
The article was originally published on Canoe & Kayak
For access to exclusive gear videos, celebrity interviews, and more, subscribe on YouTube!