On August 15, Scott Ellis, 55, died while participating in the Leadville Trail 100 mountain bike race in Colorado. Ellis, an experience cyclist, suffered an apparent heart attack near the end of the 100-mile, high-altitude course through the Rocky Mountains. It was Ellis's 19th time competing in the "Race Across the Sky." 
While the coroner's report is still pending, eyewitnesses confirmed that Ellis's death — which happened on a steep climb known as the Power Line — appeared to be from cardiac arrest. A competitor from Michigan named Chris saw Ellis sitting in the grass on the side of the trail and stopped to help. "At first Scott said he didn't need me to call medical, but then changed his mind," says Chris. "He said he felt terrible and his chest felt tight."
Another rider — an Emergency Room doctor — stopped and began evaluating Ellis, asking questions about his overall health and allergies. "He was in great shape as far as we could tell," says Chris. Soon after, Ellis rolled onto his side and stopped breathing. The ER doctor administered CPR, and Ellis began breathing again, but for only a short time. "His breath was short and labored," remembers Chris, "then it stopped again." 
By then, several concerned riders, including another doctor, had stopped to help. One doctor breathed for Ellis, while the others, including Chris, took turns doing chest compressions. When the first responders arrived, they asked the athletes to clear the scene. "I prayed all the way down the hill, and finished the race," says Chris.  
ALSO: The Last Flight of Dean Potter
The Leadville Trail 100 mountain bike race is arguably the most prestigious ultra-endurance mountain bike race in the U.S. It's particularly notable for its elevation — the course starts at 10,152 feet, an altitude where most would feel short of breath simply walking up a flight of stairs. It tops out at about the halfway point, on Columbine Mine, at a lung-searing 12,424 feet. Despite the grueling conditions, Ellis's death is the first in the race's 23-year history.
"It's rare in endurance sports, but it happens," says Bill Roberts, MD, the medical director for the Twin Cities Marathon. In its 35-year history, the marathon has seen eight runners collapse from cardiac arrest, or about 1 in 50,000 finishers. For men, Roberts says, the risk is higher, about 1 in 30,000.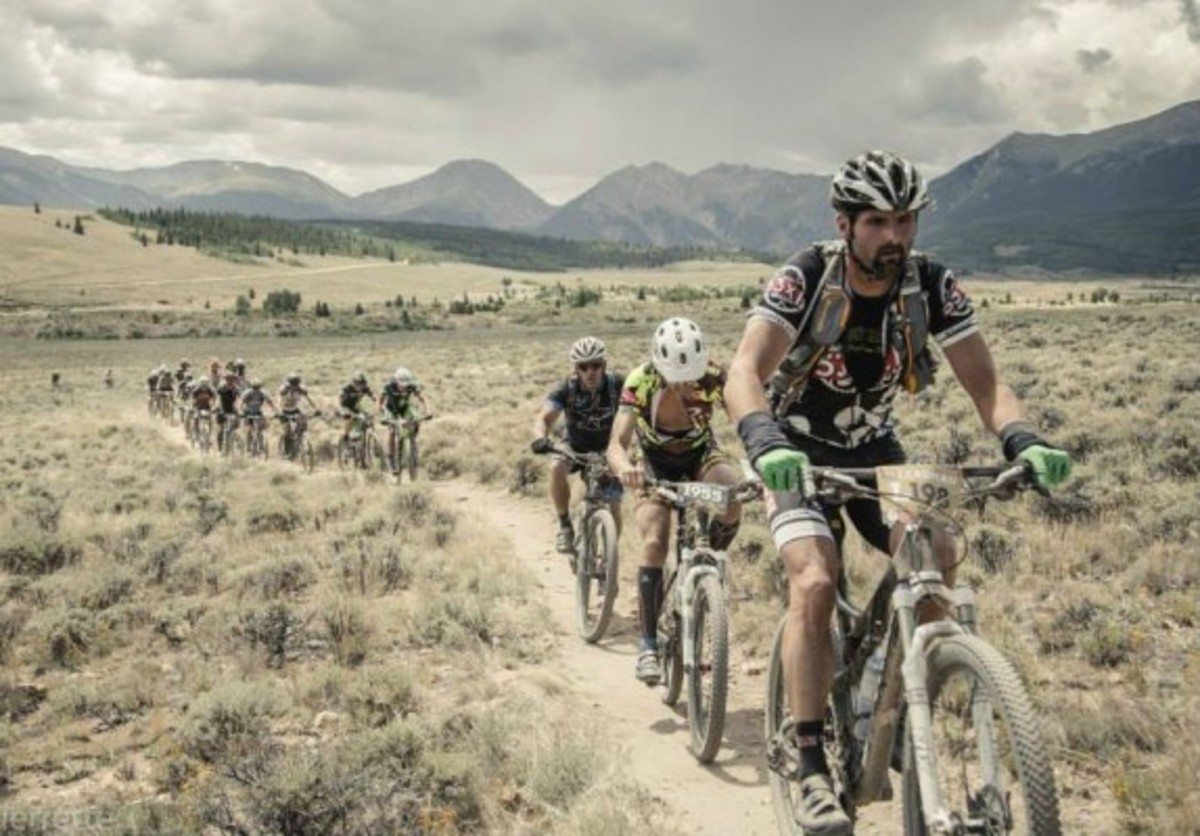 A scene from this year's Leadville Trail 100 (Photo by Linda Guerrette)
In Roberts' experience, cardiac arrests that happen during endurance races are the result of coronary heart disease — plaque that's built up inside the coronary arteries. The catch is that most were asymptomatic; the runners didn't even know they had a health problem. "You can have a partial blockage, say 60-percent, that you don't even know is there until it ruptures and causes an arrhythmia [abnormal heart rhythm]," says Roberts.
What causes ruptures? Physiological stressors like intense exercise. "People push themselves much harder in a race of this caliber than in training or testing," says Michael Ross, MD, Medical Director of the Performance Lab and author of Maximum Performance for Cyclists. "At marathons, the most common point people die is at 26.1 miles. It's not that they can't handle the distance, it's that they're pushing themselves harder than usual."  
Altitude and heat are also factors. "For the Leadville Trail 100 in particular, there are a host of altitude-related issues," says coach Bernhardt. "Plus race day was hot this year, so there is a second set of issues related to heat, like cooling of the body, dehydration (exasperated by altitude), and loss of electrolytes. Add to that the normal long-course race issues — fueling, hydration, cramping, proper pacing, training — and any rider has to manage a very big plate of stressors."
Perhaps the biggest risk factor, however, is the remoteness of the race course. "At the marathon, most of our cardiac arrest cases survive because we have help so close, and can get them in an oxygen mask and defibrillator and return their heart to a normal rhythm," says Roberts. "But survival rate goes down about 10 percent with every minute that passes," says Roberts. The time lost in the wilderness is likely what ultimately lead to Ellis's death. 
In memory, friends and teammates have added more than 200 photos of Ellis to a Facebook album maintained by Ellis's coach and fellow Leadville Trail 100 competitor Gale Bernhardt. "He was a real ambassador for cycling," says Bernhardt. "He volunteered at local races like the Boulder Ironman, the USA Pro Cycling Challenge, and the Leadville 100 Bike Race and Run because he felt that contributing to the sport was important. It was his way of giving back."
For access to exclusive gear videos, celebrity interviews, and more, subscribe on YouTube!