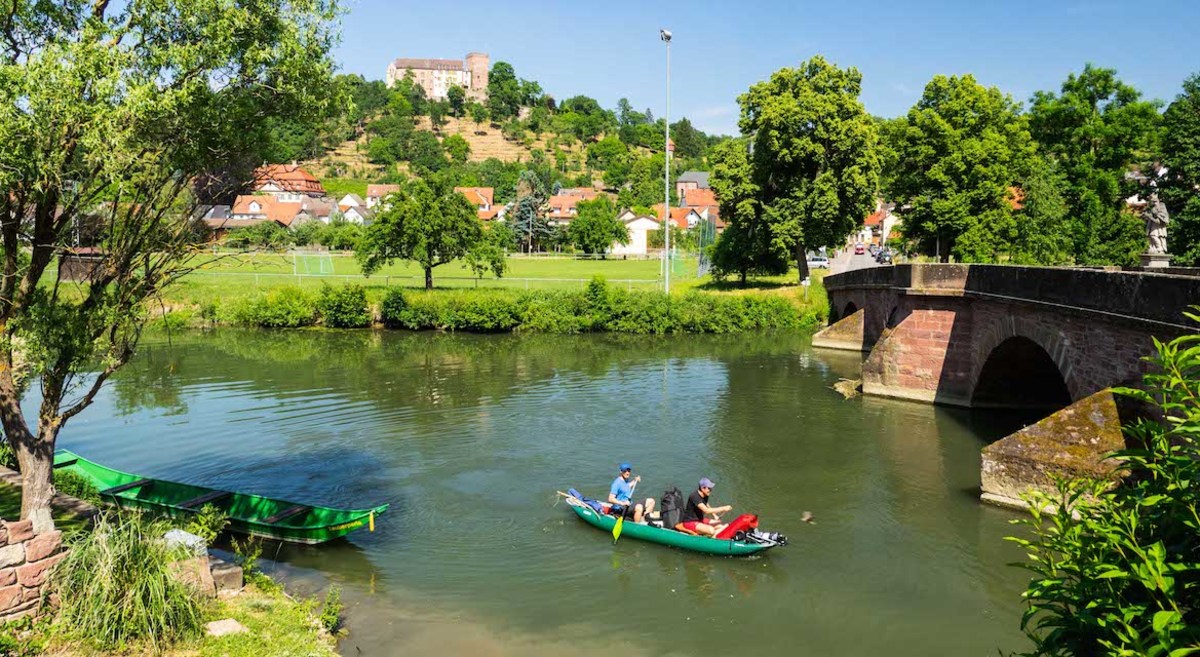 By Mike Bezemek
"We start tomorrow," said my wife's cousin, Philipp, over the phone. "Down the Tauber to the Main. For one week. Maybe to Frankfurt. Maybe the Rhein. Maybe Düsseldorf."
I'd just arrived with Lara to her village. Jet-lagged. Arms sore from paddling across a reservoir in Wyoming—but I'm hooked. Plus surprised I've never considered such a trip. Visiting Germany for years, I committed the whitewater cliché, dismissing waterways as flat and focusing instead on German cycling trips. But I can't skip this. Foreign rivers! Two novices' first multi-day! Overly-ambitious and ambiguous destinations! I would step it down and join up.
My wife's birthday would delay me three days. Meanwhile, a few issues. I had camping gear, but no dry-bags, no transportation, and—slight detail—no boat.
Beggars cannot be choosers in foreign lands. The paddle, thankfully, was a Shlegel Tech III with hollowed water bottle caps securing orange blades to duct-taped shafts. I needed to de-gear-snob, I realized.
Saturday, I stuffed my tent in a trash bag and removed hardware from a semi-dry panier. Good enough.
That evening, I rode up the Tauber to find Philip and his friend Viktor. They'd hoped to make it 23 km to Lara's village, but after attending a weinfest last night, they didn't launch until 3 p.m. I found them in a valley near a stone clock tower and timber-framed altstadt (old town). They were beached on cobblestones under a bridge. Viktor described moving to a lake, buying an inflatable kanu, launching from their boyhood home. But they'd only gone 8 km–mostly in figure-eights, still balancing their strokes.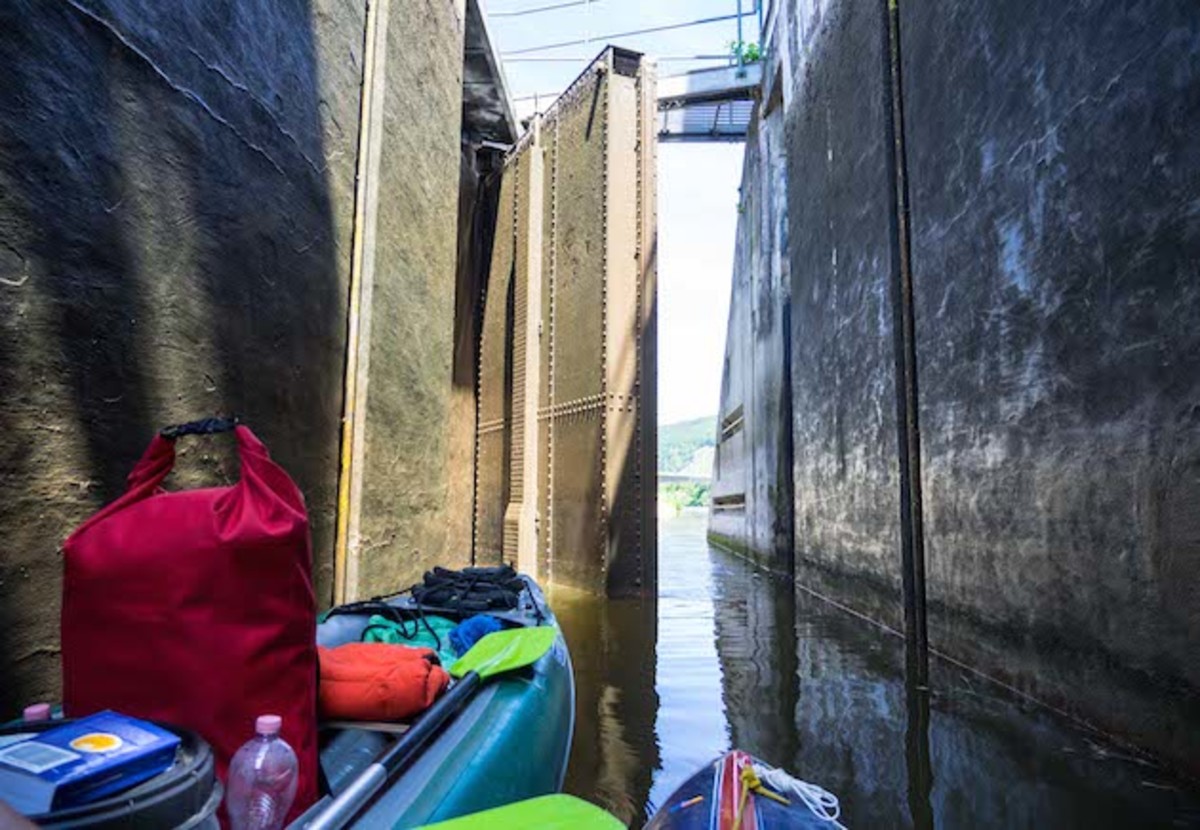 Viktor produced a hand-carved bow and we launched homemade arrows into nearby grass.
"I don't think we reach the village," admitted Philipp. Having already portaged four weirs, which appeared every 2-3 km, they decided to camp discreetly in a farm field.
Sunday, we invited them to lunch. They docked below the 800-year-old hilltop castle. Philipp said his father would graciously drive me to meet them on Tuesday. Lara's Oma, grandma, served rouladen, rolled steak in gravy, over spaetzle, handmade egg noodles, and salat. They ate like they'd been out paddling for 24 weeks, not hours. Still lounging after two hours, I suspected they were stalling.
After they departed, we walked to a nearby festival, which are as plentiful as rivers in Germany. In a garage, there was an Eskimo Salto that had never seen rapids. Near the bridge, a Frankfurt outfitter was putting away rental sit-on-tops. Outside the festival, a van had long boats on the roof. Did everyone in Germany have a kayak except me?
On Monday, Lara's neighbor generously offered his cherished first kayak. A fiberglass Prijon nicknamed Bavaria Blu. Honored, I squeezed in like a sumo wrestler through a sewer grate. Beggars cannot be choosers in foreign lands. The paddle, thankfully, was a Shlegel Tech III with hollowed water bottle caps securing orange blades to duct-taped shafts. I needed to de-gear-snob, I realized.
For Lara's birthday, we hit a Greek restaurant near the confluence. We were post-ouzo when Oma pointed out Philipp and Viktor paddling confidently toward us. Minutes later, they were inside, sipping tall biers, laughing about slipping off a weir into the Tauber.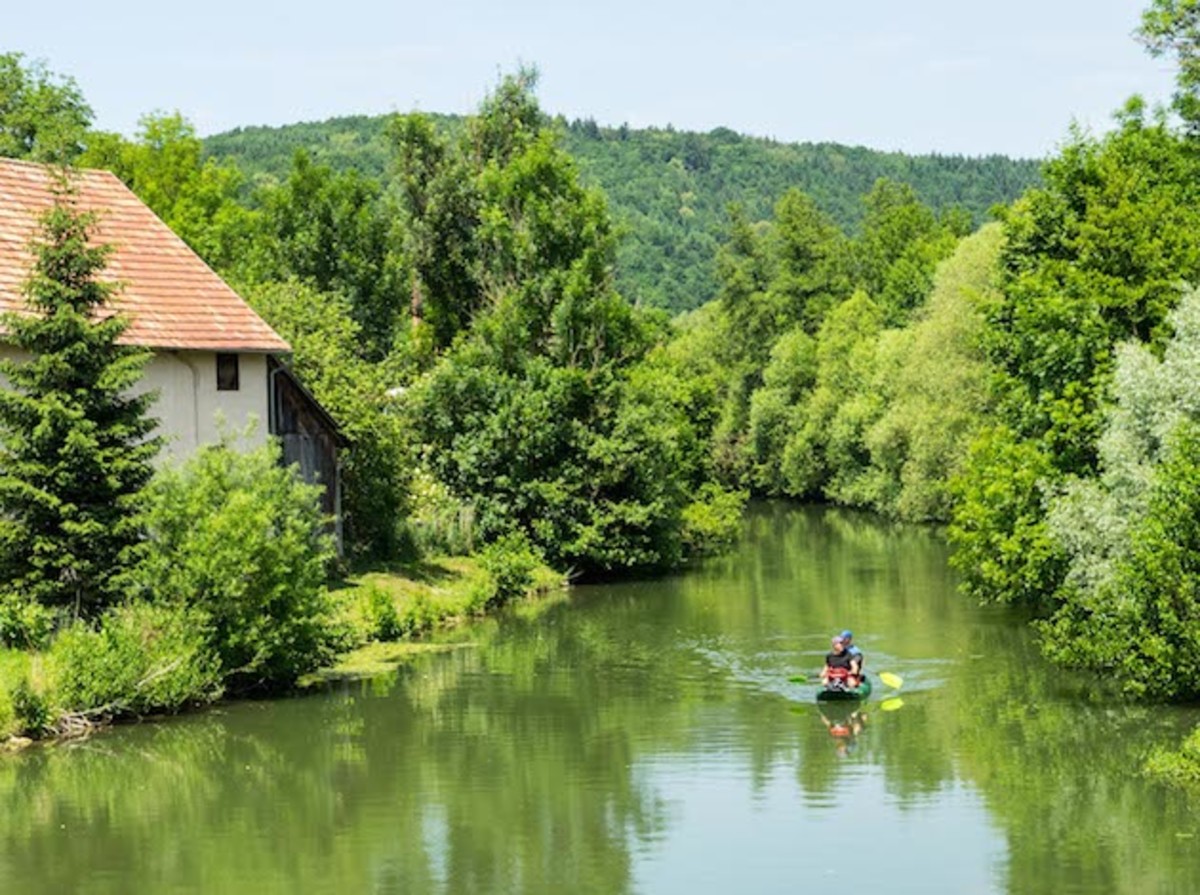 Tuesday afternoon, I met them in a red-stone town on the Main.
"Nächster Halt Frankfurt!" I yelled, picking a realistic destination from their list.
While rigging, we were double-parked by an arriving barge. We limbo-ed under docking wires.
Downstream, the Main was wide and slow. We raced cruise ships, a fußball field in length. Tourists waved from balconies, took our photo. We posed like James-Bond-in-a-boat until we reached a dam. The sport lock, for rec-paddlers, was closed. We followed the cruise ships into the commercial lock.
"We should grab a bier," I said, nodding at the ship's bar.
"You won't like the prices," warned a Dutch dock hand above us.
Hour later, we were 5 meters lower. Under a purple sunset, we camped below a vineyard. Philipp rode on a helpful local's scooter to town for supplies. We had rice, mixed gemüse, canned wurst, and semi-cool pilsner, around a hot fire.
Wednesday started with frühstück—black tea, rolls, salami, cheese, Nutella, apples, granola, bananas. We were paddling by ten. Our goal was 32 km to Aschaffenburg (not named for sitting on a sandy kayak seat).
The forested gorge became a valley. We passed campgrounds with RVs. Industrial parks with smoke stacks. Frequent villages compensated with riverfront fortresses, stone buildings, and red clay roofs.
Distance markers came every 200 meters, revealing steady progress and slow pace—about 4 kph.
At 3 p.m., we beached near a kebap house. Only 14 km down, the fellas debated today's destination. After lunch, I paddled ahead to set pace. Looking back, I noticed them veering into barely visible eddies. After I explained, they struck into the main current and we surged above 5 kph.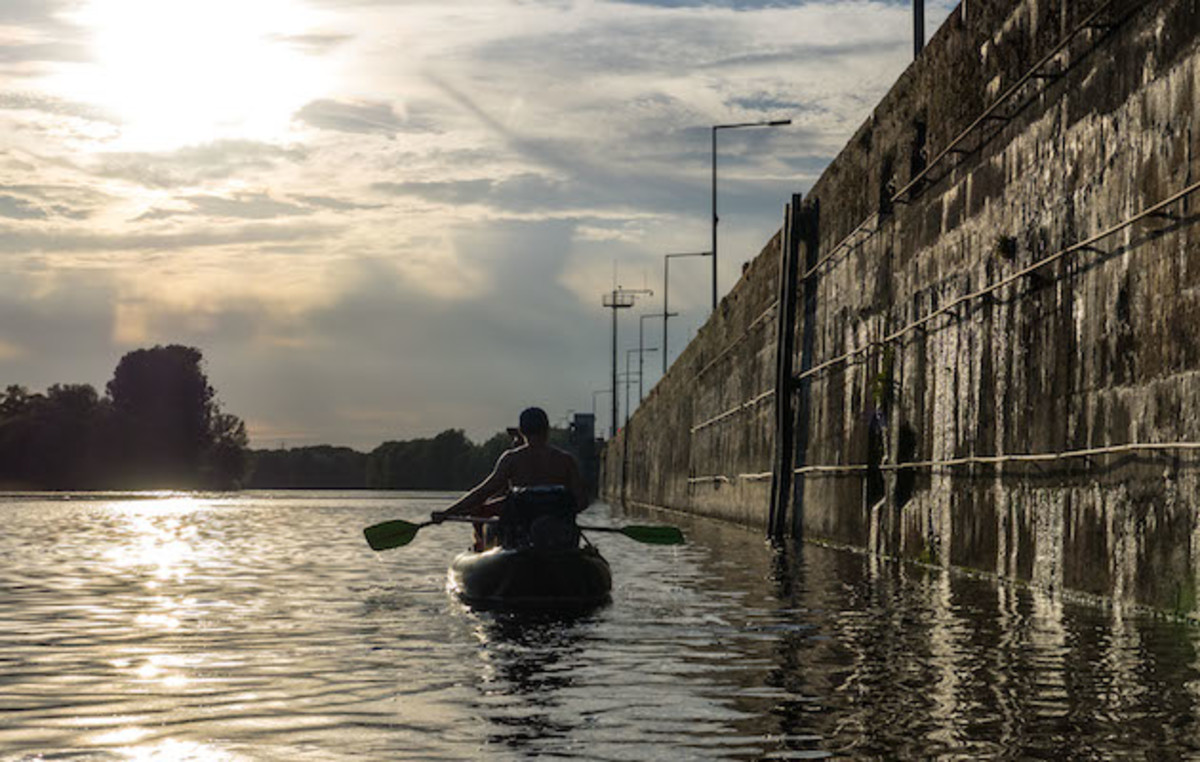 "Nächster Halt Frankfurt!" I yelled, but they remained skeptical. We took nips of obstwasser, fruit water, which at 35 percent alcohol was actually fruit brandy. This numbed cramped legs and heavy arms, giving us second, third, fourth winds.
Eventually, turreted towers rose from the famous palace—Schloss Johannesburg. We erected tents in a city campground and wandered the altstadt where buildings stood together like thousand-year-old pals.
We were eager, and wary, for another slow day. But that night rainstorms flooded our campsite. By morning, their old tent was flooded. The radar revealed storms bearing down, so we called it. We donned raincoats and went sightseeing, chatting like lifelong paddling buddies about where we should go next—maybe France? Switzerland? Slovenia?
"Maybe a river that's a little faster," said Viktor.
On this, we all agreed.
–Read the first installment of Mike Bezemek's 'Regular Paddler, Remarkable Waters' series on the benefits of stepping down your paddling, and stay tuned for more.
–And don't miss: Regular Paddler, Remarkable Waters: Flaming Gorge, Wyoming
–More great PADDLING DESTINATIONS from C&K
The article was originally published on Canoe & Kayak
For access to exclusive gear videos, celebrity interviews, and more, subscribe on YouTube!