Aside from the wilderness aspect and escaping normality for a while, camping is all about the food. Typically a camp night evokes images of sizzling sausages and slabs of steak roasted over an open fire, polished off with gooey s'mores and icy beers.
Yet when you're living in a van for more than a night, meals become a tightly planned regimen of juggling storage and stuff that won't go bad. Keeping meat fresh is nearly impossible (unless you have a van fridge), and why limit yourself to meaty meals?
If you're into vegetables, or looking to try out a few vegan delicacies, here's our guide to simple vegan van living.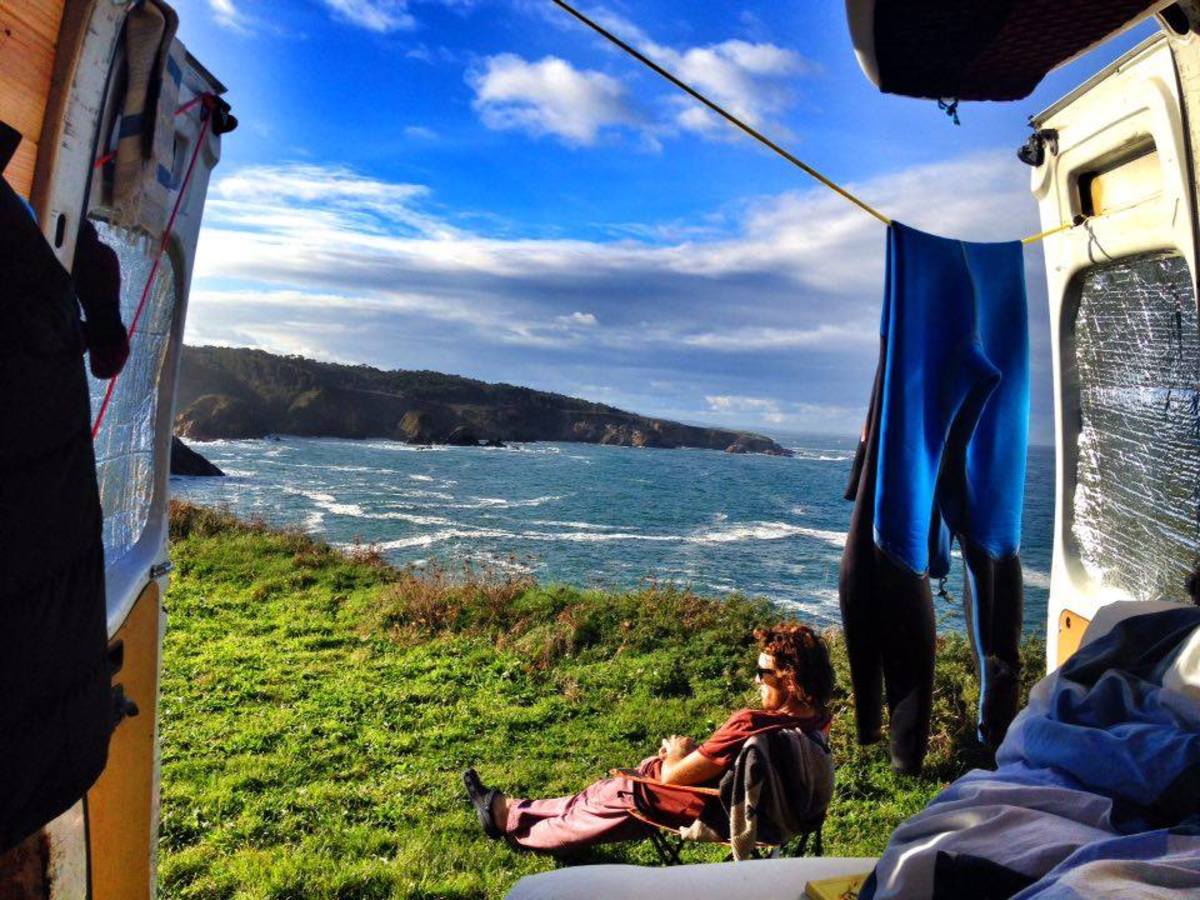 Learned the hard way, the part that sucks about living in a van is washing up. Hence, we've graded the difficulty of these meals by how many pots you have to clean.
Beside the food part, #vanlife is all about locations — pairing dishes with our favorite places to enhance the dining experience.
Breakfast: Overnight oats with tons of toppings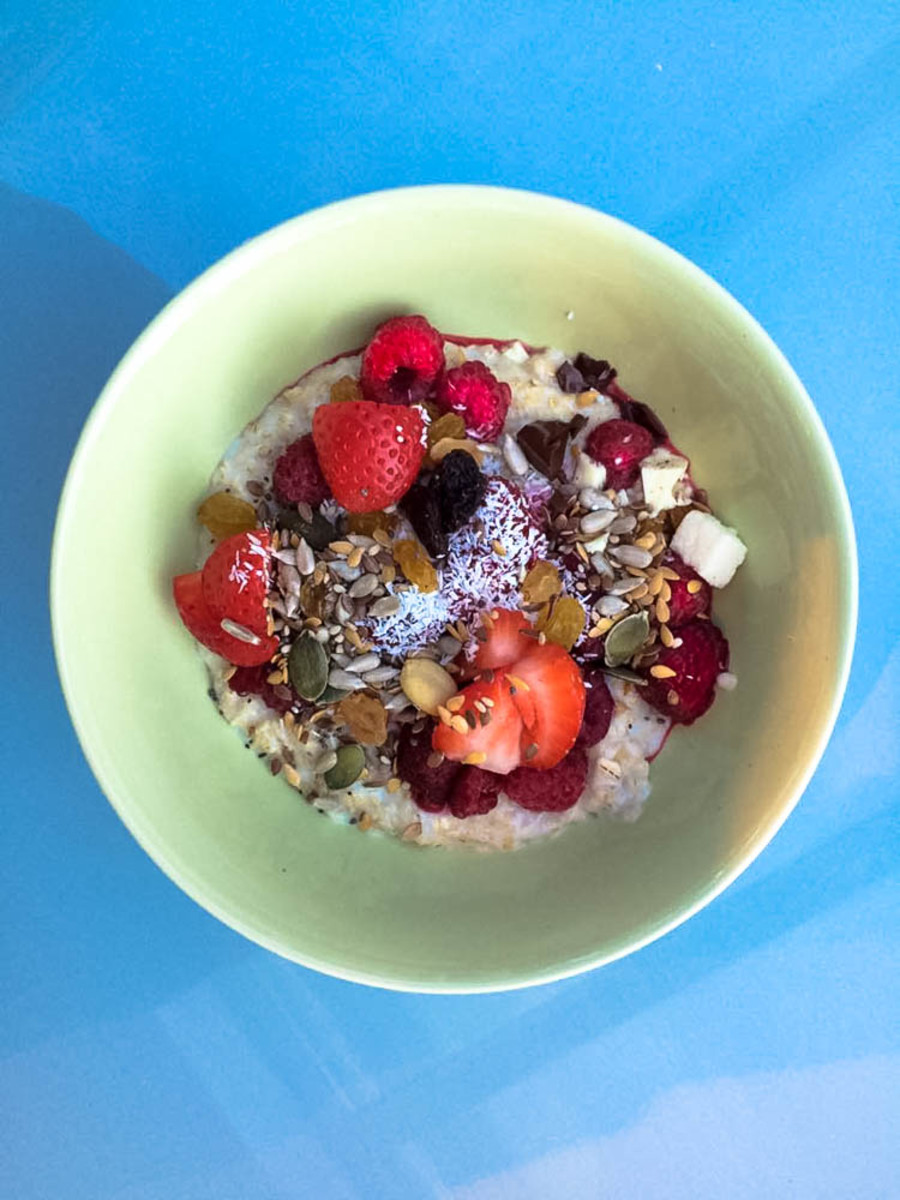 Dishes to clean: 1
For the food:
1 cup of oats
2 cups of non-dairy milk
Chia/flax/sunflower seeds
A vast array of toppings
As it's now fall and we're moving into winter, things get kinda chilly in the van, so start your day with a hearty porridge to warm you from the inside out. Or ditch scraping porridge off pots by making overnight oats.
Just throw the oats, chia seeds and non-dairy milk into a jar. Leave to sit overnight in the van if it's cold enough, or seal up with a lid and pop outside to chill in nature's fridge.
Here we've piled up our porridge with all sorts of good stuff: raspberries, strawberries, flaxseeds, pumpkin seeds, raisins, coconut chunks, nuts, golden raisins — and yes, some vegan chocolate. Sometimes on a frosty morning you've gotta treat yourself.
Berries tend to rot fast in the van, so don't be afraid to go hog-wild with toppings.
Lunch: Spiced Chickpea Salad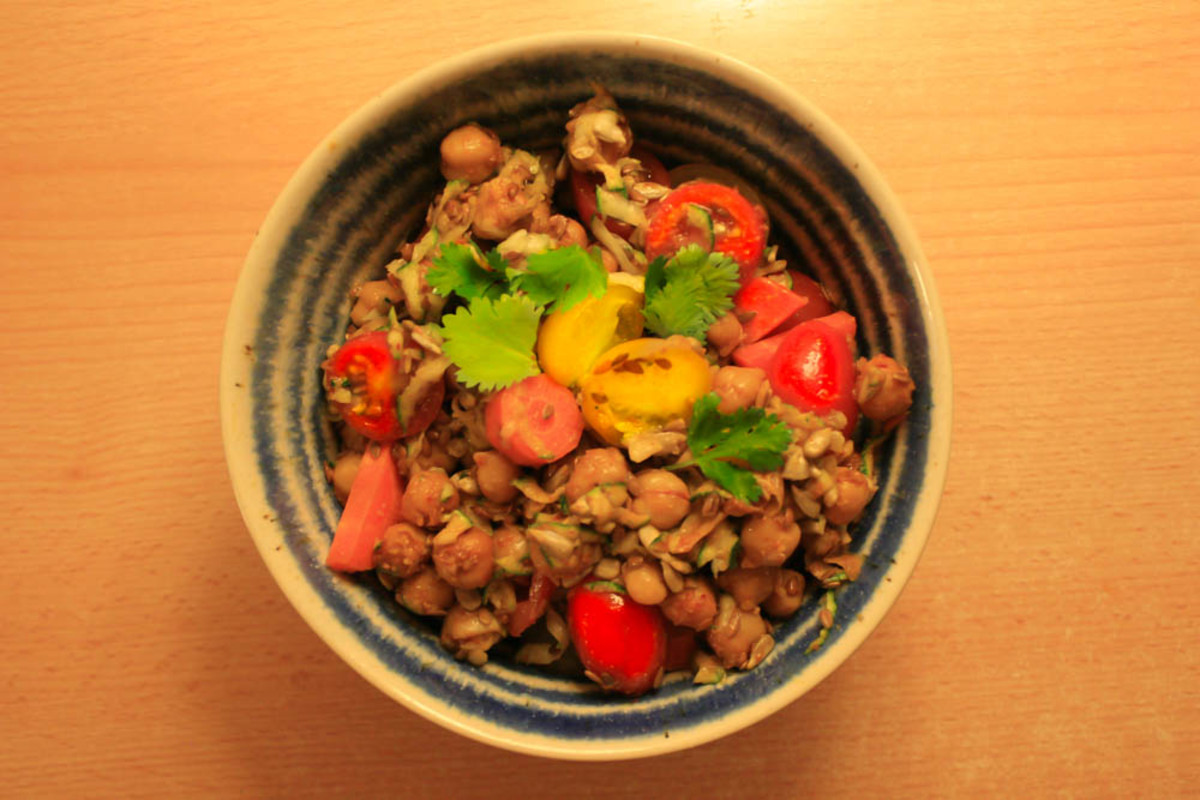 Dishes to clean: 1
You'll need:
1 frying pan
1 wooden spoon/something to stir with, such as a stick (which can be thrown back into nature, which means one less thing to wash)
1 chopping board
1 box grater
1 knife
For the food:
1 tin of chickpeas, drained
Smidge of olive oil
Shake of paprika, garlic powder, red-pepper flakes, cumin
Squeeze of lemon juice
Sprinkle of salt
Dash of soy sauce
1 zucchini
2 carrots, chopped into bite-size pieces
Handful of cherry tomatoes, chopped into bite-size pieces
Flax/sunflower seeds
Bag of spinach (this tends to go bad quickly, so beware when planning)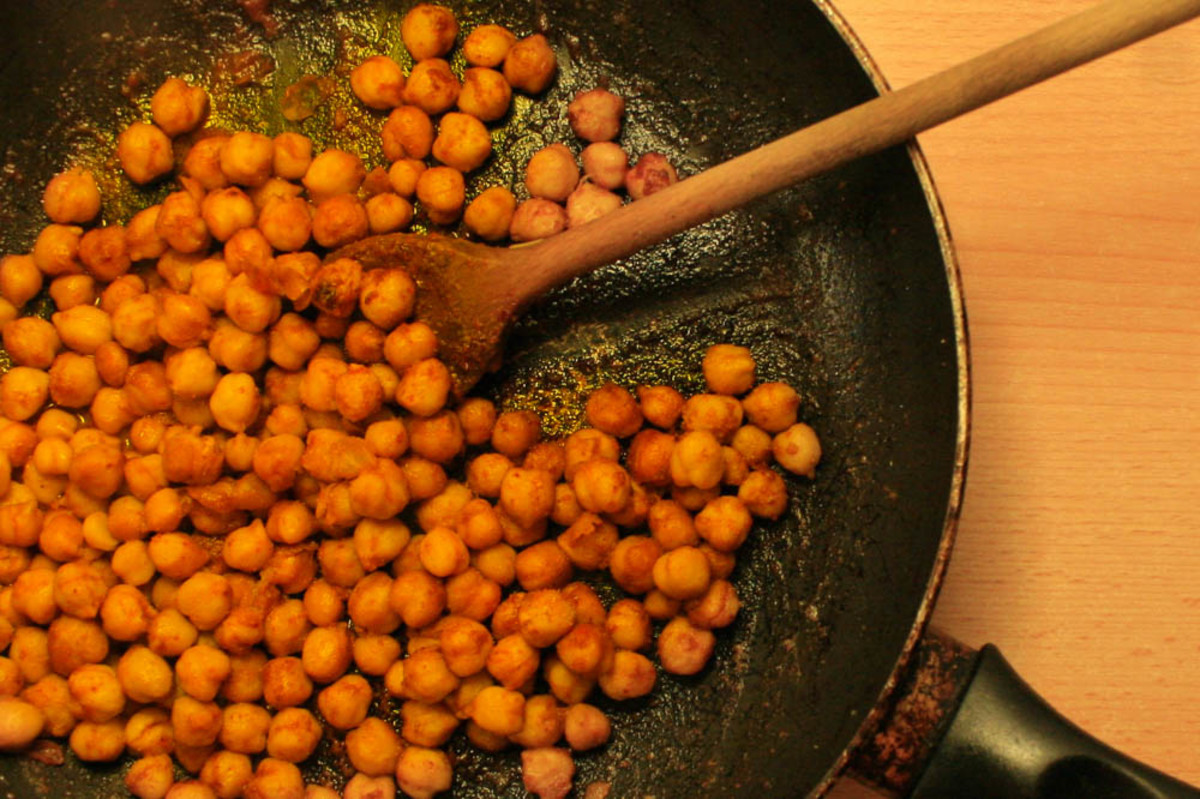 Heat the oil on medium in a frying pan and, once warm, add the chickpeas.
Throw all the spices, the lemon juice and the soy sauce into the mix and cook until the chickpeas pop fiercely around the pan (around five to six minutes). Remove from the heat.
While the chickpea mix is cooling, grate the zucchini into a bowl, then pop the tomatoes and carrots in there as well. Throw in a bunch of seeds, the olive oil and the salt and mix it up.
Chuck in some spinach if you've got some handy, and then add the chickpea mix.
Stir it all up and stick a couple of forks in to commencing feasting. If you're not into food sharing, you might have to divide up the mix, but this will increase dishwashing duties.
Dinner: Black Bean Chili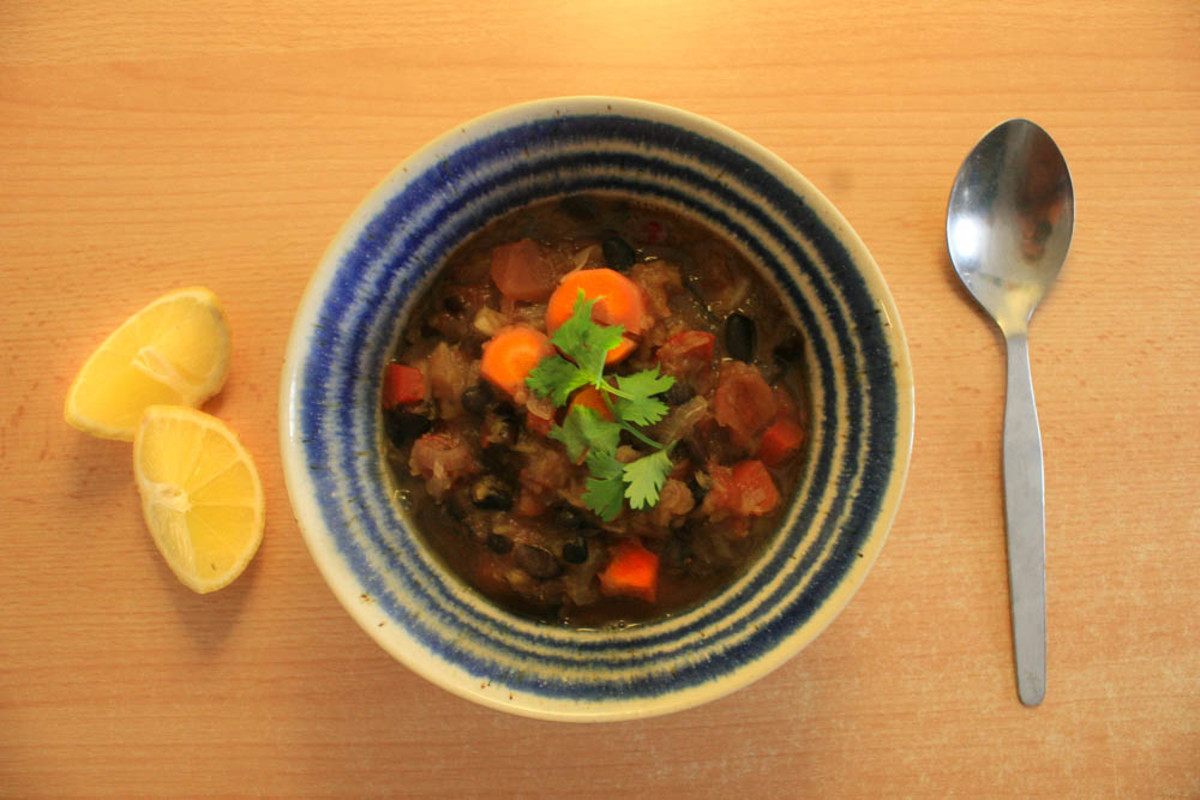 Dishes to clean: 2 (you'll need to pre-cook the pumpkin, so that means washing and reusing the same pot twice)
You'll need:
1 medium pot
1 stirring item (reuse your stick if need be)
1 chopping board
1 knife
1 fork for mashing
For the food:
Splash of oil
1 small pumpkin or butternut squash, peeled and chopped into small chunks
1 tin of black beans, drained
1 tin of chopped tomatoes
1 cube of dehydrated vegetable stock
Sprinkle of cumin, red-pepper flakes and oregano
1 onion, chopped into small chunks
1 pepper (yellow, green or red), chopped into small chunks
2 carrots, diced small
2 cups of water
Fistful of cilantro, chopped
Dash of lemon juice
Bread for cleaning the bowl
Add the pumpkin or squash to the pot and cover well with water. Bring to a boil, then reduce the heat to a lively simmer for around 15 minutes, or until the pumpkin is easily pierced with a fork.
Drain the pumpkin, pile it into a bowl and mash.
Heat the oil over medium-high in the second pot and then throw in the onions, carrots and peppers, frying until the onions start to brown. If you've got any sad-looking vegetables left over in your cooler, like a leek, chop them up and pop them into the mix too.
Chuck in the pumpkin mash, vegetable stock, tomatoes, black beans and water. Add the spices and let it simmer for around 10 minutes.
Ladle the chili into bowls and top with the cilantro and lemon juice. Mop up with bread.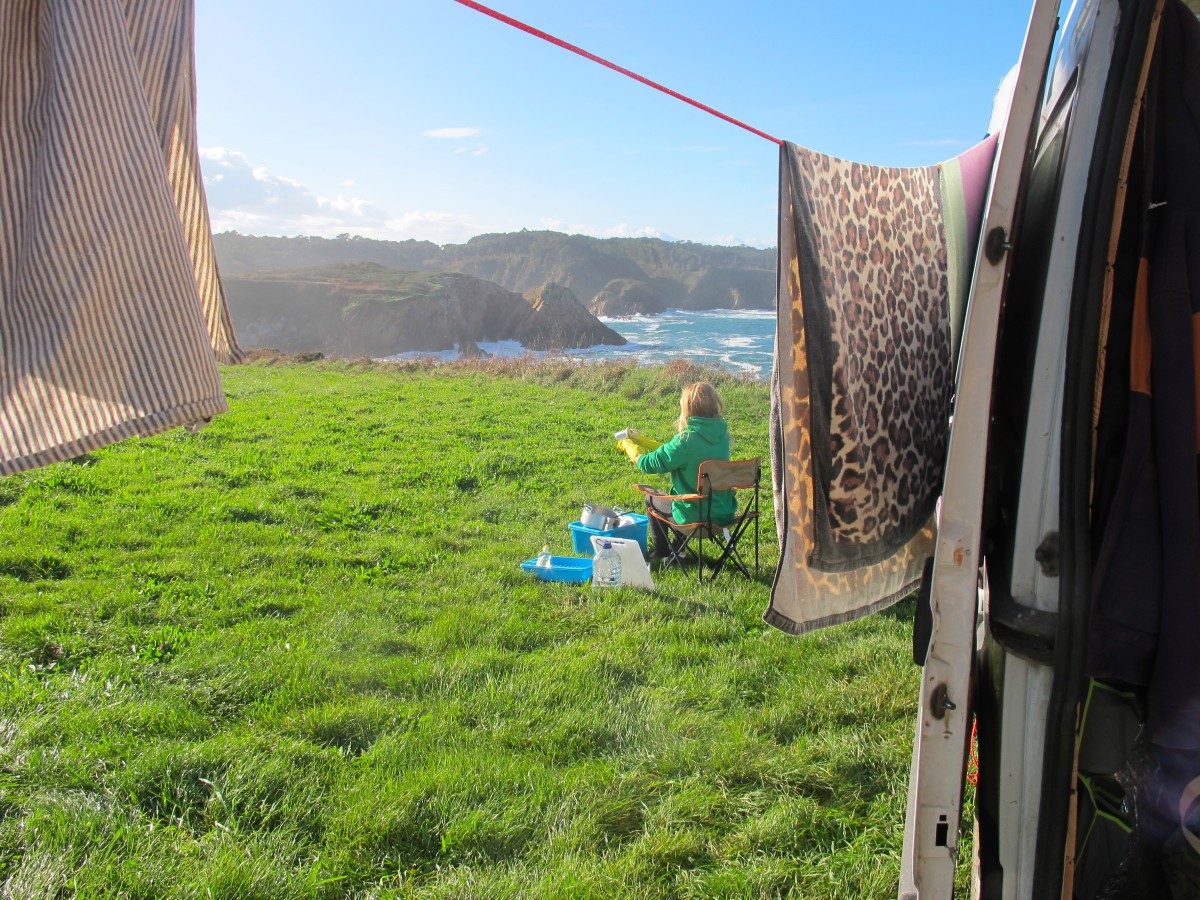 As vegans, life in a van is really very simple — no meat, no cheese, no fresh milk. All the stuff that smells bad after a few days out of the fridge is eliminated.
So, whether health-conscious or on a budget, hankering after filling feeds or warming post-surf suppers, try a few of these vegan van feasts. With mostly one-pot meals, you can spend more time surfing and surveying the sunsets than slaving over scrubbing pots and pans.
Everyone's a winner.
More from GrindTV
6 things to add to your camping kit to prep for cold weather
How to ski early season safely in the backcountry
Visit a Colorado gorge 2 million years in the making
For access to exclusive gear videos, celebrity interviews, and more, subscribe on YouTube!