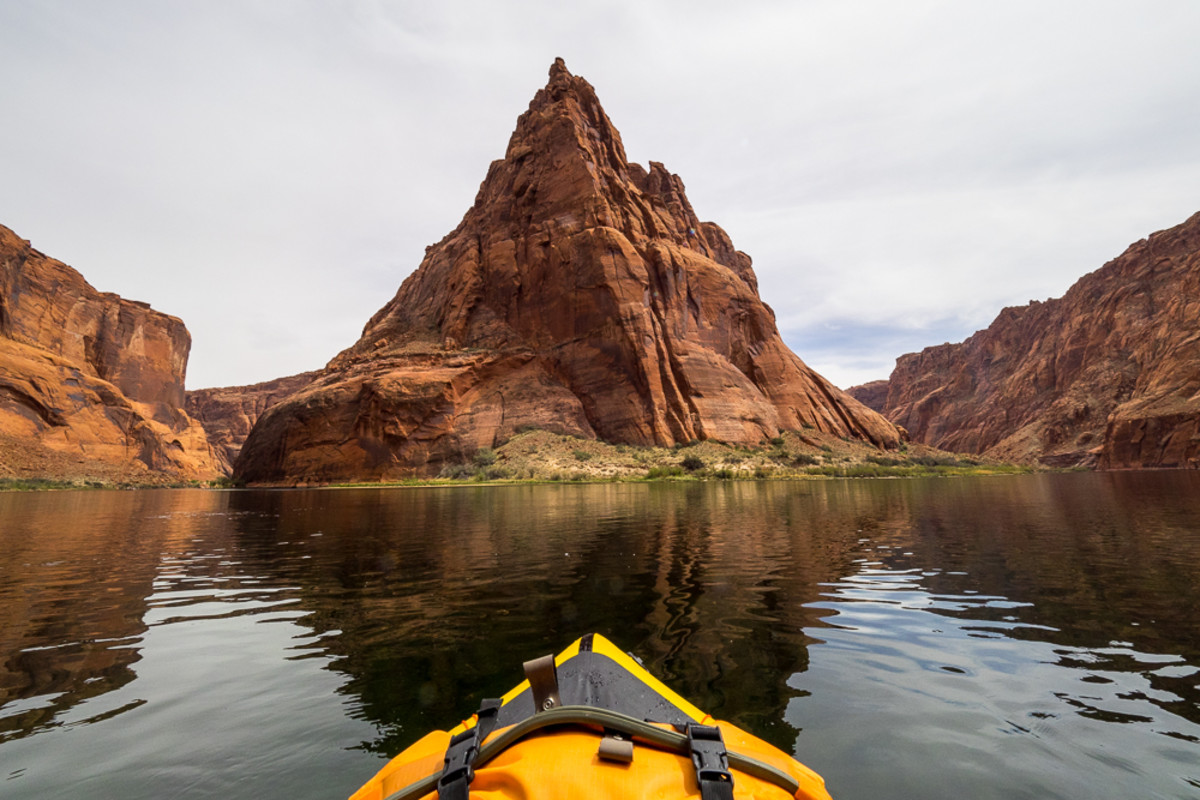 I was in upper Ferry Swale Canyon, with packraft and camping gear on my back, following a sandstone ridge toward powerlines. The Colorado River was beneath the plateau and out of sight. In the distance, the golf course oasis of Page rose atop an orange hillside. I was definitely on track. But the deep sand I sunk into with every plodding step had fatigued my legs. Should I have just paid a hundred bucks for a backhaul motorboat ride up from Lees Ferry?
Look, lots of people trudge across the desert for 12 miles, I rationalized. Sure, mostly prisoners of war, escaped kidnap victims in cowboy films, and overzealous geocachers—but still. It was early April in Arizona. Warm but not hot. I wasn't sure how much further I had on sand before returning to the firmer footing of Navajo sandstone, but there was no rush with plenty of daylight left. Yes, my legs and shoulders were way more tired than expected. But, honestly, that was to be expected given how these trips usually went.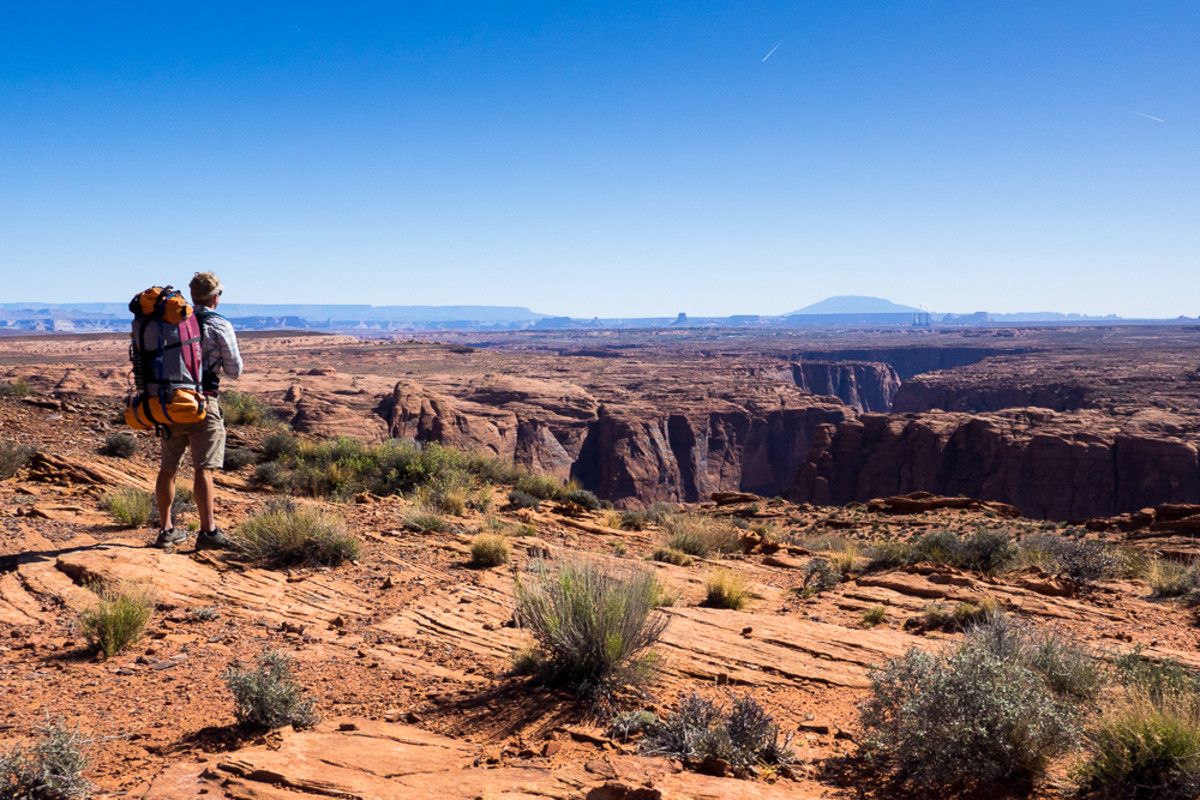 That I was here at all—searching for a two-day packrafting loop from Lees Ferry into upstream Glen Canyon—was entirely by chance. Last fall, I'd come to Page to research my new guidebook, Paddling the John Wesley Powell Route. The often forgotten backhaul, 15 miles of Colorado River between Glen Canyon Dam and Lees Ferry, was one of my last sections to explore. I received a tip from a local paddling shop owner that there was another way into Glen Canyon. The little-known Ropes Trail dropped steeply from near the dam visitor center to river level. And sometimes paddlers carried in boats.
A few days later I started hiking with a new friend, a Lake Powell kayaking guide, plus an inflatable SUP and hardshell kayak. Nothing went as planned. At first, we couldn't find any steel posts above the rim, landmarks which a ranger later mused may have dislodged during a recent flash flood. It took us four hours just to find the top of Ropes. During our tiring descent, the hardshell became a bulky hindrance. At one point, we ziplined it past a sheer precipice and later lowered it blindly by rope, hoping it would land on a ledge instead of ricocheting into the river.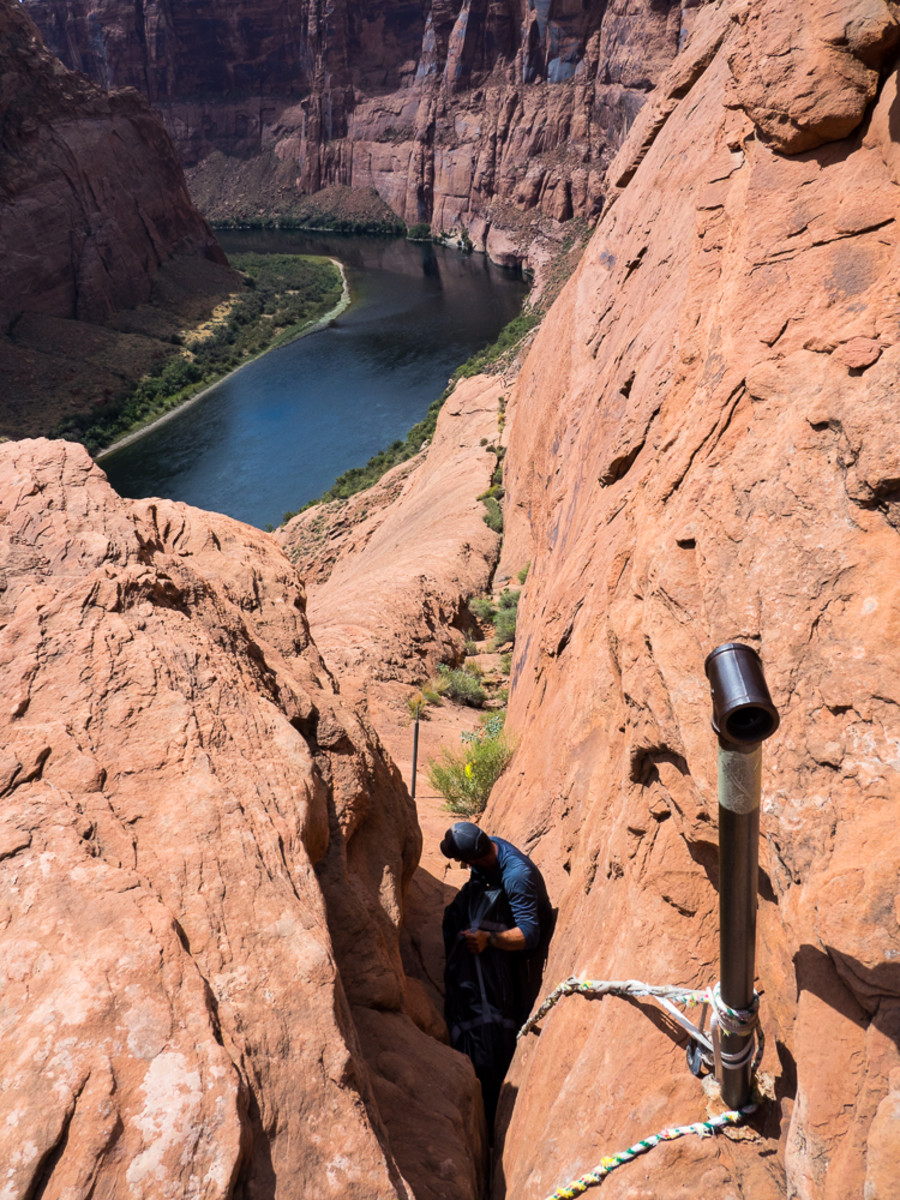 By the time we reached bottom, we'd run out of drinking water. We were filling our bottles with river water and treatment pills when the generous operator of a returning motorboat offered us some ice-cold lemonades. He errantly hurled them into the river and most sank out of sight as we snatched what we could. Despite all our efforts, we started paddling mid-afternoon, right about the time the backhauls returned from the day's commercial tours and dropped occasional private paddlers below the dam. We hustled down the 15 miles and reached Lees Ferry near dark, when my friend discovered he'd lost his keys during our hike. We reluctantly joined the slow-food movement with a four-hour dinner at Marble Canyon Lodge while hoping—then waiting—for a friend from Page to pick us up.
To say it wasn't our finest performance as adventurers was an understatement. But what we saw of the remaining 15 miles of river still running through Glen Canyon was more than remarkable. Sheer cliffs rising a thousand feet. Side canyons ending in dry falls coated with desert varnish. And an inside view from river level of the famous Horseshoe Bend. I was determined to return.
A few months later, while reviewing maps during guidebook drafting, I made a discovery. At Lees Ferry, the Spencer Trail climbed steeply for 1600 feet up the Echo Cliffs. From there, it was six miles in a straight line, across a relatively flat plateau, to the top of Ropes. With a bit of circumnavigation around slot canyons, could these two trails connect? If so, might it be possible to create a hiking and paddling loop, perfect for a weekend packrafting expedition, which started and ended at Lees Ferry?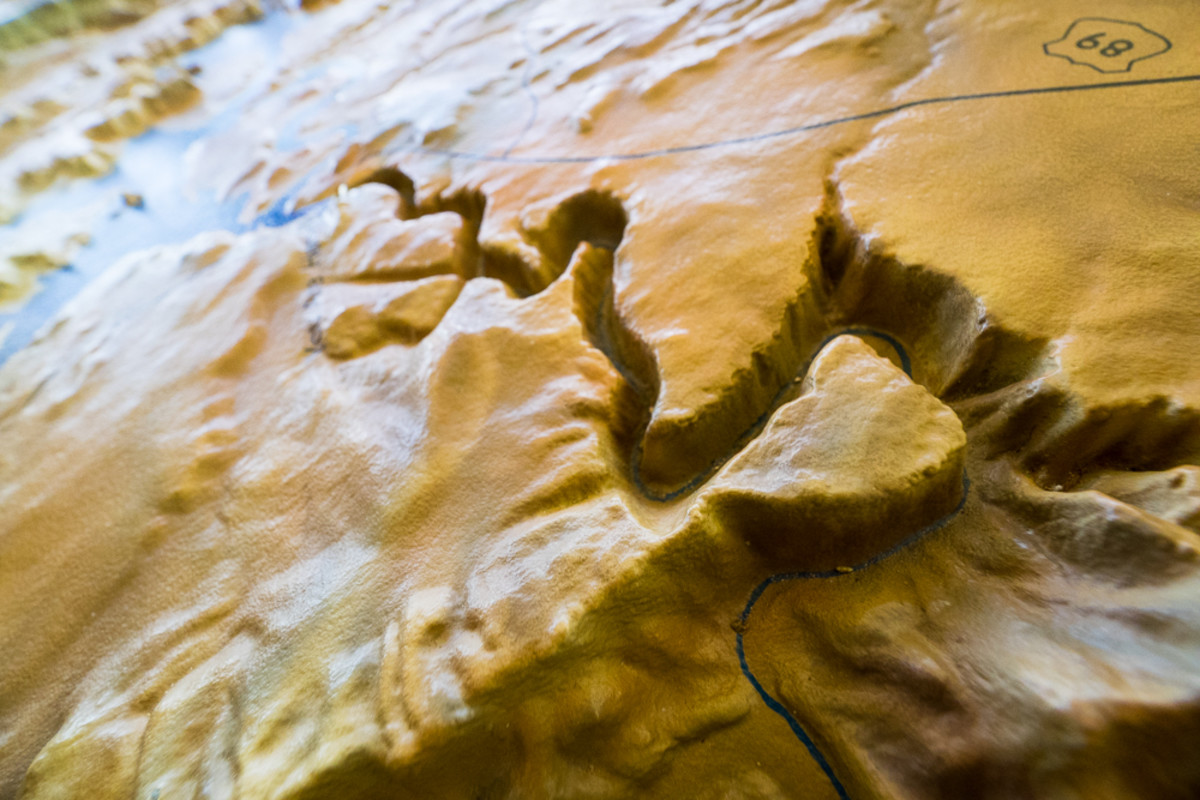 So now, six months later, I was back. I'd spent the past few days scouting and caching water for what I thought would be the three hardest parts of the route—the Ropes descent, the Spencer ascent, and the ravines and slot canyons surrounding the ominous Death Pockets. I'd hiked all throughout that jumbly landscape until I confirmed a straightforward path. Climbing the tallest buttes, I'd seen clearly the flat but sandy plains running beneath a shallow sandstone ridge all the way to the top of Ropes.
By chance, I'd become friends with a retired wife and husband who lived beneath the Vermillion Cliffs. Former Grand Canyon raft guides, they'd once tried to hike from the Spencer Trail to the Dominguez Trail and back to Lees. Becoming lost in the confusing terrain near the Death Pockets, their group had split up. Two hikers bivouacked atop the Echo Cliffs, while my new friends hiked to Page under moonlight along the same route I intended.
"Just don't turn east too soon," observed the husband, as we studied my topographic map. It showed the main feature to navigate around was the deeply entrenched lower Ferry Swale Canyon. The wife hopped in my packraft, inflated on their guestroom floor, and grinned. "You are going to have so much fun!"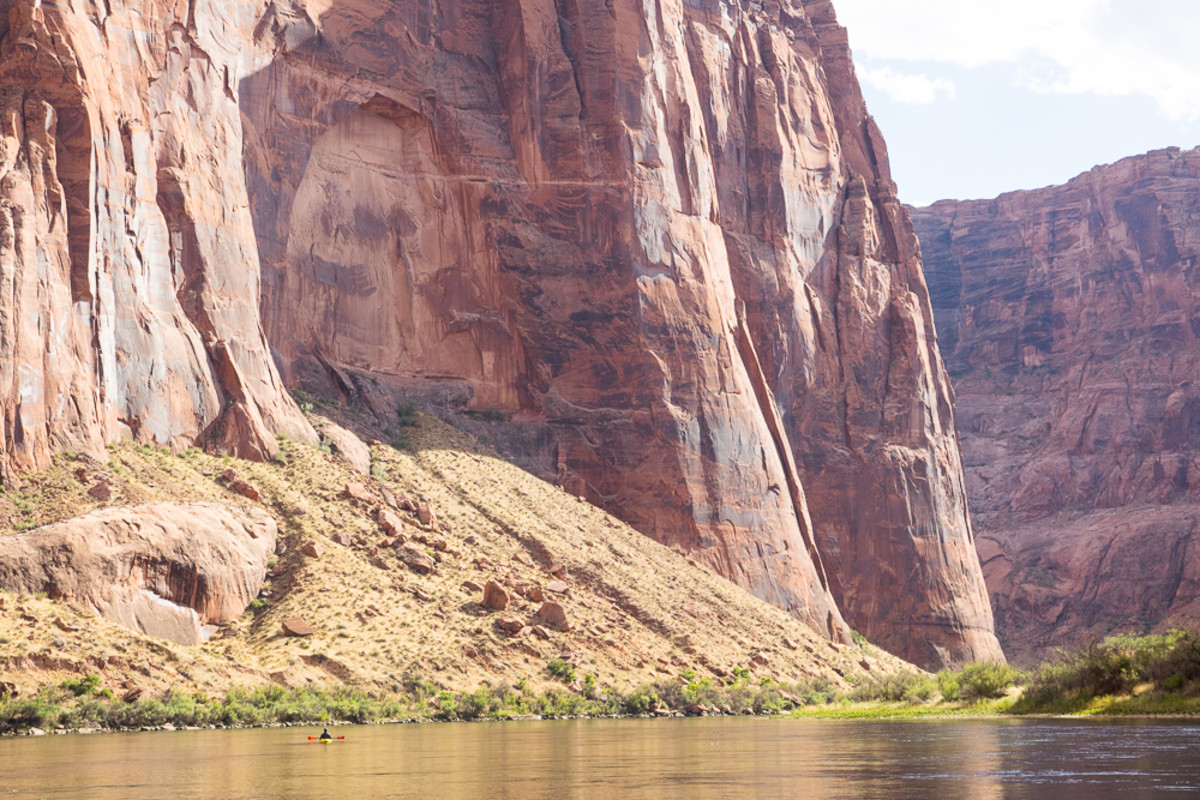 I hoped that would be true the next morning when I started up the Spencer just before 7 am. By 9 am I was navigating with ease past the Death Pockets. I grabbed my first water cache and continued crossing ridgelines until I joined a dirt road that paralleled the border of the Paria Wilderness. I'd reached the open plain. The easy stretch, I thought with relief.
But an hour later, as I plodded through deep sand drifts at an increasingly slow pace, I wasn't so sure. There were dozens of intersecting ATV tracks, none off which showed on my map. Smack in the middle of a desert with limited landmarks, I couldn't tell if the distant power lines I used as reference were another mile or three. Eventually, I turned east into a promising wash I thought was upper Ferry Swale. But being so flat, I wasn't entirely certain it went down and not up. If correct, I'd just have to make sure to stay east and not follow south and off a dry falls cliff.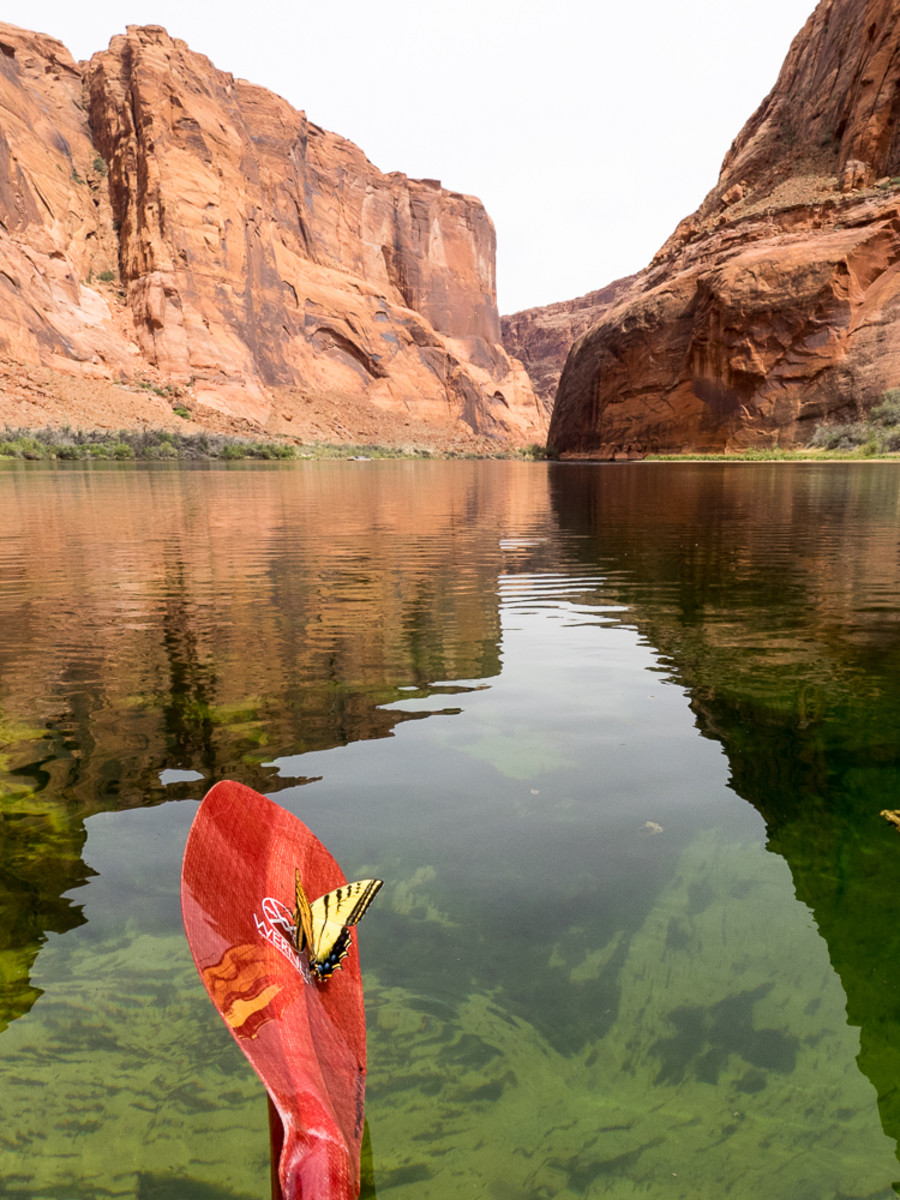 I was following the sandstone ridgeline when my doubts increased. My calves were sore, my shoulders strained from pack straps. And while I wasn't lost and had plenty of time, I was moving slow. Would I even make it to the river before dark? Or worse, what if I got to my second water cache and it was gone? Taken. In my tired state, my mind wandered in a cinematic way.
I'd reach the tiny rock alcove and instead of a water bottle I find a mysterious cell phone. It rings.
"We've taken your water," says a gruff voice.
"I should warn you," I reply, like a packrafting Liam Neeson. "I have a particular set of skills—"
"In our defense we were really thirsty," says the voice, now sounding more hoarse than gruff.
"Like I was saying," I'd reply, "I have a particular set of skills. Highly specific—"
"Yes, we had our own water," reasons the overexerted tourist, "but it tasted like the bottle. So gross. Yours looked better."
"Okay," I'd reply. "So, my skills are actually very specific given the hyper-specialized nature of our modern society. Mostly internet research and writing complaint letters, but I will find you—"
"Thanks for the water! We will totally return the favor sometime!"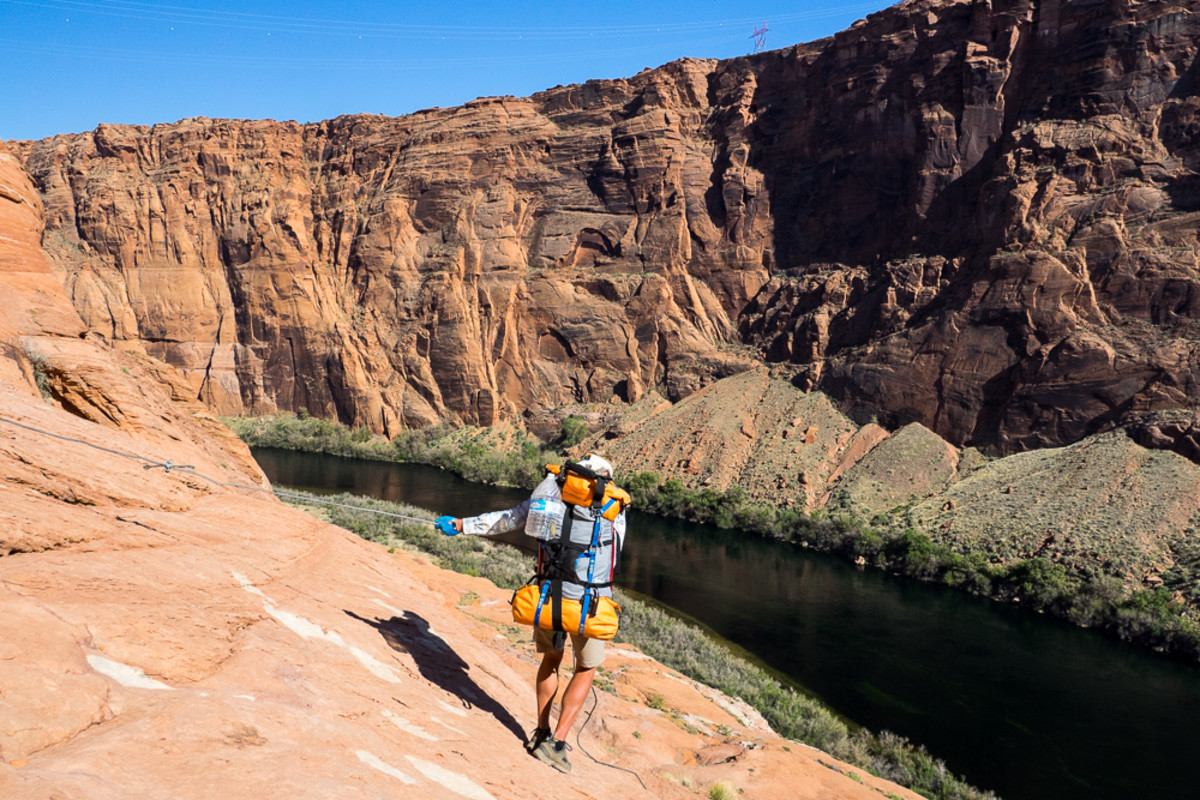 I continued in this way for perhaps another plodding mile—or maybe 50 feet—when a pair of oncoming jeeps crested a dune. As they approached, I straightened up to look like a presentable explorer and not a hot mess adventurer. The convoy was led by a wedding photographer headed toward the little-known semi-horseshoe of Six-mile Bar for a viewpoint shoot. Before they continued, we wondered why so few people come out this way.
"You're only four miles from the top of Ropes," he said, encouragingly.
Invigorated by this confirmation I pushed onward, walking on the sandstone ridge when possible. I passed a series of curious caves hollowed into the rock. Topping a hill, the sand drifts gave way to Navajo sandstone and I spotted a key landmark—two powerline towers joined by crossbeams. I retrieved my second water cache and started down the ropes. It was 4 pm by the time I reached the river. I'd originally hoped to head downstream, but my legs were pretty dead. I built my tent in the empty Ropes Trail campsite.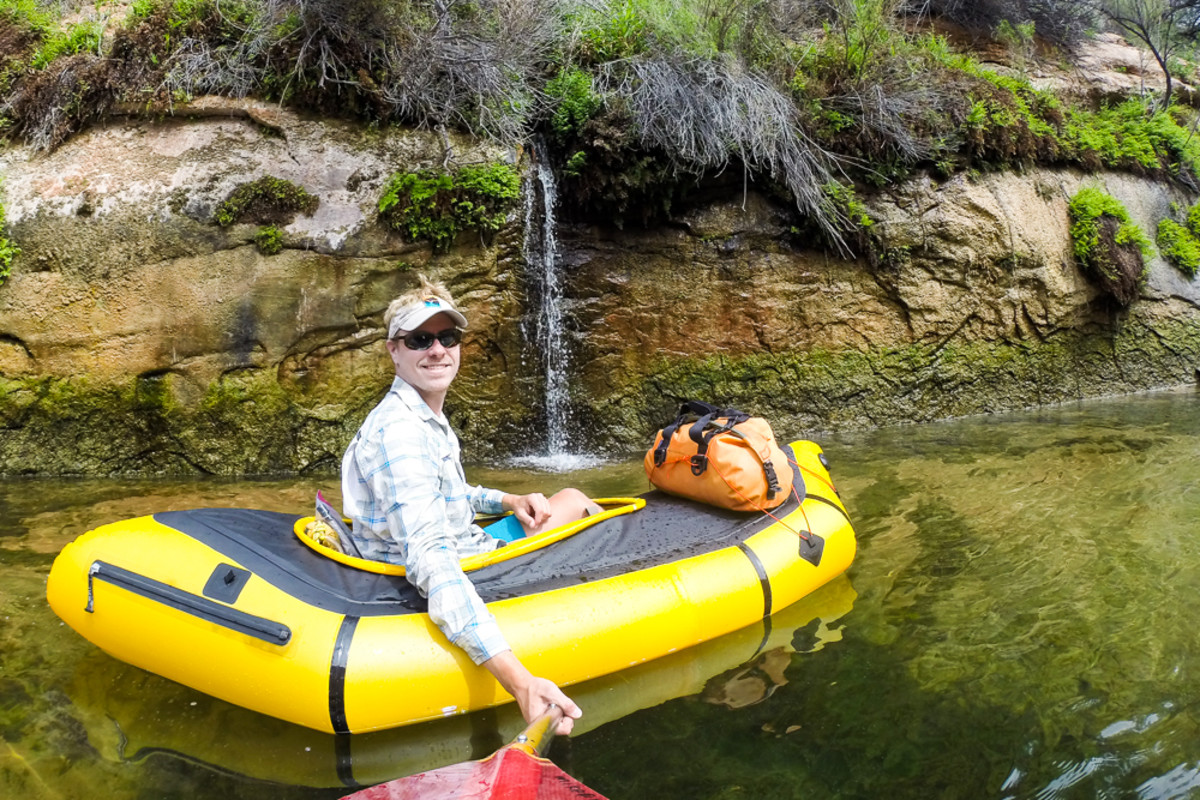 The next day, I had a leisurely float on the class I river. I drifted with the steady current. Chased a blue heron. Passed a few fly fishermen with their motorboat beached from the tides. It looked to have been stuck for days, and I can't rule out a purposeful accident. I visited the petroglyphs above Horseshoe Bend. Chatted with some commercial passengers, curious about my new packraft, a Kokopelli Nirvana. Despite tired legs, I side hiked the Water Holes slot canyon for a mile before it ended beneath a dry falls. Cooled off with a swim in the icy water released from Glen Canyon dam. And deflated my boat on the ramp next to a commercial trip rigging for a 10-day in the Canyon.
Other than six miles of sand (can someone work on that? thanks) the whole thing was downright civilized. A challenging but fun loop that had been just under my nose for years. Which got me thinking. If this trip was here, what other weekend expeditions are out there, just waiting to be paddled?
Read more by Mike Bezemek, who writes and photographs the series Regular Paddler, Remarkable Waters  and, now, Weekend Expeditions for C&K. He is author of Paddling the John Wesley Powell Route and Paddling the Ozarks for Falcon Guides and Twit Lit Classics® for Skyhorse Publishing, a book series which reimagines classic works of adventure literature in tweets for a 21st century audience. Learn more at mikebezemek.com.
The article was originally published on Canoe & Kayak
For access to exclusive gear videos, celebrity interviews, and more, subscribe on YouTube!