Mexico's Riviera Maya coastline on the Yucatán Peninsula south of Cancun is known for its white-sand beaches, cenotes underground swimming holes, and nearby Mayan ruins.
The word "paradise" gets thrown around a lot down here, especially when you're eating all you can eat, drinking all you can drink, and generally rocking out at a posh all-inclusive resort like the Hard Rock Hotel Riviera Maya.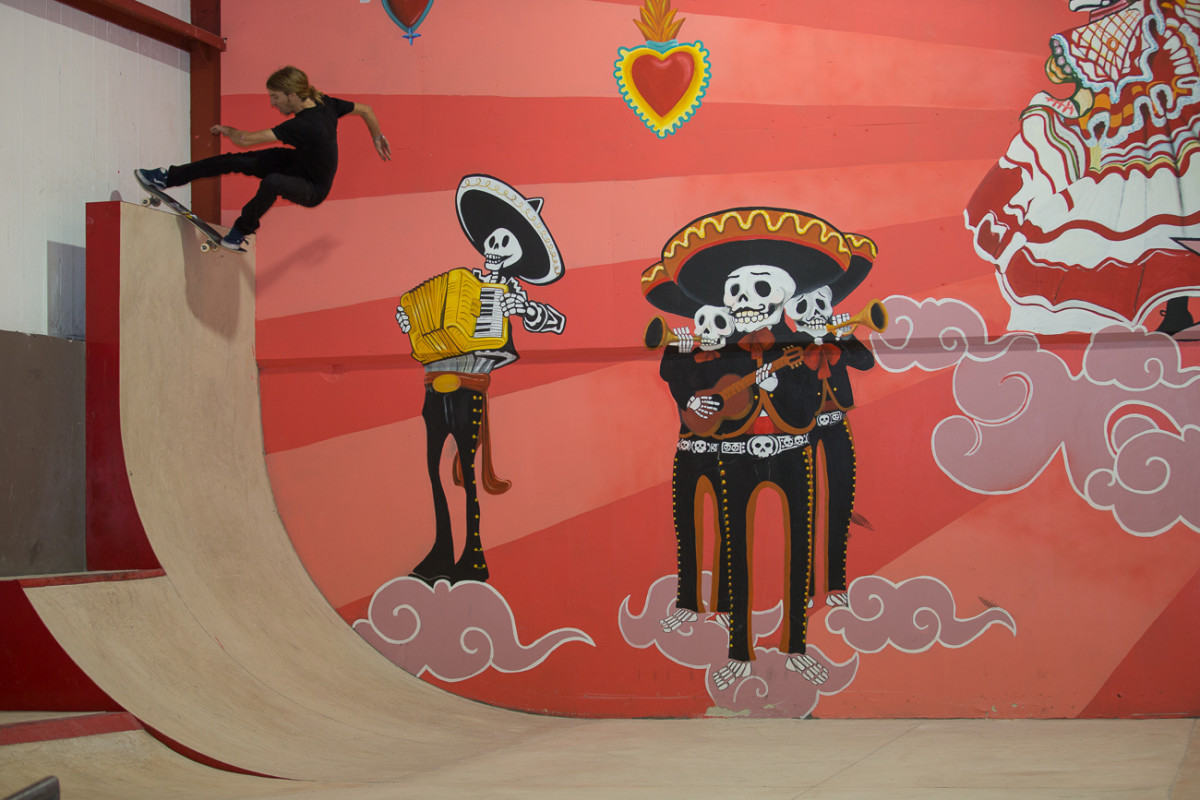 Now, thanks to a new partnership between Woodward and Hard Rock Hotel's parent company AIC Hotel Group, you may want to bring a skateboard or pack a BMX bike when you come: the tropical resort now includes Woodward Riviera Maya, a 29,000 square foot action sports facility with an indoor concrete skate plaza, wood pump track, a trampoline and foam pit training center with a gymnastics-style spring floor, an upstairs parkour gym, a digital media center, and a kid-friendly outdoor "Woodward WreckTangle" ninja obstacle course that is challenging for all ages.
"This is a different model for Woodward," says Woodward brand manager Neal Hendrix, a former pro skater, comparing the new facility to the original Camp Woodward facility in Woodward, Pennsylvania (and newer locations in California and Colorado). "We have the summer camps in the U.S. and also the camps at the mountain centers, which are open year-round … this is a little bit different in that it's open for resort guests and there's different programs, half-day and full-day programs, and it's also open for other visitors who aren't staying at the resort."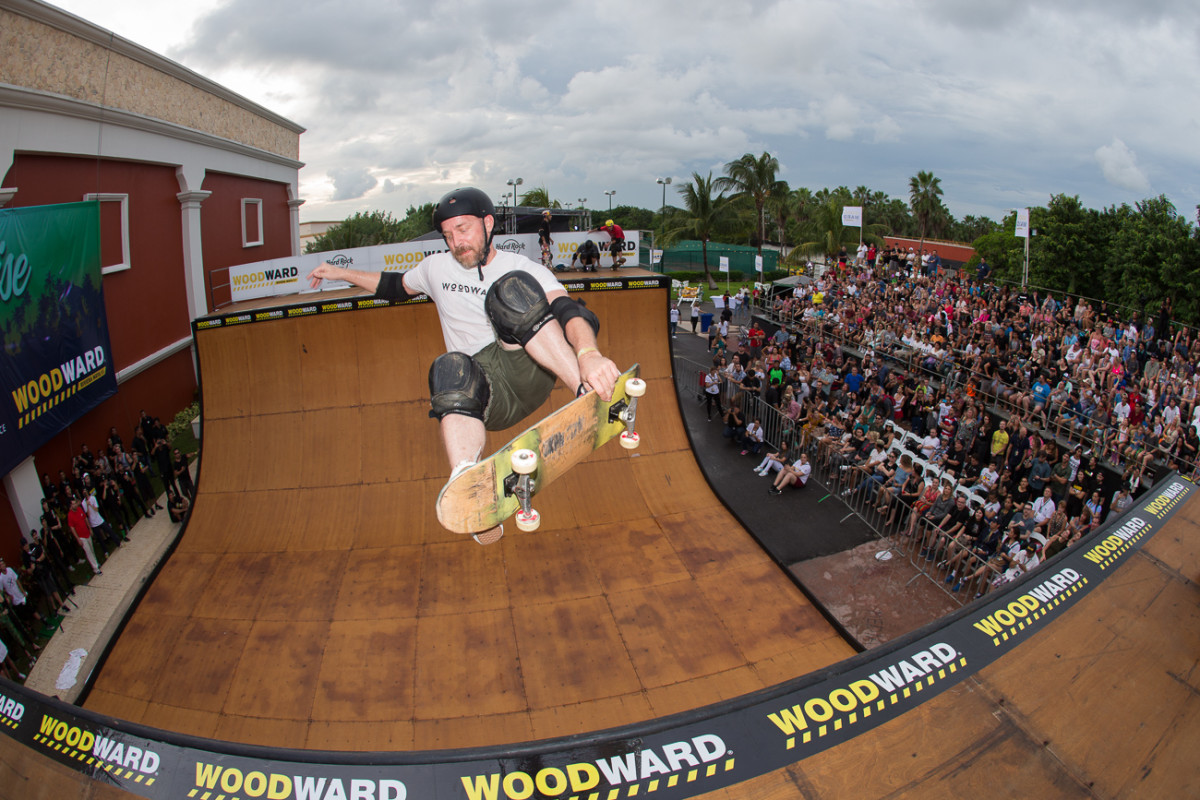 And Hendrix helped organize a locals-only skateboard street contest for the grand opening and says he hopes it's the first of many.
"We're doing some special programs for the locals, working with the local skate community and doing some special deals," Hendrix says. "Involving the local skate and BMX community has been super important for us."
While some of the staff have been brought in from Woodward's camps in the U.S., Hendrix says Woodward also went out of its way to hire local skaters and other athletes in Mexico.
When I went through the mandatory one-hour intro course as part of a media tour, local skater and Woodward staffer Richie Peregrina Santoscoys was my coach. He helped me brush up on how to take a fall and work on some new tricks to develop aerial awareness on the trampolines and foam pits before taking my skateboard to the massive wooden pump track, Woodward Riviera Maya's coolest and most original feature.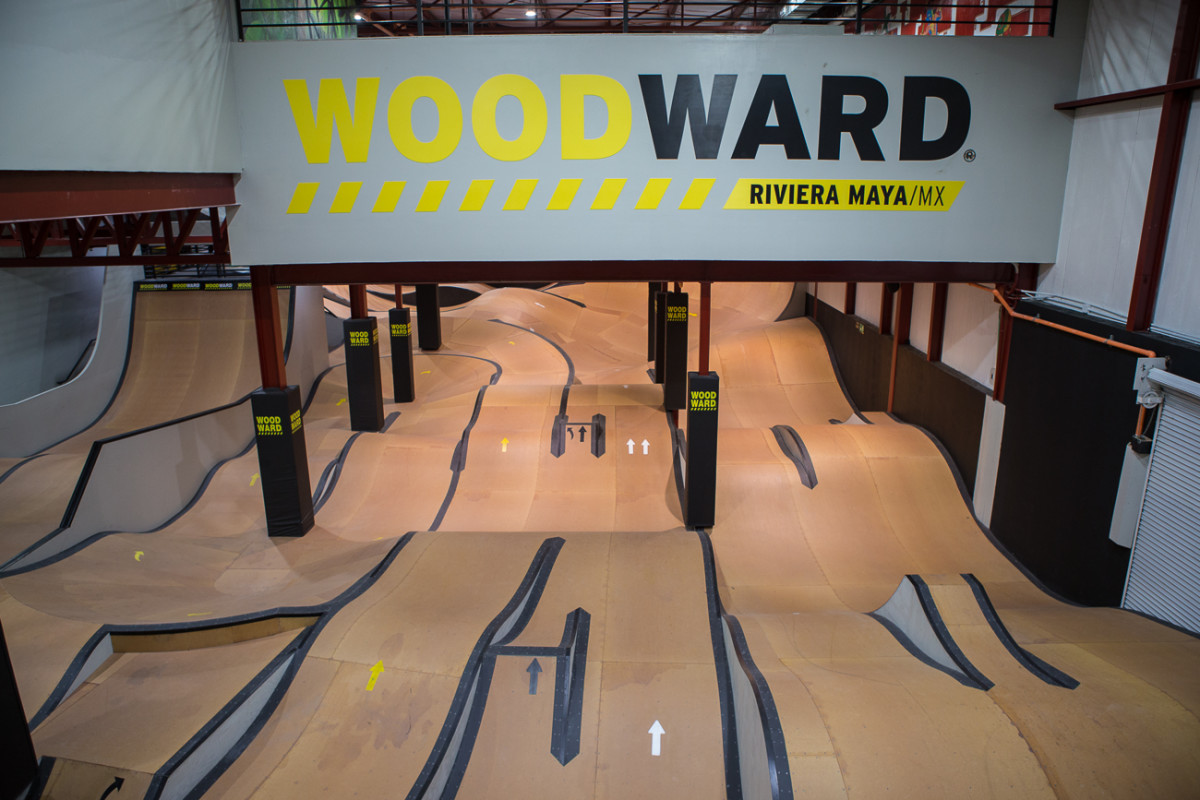 The pump track for bikes, skateboards and scooters offers multiple line options for beginners, intermediates and pros. Just when I was starting to be proud of my ability to make it through the intermediate line, X Games Minneapolis 2017 gold medalist Alex Sorgente showed up and started slaying the place.
In keeping with the Hard Rock theme, a local band banged out cover tunes from a stage above the foam pit during my session. In the upstairs digital media lab, participants armed with GoPro cameras were able to edit their footage and even record original soundtrack music using instruments and a DJ setup.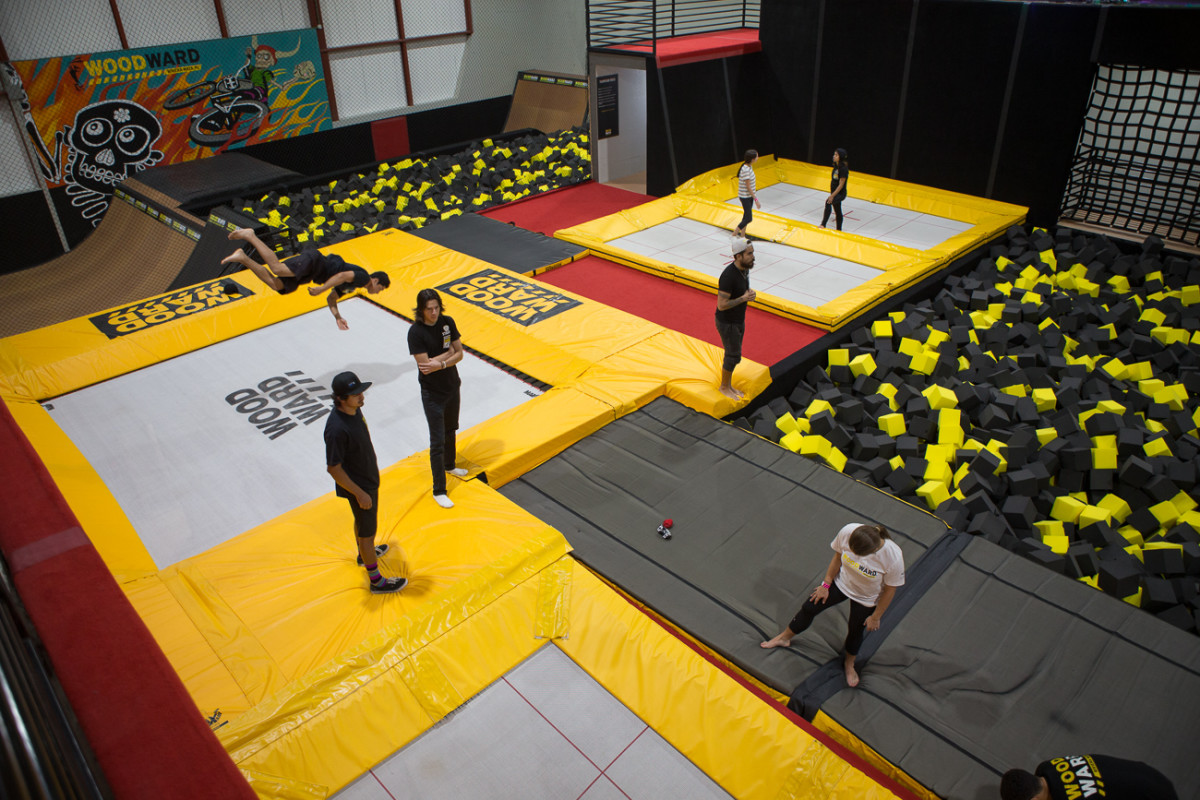 Tony Hawk brought his wife and kids for the grand opening, and was joined by other pro skateboarders including Sorgente, Vincent Alvarez, Leticia Bufoni, Chris Cole, Sandro Dias, Felipe Gustavo, Aaron "Jaws" Homoki, Karen Jonz, Clay Kreiner, David Loy, Andy Macdonald, Elliot Sloan and Brighton Zeuner.
Hawk said he was equally enthusiastic about the place's potential as an action sports tourist destination – his daughter, who spent most of her time jumping on the trampolines and into the foam pits, can't wait to come back – and about what the place could mean to Mexican skaters.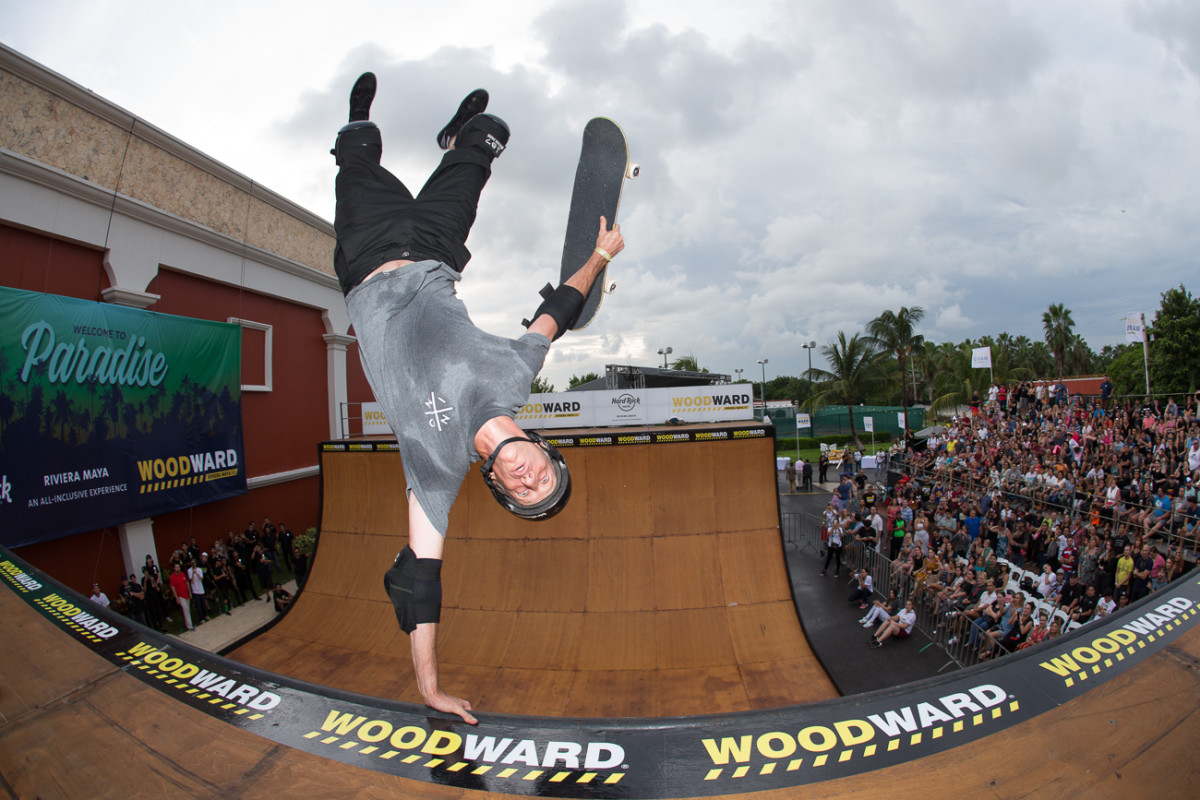 "I think it's just going to elevate the skating here in Mexico," Hawk said. "They already have the passion and a lot of them have the skills but perhaps not the terrain to utilize them … with facilities like this we're going to see some of the best skaters come out of this area."
After a demo on the concrete street plaza, Mexican-American BMX rider and two-time X Games gold medalist Kevin Peraza echoed the sentiment. "I believe it's a big stepping stone for BMX and skateboarding in Mexico," Peraza said.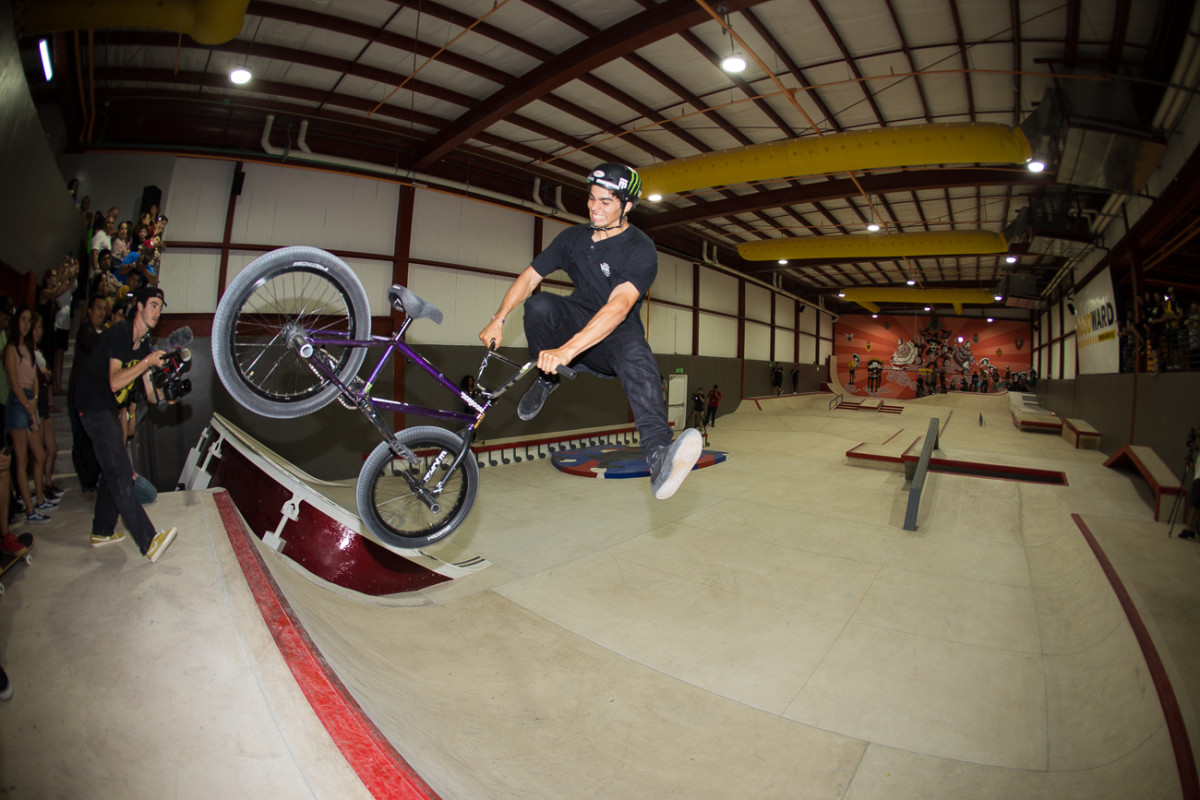 Other BMX stars on hand for the grand opening included Daniel Dhers, Chase Hawk, Kriss Kyle and Garrett Reynolds.
Ready to check it out? Woodward Riviera Maya is based at the Hard Rock Hotel Riviera Maya, a one-hour shuttle ride south of Cancun International Airport. The resort is divided into an adults-only side, Heaven, and a family-friendly side, Hacienda.
Rooms and all-inclusive packages start at $315 per night for two people. Two-hour Woodward sessions for ages 7 and up are $69. "Micro sessions" are available for kids ages 3-7. A resort stay is not required to participate in Woodward sessions.
Read more about skateboarding from ASN
For access to exclusive gear videos, celebrity interviews, and more, subscribe on YouTube!