One of America's largest tobacco corporations, Altria Group Inc., employs retired officers from the federal Bureau of Alcohol, Tobacco, Firearms and Explosives, along with government relations staff members, and sales and distribution professionals to take part in a hunt for illegal tobacco products from Virginia to New York City. As the parent company of Phillip Morris USA, Altria owns approximately half of the U.S. cigarette tobacco share, and with that much investment in the industry, they have a responsibility to make sure their products stay off the black market. "People smuggle cigarettes from other states into places like New York, where the sales taxes are much higher so they can sell them for a larger profit," explains Altria canine handler Jim Dolce. "And it's up to us to find them hidden in traps, behind secret walls, double-lined drawers, cabinets – you name it."
But it wouldn't be possible to sniff out smuggled and counterfeit tobacco without the help of a few extra-sharp noses: two tobacco-sniffing Labrador Retrievers, Filmore and Max. These dogs scour neighborhood bodegas, convenience stores, and smoke shops tirelessly, and are never really off the job since they work, play, live, and train with their handlers. And it's not surprising that for such a specialized job, these dogs undergo very specialized training. We spoke with Filmore and Max's handlers, trainers, and on-the-job partners – Dolce and Jerry Christiansen – about what it's like to work with the dogs and what some of the most well-trained dogs in the country can teach us about pet training.
You Have to Start Young
"You have to give a dog a purpose from the beginning," Christiansen advises. Dolce says that the prime age for training is before your pup hits the one-year mark. "After that, they are more set in their ways," he warns. "Before the one year mark, a dog should be able to sit, stay, come, lay down, and be housebroken." A young, energetic dog doesn't have to be labeled as hyper, because that energy is really just an opportunity to actively work at a high capacity with them from the start. 
You Can Teach Any Dog Any Thing
"Police dogs are guard dogs, narcotics dogs, explosive dogs – but these dogs are very specialized." Max and Filmore are specifically trained to ignore cigarettes that they can smell out in the open, and instead hunt for hidden containers. Maybe that's not something your dog can do, but by repetitively exposing your dog to a certain scent and associating it with their favorite toys, you can teach a dog to seek out and retrieve just about anything. And it shouldn't matter where they are. Dolce says that the more you expose your dog to, the better behaved a dog will be in certain situations. "These dogs are comfortable in huge city crowds, on airplanes, in stores, cars, outside, inside – and it's because we expose them to a variety of environments so they are never taken by surprise." 
You Have to Make It Fun
If you want your dog to be able to fetch a beer out of the fridge the key is associating their natural triggers with the scent of beer. For Max, his favorite toy to retrieve is a rolled-up towel. So Christiansen rubbed tobacco scent on the towel every day until Max began to associate the smell with his toy. Now, whenever Max smells tobacco, he automatically relates it with his natural desire to fetch. "It's all about making it a game for the dog," says Dolce. "After they learn that smell is related to something that they enjoy, it becomes natural and fun for them to retrieve whatever carries that scent."
There's No Such Thing as a Bad Dog
"These are dogs who have a naturally high-drive for retrieving, but training them for this job takes nine months to a year before they are actually ready to work in the field," says Christiansen. Some people might avoid rescues that seem hyperactive, but given a specific aim, a dog can funnel drive, energy, and a rambunctious nature into good behaviors like fetching, running on a leash, and tricks such as shaking paws or rolling over. "It just ultimately comes down to teaching obedience."
RELATED: Military Dogs Get Their Day
Work and Play Go Hand in Hand
The men compare Filmore and Max to professional athletes that must practice all season in order to perform at the championship game, but they also acknowledge that the one constant is the bond that player and coach, dog and handler, have 24/7. "You can have a very personal and a very professional relationship with your dog," assures Dolce. Using positive affirmation (pets and praises, not food) as a treat will establish a training cycle with your dog that also promotes your bond, he adds. Those constants allow the dogs to react to the same stimulus in different situations and environments. Since handlers are there giving the same commands and affirmation, the dogs don't differentiate between training and real-life situations (just like a home run-hitter swinging the same way in batting practice and the World Series).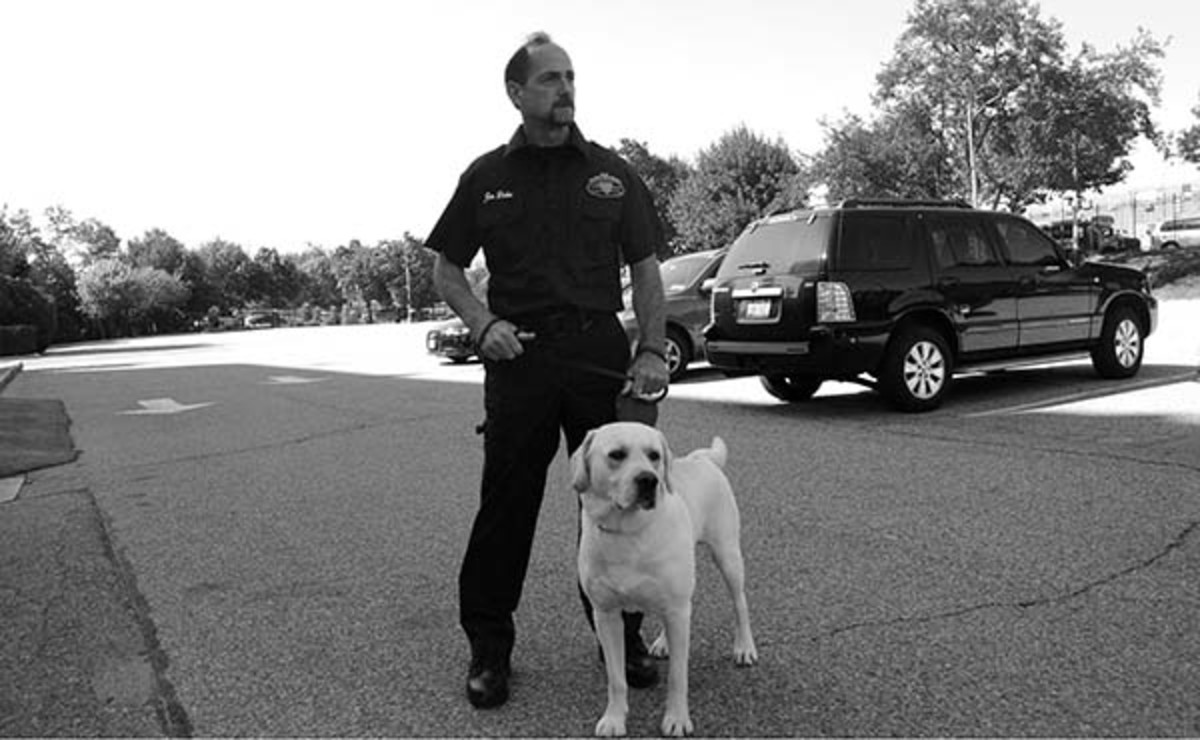 For access to exclusive gear videos, celebrity interviews, and more, subscribe on YouTube!