You can keep your handsome, bearded, middle aged European in those witty beer commercials. Nathan Fletcher might be the most interesting man in the surfing world.
He's not winning competitions, there are no credit card companies making commercials based on him and don't expect Men's Health to put him on the cover anytime soon.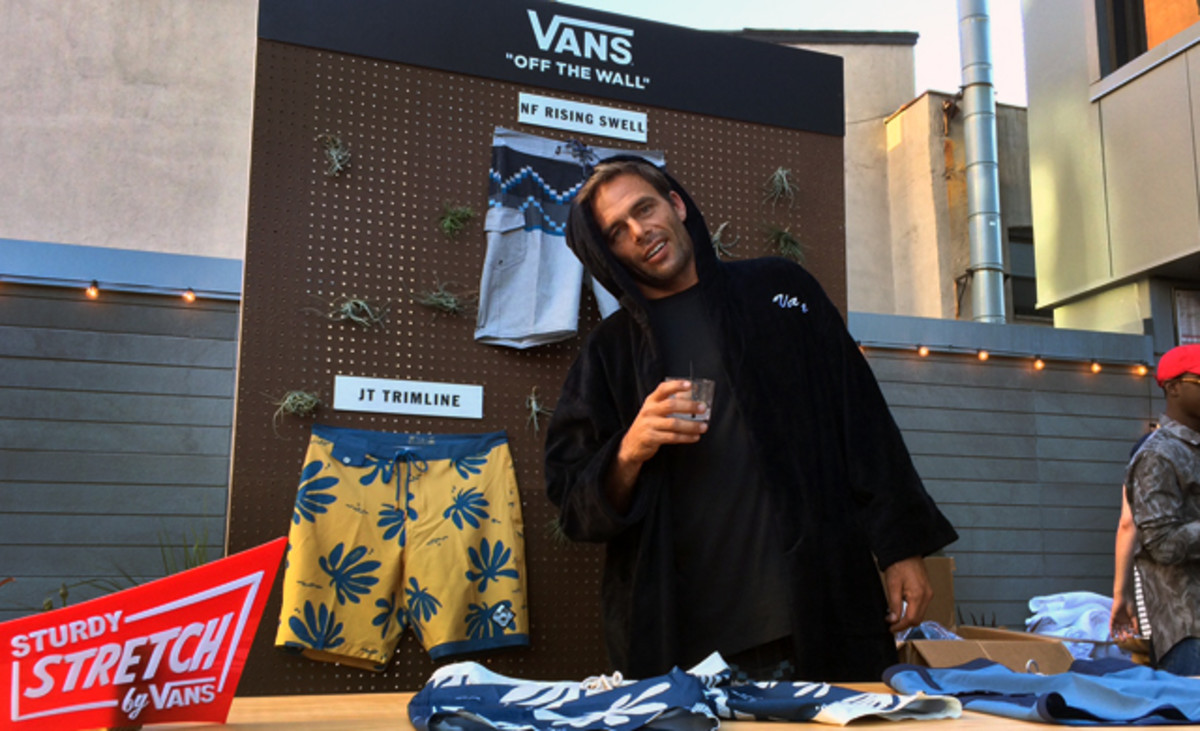 But none of that matters. In addition to his very hardcore family lineage, Nathan Fletcher was an influential figure in progressing surfing through skating and today is among the most elite big wave riders in the world … often with a cig hanging out of his mouth. He's one of the few pro surfers who will touch a skateboard, much less carve the hell out of a pool, and his historic wave at Teahupoo in 2013 is still a yardstick by which heavy water is measured.
This week, Nathan Fletcher, wearing a custom leisure robe at the Sixty LES Hotel and enjoying poke and gin/cucumber drinks, talked to GrindTV about his winter, his new boardshorts, about parenthood, his own exercise routine and a hankering to do some charity work.
Tell me why we're here at a pool party in a Manhattan hotel.
It's for the boardshort; myself and Joel Tudor's signature series. I was invited by Vans to come out and be part of this New York pool thing. And it's cool, so I'm grateful for that.
I had a hand in designing the original short. This is the fourth generation. It's been both of us, and has evolved into the Sturdy Stretch. I'm really stoked on it. The technical aspect is something that Vans came to me with. Right now, this is the highest quality, best material.
Give me a little rundown of your winter.
It was nonstop. But for me, we had a baby on January 6, right during all of it. So, I surfed a lot, but we have two small children, so I didn't really leave the North Shore. I went to a couple of contests. We had probably 20 days of real big waves. I probably surfed 10 different spots.
There was one real standout day on the North Shore and then the Eddie, as well.
How old is your oldest kid?
He's two-and-a-half now.
How are you doing with the whole vegetable thing?
Well my wife was brought up in another culture, so it's potatoes and meat and pasta, just stuff. So it's a battle.
I'm sure if it's out there, he'll eat it. He likes juice and eats salad. He plays hard and he eats a lot. We're just at the beginning stages.
We're putting a lot of time in at the skatepark and playing in the shorebreak. He doesn't stand up on a skateboard, but he definitely hits the vert in the pool on his belly, so that's cool.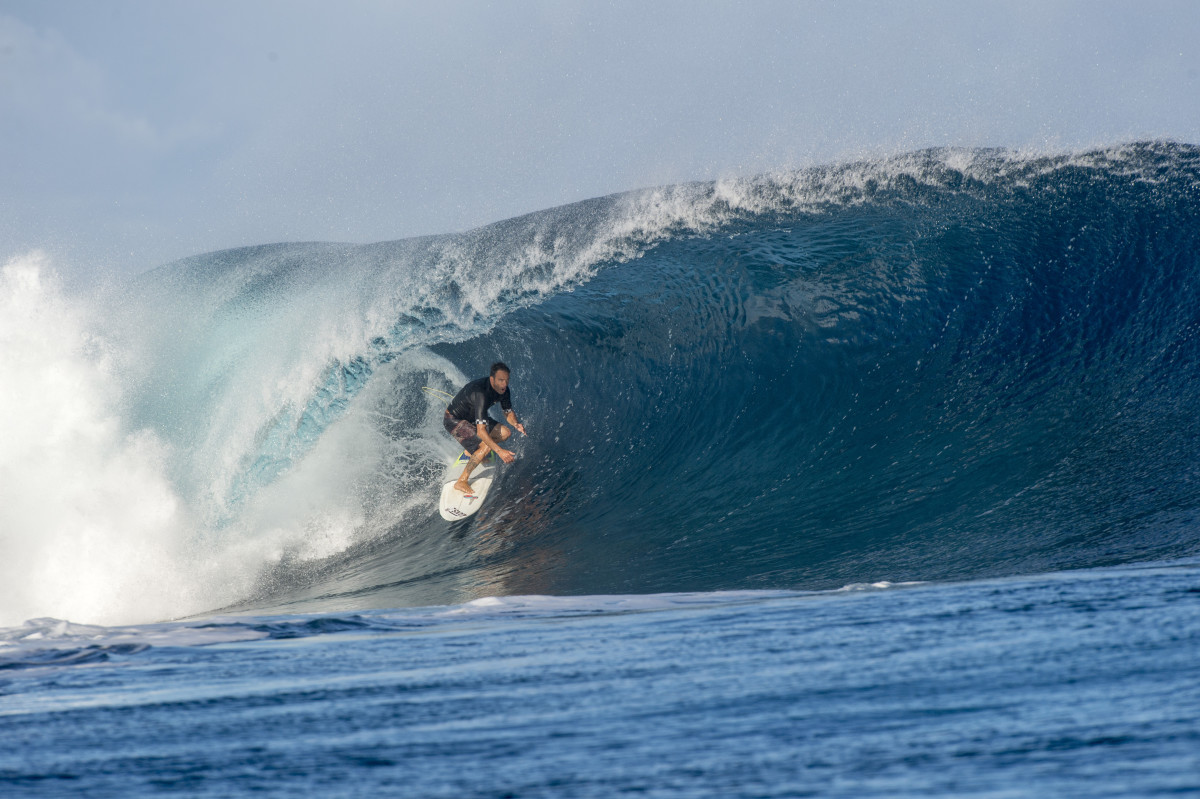 While we're on that subject, I guess you're following your nephew Greyson (son of Christian Fletcher) and his skate career.
Well, he just got ninth place in the X Games. I wanted to call it the Olympics, but it's the X Games. So, that's insane. He's matured a lot. He's got his girlfriend and they live together.
He's learned a lot about eating and maybe physically bettering himself. He's at a stage right now where he's going to be nothing or grow up and be really gnarly. I'm counting on him to be really gnarly. He doesn't do drugs, so every choice he makes right now is with a clear head. That's a huge start.
His childhood wasn't easy by any means. He saw a lot of stuff by the time he was two years old that most people don't see their whole life. So, that will come out in different ways, but it's all good. Hopefully it will drive him.
Have you been watching the WSL Tour?
I'm into it, but I don't really go look on my phone and try to find people surfing. I go to the beach and play with my kid, so I really don't pay attention. I'd rather put my mind into something else. There are plenty of people already worried about that tour.
Well this is a time in surfing where you can make a living from it without having to do the tour and travel around with an exercise ball.
Yeah, but I do that stuff. I don't conform to any one thing, but physically, I do that stuff all the time. I run on the beach, in the water, carry rocks, swim, do a lot of breath hold stuff … but I smoke cigarettes.
I don't really have a set routine. I'm up every day at 5 a.m. to walk the dogs and then I go exercise if I don't go surf. So, it's not a strict regiment by any means, but then I have to be home, help with the kids and then we go to the skatepark or the beach with them.
The little one will come on soon. I'm doing stand up on the littlest waves I can find. It's really helped me enjoy riding little waves, ripples, because I ride a 12-foot board. There's no rush or performance, but you get this glide — you can ride waves that don't even break.
It's a basic workout because it's a crunch every time you do it, but it's fun as s–t. I get my two-year-old out there. That's his board.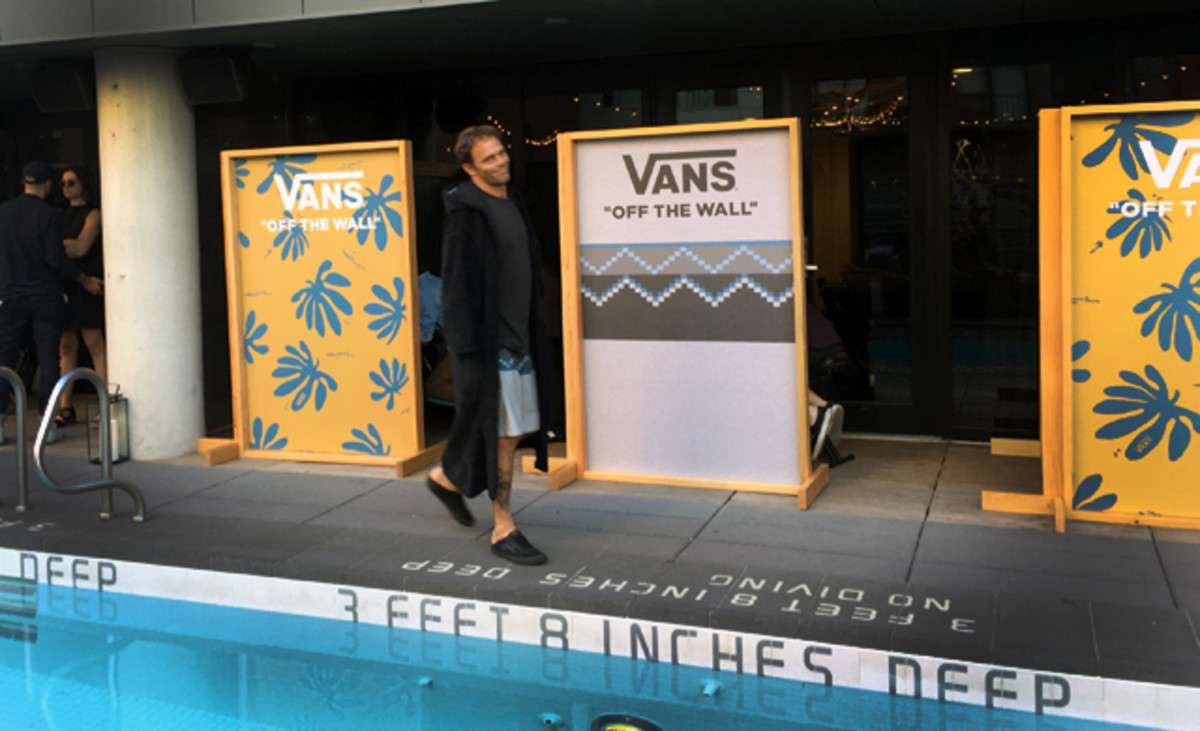 What else is on the horizon for you?
I want to do some charity work. There have been a few heavy circumstances I've been through, especially now having kids. It all kind of hit me on the night my son was born. A guy had drowned that day while Tanner and Pat (Gudauskas) and I were surfing. And that night, my wife went into labor five weeks early with Lazer, while we were looking at this poor guy's Instagram account. 
Lazer's lungs weren't fully developed. I just thought you go to the hospital, have a kid and you come home, because I'm a guy. I didn't realize how intense a birth really is. But they actually moved us to another hospital and put Lazer in the NICU (Neonatal Intensive Care Unit). And there were like 50 babies in there, all these little people in this care unit. 
And now, I'll be at home with him and commercials will come on about sick kids. And then I look at him and he's just like 100 percent healthy and happy. So, in my life, I need to do something about that. I want to work with the St. Jude's hospital, so when people are super mangled, they can just send them there for free. I'd like to help out with that. I think it would make me feel super good in my heart.
More from GrindTV
5 stateside waterfalls you don't want to miss
How pro surfer Ellie-Jean Coffey keeps breaking the internet
Would you wear underwear made from coffee?
For access to exclusive gear videos, celebrity interviews, and more, subscribe on YouTube!