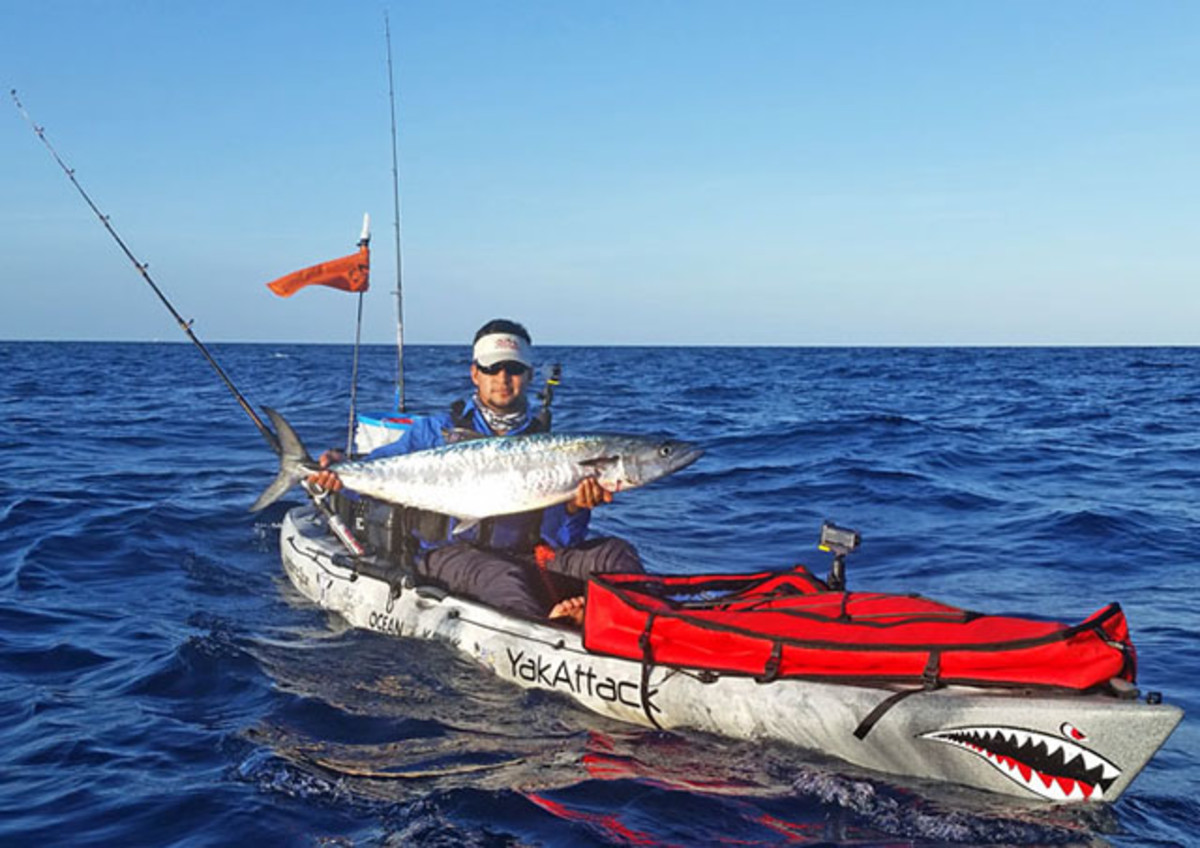 By Robwil Valderrey
Shortly after a Heroes On The Water event, my friend Sam and I decided to go for a quick offshore trip from 3 p.m. all the way to sundown. Weather seemed to be promising with flat seas early in the morning. We bought three goggle eyes each and launched our kayaks in the not-so-calm surf. One thing I love about my Trident 13 is that pronounced keel that allows me to cut through the surf and get out of the danger zone in no time, even with no rudder this boat tracks amazingly and gets me to where I need to be fast and efficiently, so I rushed into the deep blue and once we reached 100 feet of depth we hooked our baits and started our drift.
I use an old Penn 320 GT2 Reel with an Ugly Stick rod. Why the old equipment you ask? Well I have just recently started doing offshore and I didn't want to go spend too much money until I was sure this was going to be an ongoing addiction. I spooled it with 20 lbs test monocarbon line and I like to attach at least 10 feet of 60 lbs test fluorocarbon leader to it before attaching the wire. For my wire rig I try to make it small and use the lightest pound test wire I can get away with. I use a 50 lbs test swivel with 30 lbs 7 strand braided wire, and 2, size 6 treble hooks. I like to keep it short and no longer than 8 inches long all together, some of my friends call me daring, but the reality is that bigger fish are wary of what they eat and a smaller wire will keep them biting without hesitation. The trick is to keep the line with no slack at all times, this way the fish will hit, and 9 times out of 10 they will get hooked instantly.
Going back to the catch of the day, I started slowly paddling to go deeper and to allow my line to keep tight and with no slack when all of a sudden I heard the clicker lightly going off but with a constant pull. I grabbed the rod and the fight started, a couple of cranks and the massive king got pissed off. After a few minutes of fight the beast was next to my Trident 13 and I was able to gaff it, land it, take a couple of bragging pictures and take it home. This fish measured 48 inches long and it weighted a little over 30 lbs. definitely a trophy for me. Remember not go out there alone, always use your PFD and bring radios with you since you never know what is going to happen! safety first and tight lines!
The article was originally published on Kayak Fish
For access to exclusive gear videos, celebrity interviews, and more, subscribe on YouTube!