New York City winters can be harsh. Snow drifts can bury sidewalks and tall buildings can create unexpected wind tunnels that bite through every single layer you have on.
But that same harsh weather is the reason New York City surf gets so good in the winter. And really, not surfing in the winter is not an option — unless you want to miss the best swells of the year.
RELATED: The Great Lakes saw ideal conditions over the weekend for some freezing surf
So how is it done? How does one take the train out to surf, with all your gear on your back, in freezing conditions and not die?
I'm here to tell you friends that it can be done, and it's easier than you think. You just need to have a game plan, the proper gear and the motivation.
RELATED: Poler Stuff's 40-liter backpack just saved my back
Here are a few tips on how to survive a New York City winter as a surfer.
Invest in a good wetsuit
That theory about spending good money on a mattress because you will be on it for a third of your life holds true for a winter suit in New York City.
Spend the extra loot and get a 5 millimeter-plus suit that has solid lining, has glued and not just taped seams and has a good warranty program. Trust me, it's worth it for the extra warmth.
Mittens are where it's at
Gloves are great and all for dexterity, but when it comes to warmth you want mittens. They keep all your fingers together and you'll be glad you have 7 millimeters of neoprene on your hands in sub-40-degree water.
And the same can be said for 7 millimeter round-toe boots.
Make friends with someone who has a car
This one can be crucial, but you can survive by taking the A train to Rockaway (or the LIRR to Long Beach and Lido) just as well. It's really about being friendly in the lineup.
If you're hopping the train, you can take the A straight out to Rockaway (make sure it's a Far Rockaway bound A and not a Lefferts Blvd one). You can either transfer to the S at Broad Channel to head to the bustling 90th street scene, or you can stay on the A and mix it up at the more low-key 68th street area.
The LIRR will get you out past Rockaway to Long Beach and Lido (and even beyond), but it'll cost you more, too.
The art of the outdoor change
You're going to be changing outside in the wind, the snow and everything else nature can throw at you. So be smart about it:
• Lay out all your gear before you start undressing.
• Have an extra towel (or some sort of mat, which can even just be the inside of your board bag) to stand on.
• Leave your socks on until you're going to put your boots on.
• Find a spot that can block the wind for you and change there.
• Or maybe even change on the train — yes, you'll get some weird stares, and while I've personally never done it, I've witnessed people doing it.
• A poncho changing robe is absolutely necessary, along with a good day bag for your board and a solid backpack to carry everything in.
Get a solid thermos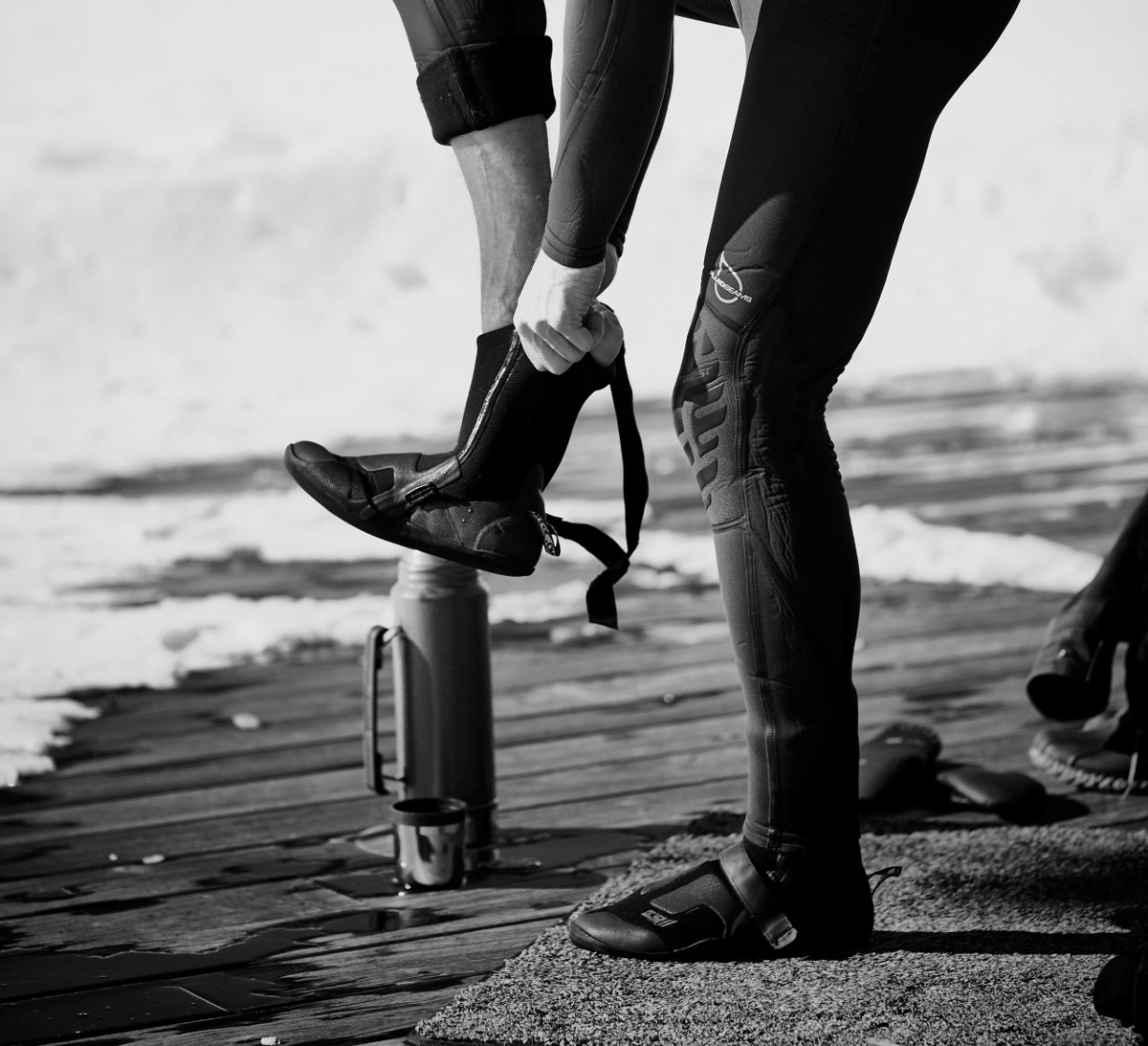 A big Stanley thermos, or one of similar quality,
can be immensely helpful
.
Putting hot water in it and filling up your boots and gloves before you put them on (make sure to dump the water out of them before you put them on) makes it easier to get them on and will warm your appendages up after being exposed to the elements.
Plus, if your thermos is big enough you should have plenty of hot water left over for when you're finished, to help warm up hands and feet as well as for drinking.
For access to exclusive gear videos, celebrity interviews, and more, subscribe on YouTube!