The completion of Benoit Gendreau-Berthiaume's Ph.D. seemed like reason enough for an adventure. Benoit and his partner, Magali Moffatt, are avid outdoors enthusiasts—keen to share their passion for adventure with their 5-year-old son, Mali. Benoit and Magali insist that a young family has no reason to stop climbing, paddling and camping.
Originally, they envisioned a long cross-Canada road trip from Edmonton, Alberta, where Benoit was working on his doctoral studies in forest ecology at the University of Alberta, east to their home in Montreal, Quebec. When their car broke down, Benoit and Magali didn't miss a beat.
"We thought, 'Hey, how about we paddle home?'" laughs Magali. "We thought it would be awesome. We knew the route had been done before, even with kids, and it would be reasonable for us. A year and a half later and here we are."
Departing Edmonton on May 2, the Berthiaume family began a four-month journey along the historic voyageur route, linking big prairie rivers with the Boundary Waters and the Great Lakes. Canoekayak.com caught up with the Paddling Home team on the North Saskatchewan River in North Battleford, Saskatchewan, on Day 10 of their 3,000-mile cross-Canada epic.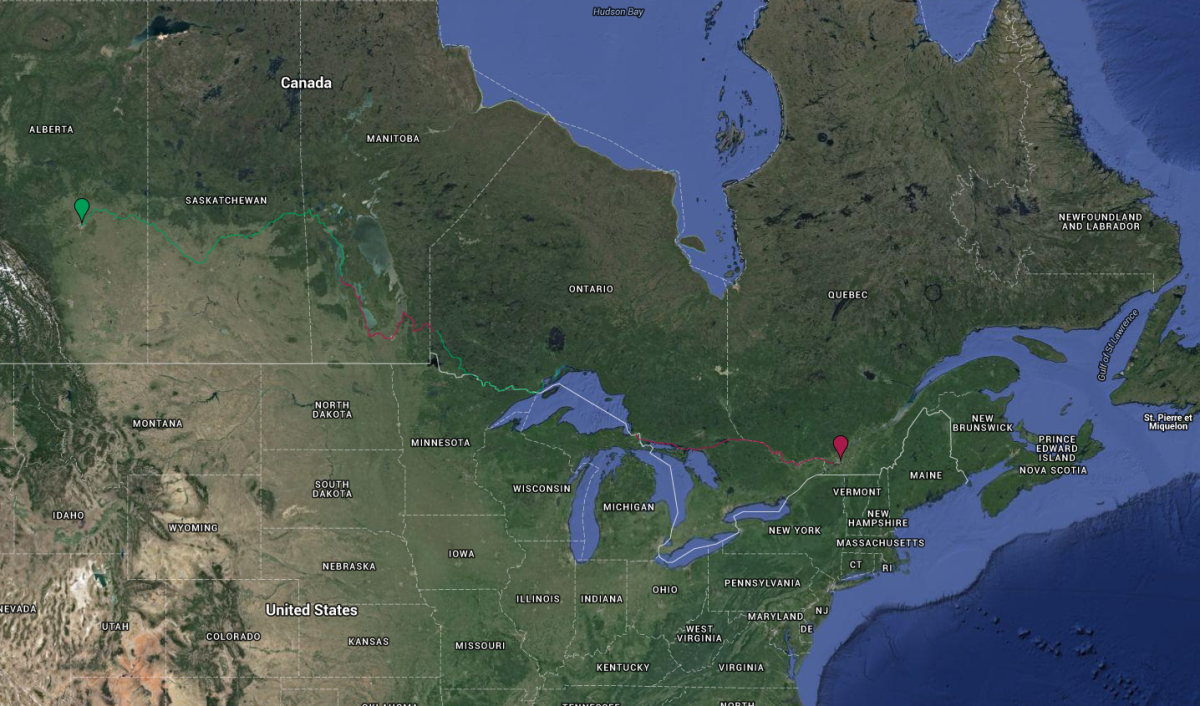 CanoeKayak.com: Tell us about your background in the outdoors.
Magali Moffatt: Ben and I have always been pretty outdoorsy. Our background is climbing—we've been everywhere in Quebec, as well as the Canadian Rockies and Nevada. We love canoeing, too. We paddled the Dumoine River in Quebec when I was four months pregnant!
How do you set aside the time from your busy lives to do this?
We realize how lucky we are—it's not not everyone who can do this. We're moving home and we both have jobs waiting on the other side. But there's no rush to get back so the timing is perfect.
Why are you so committed to getting Mali outside as much as possible?
Mali's been with us on outdoor adventures since he was six months old. As parents we believe the day you start a family doesn't mean you stop stop doing what we like. It is harder but it's such a cool journey. It's so special to spend quality time with our son 24-seven. It's not the same as our crazy lives in the city — working, day-care and rushing all the time. Our son is young and we want to give him a break from the Internet, video games and television. We want to show him that you don't have to be plugged in all the time. You know what? He's doing great. He doesn't miss any of that stuff. Any kid could do the same—we're all meant to be outside.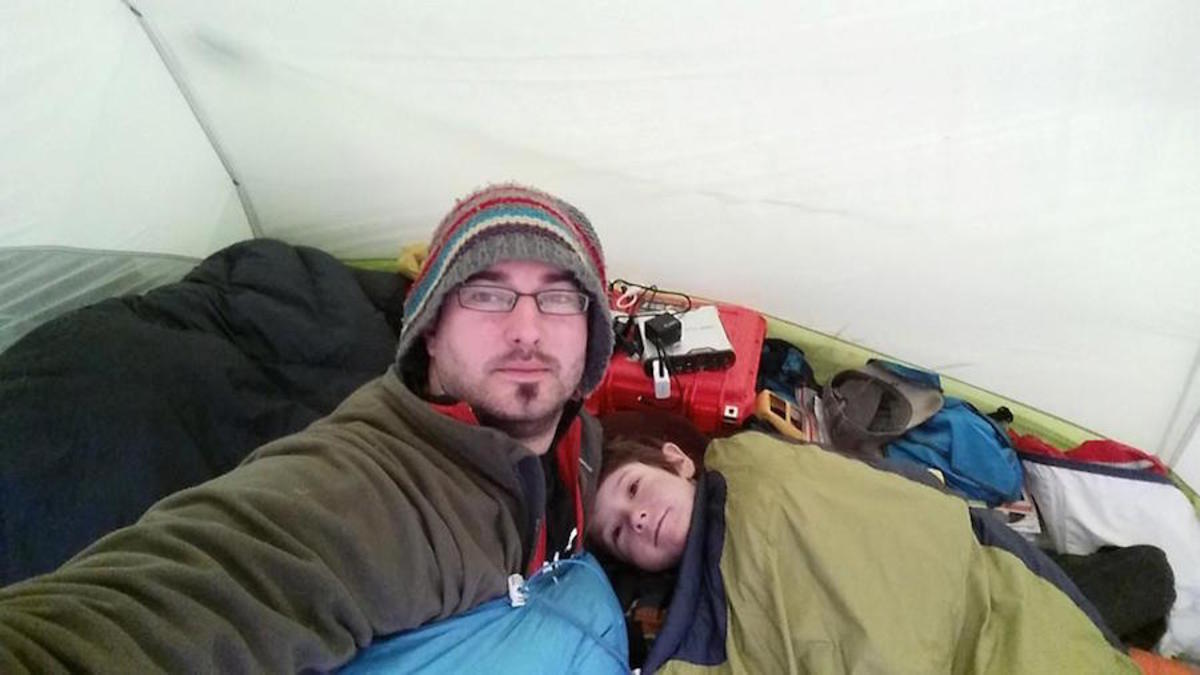 What are some of the challenges you face in traveling with a 5-year-old?
Mali doesn't paddle much, so at the end of the day he's fresh and we're tired from the wind, rain and cold. He's no different from any 5-year-old. He has a lot of energy and the challenge is to keep him entertained. We're traveling with Captain America, Hulk and Spiderman. We have a chalkboard in the canoe and notebooks for him to draw and practice writing. Every day he naps in the canoe —usually when he's getting bored.
What do you hope Mali will remember about this trip?
I hope that he will connect with nature apart of it. Too many people see a separation between the city and nature. They are the same thing. I want Mali to feel comfortable in his environment.
How do you hope to inspire other people (and parents) to embark on an adventure like this?
Right now we're using a lot of social media to reach people. We're shooting a lot of video, getting shots for a documentary about the trip. We want to show people that a family canoe trip is totally doable. We did a bunch of presentations at schools before we left and plan to do the same when we arrive in Montreal. We have a lot of requests to meet and speak with people on our trip as well.
How are things going so far?
We left Edmonton May 2 and have covered around 450 kilometers. At times it's been hard. We had a snowstorm two days after we left. It also seems like there's canoe karma — every time you put the boat in the water you get a headwind!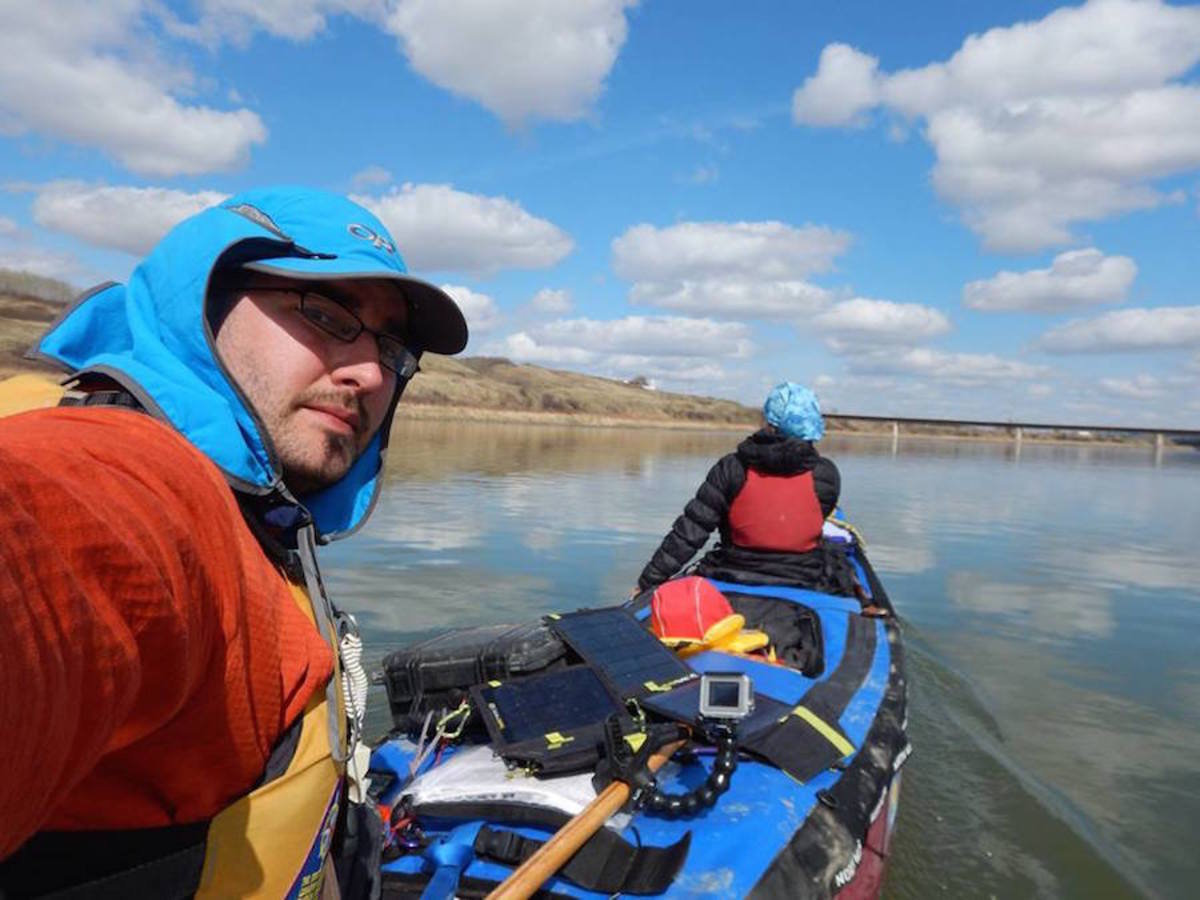 What key pieces of gear are you carrying? Seems like a good tent would be really important.
We chose a three-person tent with enough space to allow Mali to stand up. But mostly, we plan to live outside; the tent is for sleeping and rain protection. We're also trying to do expedition as environmentally friendly as possible. We're carrying solar panels to charge devices and cooking on a wood stove. The BioLite stove is pretty awesome. We have a gas stove as a backup but hope we won't need to use it.
What are you most looking forward to on this trip?
Mostly seeing my child having fun and being comfortable. Also seeing the land changing during our trip. Even in this stretch the land has changed. The wildlife has been great. It's like a zoo out here! We've seen six bear and a moose so far.
— The Paddling Home expedition is sponsored by the Royal Canadian Geographic Society. Follow Paddling Home on Facebook.
— Check out Dan Clark's tips for how to canoe camp with kids.
The article was originally published on Canoe & Kayak
For access to exclusive gear videos, celebrity interviews, and more, subscribe on YouTube!