Perhaps the most fitting part of the punishment is that convicted murderer Aaron Hernandez will still be able to hear the cheers.
Separated from society by high walls and thick bars, Hernandez will spend the rest of his life at MCI Cedar Junction, a maximum-security prison in Walpole, Mass., located just over three miles from Gillette Stadium in Foxboro. It's so close to his old stomping grounds that you can apparently hear the roar of the crowd and the stadium's massive audio system on Sundays.
And he'll be able to hear it as he wastes away during a life sentence that was handed down Wednesday, when Hernandez was found guilty of first-degree murder. The verdict concluded a nine-week trial and closed one of the most sensational NFL court cases since O.J. Simpson walked free in 1995.
The life sentence Hernandez got for killing Odin Lloyd two years ago and leaving his body in an industrial site not far from his house is longer than Rae Carruth got for having his pregnant girlfriend killed in 2001. Carruth, one of the worst dudes in NFL history for his part in that crime, is expected to get out of jail in 2018, while Hernandez will likely never see the outside of a prison again.
Among all the talk from current and former NFL players, perhaps the most telling comments came from Maurice Clarett, the poster boy for wasted talent who became relevant this week for the first time since he was at Ohio State when he gave the Hernandez verdict some context. Clarett, if you remember, flushed his career before playing in a pro game, and was involved in several run-ins with the cops for charges from robbery to resisting arrest.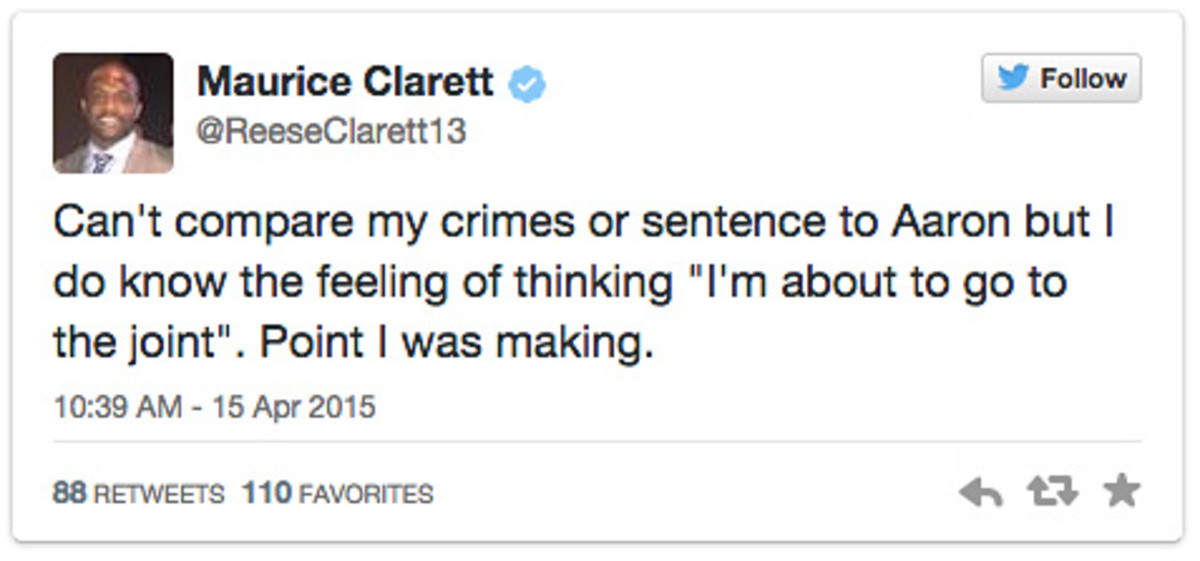 So now Hernandez is making a similar trek to the joint. He goes with no hope for parole, no chance of walking free again. The time he'll serve is expected to be hard, but perhaps no days will be harder for this disgraced footballer than Sundays, when, if he has an ounce of humanity in his body, he'll be haunted by the life he could have had.
For access to exclusive gear videos, celebrity interviews, and more, subscribe on YouTube!