When my brother Andrew and I told people we were paddling from Minnesota to the Arctic Ocean, the most common response was, "What on earth made you decide to do a trip like this?"
By Peter Marshall
Canoe & Kayak Web Exclusive – posted 3/30/06
The idea of canoeing across Canada first came up in a phone conversation we had in the summer of 2000. Andrew had returned from guiding a canoe trip through central Manitoba and was wishing it had been longer. I looked at some maps to see if it were possible to paddle across Canada. It was. Though I wasn't sure about the details of such a route, if we wanted a long trip, we had one.
In the five years since that conversation Andrew moved out to Portland, Oregon, put school on hold to travel around South America, and studied graphic design. I studied and traveled around Europe for a year then graduated with a degree in English and philosophy. Through all our travels and experiences, we always talked of the great canoe adventure that awaited us. Eventually the talk turned to planning, then finally to paddling.

We put our canoe in Lake of the Woods, in Minnesota's far north on May 11, 2005. The trees were bare and the water hovered just above freezing. From Lake of the Woods we paddled down the Winnipeg River into Lake Winnipeg. We were warned that because of Winnipeg's size and shallowness, huge, oceanic swells could come out of nowhere. I was terrified when I thought of the several long crossings that would bring us miles from the shore and leave us exposed to the moods of the lake.
My fear turned into frustration after we safely made our crossings, only to be pinned by the wind for four days in a row. The day the wind let up, we were determined to get off the lake as soon as possible. We paddled some 45 miles through the night, not stopping until the sun began to crest the horizon and we were both well past exhaustion. Two days later we were off Lake Winnipeg and began to move across a series of lakes and streams to our first resupply at Cranberry Portage.
From our resupply point we began our upriver journey. We dragged the canoe up the flooded Sturgeon Weir River in chest high water and slowly made our way to the Churchill River, where water levels were the highest in 30 years, making our battle against the current all the more desperate. When we made it to the headwaters, we were faced with the 12-mile Methye Portage, which would bring us to the Clearwater River. In itself this would be a daunting portage, but with our 20-foot, 105-pound canoe, it was masochistic.
We finished the portage in two and a half days. I was left with a foot that felt like it was cracked down the arch, a knee that would barely allow me to walk and two chaffed shoulders.
The next 600 miles were a quick and easy downriver run. The Clearwater, Athabasca, and Slave Rivers steadily flow towards the Great Slave Lake, where we weaved our way north through the Simpson Islands and came to our final resupply point in Yellowknife.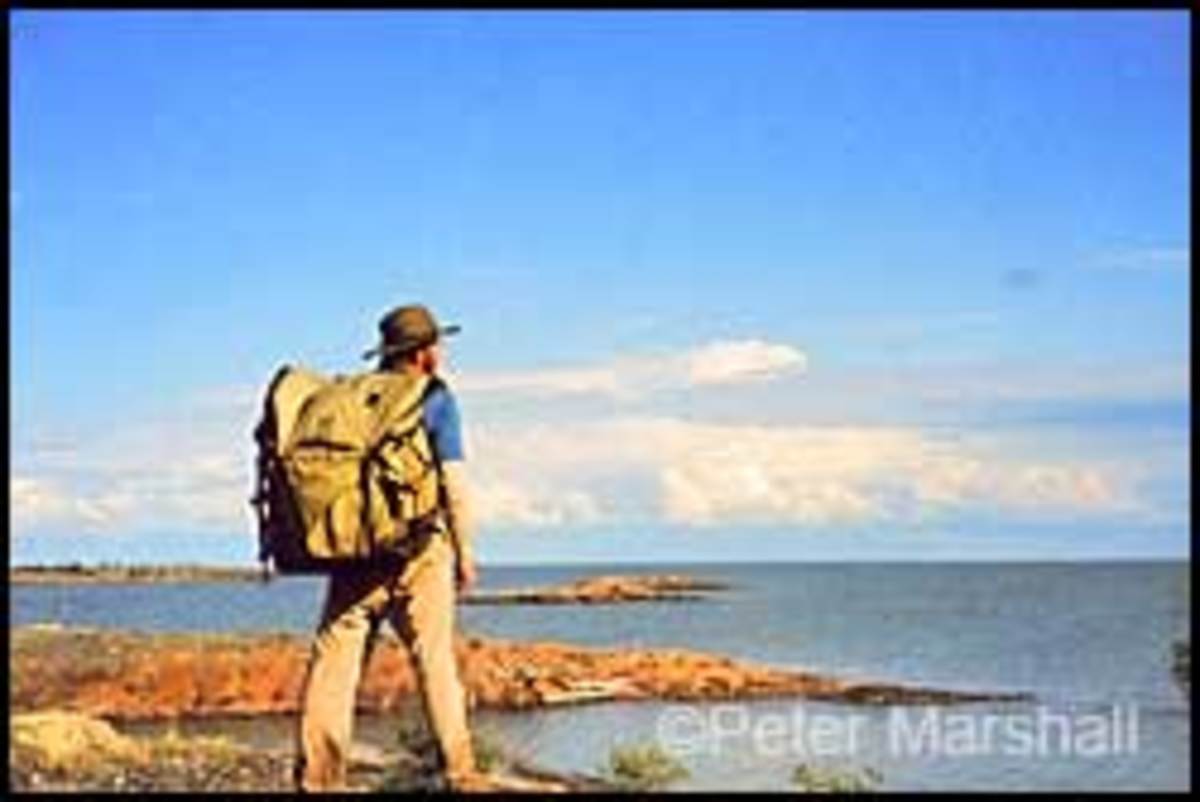 With freshly loaded packs we began to ascend the Yellowknife River. Here it seemed like we were portaging more than paddling. At best we portaged on game trails, at worse we had to balance across talus fields, careful not to step on loose boulders or slip between rocks and snap a leg.
Our days proceeded in much the same way. In less than three weeks we made over eighty portages. If it wasn't windy or raining, the black flies were voracious. We grew increasingly impatient with one another, every issue became a personal. On top of all this, on a series of portages that brought us from the Winter River to the Parent River, I had somehow lost my rain coat.
The danger of being caught in a late autumn downpour without a rain coat was very real. We were hundreds of miles from civilization. The temperature had stayed bellow freezing for several days. Our legs were constantly soaked by the icy water we were pulling our canoe through. We were nearing the end of the trip. I was consumed with anxiety about being able to safely navigate all the whitewater on the Coppermine. Burdened by the harsh conditions and many difficulties, I asked myself what so many have asked us, "Why are you doing this trip?"
The following morning we woke on the Coppermine. The river lay like glass, contrasting the fall colors in its reflection. Not wanting to push our luck with the fall weather, we moved quickly down the river. To our luck, the weather stayed virtualy perfect for a week.
On our last full day on the river, 121 days since we began our trip, a thick mist unfurled over the arctic. We entered a steep walled canyon, roaring with almost continuous whitewater before ending at Bloody Falls. Here I realized that the trip was more or less done. We ran our last rapid, and were now making the final portage before the eight miles of flat river paddling to the ocean. I breathed in the cold, damp air. It was unreal to be ending a trip that had been my ambition for five years, that until four months previously was a dream and a series of blue blotches and lines across several maps.
It is amazing to think of how vast Canada is, of how many more waterways I have to explore. Despite the length of the trip I made, I realize I have but grazed the possibilities offered by a canoe, a brother, a river, some hardships and a dream. In short, all the reasons I did this trip.
The article was originally published on Canoe & Kayak
For access to exclusive gear videos, celebrity interviews, and more, subscribe on YouTube!