By Conor Mihell
When they launched their Seaward Passat tandem sea kayak in Grenada on September 26, Brits William McCreadie and George Parry each had barely a week of paddling experience. McCreadie, 21, and Parry, 22, are university students in the UK, and founders of the Get Exploring Trust, a nonprofit that promotes outdoor adventure as a means of character-building. What better way to advance their cause than to make a 2,000-mile crossing of the Antilles?
The route took McCreadie and Parry through 19 different countries. It was pioneered by sea kayak legend John Dowd in 1978; Canadian brothers Russell and Graham Henry made a similar journey, starting at the mouth of the Amazon River, in 2014.
The British duo completed their "Golden Arc" expedition on December 27, 2016. We caught up with the pair to learn more about the journey.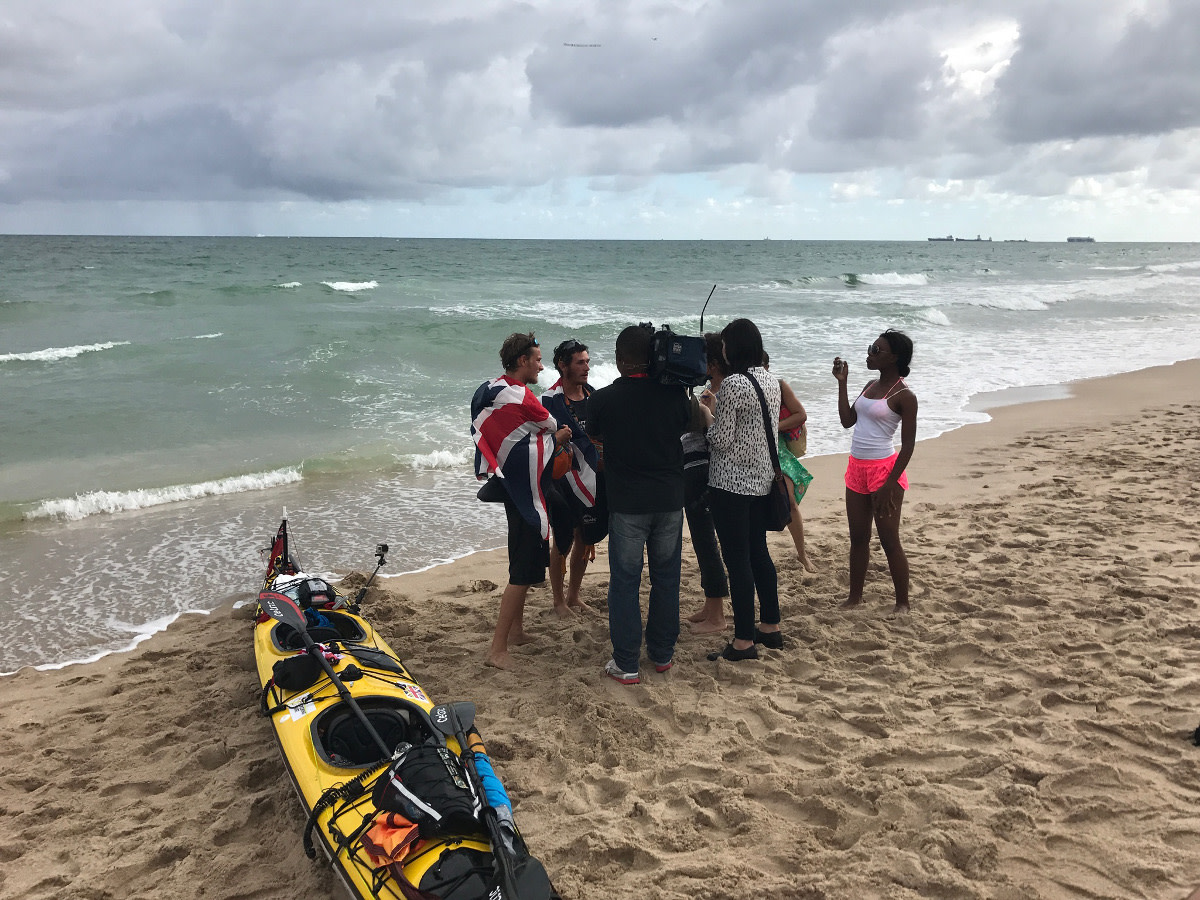 ---
CanoeKayak.com: Why did you decide to do the Antilles route? Where'd you get the inspiration to paddle the Caribbean?
Will McCreadie: The chain of islands just jumped out at us from the map and once we decided the conditions and distance might be achievable, it became a matter of why not? Of course, many people gave us good reasons and there were quite a few who told us openly they didn't think we would make it home. This really drove us forward, inspired by 'the father of sea kayaking' John Dowd who led the first expedition to complete this route.
George Parry: The distance between the islands seemed like an achievable feat. Aside from a few of the crossings that would take us through the night the geographical layout of the islands is perfect. We looked at a few options around the world but the climate of the Caribbean was a big factor. Knowing that we wouldn't need dry suits and that if we capsized the water would be warm enough was definitely reassuring.
Tell me about your mission with Get Exploring Trust. Why was this trip a good way to raise awareness?
GP: The trip was primarily to inspire and promote the mission of our charity. GET is a grant-making trust that aims to inspire people from all backgrounds to get into the outdoors, to test themselves in different environments, and to push their limits. As young people face growing social and psychological pressures through the emergence of social media and gaming mediums, traditional means of relief [such as outdoor adventure] have been thrust aside. At times when it may be most needed, adventurous training seems to be dropping further and further down the list of priorities.
Why did you choose to paddle a tandem kayak? In the end, what would you say were the pros and cons of paddling a double? If you were to do this again, would you take a tandem?
WM: We chose a tandem kayak for the greater speed, stability and simplicity of not worrying about losing each other in rough water or the dark when we kayaked through the night. A tandem is faster, more stable, and often cheaper than two singles; it's impossible to lose your partner at night. You also feel like more of a team, paddling in time and with equal effort. In rough water or a current one can maintain the boat while the other takes a quick break, a pee or takes in some food and water. However, tandems are often called 'divorce boats.' For our part, we had no arguments but I can see how it is not for everyone. Your freedom is restricted and in ours the paddler to the rear had total control of direction while the front paddler controlled the stroke rate. A single also has much more maneuverability, especially useful when trying to stay head onto breaking waves when battling through the surf zone. At 22-feet the size of it also creates difficulties for storage and transport. We are trying to get ours back to the UK without paying for a 40-foot container… any ideas?
Overall, a tandem was the right call for us and I would recommend the same to anyone doing a similar expedition through similar rough conditions. However, for a shorter trip, perhaps a more exploratory trip where speed for distance is not the main aim, the freedom of a single would be a clincher.
What was the hardest part of the expedition?
WM: Dealing with the frustration of waiting for weather windows for some of the big crossings was mentally draining, especially during our 12-day delay in the Dominican Republic. That said, the sea is still the sea and nothing was as tough as fighting through strong headwinds and cross currents in rough water, often at night, for up to 24 hours constant paddling at a time.
GP: Paddling through the night was always tough. Starting around 1am was frequent and our bodies adjusted to this but the crossings where we started at 4pm and finished the next day were incredibly challenging. Waiting for the weather was frustrating and dealing with the bureaucracy in some of the countries was definitely a difficulty.
What gear items were especially useful out there?
WM: We loved our Hennessy Hammocks. Complete with a bug net (the sand flies were horrendous at times) and rain sheet, these were absolutely outstanding – far more versatile, lighter and more compact than a tent. We spent many nights camping on islands and being able to climb into a hammock rather than a sand filled tent at the end of the day and enjoy some restorative sleep was a huge morale boost for me.
For safety while night paddling we relied on a Kayalu Kayak Light, which we attached to our kayak with a GoPro Mount. These were bomb proof. Our other light, a Scotty Sea Light, rusted and fell to bits within the first couple of days (salt water gets the better of almost everything).
Although our Falcon Sail did not see much action for the first half of the expedition due to the constant headwinds, it made a huge difference to our morale (and speed) when we could let it fly. At one point were hitting six knots where our usual fully laden average was three knots. It's a great, well-made piece of gear — definitely the best kayak sail on the market.
GP: I would add that our Celtic paddles were brilliant. We used Celtic Pro 650 four-piece paddles – carbon composite sea touring blades on straight carbon composite shafts fitted with adjustable nylon Leverlok center joints. Also we had Navionics loaded on a tablet in a waterproof case for planning and navigation on the go, which was especially useful for maneuvering around some of the more difficult reefs.
The Henrys remarked at how friendly people were to them along the way. Did you experience the same thing?
WM: Absolutely. On every island through the Caribbean we were warned about the 'pirates' on the next, but we were met with kindness and hospitality all the way. We are extremely grateful to everyone who helped us during the expedition.
GP: Incredibly friendly. On reflection one occasion really sticks in my mind. Our first stop in the Bahamas was the Bahamian island of Mayaguana. Arriving on the beach we cleared customs and planned to set up our hammocks for the night. A local man who was waiting for the fishermen to return told us the sand flies would be awful if we camped here. Having talked to us for just the best part of 10 minutes he decided to take us to his home. He gave us his bed for the night and made sure we were well fed that night and in the morning.
What did it feel like to finish?
WM: It was fantastic. We were met by family friends waving Union Jacks on the beach in Florida, which made it very special. I think the overwhelming feeling was relief and excitement for a few days rest!
GP: Immense relief. There are definitely a lot of risks to an expedition of this scale and there were a few close calls. I was very pleased we both made it back in one piece! Being back home was certainly strange. You forget how fast life moves back home. It was nice to have a good wash, eat well and be back in my own bed!
What's next?
WM: We have a lot of fundraising to do for the Get Exploring Trust and are working on making a short film on the expedition. The next expedition? … watch our website!
GP: That'll have to be kept quiet for now! I need to finish up my academic studies and spend some time catching up with friends and family.
More from CanoeKayak.com
— Digital Feature: Pull of the North
— Freya Hoffmeister Completes South America Circumnavigation
The article was originally published on Canoe & Kayak
For access to exclusive gear videos, celebrity interviews, and more, subscribe on YouTube!