Real adventurers earn their photos. From running the cliffs of the Grand Canyon to kayaking the whitewater of the remote Nachvak River and taking selfies atop the Seven Summits, we found the folks pushing the limits of photography and adventure. 
Mark Healey might have gills. At least that's what some of his best friends think. Fearless in the water, Healey is one of the best big-wave surfers on the planet. He is also a world-class freediver and spearfisherman who likes swimming with great white sharks (check out some of his exploits here). We caught up with Healey in between his "hundreds of hours" of preparation and travel for 15 seconds of surfing to talk about growing up on Oahu's North Shore, spearfishing, BASE jumping, and catching the world's biggest waves.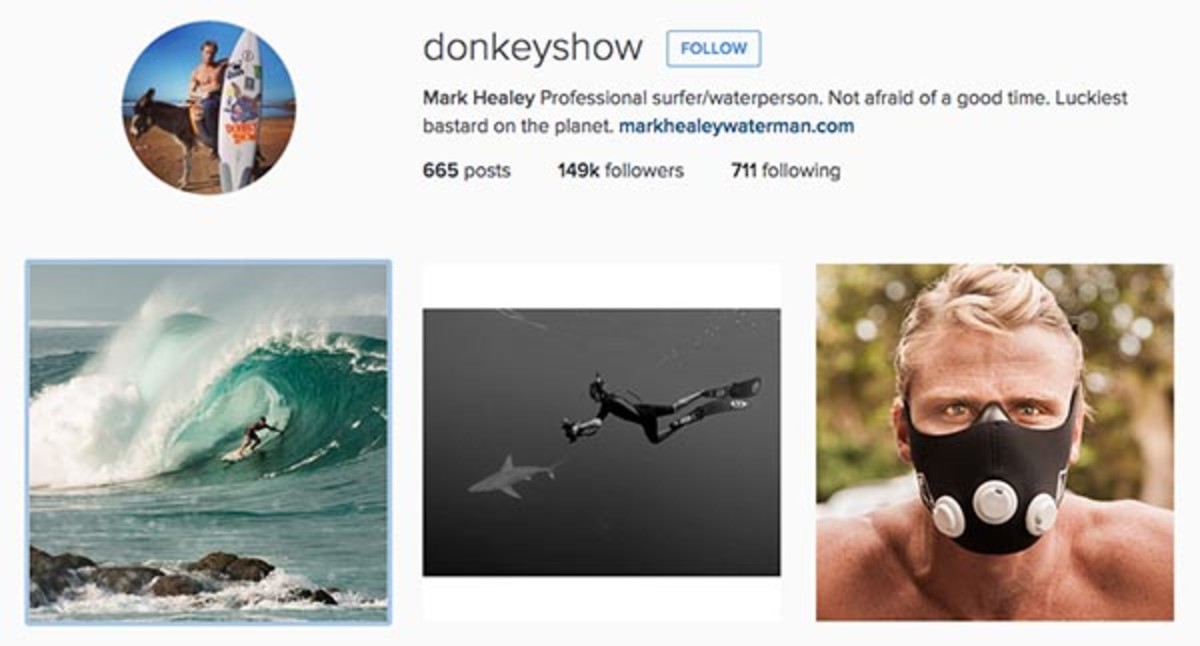 What's it like to surf the North Shore?
The North Shore of Oahu is one of the most amazing places in the world. I feel so lucky to have been born and raised here and still get to call it home. It's really the epicenter of the surfing world; so many significant events in the sport's history have taken place on this long stretch of coastline, called The Seven Mile Miracle by many surfers. There are so many different types of waves here, from secret outer reefs to famous waves like Pipeline and Waimea Bay. We're exposed to every North Pacific swell — the kind of waves you see on shows like Deadliest Catch are the waves we ride as they slam into the reefs here after rolling across the open ocean for thousands of miles. It's the proving ground.
What are some tips for surfers who think they're ready for the North Shore?
One of the most common things that happens to people who come here for the first time is not realizing just how powerful the waves are. There's nothing to slow them down between here and the North Pacific, so when they come ashore, they do so with a velocity and power that's unmatched. You also need to match your equipment to the wave's power and size. The last thing you want is to be on a board that isn't meant to be out there. Physical conditioning is a must. The bigger and more powerful the waves, the more your mental capacity for staying relaxed comes into play. But you need to have a base level of fitness, flexibility, and stamina to even approach the North Shore, especially when it comes to big waves.
RELATED: Catching Up With Adventure Photographer Chris Burkhard
What do you do on days you're not surfing?
It's all about the water. I love to surf, of course, but also free-dive and spearfish. I take my boat out all the time and do a little fishing that way as well, along with some bow hunting when I have the time. I love the healthy way of life that's available here in Hawaii. I grow a lot of my own food, and between the garden, fishing, and hunting, I know where almost all of my food is coming from, which is really important to me. I feel really connected to the land and sea here because of that. I'd love to learn how to BASE jump. I've been skydiving a bit with that being the goal. But, man, you do not screw around with BASE, so until I can devote more time to it, I've had to put it on the back burner.

Big wave is obviously different than competitions where you catch air and carve through the water. Why did you gravitate toward a more dangerous style?
Well that's the beauty of it. Just surviving in a lineup when the waves are big, and not having a wave break on you and catch you inside is enough. It takes a certain skill set and a lot of grit just to do that, never mind the decision to actually put yourself in the right place and to turn around and under the power of your own two arms try to ride one of these things. And if the situation goes sideways and you have a bad wipeout, then the game's all about survival. You have to switch gears a lot, and you have to make quick decisions under extreme duress. 
How did you get into big wave?
I actually didn't plan on being a professional surfer. I thought I was going to be a marine biologist, but the fact that nothing goes unseen over here on the North Shore, I started getting endorsement offers when I was about 14 years old. And once I got my first international trip, I said, "Well, college is out the window. I'm doing this now."
Do you remember the biggest wave you ever caught?
For sure, but there's something to be said about the intensity level in a wave, as opposed to height. You know the intensity level and that energy is moving through you. You're 75 percent water on two legs, so the water in your body is part of this wave. You're part of the energy. So I kind of gave up on putting height on it, because it's such an arbitrary thing. I know what was biggest for me. 
So what was it for you?
It was November 2013 at a place called Jaws in Maui. I waited for four hours getting caught inside by 60-foot waves. There were only five of us, and it was a bit stormy, and then finally this wave presented itself — the one I'd been waiting for all day. I turned around and committed to it, and it was exactly how I had envisioned it in my mind a thousand times. I pulled it off, completed the ride, and it's probably the biggest wave I've ever caught. To me, it felt like a big accomplishment.
What length of time are you on a wave that big? Thirty seconds? Less?
No, not even that. [laughs] That's the funny thing. It's hours and hours, hundreds of hours of preparation, and travel, and checking maps and everything for 15 seconds of intense experience. It's usually not more than that. But time is what's meaningful to you, so 15 seconds of that is worth six months of effort to me. 
Follow Men's Journal on Instagram for more adventure photography.
For access to exclusive gear videos, celebrity interviews, and more, subscribe on YouTube!