A 10-year-old girl's aunt watched in horror as she witnessed the lifeless body of her niece being dragged off into the bush by a wild animal that was later identified as an African lion.
The girl, identified as Mitchell Mucheni, was behind her house in the town of Chiredzi in Zimbabwe on Saturday around 7 p.m. when the tragedy occurred, according to the Chronicle Zimbabwe.
Mawonei Muchacha, the aunt, alerted a neighbor, Samuel Chekai, and the two began following tracks with a flashlight.
"They were guided by a trail of blood stains until they stumbled on Mitchell's lifeless body, some 300 meters [about 330 yards] from the homestead near the fields," assistant police inspector Kudakwashe Dehwa told the Chronicle.
Some flesh had been stripped from the thighs and buttocks.
Girl, 10, killed by lion while relieving herself at the back of a hut https://t.co/a7kwKkbWFV pic.twitter.com/1qShP1Y0UL

— News24 (@News24) July 19, 2017
Dehwa recapped what occurred: "We received a report of sudden death. A lion killed a 10-year-old girl from Chiredzi. The girl had gone behind their house during the night to relieve herself when she met her fate. She was allegedly attacked and her body dragged for 300 meters before the lion disappeared."
Muchacha went outside with the girl but waited in the front of the house. When she waited "for what seemed like an eternity," the worried aunt went behind the hut to check on Mitchell and witnessed the African lion dragging her away.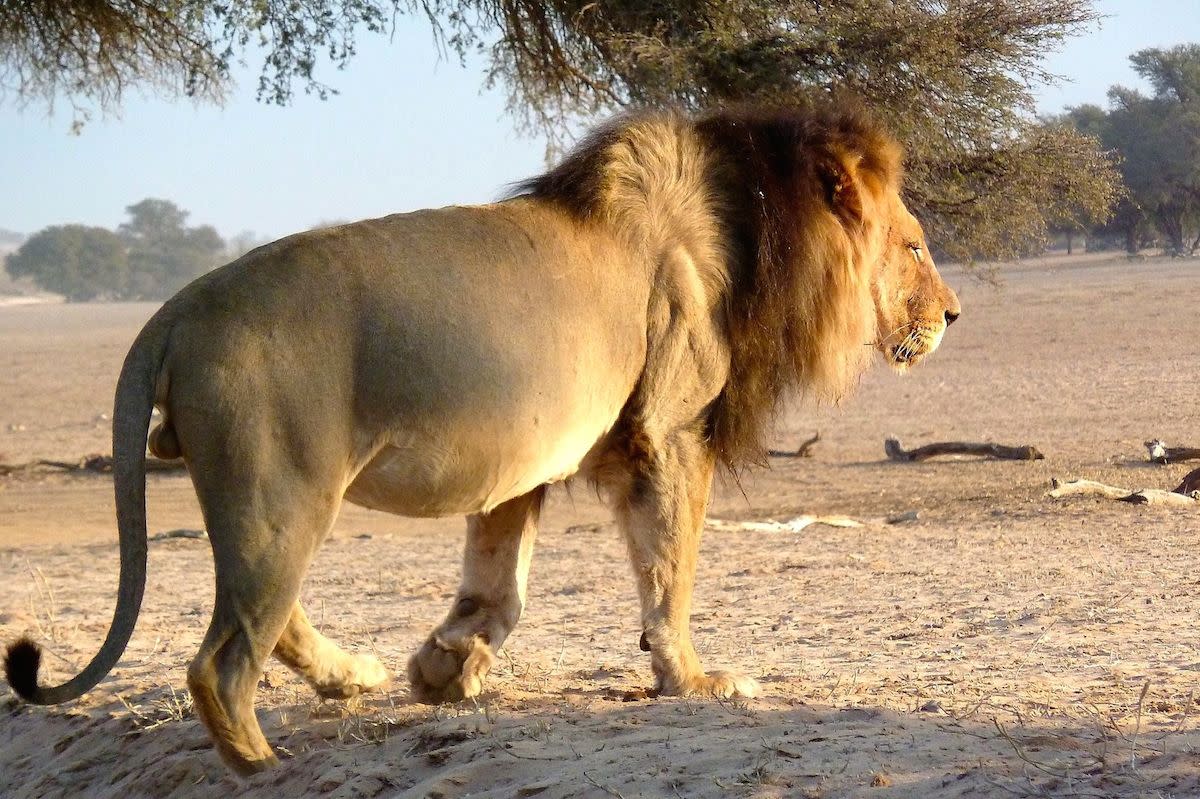 Chiredzi is located in Masvingo Province in rural southeast Zimbabwe and is home to Gona Rezhoe National Park, which borders the Malilangwe Wildlife Reserve.
The incident was reported to the Zimbabwe National Parks and Wildlife Management Authority (ZimParks).
The tragedy comes amid reports that cases of wildlife and human conflict are increasing in southeast Zimbabwe. Just last month, Chief Maranda of Mwenezi asked ZimParks to help prevent stray wild animals, especially lions that kill villagers' livestock.
Occasionally lions kill humans, too, as evidenced in this attack and others. In 2015, a 14-year-old boy was killed by a lion as he guarded his family's maize field from elephants in Kanyemba, Zimbabwe, according to News24.
Read more about lions on GrindTV
Safari guide has close encounter with African lion; video
Safari guides react to sneaky lion in Kruger National Park; video
Lion sent flying by buffalo in extraordinary video
For access to exclusive gear videos, celebrity interviews, and more, subscribe on YouTube!