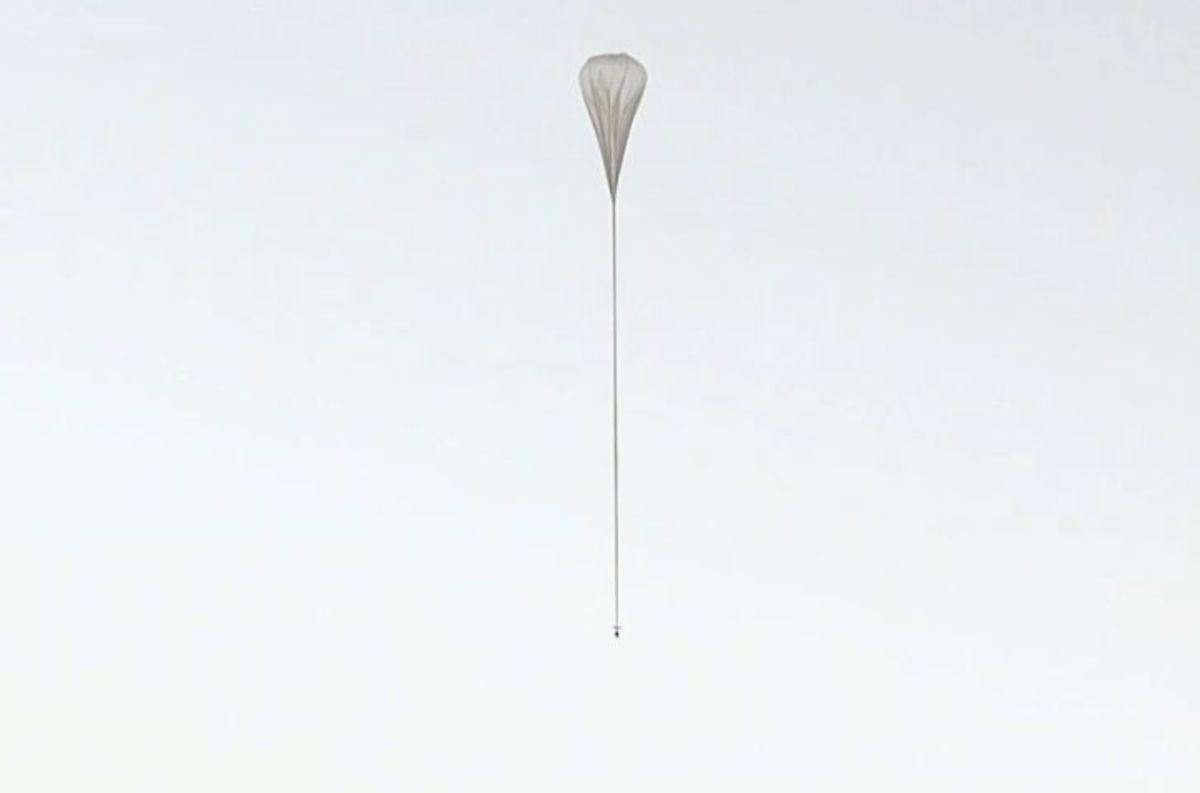 A secret, three-year mission culminated in a well-known computer scientist breaking the world record for altitude by a skydiver set by Felix Baumgartner two years ago, according to The New York Times.
On Friday morning, with little fanfare and no pre-event publicity to speak of, Alan Eustace, 57, a senior vice president at Google, was lifted 135,890 feet into the stratosphere by a huge balloon from an abandoned airport in Roswell, New Mexico, and dropped toward Earth.
Wearing a specially designed spacesuit, Eustace traveled up to 822 mph and broke the sound barrier. Spectators on the ground heard the sonic boom, but Eustace neither heard nor felt it.
It took Eustace two hours to reach the record height—surpassing Baumgartner's record of 128,100 feet—and only took him 15 minutes to return to Earth, landing 70 miles from where he took off. The New York Times posted video of the world-record jump:
"It was amazing," he told The Times. "It was beautiful. You could see the darkness of space and you could see the layers of atmosphere, which I had never seen before."
Baumgartner's attempt was heavily promoted, and he used high-tech equipment and a sophisticated capsule from which to launch. It was the opposite for Eustace.
He didn't have a capsule or a massive amount of high-tech equipment. He was connected to the lines of the balloon and used a small explosive device to cut himself free. On his descent, he did two slow backflips and was righted by a small parachute. About 4 1/2 minutes into his descent, he pulled his main parachute.
"It was a wild, wild ride," he told The Times. "I hugged on to the equipment module and tucked my legs and I held my heading."
Mr. Eustace planned his jump in the utmost secrecy, working for almost three years with a small group of technologists skilled in spacesuit design, life-support systems, and parachute and balloon technology.

He carried modest GoPro cameras aloft, connected to his ground-control center by an off-the-shelf radio.
Eustace declined company support from Google, telling The Times he was worried that his jump would become a marketing event.
Considering the lack of publicity, he definitely succeeded.
Follow David Strege on Facebook 
More from GrindTV
Rare albino nurse shark caught off Florida
Fisherman catches "alien" sea creature
Fishermen find angry sea lion in net
For access to exclusive gear videos, celebrity interviews, and more, subscribe on YouTube!