Alana Blanchard And Bethany Hamilton Host Keiki Classic On Kauai
Rip Curl's Bethany Hamilton & Alana Blanchard Host First Ever Keiki Classic Presented by Hanalei Surf Co at Pine Trees, Kauai
Costa Mesa, CA (October 21, 2013): Bethany Hamilton and Alana Blanchard teamed up with Rip Curl and Hanalei Surf to host their first ever Keiki Classic at Pine Trees, Hanalei Bay, on Saturday October 19th. An increasing northwest swell brought solid, thumping overhead surf, but the Kauai groms were up for the challenge.
The first heats of 12/under surfers hit the water at the break of dawn to steadily increasing sets. While every surfer should be congratulated for taking on the heavy line-up that day, ultimately, 12-year-old Tiare Thompson won the final for the highest combined heat score of the day in the Girls 12/under division and 11-year old Kainehe Hunt, took the top spot in the Boys 12/under division.
The Girls 16/under division surfed two heats and a final and Mainei Kinimaka, who was a clear standout all day, ultimately took the first place crown, just ahead of Ashlynn Owings and Mikayla Savoie, who came in 2nd and 3rd respectively. The Boys 16/under final was won by in-form Lucas Angulo, who edged out 2nd place Reece Leonard and 3rd place Titus Leonard in some of the biggest, most challenging surf of the day.
While the first heats were hitting the water, the rest of the beach was participating in relay races and beach games led by Bethany's husband, Adam Dirks, winning Natural High, Rip Curl, and Spy prizes in the process. Bethany and Alana also set aside an hour and a half of the day to ensure that all of the competitors and beachgoers had a chance to get their poster, surfboard, book or cap autographed by the two of them.
Bethany Hamilton held an essay contest prior to the event to encourage the kids to value education and pursue their dreams. She awarded one brand new Terry Chung board to Daniel Lagana for his essay on pursuing his dream to be the head fire chief of Kauai, and the other board to Madi Makana Cate who wants to one-day be a professional surfer just like Hamilton.
Alana Blanchard also awarded a Sportsmanship award to the most deserving male and female. Kaya Lucas and Sage Tuttekow were the two stoked groms to personally receive these Channel Island boards from Blanchard. All the groms took away a goody bag with a custom t-shirt, poster, water bottle, and Flex Fit contest cap, along with Sticky Bumps, T-Mobile, Zico, and Spy prizes.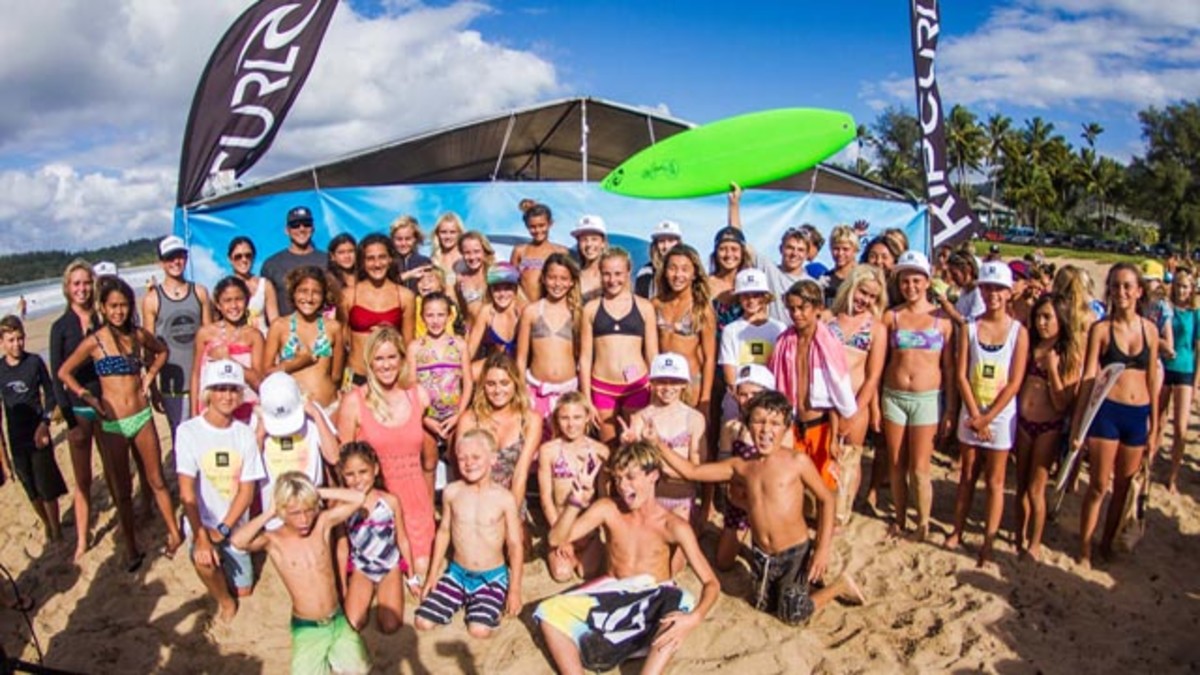 Bethany & Alana Keiki Classic Results:
Girls 16/Under Final
1) Mainei Kinimaka
2) Kelta O'Rourke
3) Sunshine Patey
4) Ashlynn Owings
5) Mikayla Savoie
6) Tiana Tomoda Bannert
Boys 16/Under Final
1) Lucas Angulo
2) Reece Leonard
3) Titus Langridge
4) Daniel Lagana
5) Colby Sargent
6) Kai McIntyre
Girls 12/Under Final
1) Tiare Thompson
2) Keala Tomoda-Bannert
3) Kirra Pinkerton
4) Gabriela Bryan
5) Kaya Lucas
6) Madison Sargent
Boys 12/Under Final
1) Kainehe Hunt
2) Ryder Guest
3) Nathan Tucker
4) Sammy Gray
5) Cole Frye
6) Aaron Feeling
Bethany Hamilton Essay Contest Winners:
Daniel Lagana
Madi Makana Cate
Alana Blanchard Sportsmanship Award Winners:
Sage Tuttekow
Kaya Lucas
For access to exclusive gear videos, celebrity interviews, and more, subscribe on YouTube!