Update: On June 6, 2018, Alex Honnold and Tommy Caldwell accomplished their ultimate goal of taking down the Nose in under two hours with a final time of one hour, 58 minutes, and seven seconds. They started the route at approximately 6 a.m. and topped out shortly before 8 a.m., Climbing reports.
Despite having already crushed the speed record twice in the past week, they continued to climb the route hoping to get their time under two hours. This was their 12th time climbing the route in the last two weeks. In a text to Climbing editor James Lucas, Honnold simply said, "Yay!"
Update: On June 4, Alex Honnold and Tommy Caldwell broke their own speed record on the Nose route of El Capitan, taking it down by more than eight minutes to two hours, one minute, and 50 seconds. Honnold has long maintained he can take the record under two hours. "Sadly, we got a rope stuck at the top [today] and Tommy had to rap a bit," Honnold says. "Cost us a few minutes, I think. But good progress." The two will continue to work on shaving off more time in the coming week. 
On the morning of May 30, 2018, Alex Honnold and Tommy Caldwell set a new speed record on the Nose route of El Capitan in two hours, 10 minutes, and 15 seconds. They beat the previous time, set by Brad Gobright and Jim Reynolds in 2017, by more than nine minutes. The Nose route climbs 3,000 dizzying feet up the lustrous granite prow of El Capitan, Yosemite National Park's most iconic rock formation. It was first ascended in 1958, a 45-day effort by a small team of men who had worked for 18 months to piece together a plausible route up a feature once believed to be unclimbable. Since then, advancements in gear, technique, fitness, and sheer will have contributed to climbers' ability to whittle the time down to what is essentially a vertical marathon.
Today, the speed record on the Nose is considered the holy grail of big-wall rock climbing. The greatest climbers of their respective generations, like John Long, Peter Croft, Yuji Hirayama, Hans Florine, and Dean Potter, have held it. The record has changed hands 16 times since 1990, when Hans Florine and Steve Schneider dropped it down to the time you'd spend at the office on a regular workday: eight hours and five minutes. It's not Honnold's first time holding the record—he and Florine held it in 2:23:46 from 2012 to 2017, one of the longest stretches.
For the latest attempt, Honnold and Caldwell spent a couple weeks in Yosemite, trimming their time down to around 2.5 hours on training runs on the Nose. They also solicited advice from previous record holders Gobright and Reynolds, as well as Florine, who has held the record the greatest number of times in the past three decades. All three men came to send Honnold and Caldwell off, even Florine, who is wheelchair bound after breaking both ankles on a fall from the Nose earlier in the season. Their attendance marks a shift in the speed record on the Nose, once a fierce competition, to a more collaborative effort. "At this stage, it's greater than what one person, or two people in the case of climbing, can offer," says Florine. "It takes a village."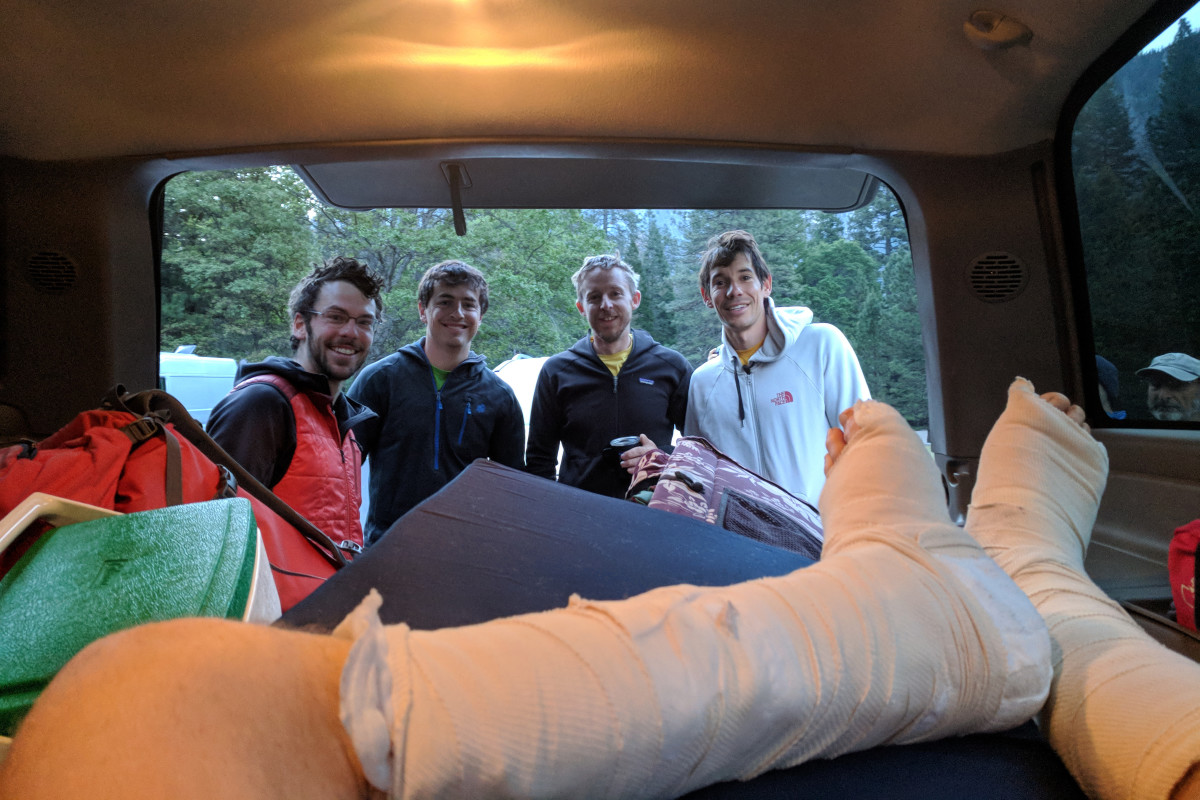 Honnold has stated that he thinks the speed record on the Nose can go down to two hours, like how runners eventually broke the 4-minute mile. While he wasn't off the wall yet to comment whether he still thinks that's possible, Florine says if anyone can do it, these guys can.
Jayme Moye is the co-author of On the Nose: A Lifelong Obsession with Yosemite's Most Iconic Climb
For access to exclusive gear videos, celebrity interviews, and more, subscribe on YouTube!