Traffic jams are a fact of life in Southern California. But few motorists have seen the likes of the one that stranded thousands of vehicles in May on Interstate 5 near San Marcos, about 35 miles north of San Diego. As vehicles idled, walls of flame arcing as high as 50 feet, and whipped by winds of up to 70 miles per hour, raced along an adjacent hillside, ripping through acres of parched trees and shrubs and blotting out the sky with roiling, glowing, thick smoke. And that wasn't the only out-of-control blaze raging: At one point, San Diego County firefighters were grappling with nine separate wildfires – and six of those blazes were winning.
The fires burned for nine days, scorching 9,000 acres, forcing the evacuation of 120,000 residents from homes and businesses, and sending nearly $60 million worth of property and firefighting funds up in smoke. But what really made the San Diego fires scary wasn't their ferocity so much as the timing. "We usually don't see these kinds of conditions until late in September," says Captain Richard Cordova of Cal Fire, the state's wildfire-fighting agency. "It caught a lot of people off guard."
It probably won't catch anyone off guard next year, though, because big, out-of-season fires are starting to look like the new normal. For as long back as there are records, California's wildfire season hasn't truly gotten under way until fall. But through most of 2013 and 2014, wildfires have been raging almost constantly, essentially leaving the state with a 12-month wildfire season.
And it's not just California. In May, Arizona, Oklahoma, and even Alaska all were hit by large wildfires, months ahead of schedule. More blazes are occurring in fall and winter, as well. "In November, a fire in the Colorado Rockies burned across a snow-covered forest while firefighters watched, astounded," says Char Miller, a professor of environmental analysis at Pomona College, in Claremont, California, who studies wildfire. "That may be something no one has ever seen before."
Over the past three years, nearly every western state has experienced its most devastating wildfires in more than 50 years. In 2012, Colorado's Waldo Canyon Fire wasted 18,000 acres of wildland, displaced 32,000 people, and burned more than 340 homes. That fire broke a record that had been set just a few days before it started, when the High Park Fire burned more than 250 homes, killed one person, and burned down 87,000 acres. And it was a record that would stand only until the following year, when the 2013 Black Forest Fire incinerated 509 homes.
In 2011, Arizona lost half a million acres in a single fire; two years later, a massive blaze claimed the lives of 19 hotshots. In 2012, New Mexico saw 372,000 acres burned, and Oregon lost 1.2 million acres. That same year, single fires cost Idaho 341,000 acres and Montana 250,000 acres, while a Washington fire burned down 61 homes. California's 2013 Rim Fire burned into Yosemite, destroying 257,000 acres of some of the state's most pristine wilderness.
These big fires not only spread farther, they tend to burn hotter and are harder to put out, making them more dangerous to those who put themselves in harm's way. "They become 'canopy fires' that jump fast from treetop to treetop, with temperatures reaching a thousand degrees," says Bernhard Voelkelt, a California wildfire risk consultant. "They are horrific for firefighters."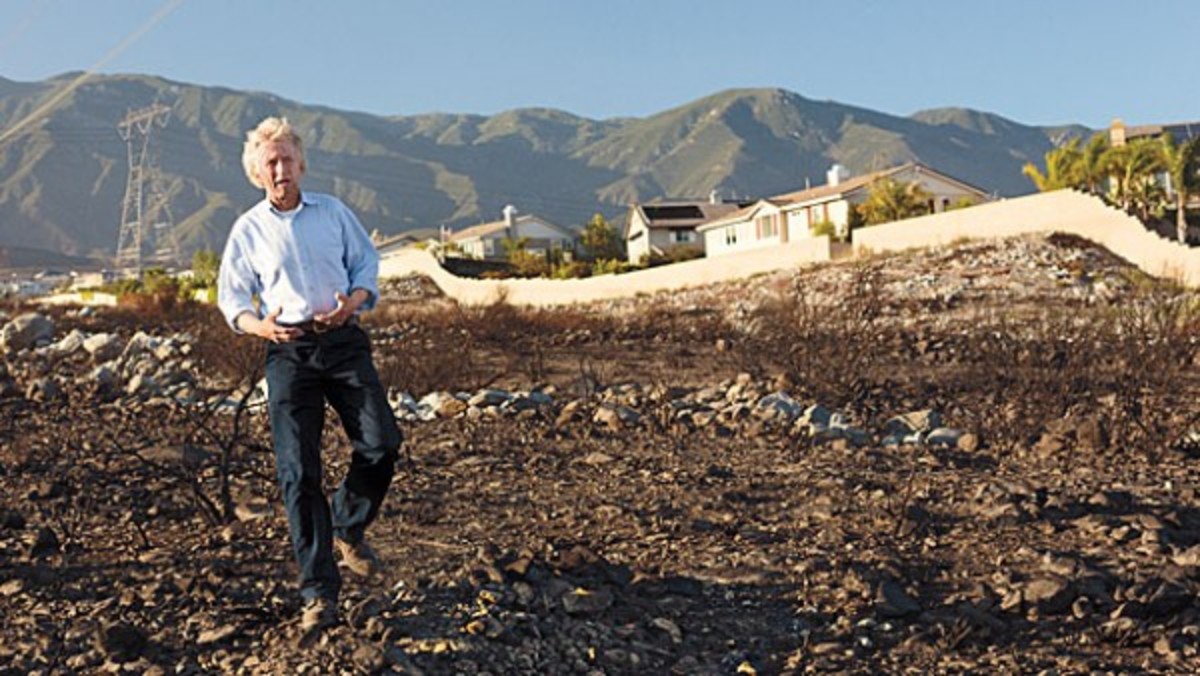 "In military terms, what these fires do is encircle the community. Then they close in," says fire-safety expert Bernhard Voelkelt, on land scorched by the May 2014 Etiwana Fire in Rancho Cucamonga, California. (Photograph by Peter Bohler)
It's the same story throughout the South, much of the Southeast, and even parts of the Northeast – all of these regions have experienced record wildfires. Firefighters, forest managers, community leaders, and scientists tell the same tale: They've never seen so many fires of such size, intensity, and destruction.
Another point of agreement: It's going to get much worse. "We can't manage wildfire any longer," says Miller. "It is out of our control."
Dave Cleaves has been sounding that alarm for nearly 25 years. An economist and former professor, Cleaves has spent more than two decades helping the U.S. Forest Service develop economic models to help determine whether the amount spent on firefighting was justified by the amount saved in property damage by putting the fires out.
In the late 1980s, Cleaves found himself wondering: Why was the U.S. being hit by more and more uncontrollable fires? Up until then, increasing investments in firefighting seemed to have rendered wildfires tamable. But in 1989, 873 structures burned down in California wildfires. In 1990, 641 structures were lost in a single fire. In 1991, more than 3,300 homes were torched in a firestorm near Oakland. Throughout the 1980s, an average of 3 million acres had burned each year in the U.S.; by 1991, the number exceeded 5 million acres. "Large parts of whole counties in the West were going up in single fires," says Cleaves. "We'd never seen fires like that."
Cleaves pored over the data and came to a disturbing conclusion, one that seemed almost preposterous at the time: A slow but accelerating rise in average temperatures in the West was tipping the wildlands into a state of unprecedented vulnerability that would render fires increasingly uncontrollable. Today, we call it climate change. At the time, Cleaves' insight was mostly ignored.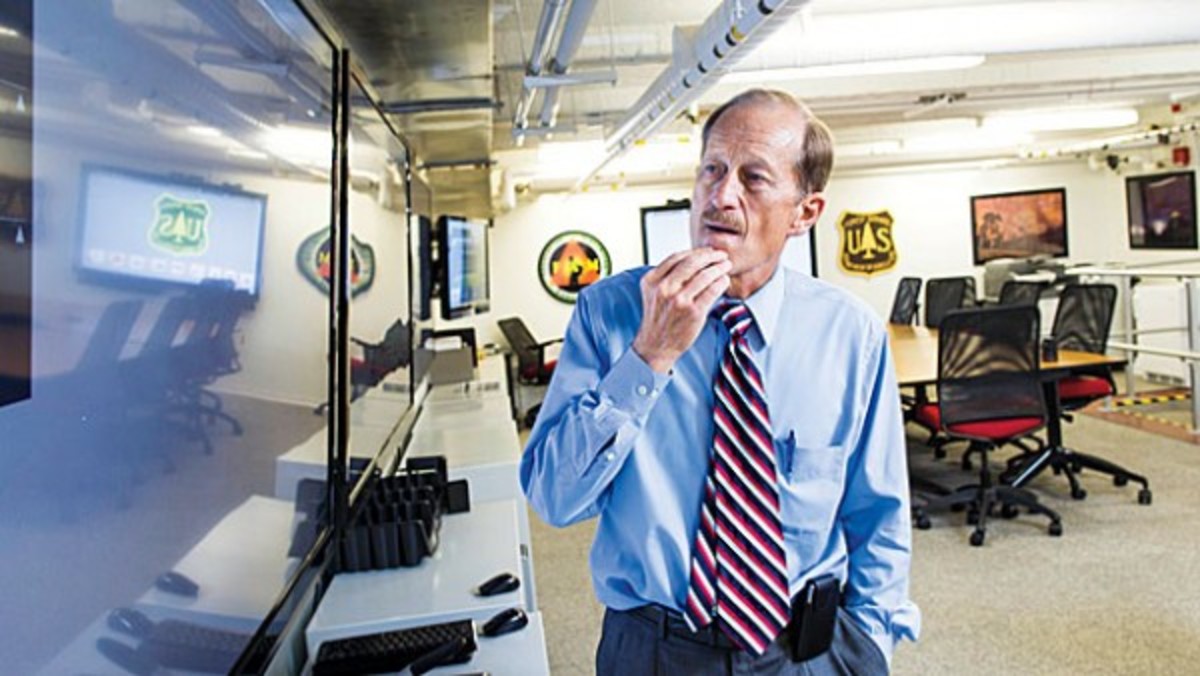 The U.S. Forest Service's Dave Cleaves has been warning about the link between climate change and wildfires for the past two decades. (Photograph by John Loomis)
Throughout the 1990s, state and federal officials struggled to get a grip on these new, massive fires by engaging in an ever-escalating firefighting arms race. The ranks of wildfire fighters swelled to more than 10,000, and these troops were equipped with fleets of aircraft and ground vehicles for transportation and for spraying water and fire suppressants, and establishing the enormous mobile infrastructure needed to support it all. The national firefighting command and coordination center in Boise, Idaho, was beefed up so that crews and equipment could be shuffled between the multiple fires that were breaking out across the West. These efforts proved successful in squelching 98 percent of all wildfires. Unfortunately, the remaining 2 percent proved to be catastrophic blazes capable of converting millions of acres of forest and thousands of homes into ash.
Cleaves' insistence that something big was happening was paid little attention to by the George W. Bush administration, which ignored climate change. "I was just someone running around creating problems," Cleaves says.
Today, Cleaves' title is climate change adviser to the chief of the U.S. Forest Service. And he is finally being heard, and at the highest levels. President Obama has been outspoken this year on the relationship between climate change and wildfires. And many in Congress have been calling attention to the problem. "Wildfires are getting more intense, more dangerous, and more expensive to fight," says Sen. Ron Wyden, an Oregon Democrat who has been pushing for changes in wildfire policy.
The average warming in the West, says Cleaves, has been deceptively slight – just a small fraction of a degree per year for the past several decades. But that tiny increase has created a growing list of consequences: trees and soil drying out from drought; a steep reduction in the winter snowpack critical to inhibiting fire; an invasion of bark beetles, mountain pine beetles, and other insects that turn living trees into highly flammable dead ones; the encroachment of more-flammable plants from the South; and the expanding of the fire season by nearly three months. "These are multiple, interacting sources of stress on our forests, and they're all increasing the fire hazard," Cleaves says. "I think the result will be that we're going to see an average of maybe 10,000 wildfires burning 10 million acres a year." He concedes he's probably being conservative. Other experts predict an annual wildfire destruction of closer to 12 million acres – an area twice the size of Maryland.
That's four times as many acres as burned annually in the 1980s on average. The six worst fire seasons in the past half-century have occurred since 2000. And a decades-long series of increasingly intense western droughts will continue to make the situation much worse. In a study published in the prestigious journal Nature Geoscience, a team of researchers studied the western 2000–2004 drought and concluded it had been the most severe of the past 800 years – a trend that is expected to continue throughout the century.
A fast-moving wildfire burns in the hills above Glendora, about 25 miles northeast of downtown Los Angeles. Nothing unusual there except for the date: January 16, 2014. In fact, in much of the West, fire season is now a yearlong event. This blaze, the Colby Fire, consumed almost 2,000 acres and forced the evacuation of 3,600 people. (Ringo H. W. Chu / AP)
Many other regions that are not associated with wildfires are also seeing a growing risk. Over the past few years, Texas has seen grassland fires of such destruction that Gov. Rick Perry was moved to reach past his anti–big government principles to request federal help. Drought has pushed far enough east to provide Lake Michigan and Lake Huron with record-low water levels. Virginia had one of its worst wildfire years ever in 2012, with nearly 50,000 acres burned. Even New Jersey's pine barrens are prone to fire, a fact lost on the national media until a blaze there in April left Manhattan lightly draped in smoke. In fact, the Northeast experienced 13,000 wildfires in 2013. And the Southeast also is vulnerable. "The wildlands around Atlanta have the same stressors we see in Southern California," says Miller. "We used to think of it as a western problem, but it's now a national one."
As the number and intensity of wildfires grow, trying to put them out has become an expensive proposition. The Forest Service currently has 10,000 firefighters on call and access to a fleet of 18 large air tankers, including two DC-10s, to spray fire retardant. It also has more than 150 large helicopters and is spending half a billion dollars to get more, higher-tech tankers. Fighting a single large wildfire costs about $1 million a day, and at the peak firefighting level, the service has spent $100 million a week. In recent years, the total firefighting bill to the nation from the service has hit close to $2 billion – a nearly tenfold increase from the early 1990s. Meanwhile, states have separately been spending an average of about $1.5 billion a year on fighting wildfires.
Yet all these resources still aren't enough. "It's too difficult to manage fires under some of the conditions we've been seeing, no matter what tools are available," says Eric Knapp, a research ecologist with the Forest Service's Pacific Southwest Research Station in Redding, California. He notes that last year's Rim Fire in California tore through about 40,000 acres a day. "At that rate, you just have to back off and watch it," he says.
Even while spending on fire suppression has skyrocketed over the past 15 years, the money allocated to fire prevention has remained fairly flat. In fact, much of the money we've spent on fighting fires was supposed to go to preventing them. But over the past seven years, the Forest Service has been forced to steal $2.2 billion from those prevention funds to keep its suppression efforts going. Congress has also grabbed fire-prevention funds to make up for other government shortfalls.
Neglecting prevention, of course, contributes to the fires' worsening in the following years, which leads to more stealing of prevention funds. "The massive blazes that make up 1 percent of fires on average consume 30 percent of the billions in fire costs," says Sen. Wyden. "But instead of treating those fires as natural disasters, just like hurricanes and tornadoes, the government is stuck in a cycle of borrowing money from the very prevention work that could make these fires less dangerous and less expensive."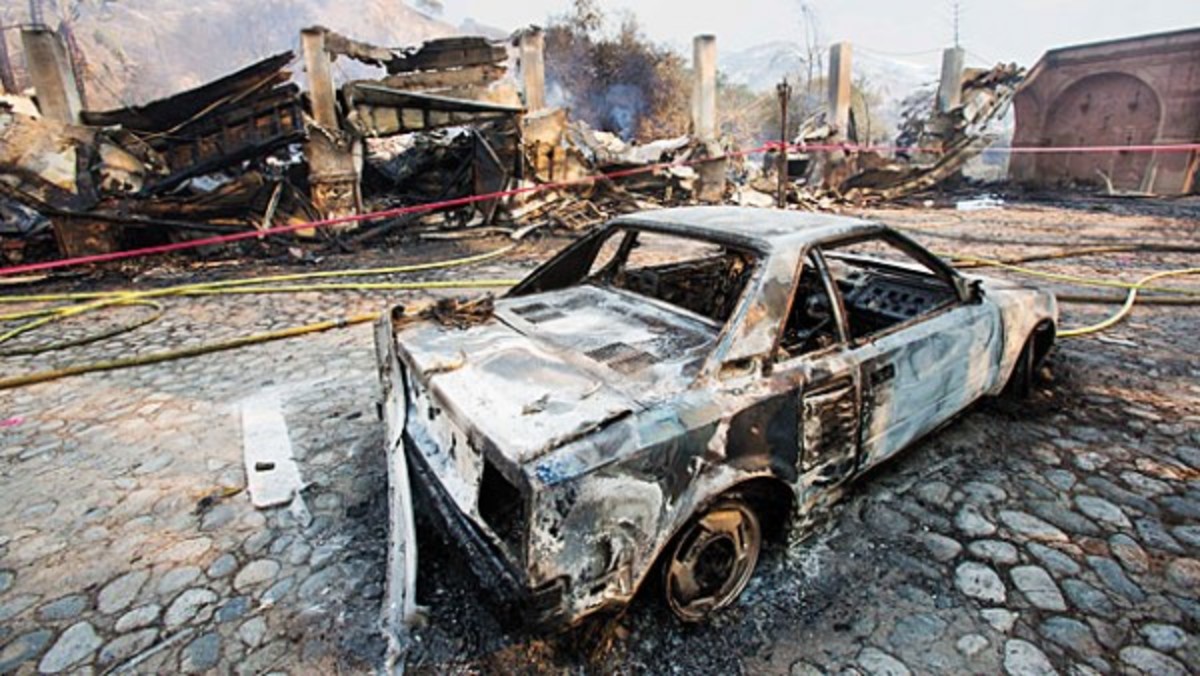 In the wake of the Colby Fire. (Nick Ut / AP)
The Obama administration is trying to change that. Its proposed 2015 budget includes a mechanism to protect about $1 billion in wildfire prevention and damage-reduction efforts. The National Cohesive Wildland Fire Management Strategy, as the Obama plan is called, seeks to provide funding to help protect 46 million homes in 70,000 communities at risk from wildfire. The strategy specifically calls out the importance of restoration and mitigation, and it clearly acknowledges climate change as a critical factor.
The proposal is facing fierce opposition. Rep. Steve Pearce, a New Mexico Republican, has been a particularly outspoken critic of the administration's intention to downplay firefighting in favor of forest management and fire prevention. He and some other politicians from the West want to keep all-out firefighting as the top priority – harking back to the 1930s, when the Forest Service's so-called "10 am policy" promised to extinguish new fires by the next morning. They also want to bring in more logging and grazing as a self-funding form of thinning. "I want you to go back to the 10 am policy, " Pearce said in one congressional speech. "Then let's go in and let's start clearing our forests and cutting the fuels out." Among Pearce's Republican colleagues echoing that only-logging-can-prevent-forest-fires sentiment is Alaska Rep. Don Young. "Until we can properly reduce fire risks on these lands through the modest harvest and clearing of at-risk timber," says Young, "we will continue to see our agencies slash through millions in federal land management dollars in order to combat wildfires."
But few experts believe the 10 am scheme is workable in the current environment. And while logging and grazing might in fact do some good by reducing the density of trees and grass, most believe that over the long term, such practices convert forests and grasslands into less healthy, more fire-prone landscapes. Needless to say, the timber and livestock industries are big backers of Pearce and Young's point of view; so are real-estate developers, who fear the new administration policy will make it harder to build new homes in and around wildlands. Pearce has a bill before Congress to make his proposed strategy the law. Supporters include conservative Republican representatives from Colorado, Washington, and Arizona.
If Obama's policy does become law and shifts the budget and strategy in favor of prevention, could enough be done to actually prevent wildfires? In fact, it could. But whether the public will support the president's policy is another question.
Hiking through a sliver of the endless, rolling forest that blankets California's San Bernardino Mountains, Bernhard Voelkelt points out the fire-inviting pathology that surrounds us. "This is an overcrowded stand of trees," he says. "There's no space for sunlight to get to the ground. It hasn't burned here in 50 or 60 years, maybe 100." Without sunlight, these smaller trees die and become kindling. "They have to be taken out from under these mature ones," Voelkelt says.
A sort of Teutonic intellectual mountain man who lives in Lake Arrowhead, one of the many towns and tiny villages that dot the mountains, Voelkelt started off promoting renewable energy but over time his focus widened to include an obsession with the growing risk of wildfire in the region. Now he devotes his life to nudging and helping communities and government agencies do whatever it takes to keep fires from springing up and wreaking havoc. In some cases, he is paid reasonably well, such as when he consults for state and local agencies. But much of the time he isn't paid at all, because few communities have put aside money for this sort of thing.
Roaming the winding roads that snake between and through the various canyon-top communities in a battered GMC Suburban, Voelkelt can't seem to make it 800 yards before spotting some affront to fire safety that inspires him to lurch to the side of the road and stalk off for a closer look.
"These trees are turning red – that's the bark beetle. They'll die and rot and become fuel," he says. "These grasses will ignite instantly, and then the fire will load up on the dead vegetation on the ground here; then it'll ignite the dead branches low on the tree trunks, and the tree will go up like a Roman candle, showering the area with embers. You'd have a canopy fire here, with the fire jumping fast from treetop to treetop, temperatures reaching a thousand degrees. . . ." He starts to look as if he might himself spontaneously combust.
The heart of the problem is that we have become a victim of our remarkable success at fighting wildfires. Nature intended for forests to burn. Dense, unbroken, unburned forest, such as the one that Voelkelt is decrying, is largely a modern invention. Many Native American tribes regularly put torches to forests and vegetation wherever they lived – mostly to make it easier to hunt, gather, and settle, but also because the land thrives when it periodically burns. Fire, when it comes frequently enough, tends to pass relatively lightly through the wildlands, clearing out choking undergrowth and returning nutrients to the soil while leaving larger trees mostly unharmed. Such fires tend to die out fairly quickly, too, simply because there's less to burn.
Just how profoundly forests change when fire is taken out of them for long periods of time was revealed in a study released last year by the Forest Service, based on work in the Stanislaus National Forest, east of San Francisco. "When you have a forest that used to burn every six years or so, and then you keep fire out for a century," says Knapp, "you get more and more biomass that burns more and more intensely when it finally does go." The study found that tree stands are well over twice as dense today as they were in the 1920s. Perhaps even worse, much of the extra biomass has taken the form of fallen branches and wood dust piled deep on the forest floor – the sort of stuff a hiker would eagerly gather as kindling for a campfire. "Any fire is going to burn more intensely, over a larger area," Knapp says. "You're going to lose an entire landscape in an afternoon."
Studies comparing California forests with similar areas in Mexico that haven't experienced a century of fire suppression confirm that fires in the Mexican forests tend to be much smaller and less intense. While differences in climate and vegetation between the two regions complicate the comparison, the differences are stark. Voelkelt estimates that the milder Mexican fires typically leave three-fourths of the larger, older trees in good shape, resulting in a healthier forest – whereas fires in the American West often destroy 90 percent of those trees. Adds Knapp, "The science has clearly pointed out that we need to have more good fires to prevent bad ones."
You don't have to burn all that much of the forest – just patches that can serve as firebreaks. Prescribed burns, as the technique is called, aren't as dangerous as one might think. The risk can be minimized by doing it when and where there are moist, windless conditions amenable to smaller, slower fires, and to have plenty of people and crew on hand that can prepare firebreaks ahead of time and tamp out any flames that get out of the intended burn area. The Obama administration, the Forest Service, and virtually everyone in wildland management is all for prescribed burns. After all, as Knapp notes, our forests are going to burn one way or another; it's practically lunacy to wait for them to do it as raging killers rather than as neatly managed pussycats.
But there is at least one drawback to the approach: Once in a great while, a prescribed burn slips away. That's rare – out of more than 16,000 prescribed burns recorded in 2012, only 14 escaped. One killed three people and destroyed 27 homes in Jefferson County, Colorado. It does little good to tell someone who has lost a loved one or a home that the fire would have happened on its own. All that person knows is that the government set a fire that ruined his or her life. It's an image pro-logging conservative politicians get a lot of mileage out of in the western states – which stand to gain the most from prescribed burns.
Forest thinning – cutting down and removing excess small trees and underbrush from an overloaded wildland area – is a far less risky form of prevention. But it's expensive, and no one has come up with a good scheme for disposing of the biomass that gets cut down. And many experts doubt that thinning is worth the effort given the magnitude of the threat.
That might not matter much if it weren't for the millions of homeowners who have literally placed themselves in the line of fire. San Bernardino is good example. Voelkelt stands at the edge of a friend's backyard, indicating with a sweep of his arm the vast maze of fog-kilted canyons snaking through the San Bernardino National Forest. The yard is on a property nestled in a community of homes at the top of a canyon; similar communities dot the crowns of the canyons all around us.
You have to admit: It's a view to die for. And then Voelkelt points out how close the many homeowners in this region have come to actually dying for it. There was the Old Fire of 2003, he says; then the Sawtooth Complex Fire of '06; the Grass Valley, Slide, and Butler 2 fires of '07; and more. "In military terms, what these fires do is encircle the community," he says. "Then they close in."
These homes are essentially plunked on top of a gigantic mound of matches baking all year long in the sun. A bolt of lightning, a discarded butt, a spark from a scraping muffler, and minutes later a tsunamic conflagration is racing up the canyon walls – fire is all about up – to the thoughtfully placed and lovingly furnished arrays of timber planks at the top. It may be paradise, but it's one spark removed from hell.
Welcome to life at the wildland-urban interface – or, as insiders call it, the WUI (pronounced wooey). There's nothing particularly special about the San Bernardinos when it comes to building homes where they're most likely to burn. About one-fifth of the U.S. population now lives in areas that are at significant risk, and the numbers are only accelerating.
These homeowners are drawn to the WUI for the views and the solitude, and to feel embedded in nature. The irony, says Miller, is that these folks tend to have a very, well, unnatural view of nature. "They want streets, water, and electricity," Miller says. "They don't see fire as part of that landscape, and they're shocked when it shows up. And they expect to be protected from it."
Native Americans knew better than to live in such areas. But in the years after World War II, a wave of 22 million people moved west. Many chose to settle in the forested canyons and mountains of California, Oregon, Washington, Idaho, Colorado, and Arizona. "Wherever they went, people kept moving upslope, where it's more beautiful," says Miller. "They were moving into the fire zone." To make matters worse, the fire zone was becoming more and more fire prone as years of successful firefighting allowed the forest to become dense with fuel.
Residents in hill-, mountain-, and canyon-top WUIs are just asking for it, basically. But the government can hardly sit back and let them and their homes be incinerated by wildfires that everyone should have known were inevitable. Of course, that problem suggests a simple solution: Don't build there in the first place. It's the same strategy that is starting to gain traction in coastal flood areas, thanks to mushrooming flood-insurance costs that force potential homeowners to confront the consequences of living in a catastrophe-prone zone.
Can fire-insurance rate increases accomplish the same? Until recently, wildfire property-damage costs were barely a blip on the insurance industry's radar screen; the growing destruction is getting more attention now, says Cleaves. But, he adds, getting homeowners to accept more responsibility for the risk of living in a wildfire zone is still an uphill battle. "We worry that the Forest Service has become so good at saving homes that homeowners don't see any need to take care of themselves," he says. Zoning laws restricting the development of wildfire-prone areas would help, and encouraging such laws is folded into the Obama administration's new wildfire strategy.
At the very least, these homes and communities can easily be "fire-adapted." The steps are simple: Clear out brush, debris, and low branches around homes, put up metal roofs instead of wooden ones – most homes catch fire when embers land on them – and avoid wooden fences that can neatly conduct a fire from the outside of the property to the house.
In the San Bernardino Mountains, it's easy to see the difference such steps can make: Some homes stand unscathed from recent fires next to charred, empty lots. "The fire came right up to the edge of my property and stopped," says Arlend Dwyer, a homeowner in Cedar Glen who fire-adapted his property. He points over at an empty lot. "That guy over there wouldn't do any of it; now there's nothing left." Studies show that fire-adapted communities fared far better in Colorado's Waldo Canyon Fire, as well, and that money spent on fire-adapting projects pays for itself hundreds of times over.
Yet, incredibly, it's still a fight to get communities to embrace these relatively low-cost precautions. Michele Steinberg, wildland fire projects manager for the National Fire Protection Association, works to get at-risk communities on board. She can point to thousands of communities all over the U.S. that have made at least modest efforts – but that's only a documented 1.5 percent of 70,000 WUI communities in the country. "Some people call these red zones the stupid zones," Steinberg says.
Meanwhile, the rush to snuggle up against nature is only accelerating. A Colorado study based on 2010 U.S. census data found that about 17 percent of the state's population – almost a million people – lived in high-wildfire-risk areas. Of the 7,000 homes in the area evacuated for the state's 2013 Black Forest Fire, half weren't there a decade ago.
But even if some combination of policy and common sense started to nudge people away from the WUI, it's not necessarily clear where they could move that would leave them protected from the calamities of climate change. "Wildfire is just the bellwether for a whole set of climate-change disturbances, like floods, storms, and insects," Cleaves says. "It's the first hockey stick in a whole locker room of hockey sticks, and they're all tightly coupled. After you get the big wildfires, you know the others are right behind it." Every region of the country will be subject to one or more of these threats to life and home, he warns.
And perhaps that's the best that can be said about the inevitability of the coming incineration of much of America's wildlands, and of the communities nestled alongside them: It might be the least of our worries.
For access to exclusive gear videos, celebrity interviews, and more, subscribe on YouTube!