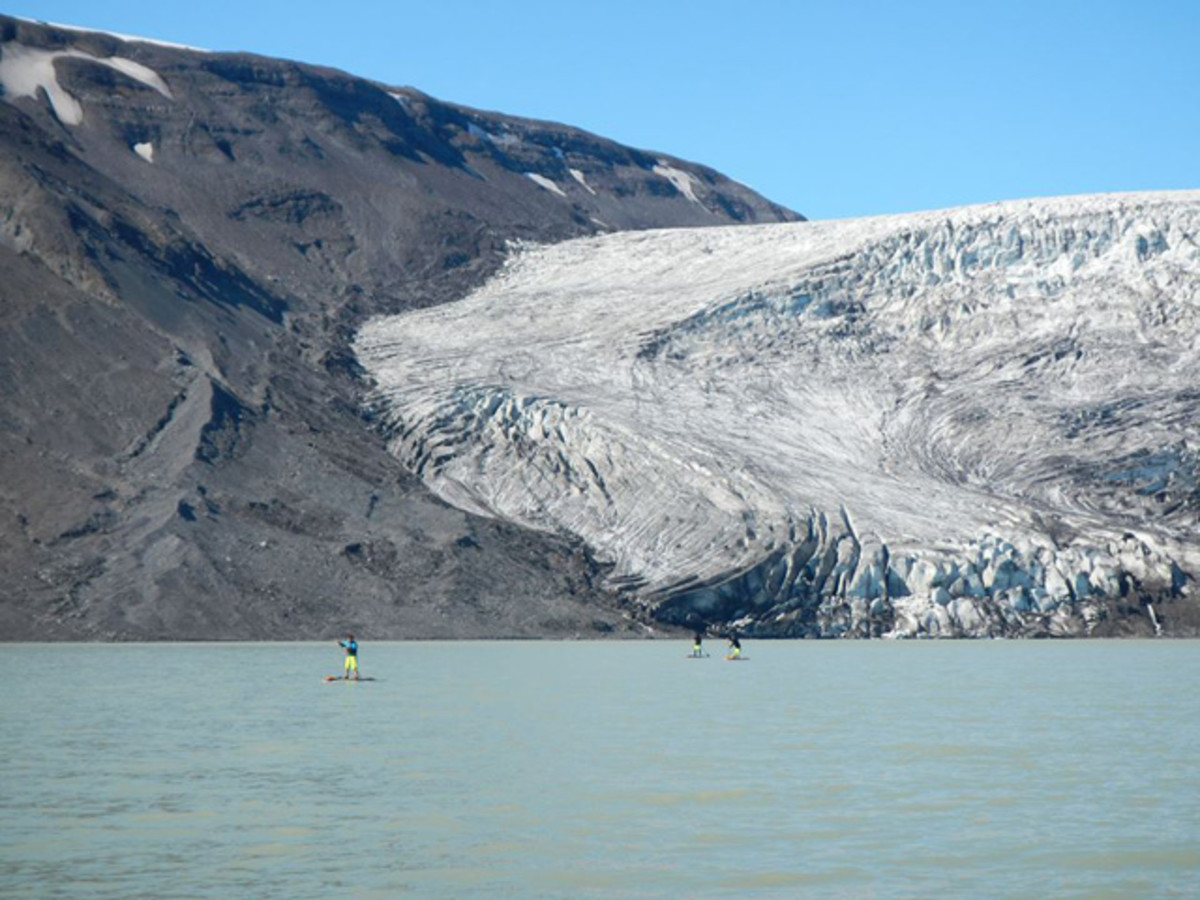 On August 1, a team of 10 from the UK touched down on Greenland's east coast to explore the frozen country by SUP. Starting in Ikateq at the at the south end of the Sermilik Fjord, the group paddled north for four days, searching for polar bears and awe-inspiring scenery until they reached the Upper Sermilik Fjord. Team leader Charlie Head caught up with SUPtheMag.com to share his account of the expedition:
Greenland was like stepping into an old storybook – 'the lost world frozen in time.' I felt like I was on top of our planet in an unexplored wilderness, worthy of mythical beasts and old tails of magic. With a very basic existence, it was clear that the environment was in charge and dictated the rules.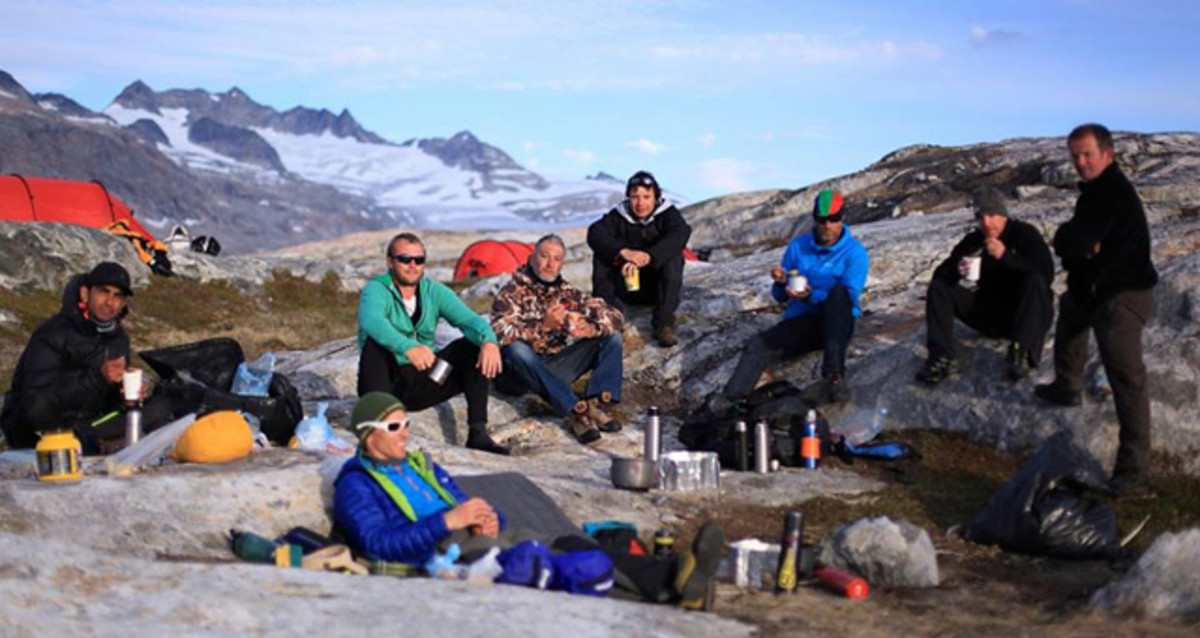 I was worried at first; having such a large group of characters would inevitably lead to a battle or two. It was made clear early on speaking with the trip videographer, Justin Huskinson, that most of the controversies, arguments and stress that may come on a trip like this all makes for entertaining filming. In fact, almost everything that could possibly go wrong just sweetened the taste of Justin's hope for a good documentary. There were ten of us in the group: Phil Sayers, Paul Hyman, Justin Miles, Jaime Silva, Stuart Howells, Mohammad Nilforooshan, Juliette Ball, Brad Symington and myself, all of which are professional watermen and woman in our own right, and all individuals are from contrasting cultures and backgrounds. With this team, in an uncharted environment, with potentially life-threatening conditions, I was sure that this cocktail could lead to a sour taste.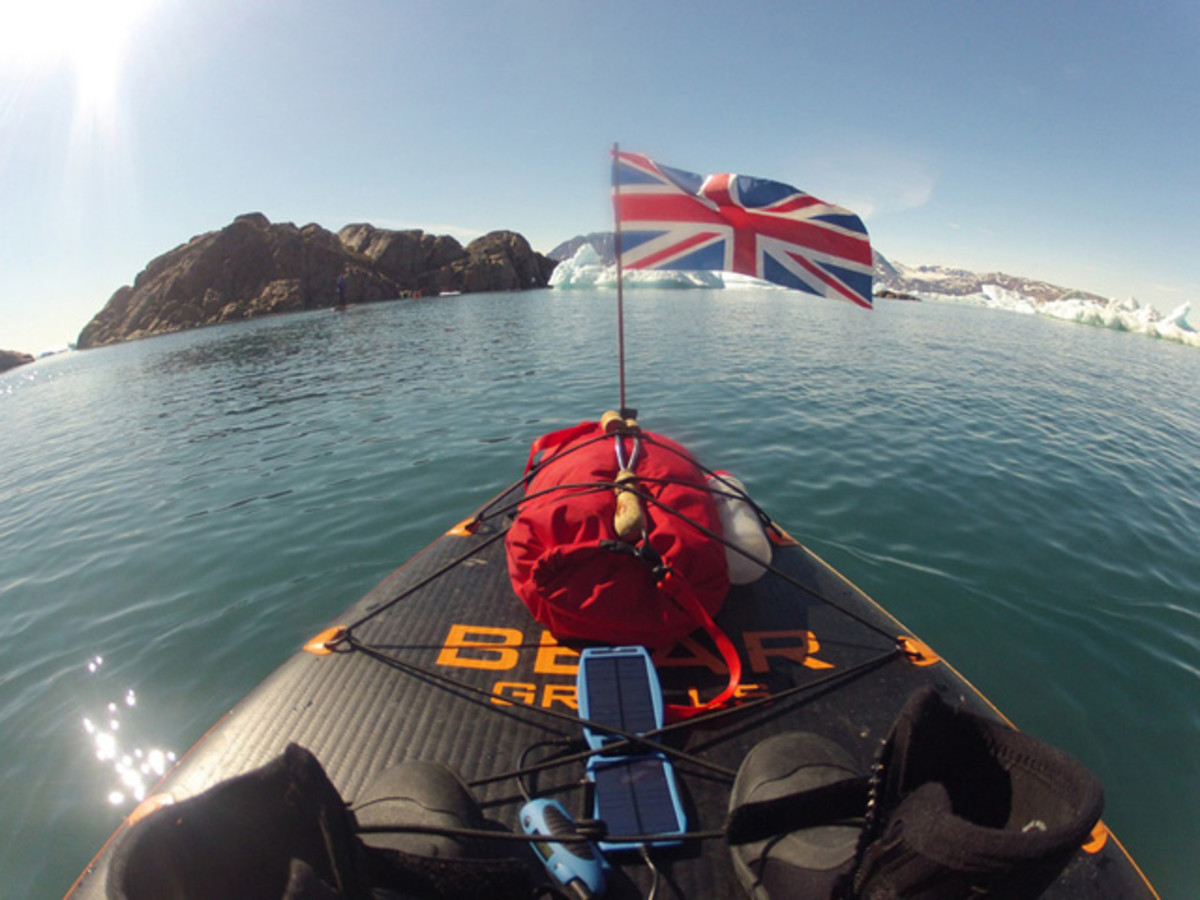 Paul Hyman, a director at Active360 (an SUP company out of London), and Justin Miles came up with the idea to paddle Greenland, and then it organically evolved with Phil Sayers (another Active360 director). I was in the early stages of my SUP journey from Lands End to London when the trip gathered momentum. The team had a natural drive towards the possibilities and capabilities for SUP exploration, and, despite all the stress and worries, as soon as we touched down in Greenland it really felt like time had stood still.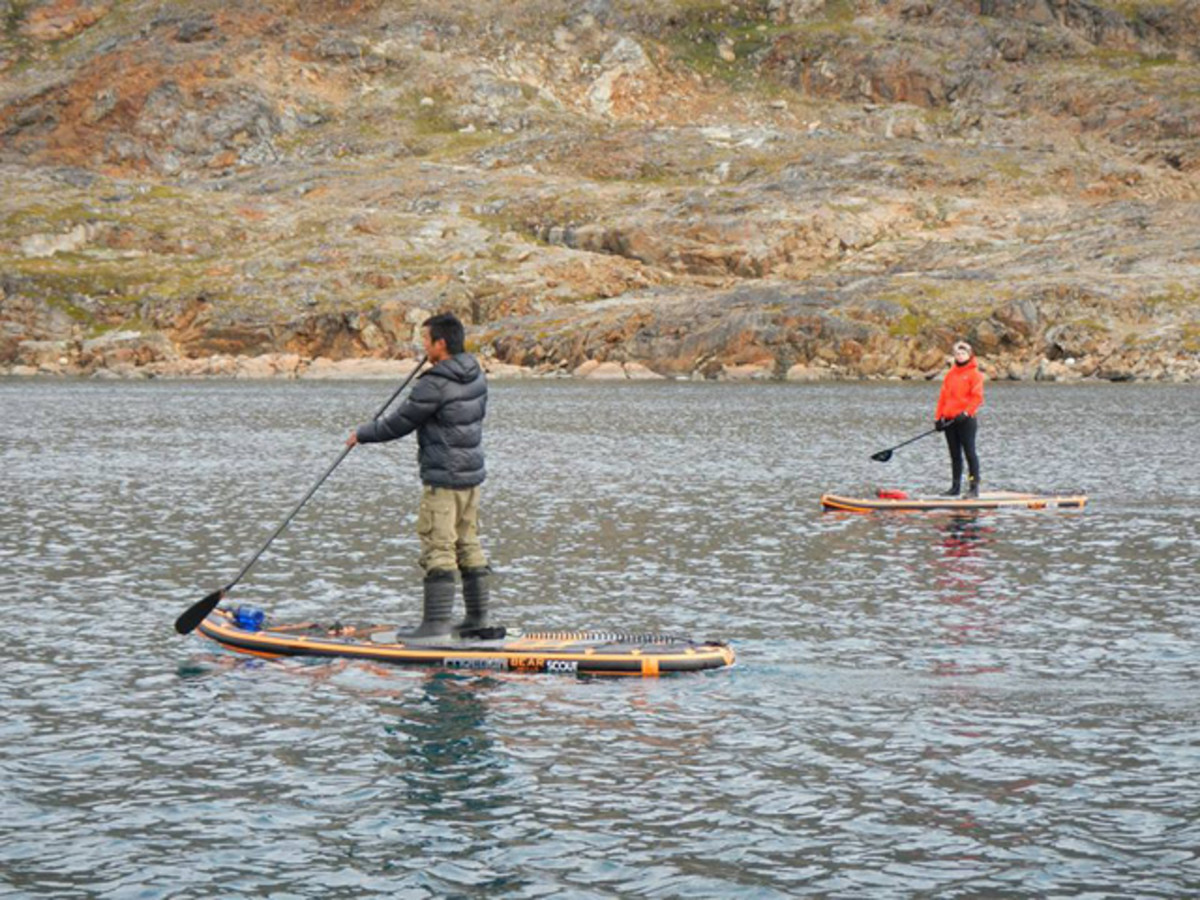 The entire team was humbled by the landscape and couldn't quite believe it— we all took a deep breath. For a few of us, landing was the last time we'd look at clocks; we had no sense of time, and just absorbed it all in, as if we'd been transported into an imaginary world. I fell into a daydream, looking at a view of sweeping mist that flowed through the mountains, lingering and creeping through the valleys, like ancient spirits patrolling their territory. Suddenly, the husky dogs on polar bear watch howled in the distance, interrupting my daydream, and reminding me the beast could be near.
Unfortunately, we missed out on seeing a polar bear this time, but there was one creature that we never anticipated seeing in such abundance: the dreaded mosquito, which showed up in our camp every night and morning. With limited sources of fresh meat out there, the mosquitoes fed on us like it was their last meal. As Phil Sayers will agree, wearing a tight rash vest doesn't make the slightest bit of difference; unlike British 'mozzies,' these guys were drunken kamikazes. Eventually, we started having lunch on the water rather than on the land by linking our boards together and sharing our hot water flasks prepared from the night before. We managed to make our soup, hydrate our dry-pack food and make tea all on our paddleboards with some good bit of teamwork.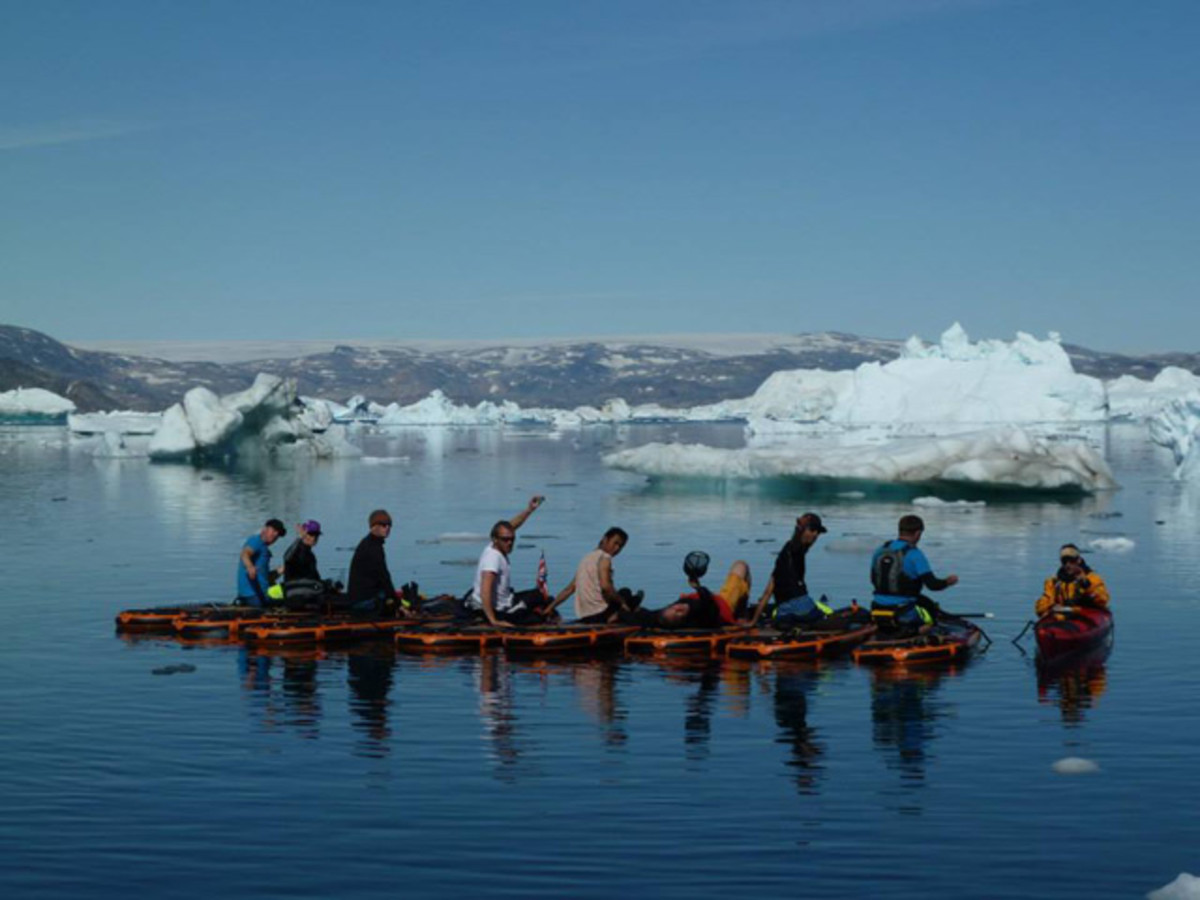 Our trip was guided by a local legendary duo: a father and son, famous for their hunting and putting up with the most hostile conditions the planet can dish out. They were gentle, kind-hearted warriors who took us through the gauntlet of rolling icebergs and frozen mazes. Brad Symington left behind one of the Bear Grylls inflatable SUPs with the family in hope that they pass on the SUP legacy in Arctic waters.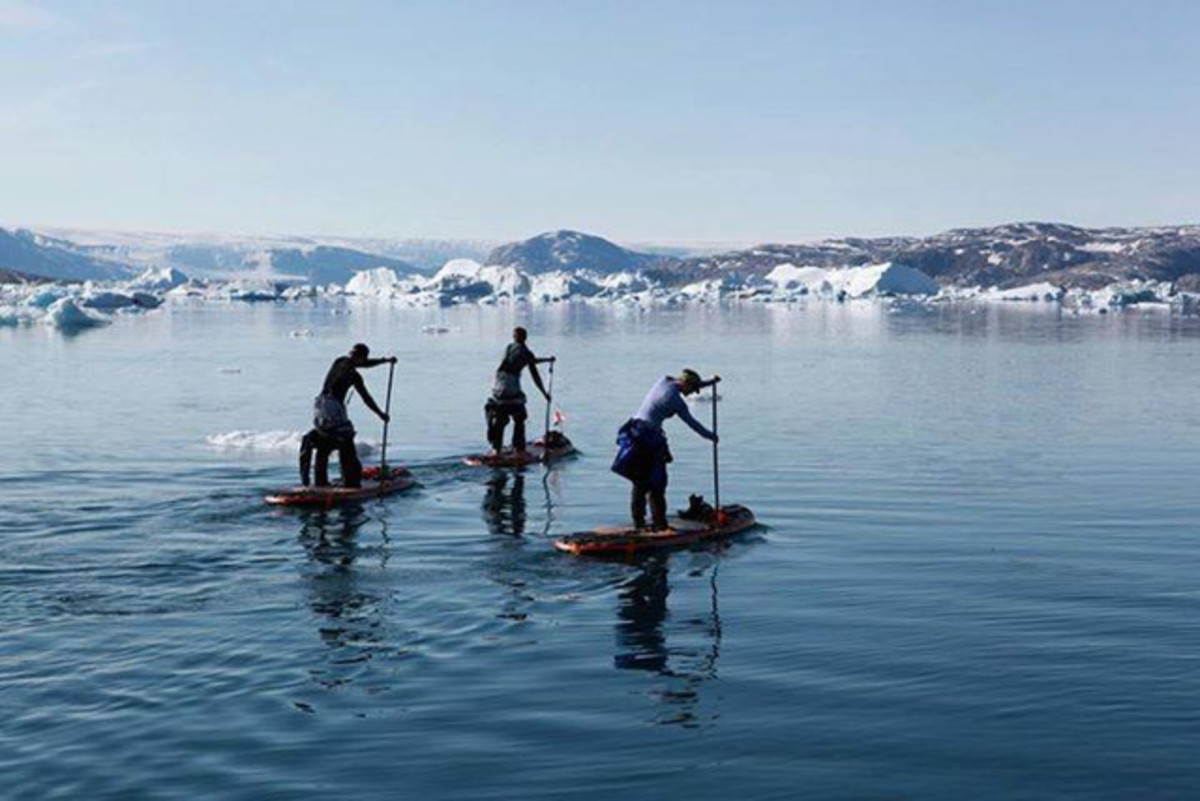 Navigating through the ice was magical. It brought another great dynamic to our paddle, and although we were a little worried about our boards being punctured by the ice, they were very tough. We also feared that in some places the water would be like slush and make for a slow journey, but we were lucky with the conditions and had sunshine almost everyday.
The sun was well overdue, as it seemed like the movement of conditions and weather out there were about a month late and the ice we tried to navigate through was compact and very tight for that time of year. But, eventually, the icebergs were suddenly melting rapidly and rolling often. This, combined with tide and currents, caused the overwhelming landscape of ice to constantly change and presented an unrecognizable world for our return paddle home. It wasn't until the end of our journey that the weather turned for the worst and even threatened to hold us in Greenland.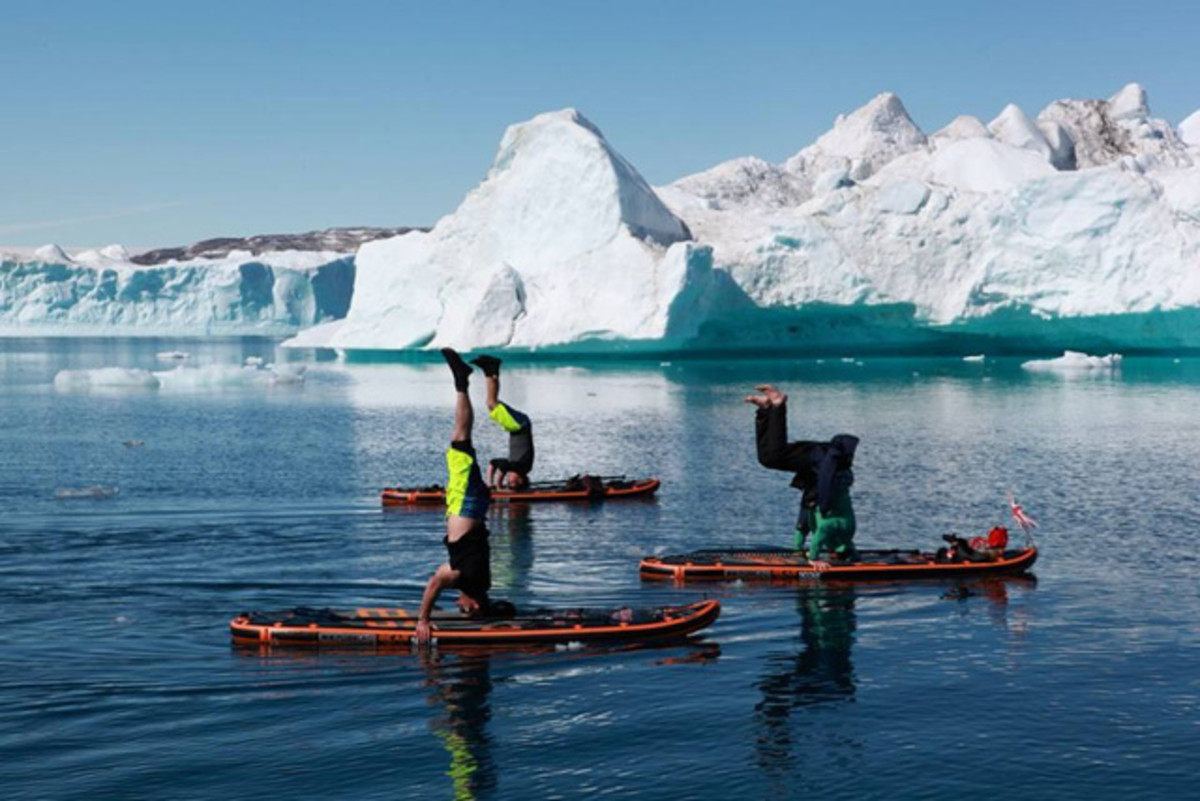 The trip was a great success, though we really needed more time there to present the true nature of the country. We really wanted to interact with the locals more- living, hunting, and eating with them, and finding the truths behind all the mystical stories told about the place. We would have ventured a little further and deeper into the ice, but with such a large group, safety was an issue. For a first expedition there, I think we made the best decisions and laid out a platform to visit Greenland on another level.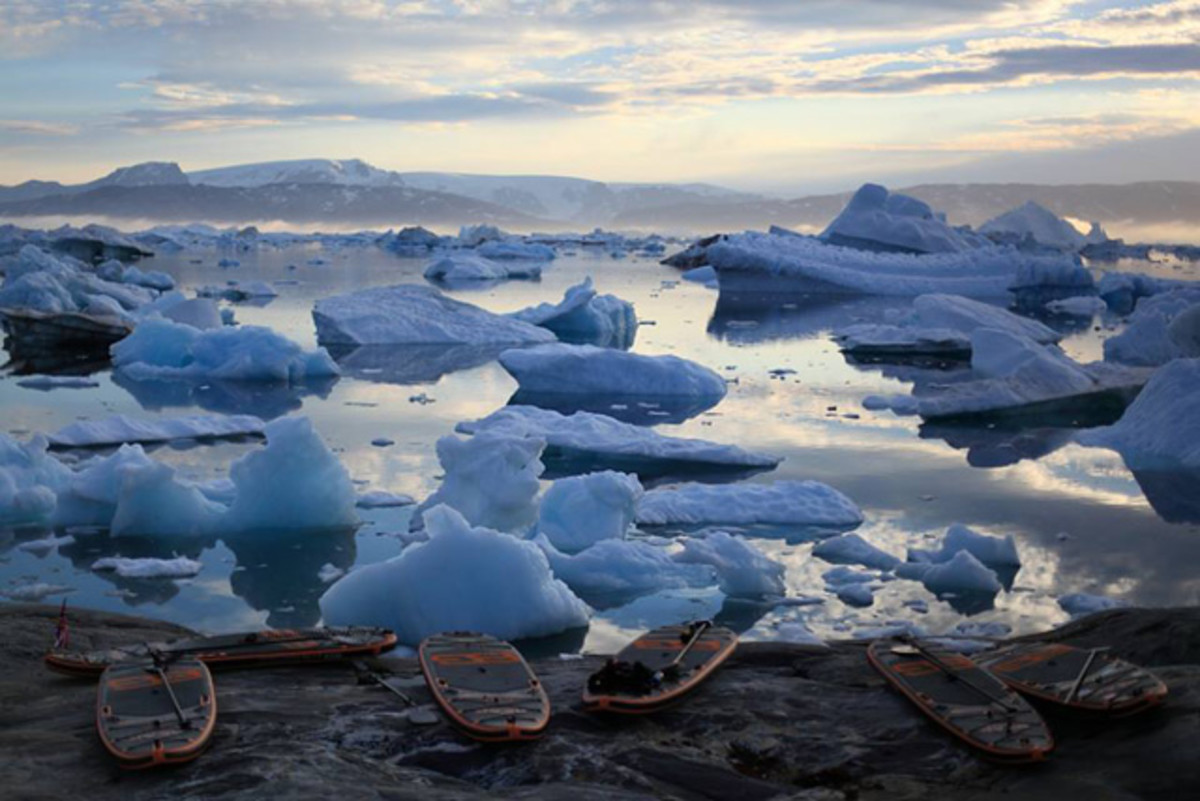 The experience was heightened by the laughs, jokes, highs and lows, which fundamentally brought us closer as a team. We have raised great awareness for our charities '40tude Curing Colon Cancer' and 'Canal & River Trust' and gratefully received donations from so many friends and fans. Thank you so much to our wonderful sponsors – Active360, Oakley, Coreban, Sonim, Berghaus, Pro Motion Hire as well as the project partners, movers and shakers: Oceansource, Voyage Manager, Development Through Sport and OceanSUP.
—Charlie Head

For more information, visit: PolarBearsAndPaddleboards.com
Click here for more Features.
The article was originally published on Standup Paddling
For access to exclusive gear videos, celebrity interviews, and more, subscribe on YouTube!