An angler and guide nicknamed "Flathead Ed" lived up to his moniker and then some Friday by catching a 76.52-pound flathead catfish, which is an Arizona record and the heaviest fish of any species ever landed in the state.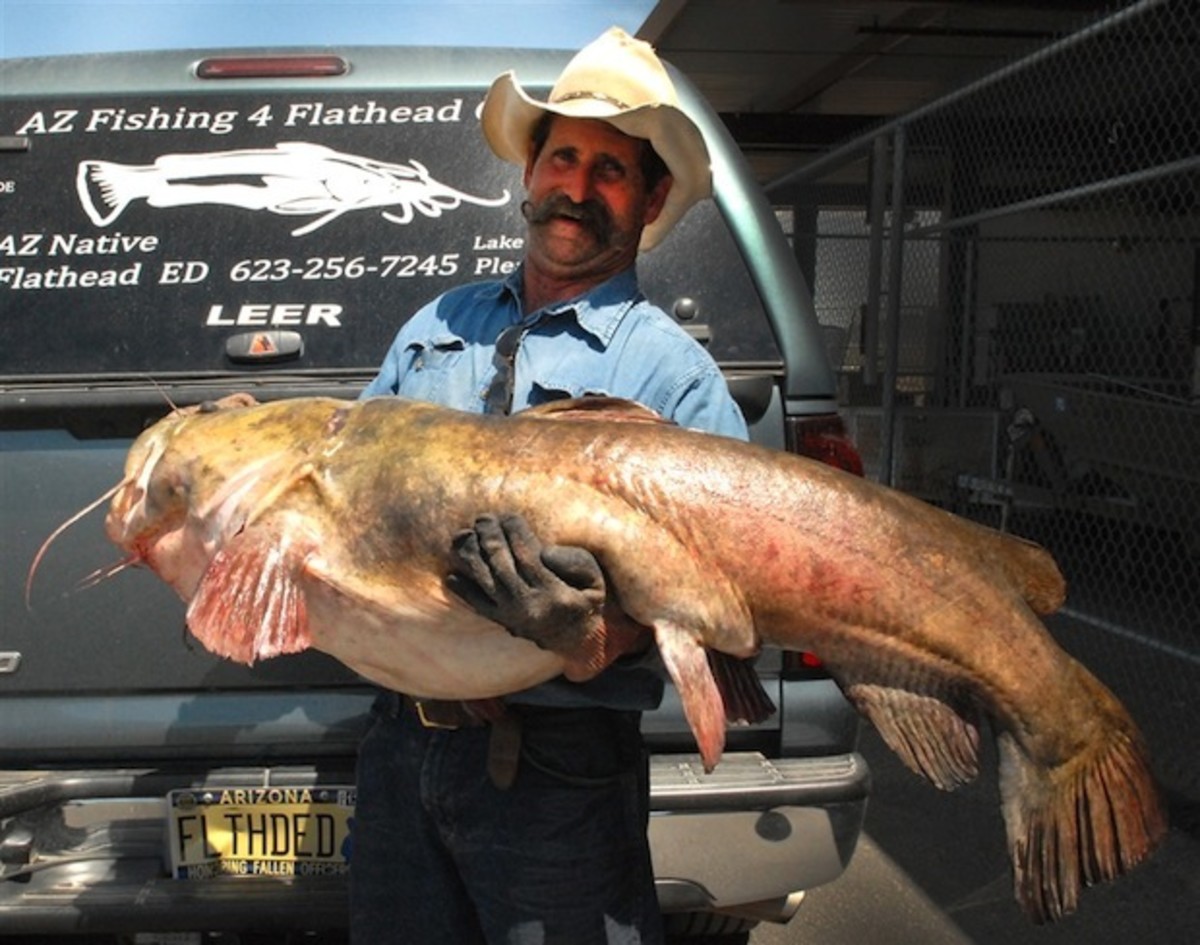 Eddie "Flathead Ed" Wilcoxson, 56, was fishing at Bartlett Lake and using a 2-pound carp as bait. The monstrous flathead began taking the bait at about 2 a.m., as Wilcoxson was asleep on a fold-out cot aboard his 24-foot pontoon boat.
"Everybody's got the same chance I do," he said afterward. "You just have to get out and do it."
The fish was caught, on 60-pound braided line, after a 35-minute struggle. It measured 53.5 inches and boasted a 34.75-inch girth.
Before Friday, the heaviest fish caught in Arizona was a 74-pound flathead catfish caught in 1988 on the Colorado River, according to an Arizona Game and Fish Department news release. The previous inland waters state record was a 71-pound, 10.24-ounce flathead caught in 2003 at San Carlos Lake.
[Related: The biggest fish ever caught from a kayak.]
It seems fitting that someone known as Flathead Ed would beat those old records.
"I sleep out on the water three to four days sometimes," said Wilcoxson, a lifelong angler who obtained his guide license on April 1. "Sometimes during Thanksgiving I'll spend three weeks straight out there. Also, I fished 39 weekends last year."
For the sake of comparison, the International Game Fish Assn. lists a 123-pound flathead as the all-tackle world record. That monster was caught in 1998 at Elk City Reservoir in Kansas.
Note: Wilcoxson will be featured Monday at 4:30 p.m. PST (live, but show will be archived thereafter) on Phil Friedman Outdoors Radio.
–Find Pete Thomas on Facebook at Twitter
For access to exclusive gear videos, celebrity interviews, and more, subscribe on YouTube!