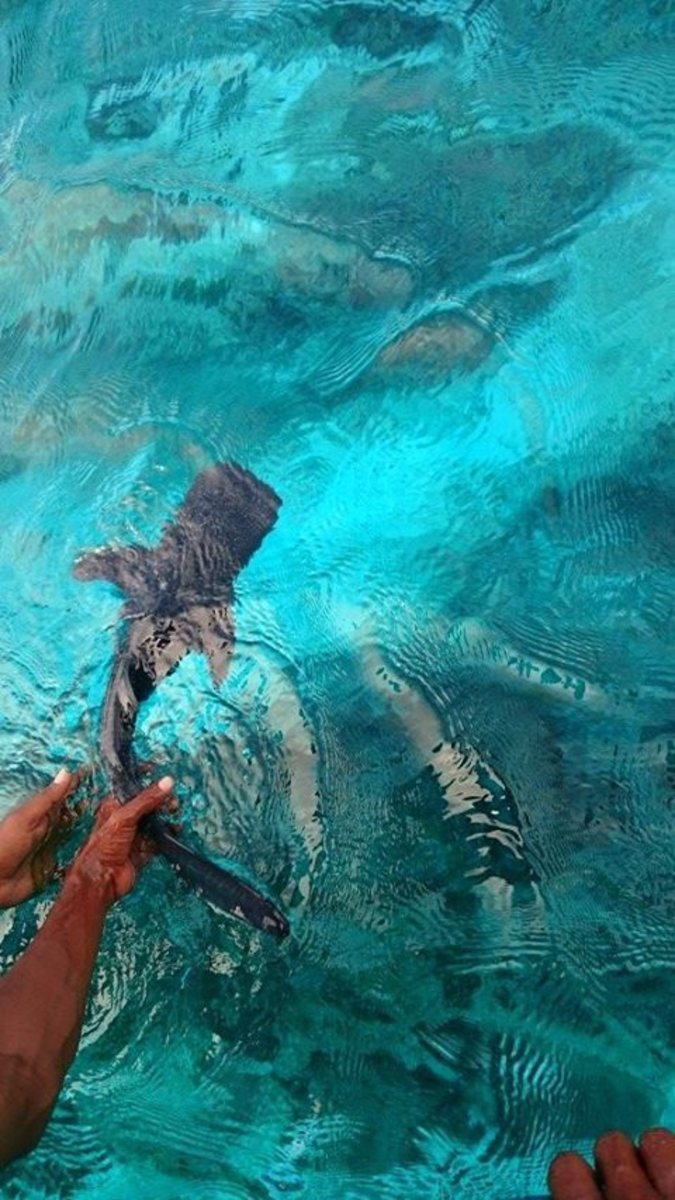 When a baby whale shark was discovered swimming in the open sea on Sunday in the Maldives, it was a big deal.
According to a local news report, a whale shark that young had never been spotted in the region, and the find fueled speculation that whale sharks breed in the area. It was regarded as a "joyous occasion" by a local research center.
However, when the 1 1/2-foot critter was captured and later shown to be swimming in a resort pool, it was distressing to conservation groups because whale sharks are threatened and protected, and do not belong in captivity.
The docile filter-feeder whale shark was hand-captured by employees from Ganhei Island Resort, and originally said to have been kept only temporarily in holding tanks before it was released at the urging of conservationists.
But later in the day, photos surfaced showing the whale shark in a saltwater pool at a neighboring island, swimming with resort guests.
Alarm bells were sounded and phone calls were placed.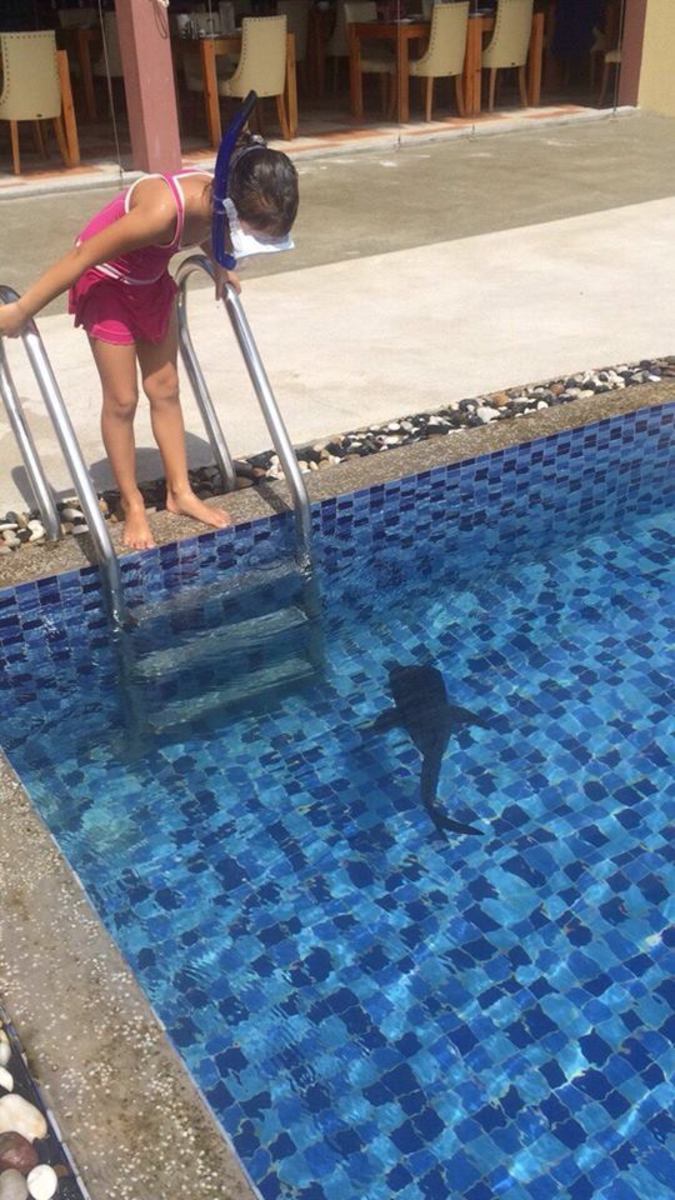 Whale sharks, which when all grown up are the world's largest fish, migrate seasonally to the Maldives, a popular scuba and snorkeling destination. They're extremely valuable as tourist attractions, and if babies are being born in the region, researchers say they should be left alone.
"After the supposedly 'successful release' story we were startled when photos of the baby whale shark in a pool popped up on the Internet," reads a Facebook post by the Maldives Whale Shark Research Programme. "So investigations continued."
It turned out that instead of releasing the whale shark, an attempt by its captors was made to sell the animal to the owner of another resort on a neighboring island. However, that person demanded that the captors take the whale shark back to where it was caught, and set it free.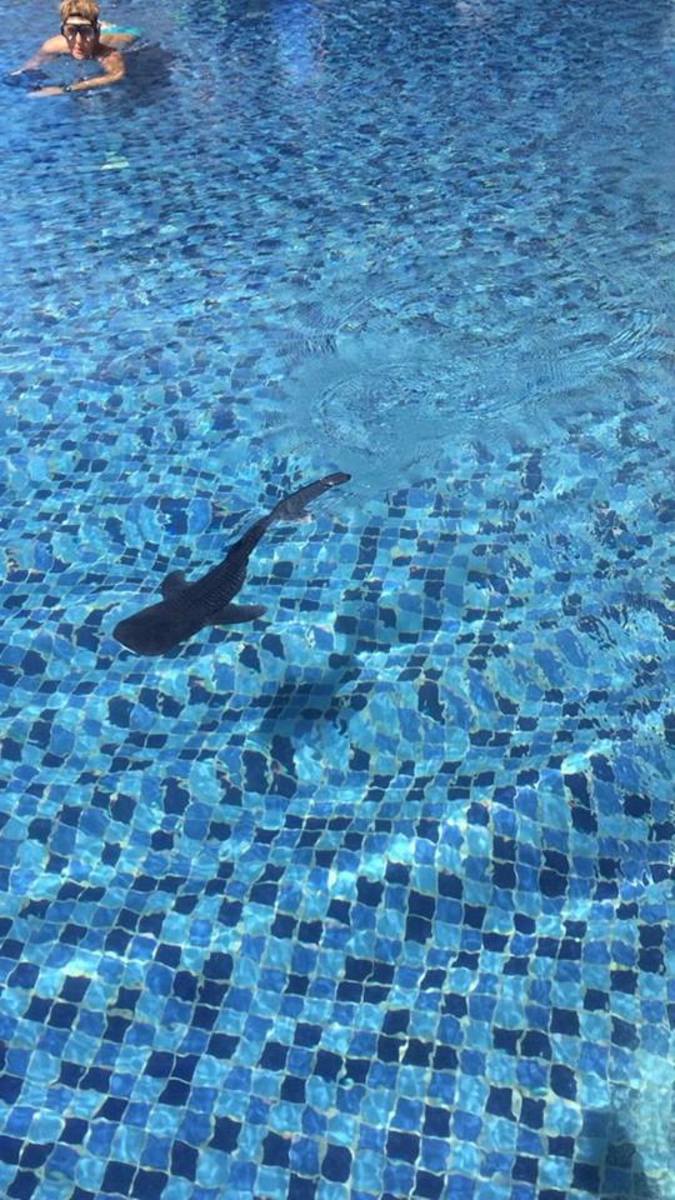 The whale shark was placed in the saltwater pool for only 10 minutes, before it was recaptured for its voyage back to where it was originally caught, but that was long enough for it to be photographed, and for those photos to be shared via social media.
"He gave them money for petrol and urged them to release it outside Gangehi," stated Maldives Whale Shark Research Programme. "At 13:15 they started their engines, and considering the boat ride, it must have been released around 13:40."
The saga does, in fact, appear to have a happy ending. The baby whale shark was released after being cataloged in the Maldives database as WS217. Researchers will be able to identify the whale shark in future years, if it returns and is spotted.
It was given the name NOOMAA, which in the Dhivehi language translates to blue flower.
Eco Islanders Adventures, an environmental consulting and monitoring group, stated on Facebook that it was pleased with how things turned out after talking to one of the captors. Part of the post reads:
"They had no bad intentions and guaranteed that they finally released it back where they found it… after a journey to Bodufulhudhoo and a dip in the pool in Mathiveri. "He said they [the captors] love the environment, and did not harm the baby."
It's worth noting, perhaps, that the fishermen who captured NOOMAA had been out collecting floating chunks of trash, because they attract other species of sharks that could present a danger to swimmers.
Whale sharks, which are found in tropical seas and can measure 40 feet, eat mostly plankton and pose no threat to humans.
–Follow Pete Thomas on Facebook and Twitter
More from GrindTV
Stray dog joins endurance racers on epic journey
Herd helps baby elephant caught in snare
Bloopers: What not to do on the river
For access to exclusive gear videos, celebrity interviews, and more, subscribe on YouTube!