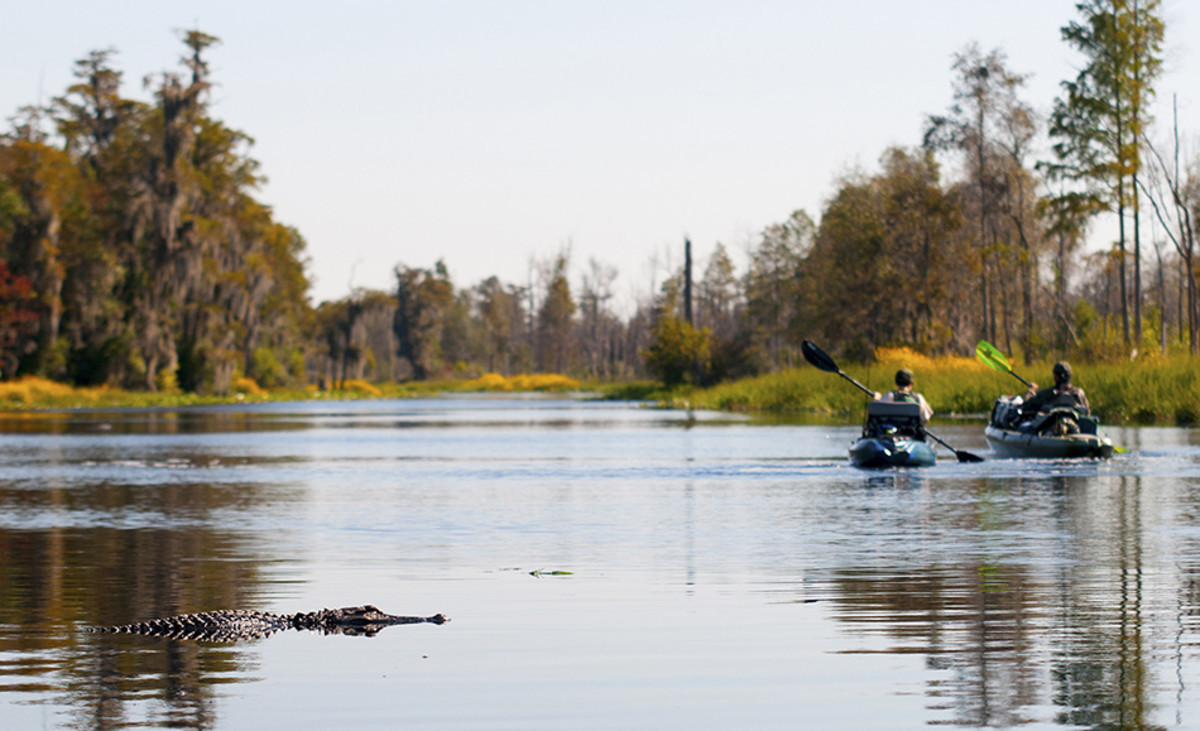 Words and Photos By Chris Funk
I was the last of our group to launch into the Okefenokee that morning. I was deep in thought, watching the black water churn around the paddle blades ahead. There was tightness in my chest and I wasn't sure whether to blame five hours of energy drinks, heavy metal and Florida traffic, or anxiety about the last time we ventured into this swamp. Years before, in the heat of summer rather than a crisp fall day, we paddled out seeking adventure and found far more than we'd bargained for.
I have always been fascinated by swamps, and the Okefenokee especially. It is 438,000 acres of peat bogs and wetlands and is home to 200 species of birds, 40 species of mammals, 50 species of reptiles, and 60 species of amphibians. The plant life is astounding and includes multiple species of carnivorous plants. Paddle trails wind their way through the maze of waterways, with camping platforms known as chickees (Seminole for house) a day's paddle apart. Fish are plentiful in this primeval environment.
On that first trip we had three large canoes loaded with enough gear to care for a small army. None of us had ever been there and we wanted to be prepared for anything. The attendant at the launch laughed at us. That should have been our first clue of the problems ahead.
Shortly after passing the first mile marker we started seeing the dark side of the swamp. We were told insects might be an issue, and had dressed in long sleeves as recommended. We vastly underestimated these insects in both number and ferocity.
The swamp has an insect scale, much like the Fujita tornado scale or Richter scale for earthquakes. It ranges from 1 to 10 with 1 being "slightly bothersome" to 10 being "slow painful death." The day we set out into the swamp, a properly calibrated insect scale would have registered a solid 12.
We put on the strongest bug juice we had and sat in disbelief as the yellow flies landed and bit places we'd freshly sprayed with DEET as if it were sugar water. It was 90 degrees in the shade. The intense insect attack had us paddling ourselves into a heat stroke. At last we made it to camp.
After a long night of listening to various aquatic creatures meet their demise at the chomping jaws of alligators, we had a "come to our senses" meeting. I was the first to throw in the towel. A wave of relief washed over their faces. We fled the swamp beaten, bitten and sore.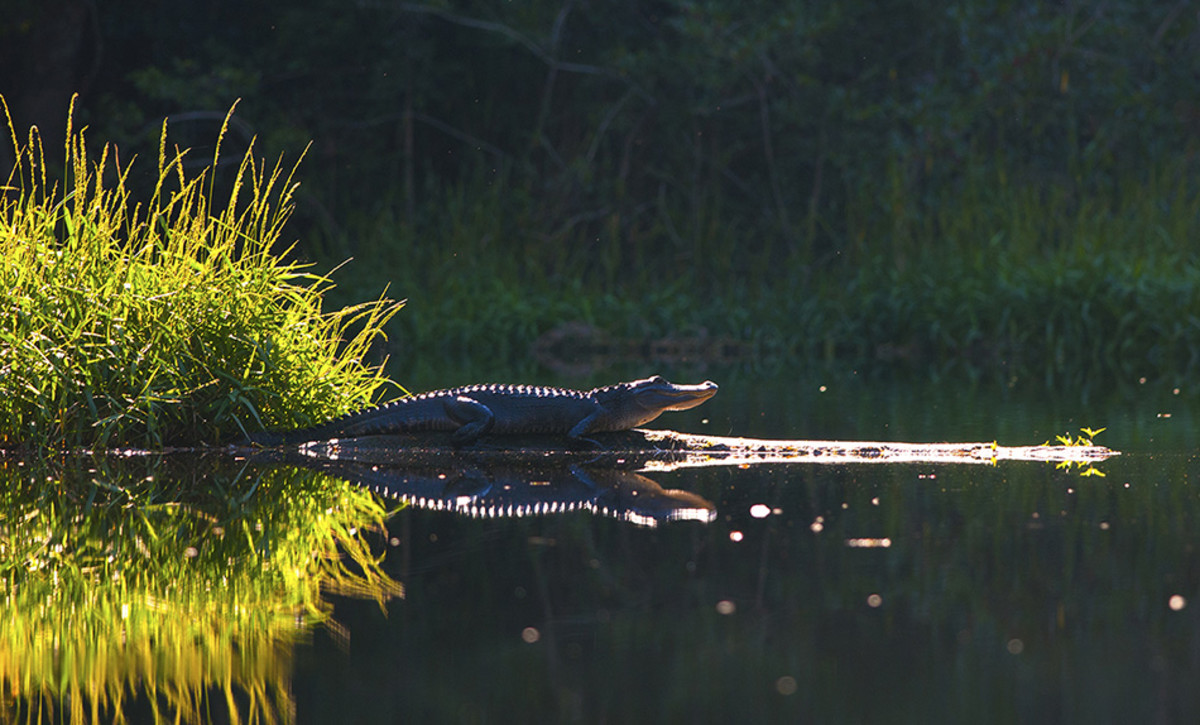 Fast-forward several years: three of the original crew planned a trip back into the Okefenokee, with two fresh victims: My old hunting and fishing friend Robert and his son Jacob, who had just celebrated his ninth birthday. Already a canoe veteran, the strong-headed youngster was new to the kayak.
Tim doesn't get out as much he'd like. He's a dedicated foster parent. Robert and I try to include him in our 'manventures' every chance we get. His 17-year-old daughter Monica fit right in. She's tough and doesn't back down from anything. Not even gators.
We plotted a route from Stephen Foster State Park. We'd paddle to Minnies Lake where we'd overnight on a chickee. The next leg would backtrack across Billies Lake and end up on Mixons Hammock near the Suwannee River sill. The sill is the headwaters of the Suwannee River, which flows almost 250 miles to the Gulf of Mexico.
We had learned a lot from our earlier defeat and were back stronger and smarter than the first time. Our gear was managed better and instead of the large canoes we were now paddling some of the finest fishing kayaks with light, high performance paddles. Tim was paddling a Wilderness Systems Ride 135 and his daughter Monica was in an Old Town Predator. Robert was paddling a Jackson Kayak Big Tuna and his son Jacob was following on his Coosa. I was in my Jackson Kilroy for this trip. The huge hatches and tankwells on these kayaks made it very easy to carry any gear we would need.
Most importantly, we paid attention to the bug forecast and knew that our old nemesis the yellow fly had run its course for the year. Even knowing that, we still had a bit of trepidation about what the trip would hold. It did not help that the entire entry canal was lined with vultures that looked at us like so many pot roasts sliding into the oven. I swear I saw one buzzard lick his lips as I paddled by. This was not the way I wanted to start the adventure but soon the scenery changed. As we cleared the canal and turned out onto Billies Lake, the swamp was ablaze with yellow flowers as far as I could see. The beautiful blue sky was reflected in the black water and the lily pads bobbed in the breeze. This was the swamp we wanted to see!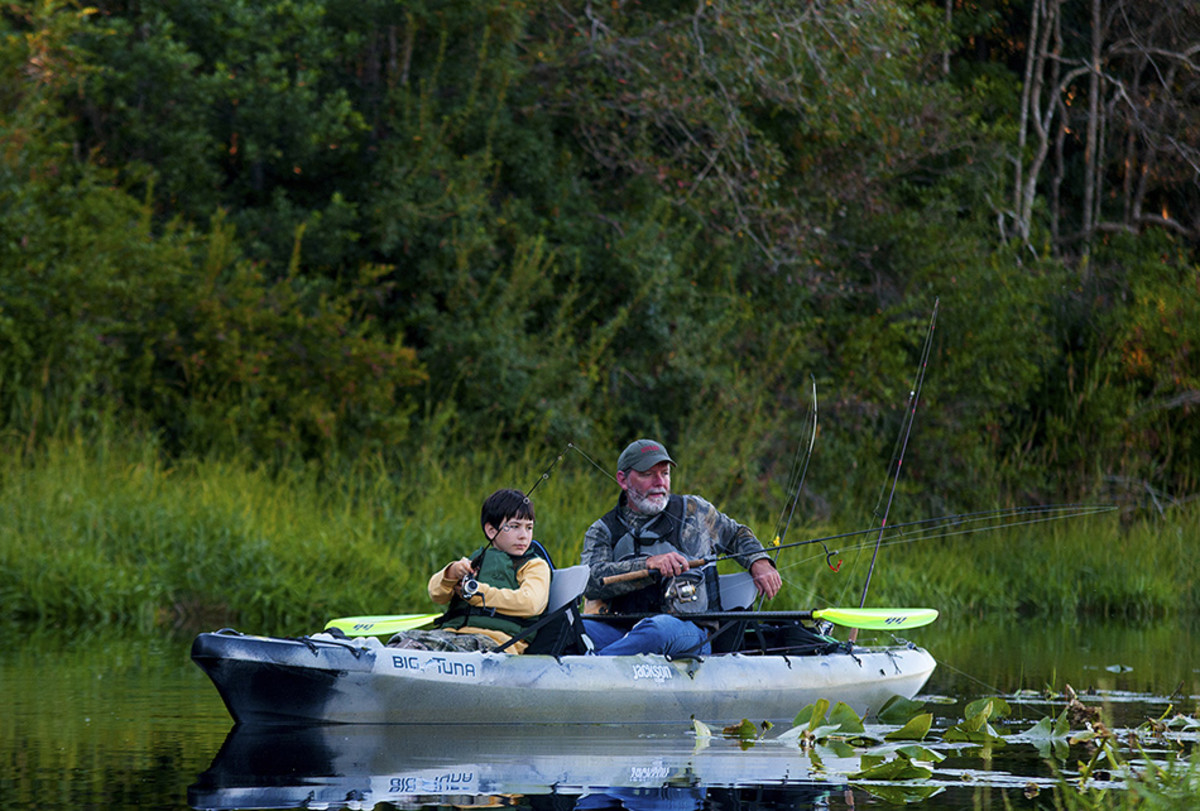 I felt the tension fall away with every paddle stroke and could tell my crew was feeling the same way. I couldn't stand it anymore so I picked up a rod and started probing the edges of the pad fields with a small spinner. Tim watched as I worked from the weeds out, and wouldn't you know it, he was the first to hookup a beautiful little panfish called a flier. Locals call them shiners and they look like a bluegill that borrowed the fins off a crappie.
Due to the tannic acid in the swamp the species that live here are pretty specialized for their environment. The primary fishing targets are flier and warmouth, chain pickerel (called jacks by the locals), a black bullhead which is a small but extremely good eating catfish and my personal favorite, the bowfin (called mudfish or blackfish locally). Bowfin strike hard and have a spinning, gyrating fight that will make you wonder which end of the fish you are hooked to. Their bony jaws are lined with needle sharp teeth that can cut mono leaders, ruin a net and make a painful memory of a person's thumb. It is best to use a heavy bite leader and this will help protect against the pickerels' chompers as well. A soft plastic vertically jigged in lily pad holes is very effective. The strike from either one is not easily missed.
An inline spinner is an effective way to target the pickerel and flier with yellow or red as the top colors. If you are hunting an eating mess of fish, a fat gob of red worms dropped near the cypress stumps can get the attention of larger flier, warmouth or black bullheads.
Tim was floating lazily along following our fishing lead when he hooked up again.
"They are in the channel. I am letting it sink almost to the bottom," he said, the blind hog leading the way. We adjusted the depth on the kids' corks and they started to catch a few. I have to admit after watching them pull a few fish in on worms I was excited to do a little bobber watching myself.
Watching that orange and white cork wiggle and sink in the reflection of the yellow flowers was just mesmerizing. I had caught several small flier and just on a whim I picked my bowfin rod back up. I flipped to a small hole back in the pads and let the 7-inch worm sink down. I popped the rod tip and gave a jig or two then paused. The next time I raised the rod I saw the line jump and felt a jarring strike.
When I set the hook I knew this was a good fish, the pads boiled and then erupted in a spray as the bowfin somersaulted out of the water. While fighting the fish I heard water rushing behind me. A gentleman fishing nearby yelled "'GATOR COMIN'!"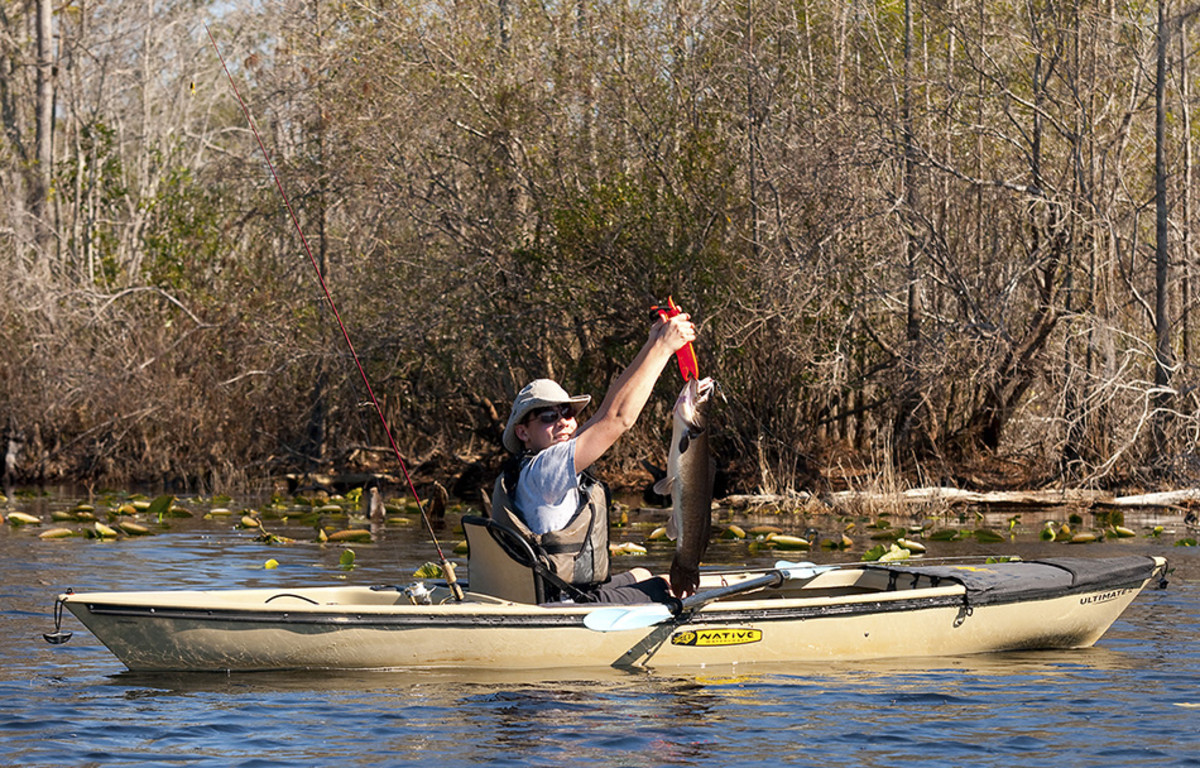 I pulled the paddle against my chest to get a look at my attacker and was met with a beast of an alligator just a tad shorter than my 12-foot kayak. I jerked the rod up and the fish landed between my knees and I tried my best to hide it from the sushi-seeking lizard. I hoped that the business end of the bowfin was facing away from anything near and dear. It was sort of ironic to be hiding one toothy critter from another toothy critter but I was too involved to laugh. I paddled a good distance with the gator right behind me till the gap was big enough that I could comfortably unhook the fish. It wasn't till it was back in the water that got to appreciate the humor in the situation.
I left the big guy sulking and decided to put some distance between us while I worked my way toward our base for the night. I pulled up to the chickee with plenty of time to set up camp and then planned on exploring some more.
Jacob had gotten off to a tough start. It was a bit tense till he and Robert started giving the bullheads a fit right off the camping platform. As Jacob was reeling in another, he spotted a set of small eyes right next to us in the weeds. "Look at my alligator," he said excitedly. With that one sighting it was as if he'd conquered the swamp.
I climbed back into my kayak. My hope was to go solo a bit deeper in the swamp to give me a chance to run my cameras a bit. Anhinga, herons, and egrets were all willing to pose for me. As the sun set barred owl calls flooded the swamp.
The darkness that came over the platform was soon pierced by an incredible display of planets and stars. I could not resist trying to take a few images of the sky but soon the long drive and paddle had me heading to my tent. One quick shine of the headlamp revealed several sets of gator eyes in our perimeter and I wondered if big boy followed me all the way to camp. By the time I made it into my tent a horrible sound like a large animal growling started over on Tim's side of the chickee. At sunrise I was blamed for the awful snore fest and did my best to defend my honor. I promised some separation of tents the next night but just to prove once and for all the growling swamp monster was not me.
The next morning I left the crew with a head start to the next camp. I was hoping to see some otters but they stay hidden till cold weather due to the gators. The five-mile paddle was beautiful, the yellow flowers lining the bank were covered in butterflies and dragonflies darted back and forth between lily pads. Wood storks were circling above but stayed well out of camera range. A well-camouflaged bittern was working through the tall grass and I was begging for an opening large enough to photo it.
I fished and photographed the entire way and found the fishiest hole I had seen yet. Bowfins were spooking right and left as my bow cut through the slough. I wanted to make sure the kids had a chance to hit this place so I let it be. We were really looking forward to this evening's stop because it was on an island and we could have a fire. After we set up camp I hit the water to catch the evening light. It was like glass and you wouldn't have been able to tell where the sky stopped and the water started if there weren't so many alligators floating in it. Monica was fishing the bank opposite of me and a large gator eased around my kayak and headed toward her. She heard the shutter on my camera and turned to look at me. She said, "There is a gator behind me isn't there?" I told her yes but it made for a great picture. The look I got from her after that would probably translate into something unprintable.
I was last back to shore and the stories of the day were already rolling by the time I unloaded. Robert was about to bust a gut. "I heard a crash and Tim was wallowing in the mud holding his leg," the jokester said. "I was wondering how in the world I'd tow him back to the truck." It was just a cramp. Tim stretched his legs the only place he could, with a wallow in the mud. If Robert could have gotten to his camera before Tim wiggled out the picture would have been front-page news. Tim good-naturedly laughed it off, probably 'cause he was the source of the ungodly awful snoring. I still don't know how he pinned it on me.
The campfire was great and the water had worn us all out so in short order we all bedded down and let the night sounds sing us to sleep. At first light I was eager to hit the water and broke camp quickly. I asked Monica how she had done with the fish the day before and she said she still wanted to catch a bowfin. I knew the exact spot to take her and we struck out to find her a good one.
When we hit the slough where I had seen the fish, her dad Tim baited up a big wad of red worms and she cast to the edge of the pads. In a short bit I looked back to see her rod doubled and asked what she had. Monica said "I think I am hung" but I could see the orange and white cork jerking the other way and told her she had a good fish on. "What do I do?" she yelled. I got the camera up to shoot the fight while she got to experience her very first "sleigh ride." She fought the nice bowfin to the side of the boat. "You have got to get a picture of this," she said. I was happy to oblige. To add to the excitement, Tim had paddled farther in and was fighting a nice bowfin of his own. Soon enough, Jacob joined the fray. "I got another flier!" echoed through the swamp.
I paddled on to try to get a picture of the group as they neared the exit. As Tim paddled up to me we looked up and a mile long flock of vultures was flying away from the swamp. We both laughed out loud. "I guess we ruined their plans by surviving this time," Tim said. As we were unloading the kayaks at the launch I caught each of our group looking back out into the swamp ready to go again. As their vehicles pulled away I was truthfully thankful to have had this trip with good friends. I looked back at the canal and stared for just a bit at the lily pads dancing in the breeze. I know now there will be new adventures in the Okefenokee and I am counting the days till the black water will carry me again.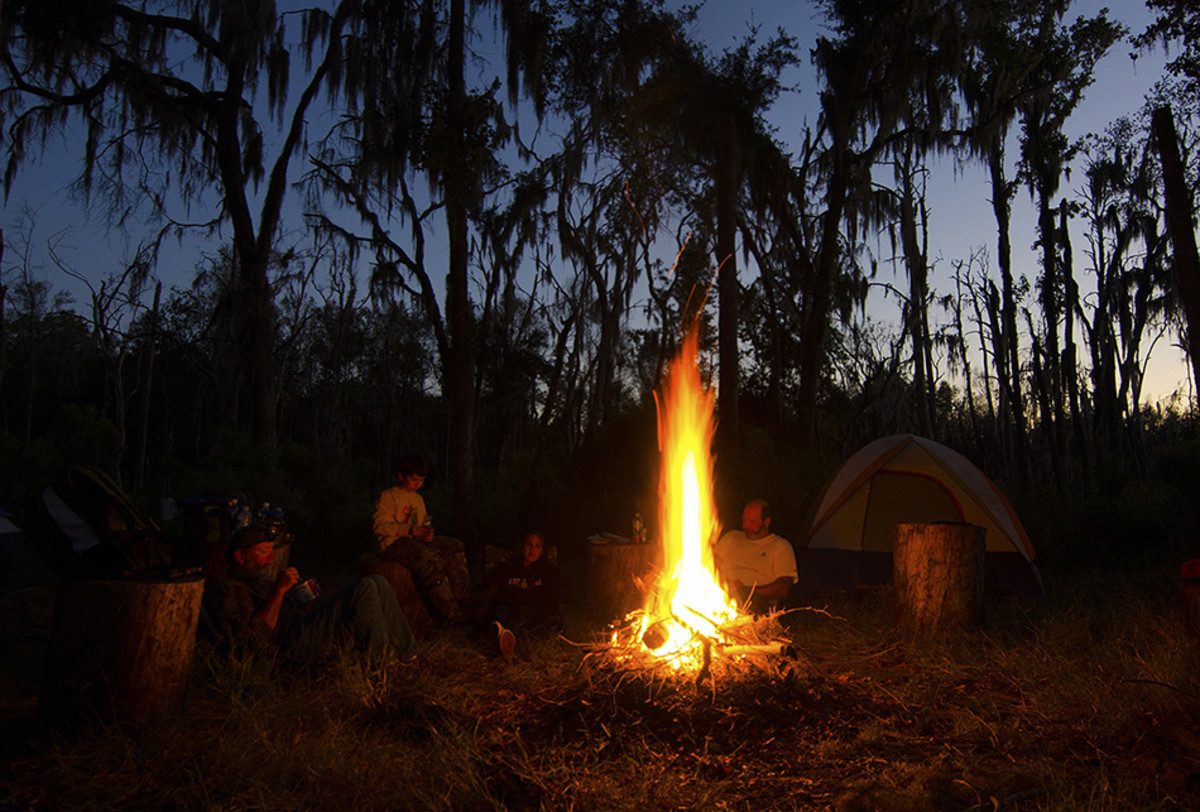 The article was originally published on Kayak Fish
For access to exclusive gear videos, celebrity interviews, and more, subscribe on YouTube!