If you've explored the world's wildest spaces on foot, scaled its peaks on the edge of your fingertips, and traversed its shores and skylines via ship and plane, then it's time to explore the depths of its waters. The best way to do that is to learn how to scuba dive (unless, of course, you want to try your hand at spelunking, but that's a different story, of course).
Scuba diving is wildly popular. In 2016 alone, more than 3.1 million Americans went diving, according to a report by the Sports & Fitness Industry Association. Good thing for us, there's plenty of space to explore, especially when you consider oceans cover more than 70 percent of the earth's surface.
To find out how to join the legion of scuba divers taking to the seas, we paid Achilleas Yerou—master dive instructor with Malibu Divers—a visit for a step-by-step guide on earning a scuba certification. Here's what every beginner needs to know. 
Where can I find a reputable dive center?
The first step in getting a scuba diving certification is searching for a dive center that offers Professional Association of Diving Instructors, or PADI, certification, Yerou says. While there are other certification programs available—including NAUI ( National Association of Underwater Instructors) and BSAC (British Sub-Aqua Club)—PADI is the most widely recognized certification. 
"The PADI open water diver certification is the beginner certification," Yerou explains. "It's sort of like an Amex for diving," he jokes. It'll grant you permission to dive all over the world, as it's accepted pretty much everywhere. 
The certification is open to anyone 15 years of age or older. If you're traveling with kids younger than 15 who are looking to get certified, they can get what's called a "junior" diver license and they'll only be allowed to dive down to 40 feet.
What if I don't have a lot of time?
Class lengths and timing can vary widely depending on where and when you're taking a class. But, theoretically, you could complete a course in as little as three or four days if you play your cards right.
The certification is divided into three parts: Theoretical knowledge development, confined dives, and open-water dives.
To hasten the process, Yerou suggests finding a certification program that allows you to take the theoretical part of the class via e-learning. This means you'll be responsible for reading the book, taking online classes, and completing an online exam all on your own. This part, Yerou notes, can take anywhere from eight to 12 hours.
Of course, if you're the type of person who needs in-person training from start to finish, there are classes like that, too. Those usually meet once or twice a week for about a month.
Following the knowledge development section of the course, either in person or online, students take part in confined dives at a local pool.
"We'll spend a few hours there," Yerou says. "We'll discuss the physics of diving, how to calculate dive time, decompression limits and all that stuff."
After the confined dives, all that's left is to do is hop in open water.
How many times do I actually have to dive to get certified?
Here comes the fun part. To officially gain your certification, you need to complete a series of four open-water dives. You can choose to do these dives with your instructor in any large body of water—an ocean, lake, or quarry will do. 
Once you've completed these four dives, you'll officially be PADI certified, which means you can dive all by yourself all over the globe.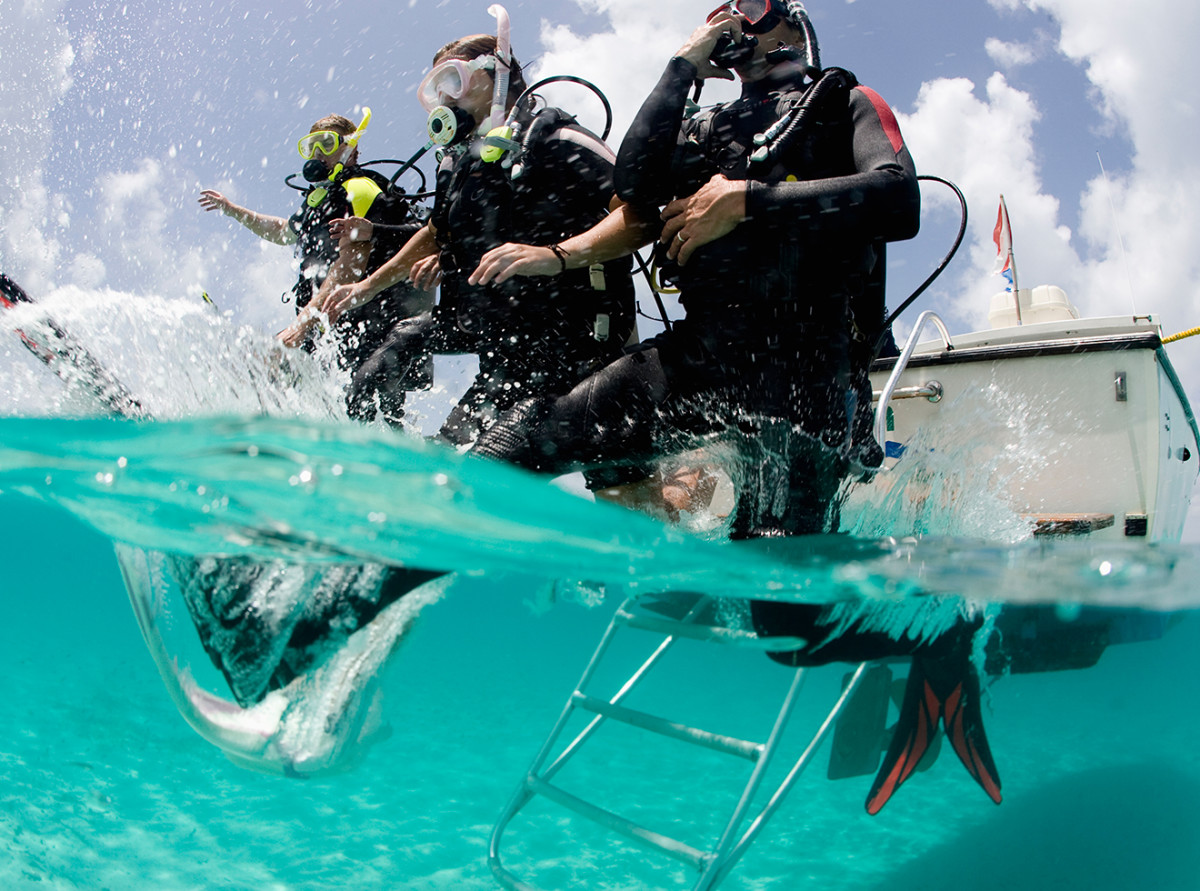 Do I have to recertify?
No. Once you're certified, you're certified for life. However, if you're feeling rusty, most dive centers and shops offer refresher courses that'll get you up to speed. PADI recommends taking one of these refresher courses if it's been more than a year since your last dive. Or, you can always take PADI's Reactivate course online so you at least review the basics.
How much is this all going to cost me?
A class and certification can cost anywhere from $300 to $700, Yerou estimates. The cost includes learning materials, tanks, oxygen, and all other hard gear. It does not include fins, mask, wetsuit, booties or gloves (you'll have to bring your own). Check out Scuba Diving's comprehensive list of must-have essentials and decide from there if you want to go basic or top-of-the-line. Fair warning: Going top-shelf will cost you more than $5,000.
Wait, do I need to be in shape?
Though you don't need to be in tip-top shape to learn how to scuba dive, you should be a relatively healthy person with at least an average lung capacity.
"Smoking definitely doesn't help, neither does a poor diet," Yerou said, adding that consuming alcohol before diving is also a big no-no. But, as an added bonus, it turns out that scuba diving is a great workout as it works your core, legs, and arms all at the same time, so it may help you get in better shape along the way.
Is that all?
No way, there's always more. After you gain your scuba certification you can take things to the next level by getting an advanced certification or a specialized accreditation in a number of areas including Coral Reef Reconstruction, Dry Suit Diver, Wreck Diver and more.
But there's one certification Yerou wishes every diver would go after—Rescue Diver.
"I always tell my students, if you're not a rescue diver and you ask to go diving with me, I'm probably going to decline because if I have your back in the water, I want to make sure you have mine too," Yerou says.
Yerou explained that the certification program will prepare divers for any and all emergencies, including lost divers, medical events, loss of oxygen, and even how to save themselves from drowning.
Bonus: Now you can see some of the coolest natural wonders in the world
You've done all the work, now it's time to reward yourself with a trip somewhere spectacular to test out all your newfound skills. For Yerou, that includes traveling to Turks and Caicos, specifically to the island of Providenciales.
"They have this beautiful place: You're in turquoise water and all of a sudden it turns black into a sheer drop down 7,000 feet," he says. "It's the coolest thing, because you're just staring at complete chaos."
If you're looking for a more low-key adventure for your first time out, check out these 10 equally alluring scuba diving destinations and get packing—now.
For access to exclusive gear videos, celebrity interviews, and more, subscribe on YouTube!