Talk about a close encounter. Two of Wendy Close Eskew's kayaking clients had spent the day photographing and filming humpback whales off Kodiak Island, Alaska when one of the leviathans gave them a moment to remember, splashing them as it dove. Eskew, 52, is the owner of Alaskan Wilderness Adventures and has encountered countless whales over her paddling career. She explains that while it might seem the whale was being aggressive, it was actually dodging the kayak.
"Whales are extremely accurate. They know exactly where their body is in relationship to you. An adult turns sideways before it surfaces to see what's above so they'll never accidentally touch you."
RELATED | Whale encounters: How close is too close?
This particular whale contorted itself to avoid contact with the kayakers who'd remained motionless for some time.
"As soon as he came up to the surface, he did a 180. He rearranged his body because he hadn't seen the kayak just floating there. He wasn't trying to slap the kayak. He was maneuvering himself so he wouldn't touch the kayak and did a little, baby swish to get away."
Humpbacks whales aren't the only ones that are considerate.
"I once had a killer whale coming at me. It didn't even bother to submerge until he was a boat length away. Remember that it has a six-foot fin, but he totally submerged, went right under me, and came right back up. They don't touch your boat."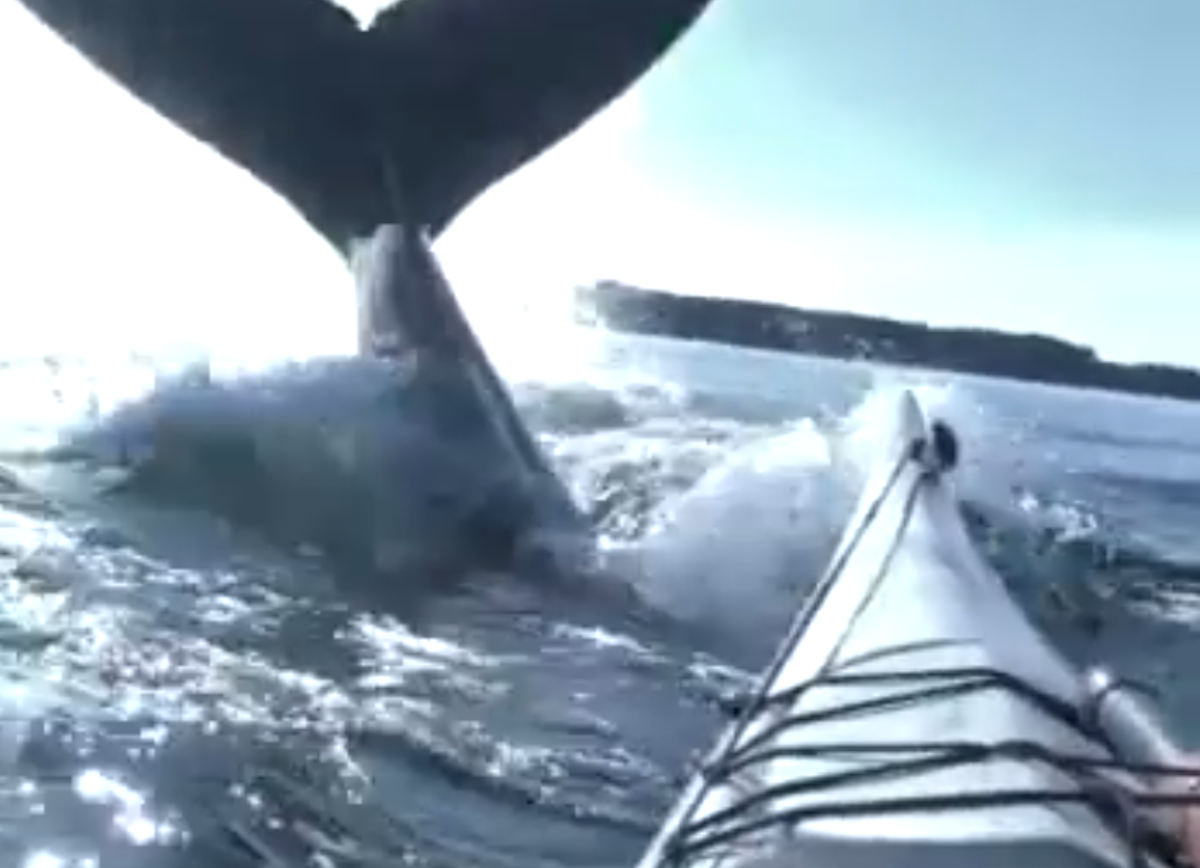 However, there are whales that might bump your boat. It's the babies, but they don't bump out of malice.
"With babies, I just swish the paddle a little bit so they know I'm there. They'll then go completely underneath you. Only with baby whales will I let the whale know where we are exactly. They don't pay attention when they come up for breath. Baby whales just surface."
Tragically, the baby whales sometimes surface beneath the spinning propellers of boats.
"Dead whales are almost always babies with a broken skulls because it came up under the propeller of a ship."
According to Eskew, most whales, big or small, are highly responsive to a paddler's voice.
"Baby whales will do an about face and return to you if you talk to them. The parents wander away, then return to retrieve the babies. Killer whales and fin whales are really responsive to voices. They're curious like dolphins. Fin whales will hang out with you if you talk to them. You can get long series of photos with them."
Eskew has discovered that they prefer the highly animated, high-pitched voice that parents often use with their infants.
"I talk to them in baby talk and they'll do circles around me. It's great because I'm able to get pictures of my clients with the whales between me and them. I embarrass myself talking like I'd talk to a human baby, saying things like 'You're a cute, little baby, aren't you? Yes, you are. Yes, you are.' I love it when the tough guys, who swore they wouldn't use baby talk, start doing it too when they see it works."
It also works with grown, male whales.
"I once saw a whale floating near the surface and I said, 'Oh, my gosh, I hope it isn't dead.' My words awoke it and he pretty much followed us all the way back. Maybe he was bored. He was a great, big, male fin whale. He's the largest in the group that I see most often. He's got a family of five and lives in a pod of thirty. That was the first time I'd ever seen a whale sleeping."
However, not every Alaskan animal is drawn to chatting paddlers.
"With sea otters, you just want to be quiet. My girlfriends don't understand how we get such great sea otter and seal photos when they're on rocks, but you won't get them if you're talking and laughing."
If you want great photos too, Eskew suggests paddling in the spring.
"March is a great time. You might not think to come to Alaska then. The temperature would be in the thirties and forties and it might get as high as the fifties."
If temps in the thirties and forties don't sound sufficiently warm enough for you, remember it's all relative.
"A seventy degree day here would have Alaskans stripping, but not folks from Arizona."
And Eskew also has advice to paddling photographers.
"I only do double kayaks because they're great photography platforms. I use an 18mm-300mm because you can get the whales and the puffins too because you have wide angle and telephoto. I've found that with a 400mm to 500mm lens, you can't hold steady enough in a kayak with even a slight bobbing."
–Want to paddle with Wendy? Email her (akwild@ptialaska.net) or text her at 907-942-1792.
RELATED | Whale encounters: How close is too close?
The article was originally published on Canoe & Kayak
For access to exclusive gear videos, celebrity interviews, and more, subscribe on YouTube!