If you've spent any time outdoors, you know traditional (and USDA-/FDA-approved) food-safety rules can be tough to follow. Spilled your trail mix on the ground? Five-second rule. Ran out of fuel for your Coleman stove? Oh, well — burgers are supposed to be pink in the middle, right?
RELATED: Access endless camping food ideas
Sometimes, hard-and-fast rules aren't practical for your surf trip to Mexico or when you're deep in the backcountry. Here, food-safety specialist (and self-proclaimed dirtbag) Gretchen Wall schools us on when it's OK to "bend" the rules and how to stay well fed on the trail without getting sick.
Rule 1: Rules can be bent a little — but only by the right person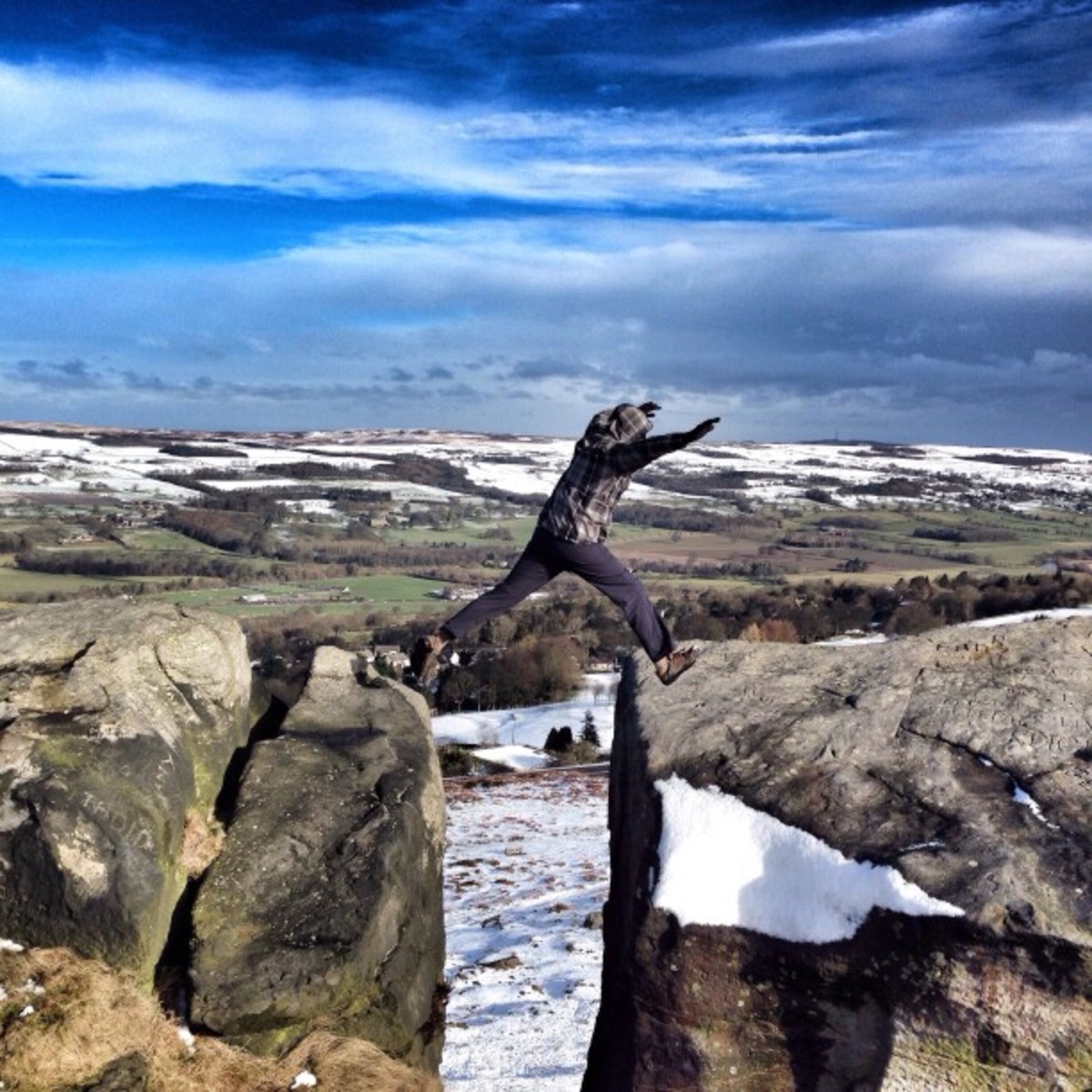 "Healthy adults who are weekend and backcountry warriors probably aren't following the USDA/FDA/CDC recommendations because they aren't practical for many backcountry situations," says Wall. "The risk of acquiring a foodborne illness is much lower if you are a relatively healthy individual taking minimal steps to keep your food safe."
That said, Wall implores you to follow common sense: Always wash your hands, avoid sharing utensils, sanitize your water sources and even invest in a food thermometer.
Pregnant, elderly, a young child or immuno-compromised? Stick with the recommended food-safety guidelines — always.
Rule 2: Realize foodborne illness can be worse than just vomiting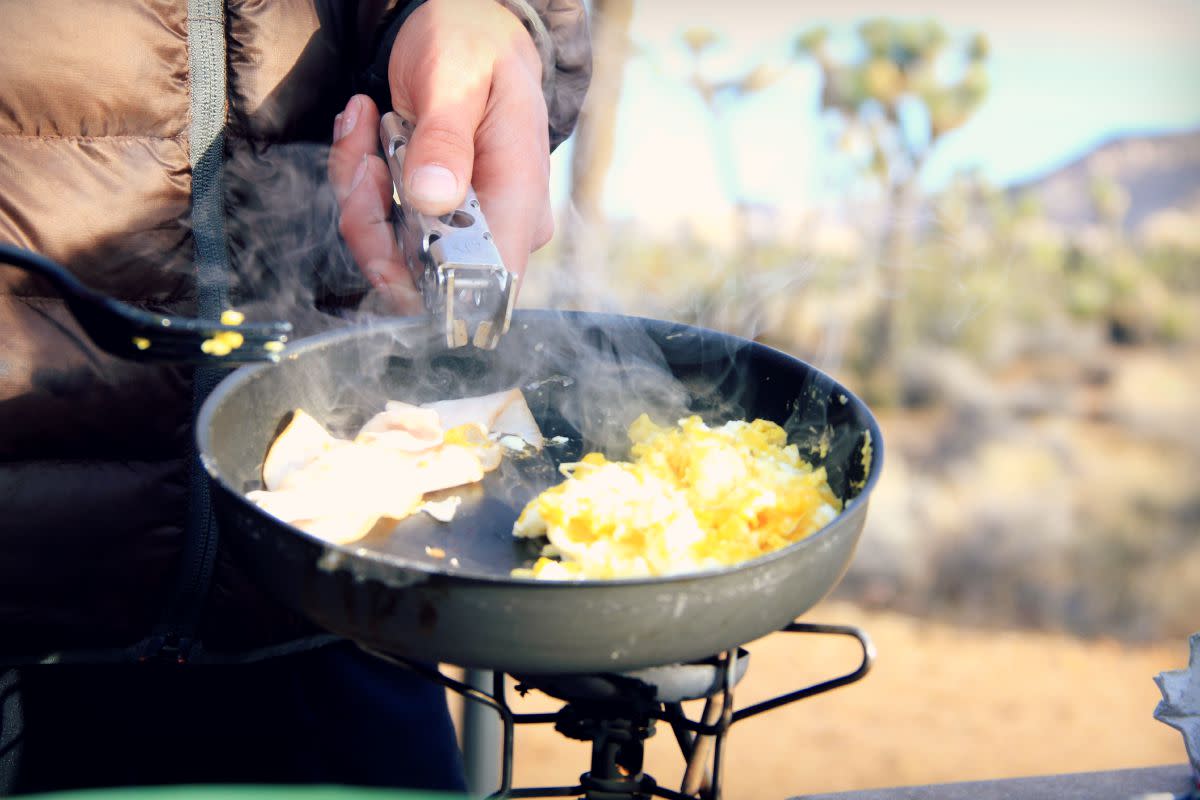 "You may think foodborne illness is just a miserable night of puking and diarrhea," says Wall. "This is true, but some symptoms can last for days, weeks or even longer."
RELATED: The couple behind 'Fresh Off The Grid' is giving us serious camp-food envy
The bigger issue in the backcountry setting is actually dehydration and having no access to medical care, as well as longer-term effects on your kidneys and nerves, so weigh the risks before you dig into old leftovers. "The last place you want to be is two weeks into a trek across a glacier riddled with sedan-sized crevasses, only to be sidelined with the worst diarrhea you've ever had," she adds.
Rule 3: Keep hydrated, but only from treated water sources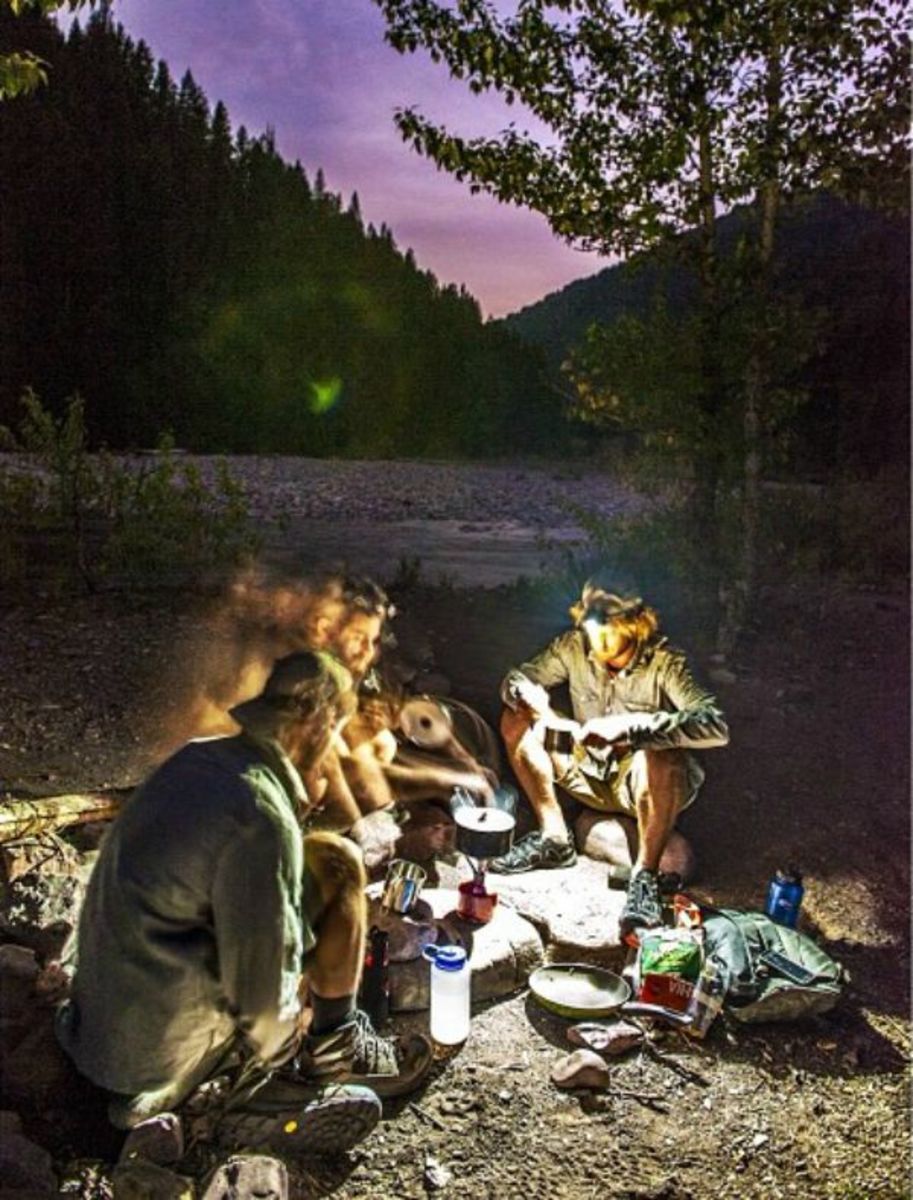 While the average person can actually survive weeks without food, it takes only a few days without a safe water source to turn a fun backcountry experience into a very serious, potentially dire one.
Many outdoor enthusiasts may be familiar with the dreaded "Beaver Fever," which is actually Giardia, a "nasty little parasite that is often found in the guts of your furry friends from the woods and then deposited into fresh mountain streams and watersheds," says Wall. Filters, UV water-treatment wands and iodine or chlorine tablets should clear up your water, but always follow the directions for whatever method of treatment you're using and never cut corners.
Rule 4: Winter hiking? Bring the raw meat. Otherwise, leave it at home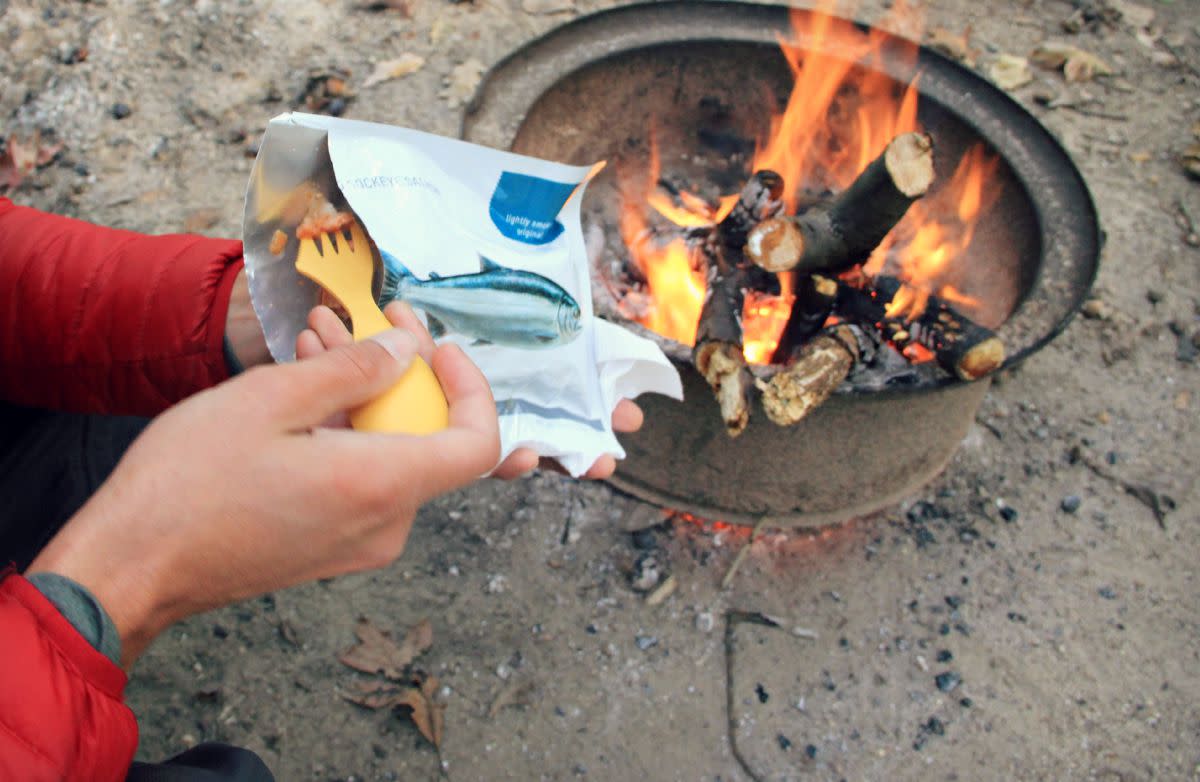 "I am not about to tell you that you can't take bacon on your backpacking trip!" says Wall. "But raw meat and other refrigerated foods must be kept out of the 'danger zone' (41 degrees to 140 degrees Fahrenheit)."
Winter camping in freezing temps? Bring the burgers. Hiking in the desert in July? Better opt for beef jerky instead.
RELATED: Camping food that's certainly worth the weight
If you really want to cook meat while backpacking, freeze the unopened package solid before starting your trip, wrap the meat in a sleeping bag to insulate it and eat it on your first night out on the trail.
Tip: If you have a waterproof bear canister, you can keep foods cooler by submerging the canister in cold river water with your edibles inside.
Rule 5: A home-cooked meal to go is a definite no
If you have a friend who prepares mass quantities of healthy foods (sweet potato, kale and tofu, anyone?) before a hiking trip, politely decline their meals unless you're car camping and have access to a cooler.
"Staphylococcus aureus would be having a rockin' good time in an unrefrigerated food like this," Wall explains. "It churns out a toxin in the food that no amount of reheating will ever destroy." Instead, cheat on your diet and focus on replacing calories instead.
"If there's one time I'm going to eat cheese by the block and peanut butter by the jar," she says, "it's when I'm exercising and playing outside."
Rule 6: If you must Dumpster dive, know what to look for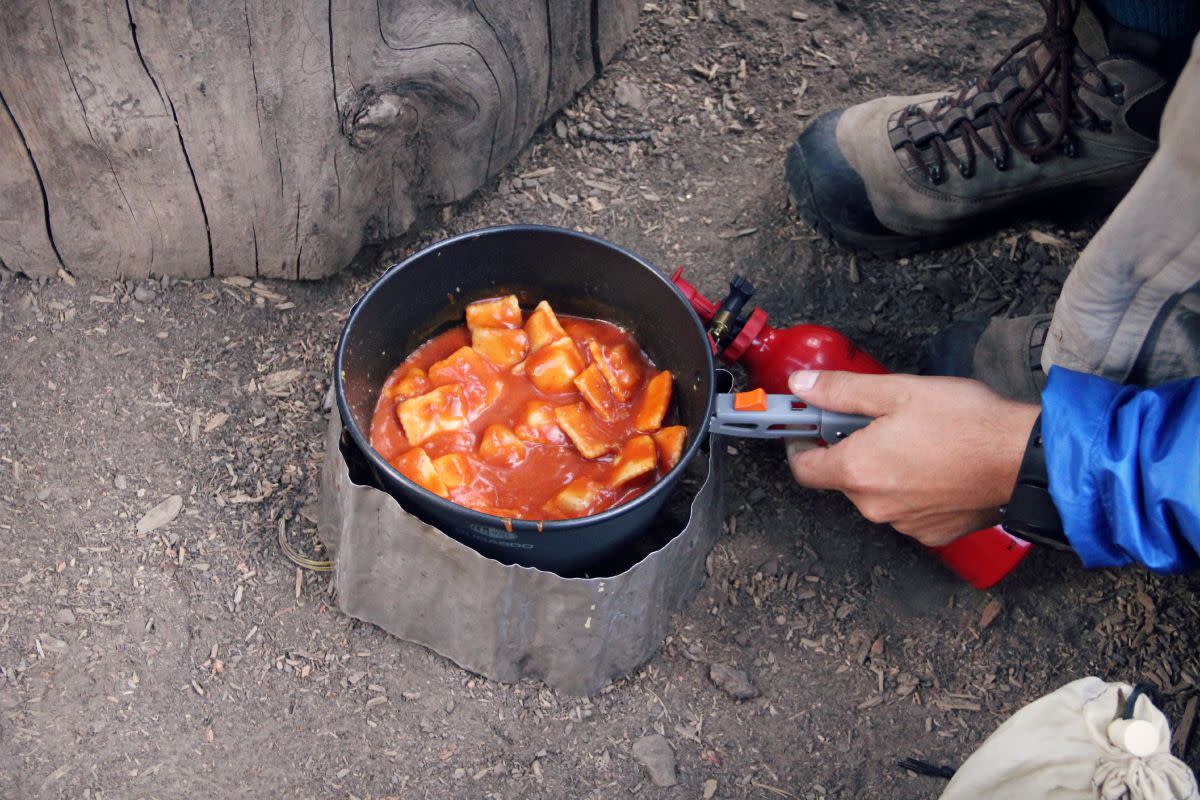 "I do not condone Dumpster diving, because it goes against just about every food-safety rule that exists," says Wall. "That being said, I also recognize there is an awful lot of waste that comes from commercial retail and restaurants that can be salvaged."
Dumpster diving (literally searching through Dumpsters for food) is popular among many subsets of campers and backpackers, and Wall says there are a few hard-and-fast rules divers should know. "If anything is sticky, wet or off-colored, do not eat it!" she says. "If it smells, don't eat it. If it was under a tray of raw meat, don't eat it."
Choose completely packaged, shelf-stable food products or day-old breads and baked goods. Avoid any cans or containers that look swollen; they usually look that way because of a gas produced by a "bacteria party" going on inside. "If you Dumpster dive for raw meat, I can't do anything more for you," laughs Wall. "I fear you've lost too many brain cells from endo'ing off of your mountain bike."
Rule 7: When in doubt, PB&J
"Peanut butter and jelly is my go-to when hiking, backpacking or doing just about anything outside," says Wall. Even squashed in the bottom of your pack, it's a safe and healthy option
For access to exclusive gear videos, celebrity interviews, and more, subscribe on YouTube!