Bending Branches is proud to expand their offering of Angler kayak paddles. Introducing the new addition of the Angler Navigator premium kayak fishing paddle. Designed for the modern-day kayak angler. The Angler Navigator offers extra durability and reinforcement unlike many paddles currently on the market.

36 Years of Building
"The Angler Navigator pays homage to our 36 years of the heritage building the highest quality wood paddles available," says Andrew Stern, Marketing Manager for Bending Branches. "We analyzed the paddle needs of the modern-day angler. We've engineered a tool they could depend on for years to come. Functionality and dependability are often times more important than any other feature, as the paddle is a tool to get them to their casting spot as quickly and effortlessly as possible. Therefore, we took the beauty and elegance of wood and combined it with reinforced Rockgard edge protection, a fiberglass
blade sealing, and the convenient fish tape measuring tool."
Durability and Longevity
The patented Rockgard blade tip protection has been a part of the Bending Branches story since day one. Back in 1982, founders Dale Kicker and Ron Hultman realized that the edge of a canoe paddle takes a lot of abuse. If not protected properly, cracks/chips can occur which compromise the paddle's integrity.
They learned then that in order to extend the paddles' lifetime, Rockgard protection is the answer. This proprietary technology – derived from the same material as inline skate wheels – maintains the integrity of the paddle, sealing out moisture and protecting the most vulnerable areas (the tips and edges). It is this unmatched shock-absorption that Rockgard provides which helps our wood paddles last six times longer than those without protection. Now that blade technology is protecting a new kind of paddler, the kayak angler.
Increased Blade Build and Tech
The Angler Navigator also comes with an oversized blade, matching the efficiency and power of the award-winning Angler Pro. Made with roasted basswood, alder, and basswood woods. The Angler Navigator has a proven blade design that is more buoyant and flexible than most composite paddles. The ultra-lightweight, 100% carbon fiber shaft has a built-in tape measure. Meaning, your hands can focus on casting and not paddling.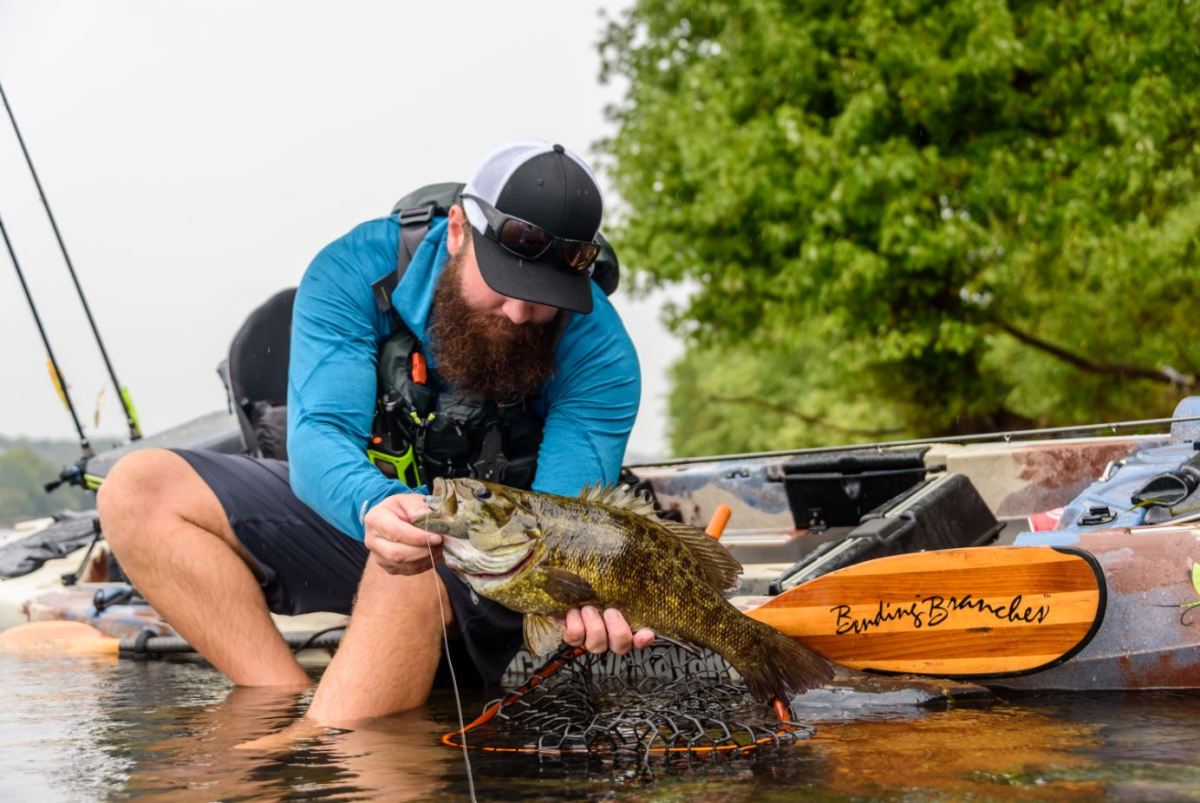 Bending Branches ProStaffer Jameson Redding stated, "I have been asking for this paddle for years. I always knew a combination of their woods and angler-specific features would produce a paddle unlike anything on the market today. This just goes to show, once again, that Bending Branches is ahead of the game and willing to put their team members first."
The Angler Navigator will be available for sale September 1st, 2018. Check with your local specialty retailer for availability.
Available in both the Plus telescoping ferrule option and snug Snap-Button ferrule, and sizes ranging up to 260cm in length, the Angler Navigator retails for $299.95 US and $399.95 CAN. More information can be discovered HERE, or by calling Bending Branches live customer team at 715-755-3405, or emailing [email protected]
---
More on:
Bending Branches Angler Pro with Chris Funk
Bending Branches Optimus Paddle
The article was originally published on Kayak Fish
For access to exclusive gear videos, celebrity interviews, and more, subscribe on YouTube!