"Southern California really is the mecca for adaptive athletes. There are just so many options and people willing to assist you these days. Plus, weather plays an even bigger factor for a challenged athlete. The weather is consistent here and you don't have to deal with ice and rain," Dani Burt (who won the Women's World Adaptive Surfing Championship earlier this year) tells ASN.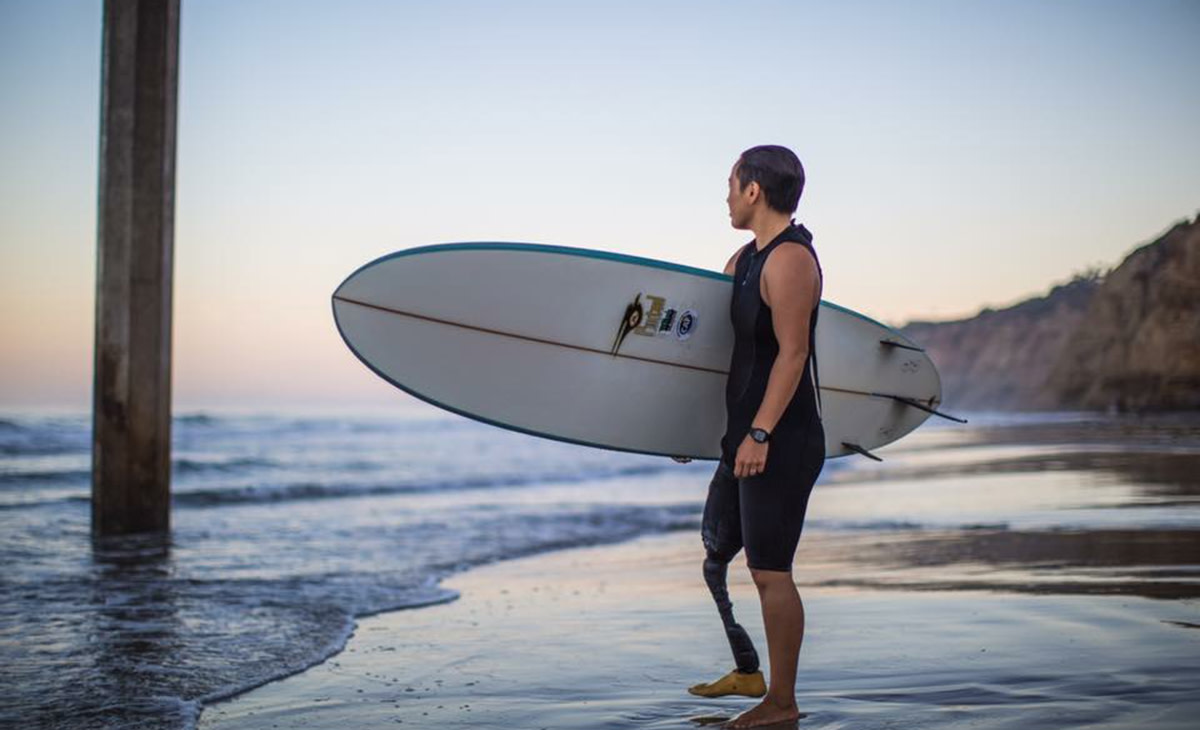 Burt grew up in New Jersey. Upon graduating in 2003, she moved to California. But when she was 19, she was involved in a motorcycle crash that put her in a coma for 45 days and cost her most of her right leg.
After the initial feeling of hopelessness, she not only took on her new life as an above-the-knee amputee, but became a Doctor of Physical Therapy at Sharp Memorial Hospital, as well as a speaker, adaptive surf instructor and role model for other physically challenged athletes.
In addition to surfing and helping patients overcome their own physical challenges in San Diego, Burt is a camper, skateboarder, hiker and snowboarder.
A core value among the California State Parks system is diversity and accessibility. The state goes out of its way to make sure everyone can enjoy its great outdoors. And as Burt notes, the Challenged Athletes Foundation Headquarters and Balboa Naval Medical Center (which works with injured veterans) are both in San Diego while the Paralympics Training Center is in nearby Chula Vista.
Burt has learned by trial and error which spots have the best facilities and the best ways to access them. And she's more than happy to share her knowledge so that traveling athletes, parents with disabled children or local Californians can make the most of their lives despite disabilities.
Hiking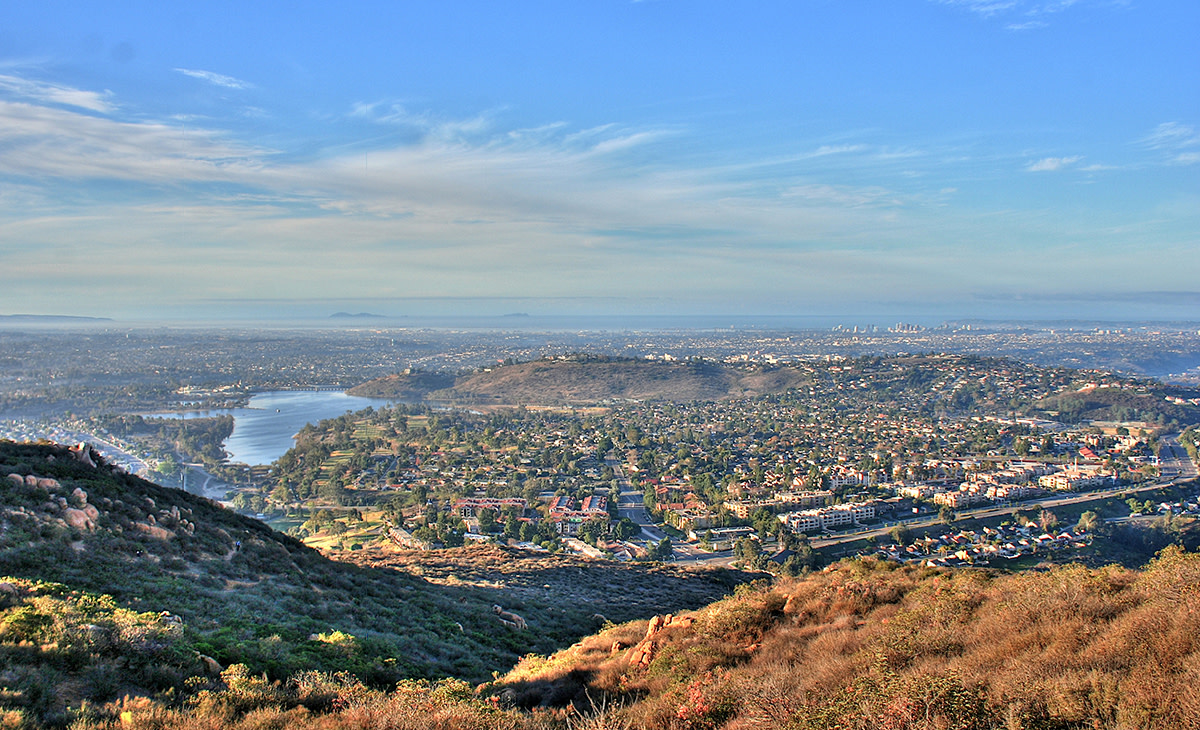 Yes, amputees hike.
Burt remembers her first attempt to climb Cowles Mountain in San Carlos.
"Hiking might be the hardest thing to do as an amputee," admits Burt. "At one point, I looked up toward the summit and I was really missing having both legs when I heard, 'Hey Dani!' It was one of the wounded vets I had talked to at the hospital. He was an above-the-knee amputee on both legs and he was coming up behind me on these short little prostheses called 'stubbies.' Just seeing him and his positivity was all it took that day to get to the top."
"It was tough but it's so worth the view," she adds.
TrailLink has a great map showing all of California's wheelchair accessible hikes. The California State Parks website has a special page that outlines accessibility by region.
Camping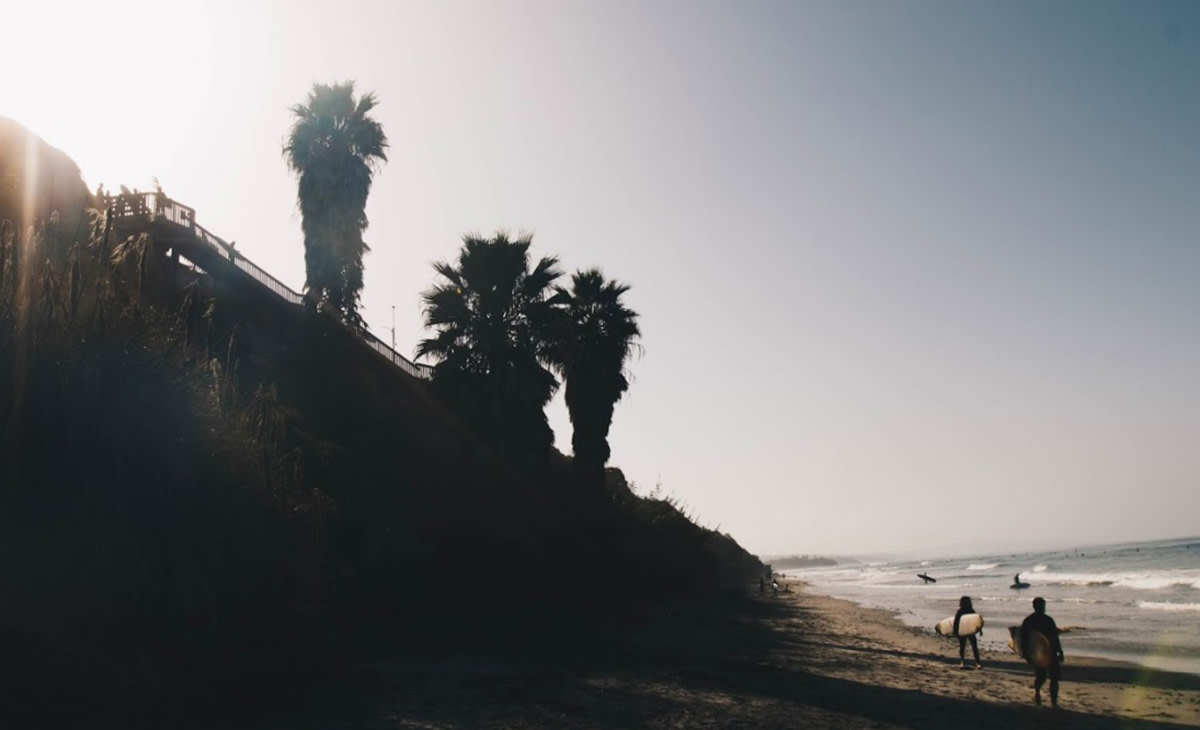 There's something about surfing an evening session in North County and smelling the fires from the campgrounds … And yes, those with disabilities can enjoy it as well.
The California Department of Parks and Recreation has a Disabled Discount Pass for persons with permanent disabilities for day hikes, camping and boat use at State Parks.
"The pass gives you 50 percent off campgrounds … for life!" laughs Burt.
Burt raves about San Elijo State Beach Campground which is adjacent to Cardiff Reef.
"Depending on your disability, the sites farther south lower elevation and more level. That means less stairs to walk up and down. The ones to the north have as many as 120 stairs. I know because I counted," Burt tells ASN.
The campground has six sites specifically designed to be accessible, either fully or partially paved, and water spigots with accessible controls. A beach wheelchair is available via self-service check out or storage cabinet at Cardiff State Beach. For more info, the staff is available at (760) 753-5091.
Surfing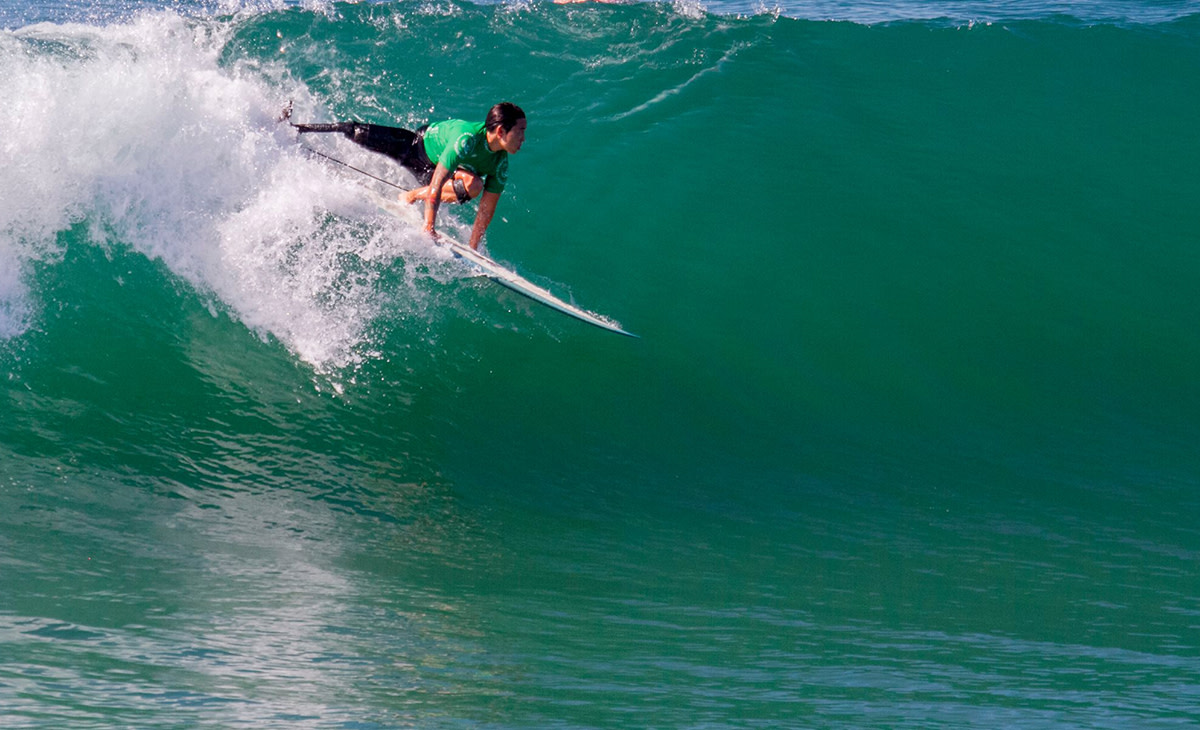 Burt wasn't a surfer before her accident. She had some ocean knowledge from bodyboarding in her childhood, but she learned to surf as an adaptive athlete. As it turns out, there were simple things that become roadblocks to enjoying the ocean. Most surfers don't worry too much about sand on the way to surf.
"I had to start with the basics like loading my board, where to go, and just getting to the water. I had a lot of friends who were surfers and they introduced me to a handful of breaks that were easier to get to," she tells ASN. "But they were new to disabilities too, so it was a lot of trial and error.
"It wasn't just how to access the beach and the water, but finding a break that wasn't too rocky in and out, or a wave that wasn't going to rip my leg off. You adapt. Sometimes I will opt for a 10 to 15 minute paddle to the lineup just to avoid rocks or sandy areas."
Burt's first surf spot was Tourmaline Surf Park on the border of Pacific Beach and La Jolla.
"It's an amazing longboard wave," Burt says. "It can hold a lot of swell and the parking lot is right there at the beach so you don't have a long walk through sand."
In San Diego alone Silver Strand, Coronado Tidelands Park, Coronado City Beach, Mission Beach, Ocean Beach, Torrey Pines and Oceanside all have wheelchair access.
Among others with good access that Burt surfs are La Jolla Shores, 15th St. in Del Mar, Cardiff Reef, and Oceanside Harbor.
"If you look for places with a main lifeguard tower, that's where they might have an access mat across the beach or beach wheelchairs. California overall is pretty good about beach access for people with disabilities," she says.
Burt also notes that the nonprofit Stoke for Life has specific events where they provide access mats for experienced surfers with disabilities or even surf camps for those who've never tried it. The Challenged Athletes Foundation holds beach events and has adaptive surf grants in addition to their cycling, running and triathlons programs.
Skateboarding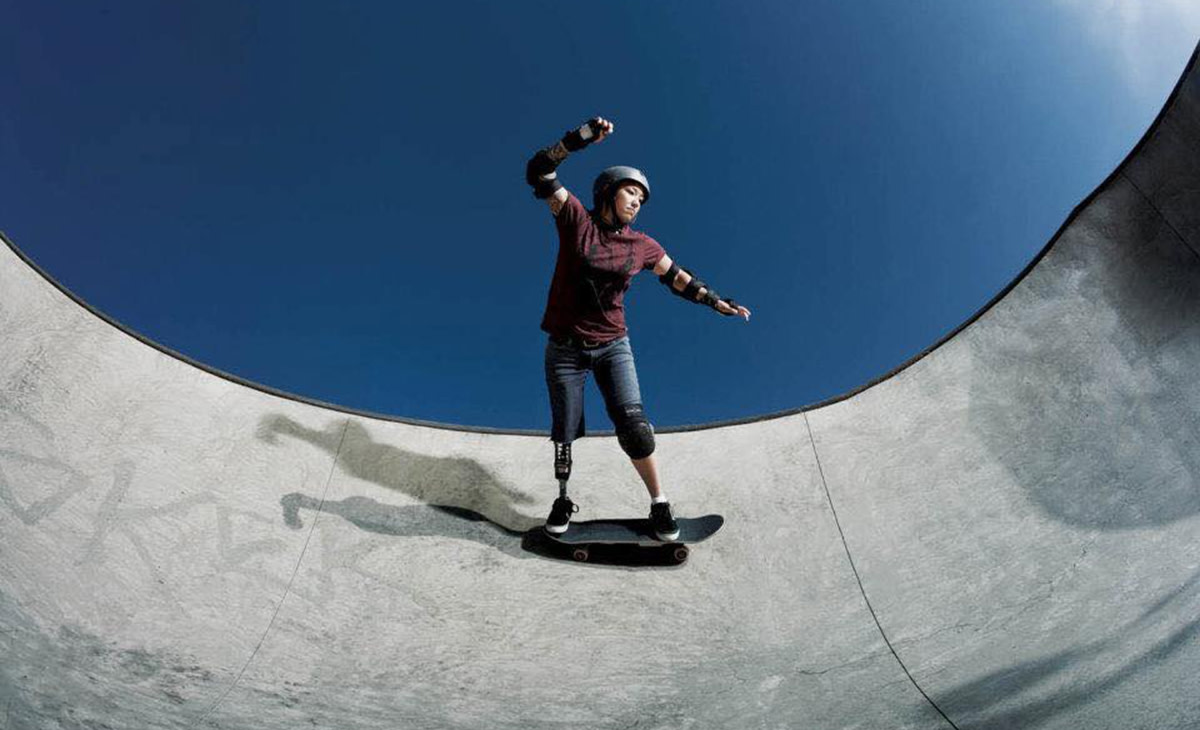 "Skateparks are mostly pretty easy to access. There were less issues with getting into the park but I just wanted to have my space. I didn't want to be learning to skate on a prosthetic and running into people," says Burt.
Burt skated as part of an action sports demo at the Paralympics Opening Ceremonies in 2010 and was recognized as the only Female Transfemoral Amputee skateboarder in the world.
She gravitated toward Memorial Skate Park in Logan Heights, San Diego.
"It's a great little park with a crazy keyhole and bowl," she tells ASN. "Plus, it's free and it seems less crowded."
She's also skated Ocean Beach Skate Park, the Vans Skate Park in Orange County and the YMCA park in Encinitas. A growing number of California parks are open to wheelchairs, as well.
Burt finds skating to be a challenge as an above-the-knee amputee because it puts a lot of pressure on her other ankle but it does provide great cross training for surf and snow.
Skiing/Snowboarding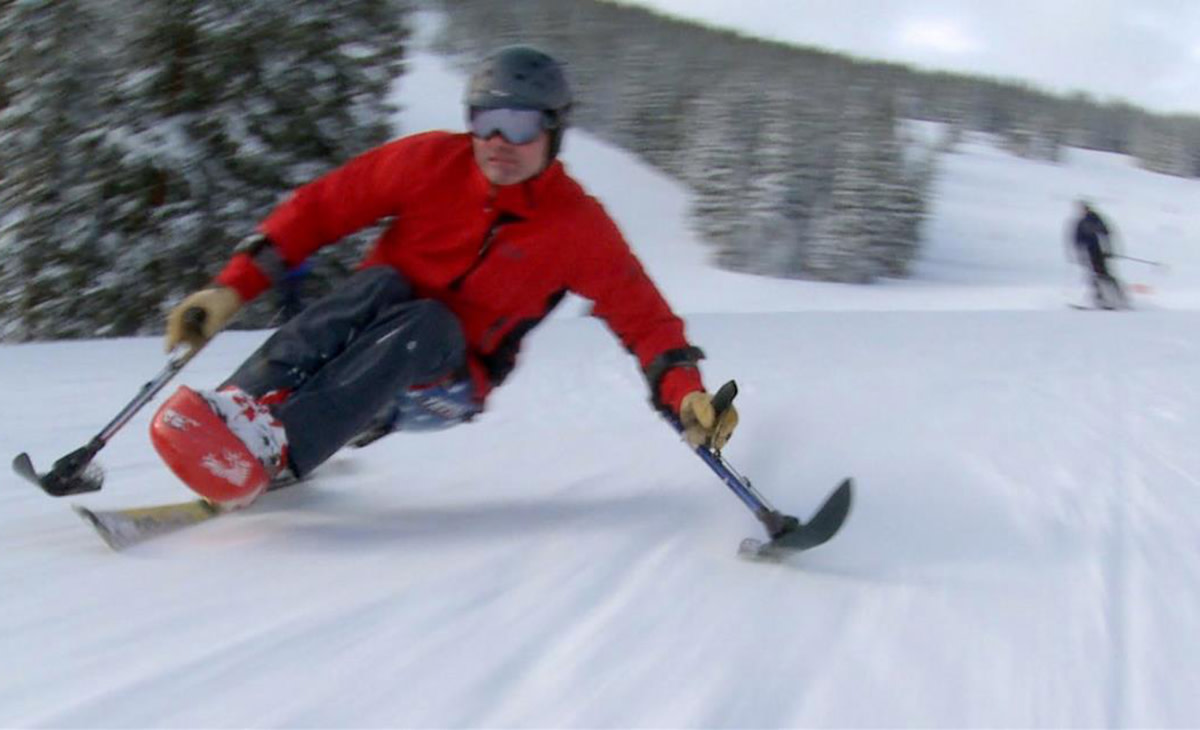 Snowsport athletes have developed some incredible options for adaptive athletes. Within Southern California, the US Adaptive Recreation Center has a long running program right at Bear Mountain, and Mountain High has its own Adaptive Ski Program.
There are also several other resorts with dedicated adaptive ski/ride programs elsewhere in the Golden State, at places like at Alpine Meadows and Mammoth Mountain respectively and Heavenly.
Burt was particularly stoked when she applied for and was granted a ski scholarship from the Torrey Pines Kiwanis Club which enabled her to do a trip to Purgatory in the San Juan Mountains of Colorado.
"They have an adaptive ski program that is just amazing. After a week, I was flying down the mountain," she marveled. "They have staff accustomed to working with people with disabilities."
Burt explains that the biggest factor in learning a new sport, adaptive or not, is having consistency to fine tune it.
She suggests doing research to see which mountains have specific lift lines for folks with disabilities. It's not about cutting to the front, but on a prosthesis, standing in a long lift line is harder than actually skiing or snowboarding.
It's important to have backups when you're on the snow, as it is with all activities for adaptive athletes.
"When you're traveling to these places and something goes wrong, you need to be able to 'MacGyver' it," Burt says. "I had a problem with my prosthetic when I was up at Whistler one time. You don't have to have a whole spare leg, but it's good to have back-up pieces. You don't want to be shut out because you don't have spare little parts."
"And duct tape. I always bring duct tape," she says.
Burt is speaking on 13 years of experience and now a world surfing title so she's learned a thing or two. Her website has a page where challenged athletes and parents can write to her and ask questions.
For access to exclusive gear videos, celebrity interviews, and more, subscribe on YouTube!