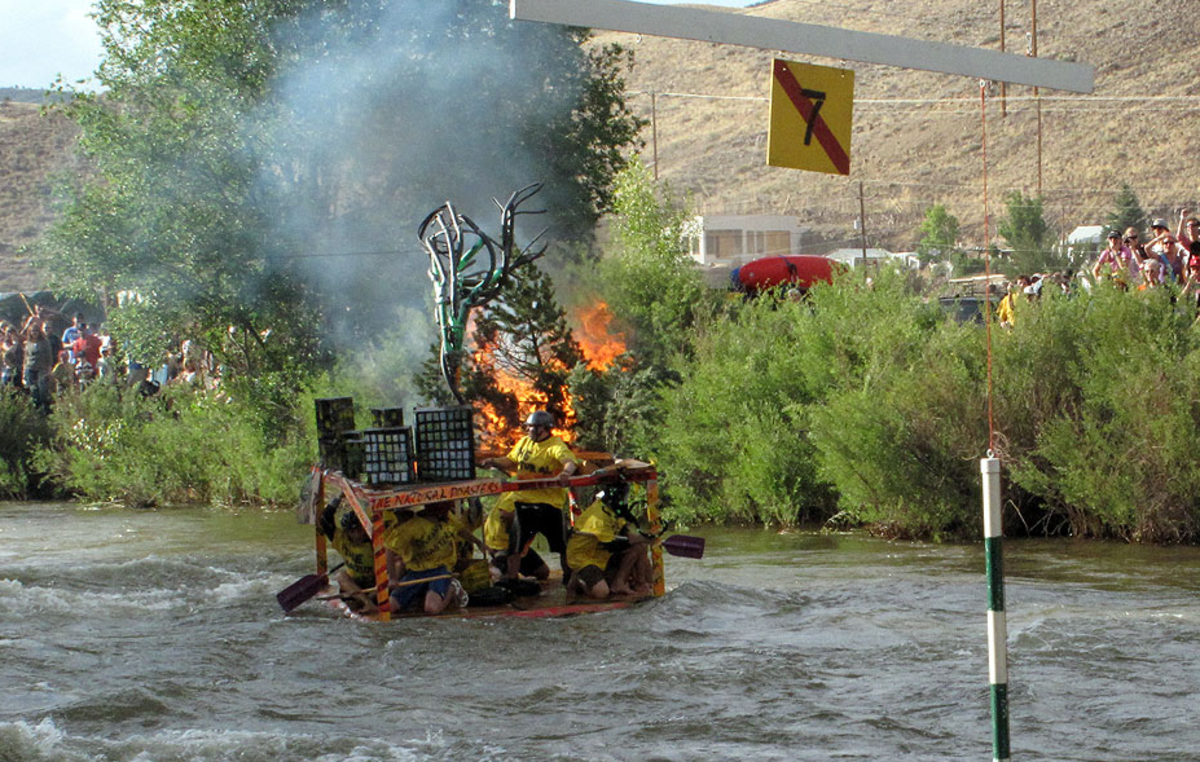 Longtime Salida, local Mike Harvey describes the town's annual FIBArk Festival as "X Games Meet County Fair." Mixed in with a funnel cake-filled carnival and the world's longest Shriners parade (suggestion: Lose the green hats), is an array of paddling events that draw the sport's best to this little mountain town. They range from slalom and freestyle competitions to the Hooligan Race and the marquee downriver race, 25.7 miles from Salida (pop. 5,400) to Cotopaxi.
This venerable marathon is responsible for FIBArk, and, for that matter, every river festival in America. On June 19, 1949, six boats—including rafts, folding kayaks and a craft made from an airplane belly-tank—entered the Arkansas River in Salida for a 57-mile, high-water race culminating in a fraught passage through the Royal Gorge. Billed as "an invitation to death" by media and racers alike, of the 23 paddlers who participated, only two Swiss kayakers reached the finish line. Organizers shortened the race to 45 miles the following year, in which one of 10 boats finished. In year three, they cut the course to 25.7 miles, still the longest whitewater race in the country.
"The race put Salida on the worldwide paddling map," says Harvey. "A lot of European racers came for it, and that international attention rubbed off on river runners in the Rockies as well." In 1953, Salida added the continent's first-ever whitewater slalom event, drawing more European racers. Two years later, organizers added the Hooligan Race for "anything that floats that's not a boat." Imagine a floating Mardi Gras on a collision course with a Class III hydraulic.
All this goes down in a town surrounded by great paddling, including the newly designated Browns Canyon National Monument, where Colorado's quintessential Class III run tumbles through the folds of an 8-mile granite chasm. Add an award- winning downtown whitewater park and the benignly destabilizing influence of river guides working for more than 26 commercial outfitters. It all starts with a festival whose roots ooze river running to the core. "It's a big part of Salida's culture," adds Harvey, "and a key event in a core paddling town." — Eugene Buchanan
See more: NORTH AMERICA'S BEST PADDLING TOWNS.
This story will appear in the June 2015 issue of Canoe & Kayak.
The article was originally published on Canoe & Kayak
For access to exclusive gear videos, celebrity interviews, and more, subscribe on YouTube!