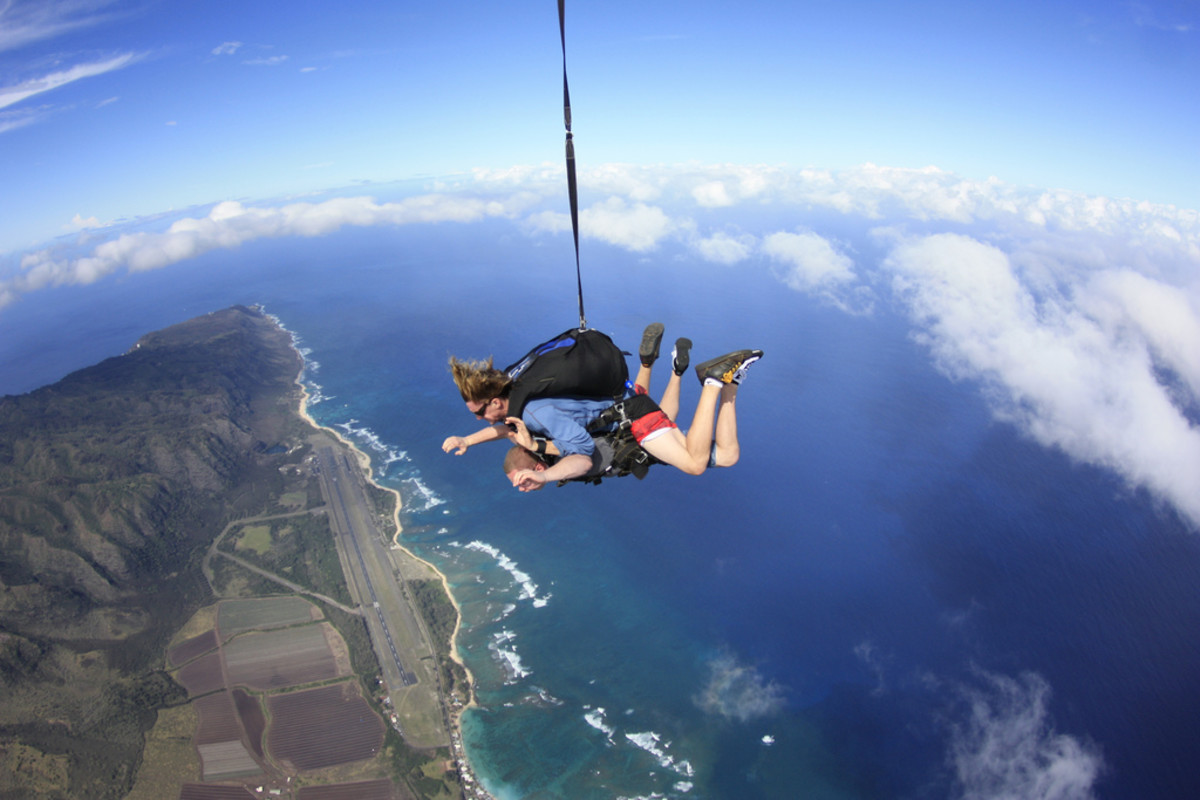 Everyone seems to have a million things they say they're going to do this summer. Maybe it's getting in shape, or going on that trip they've always wanted to go on or finally asking their boss for a raise. And while some of that may be farfetched, there's one thing that most everyone can knock off their bucket lists: skydiving.
Summer is the perfect time to finally take the metaphorical leap and book your trip to take the literal leap out of an airplane. With more consistent sunlight, more predictable weather patterns and warmer weather, the summer offers the best time to go skydiving.
With that in mind, let us present you the best spots in America to go diving. These spots possess the two biggest qualities you should look for in a drop zone: beautiful scenery and experienced skydiving crews that aren't operating out of rusted-out hangars.
Saying that Hawaii is beautiful is a bit like saying water is wet, but it bears repeating: The Aloha State truly is magnificent. And there's no outfit to better experience that beauty with than Skydive Hawaii, located in Waialua on the island of Oahu.
Oahu's oldest and most experienced skydiving company, Skydive Hawaii offers everything you could hope for out of a skydiving outfit, including the opportunity to book the highest jump in all of Oahu: a 20,000-foot HALO (High Altitude, Low Opening) jump that offers skydivers more than 100 seconds of free-fall. With views of everything from the North Shore to Pearl Harbor, there's no better spot to go diving in America.
Skydive Zion, Zion National Park, Utah
When you're about to jump out of a plane for the first time ever, it helps to feel safe around the people you're jumping with. Luckily, Skydive Zion has a perfect record when it comes to safety.
A one-man show run by experienced instructor Rick Eddy, Skydive Zion offers immaculate views of the national park as well as the ability to take advantage of good weather 12 months out of the year.
As mentioned, the most important thing when jumping out of a plane, outside of safety, is the hope for magnificent, life-altering sights. Alaska won't disappoint. It offers everything from crystal-blue waters to sights of Denali, America's largest mountain, all in one dive. It's one of the most beautiful places on Earth, and the beauty of diving in the Last Frontier is that you don't normally need to plan weeks ahead to get on a plane.
The Monterey Bay area may be the most beautiful place in California, and this outfit takes full advantage of that fact, allowing jumpers the amazing ability to see everything from the Pebble Beach golf course to empty shorelines. Out of all the states in the first 48, Skydive Monterey Bay might well have the most scenic drop zones.
More from GrindTV
Best North American highways to cruise this summer
Bethany Hamilton announces arrival of baby boy
For access to exclusive gear videos, celebrity interviews, and more, subscribe on YouTube!