This story originally appeared in SURFER. Words by Ashtyn Douglas.
During Finals Day of the 2017 Rip Curl Pro Bells Beach last month, 19-year-old Russell Bierke paddled out at a big-wave spot around the corner from the contest site and ended up in the hospital. "It was big, glassy, and nice, like 15 to 18 feet on the sets," the hard-charging Australian told us over the phone recently. "Toward the end of the session, my friends and I started getting tired, so we told each other we were going to catch one more and head in. Next thing I knew I was on the beach spewing buckets of water with an oxygen mask on."
After Bierke finally had his first surf back in serious waves of consequence since his hospitalization, we called the young hellman to get some details on the wipeout that nearly took him out and to see if he's ready to chase another win at this year's Cape Fear event.
So you just had your first major session since your injury. How did it go? Are you feeling back to your old self?
I'm feeling pretty good. We surfed this left bombie pretty far out at sea. I was watching it from the top the first morning and the swell wasn't really there and it was kind of small. But we took our time and went out anyways knowing it was going to pick up. When the swell hit, it had this "building swell" feeling. It was actually a little sketchy. On my second wave, I got a pretty good flogging. I was about a second away from a two-wave hold down, but I popped up in time. I think getting a beating out of the way was good for my mental state.
Let's talk about the session that landed you in the hospital.
I actually can't remember the wave that well, but I can kind of remember a set coming. My friend got the first wave, and then I was in spot for the second wave. I can't remember much past that. It wasn't a really big wave, I don't think, but I was told that I pulled in and rode it to the end. At that point, the wave must've pinched on me at the end section and that's when I hit my board.
I heard Kelly Slater was also out in the water and he was able to bring you to the beach–is that true?
Kelly actually called me a couple days later when I was at the hospital and walked me through what happened. Ryan Hipwood was in the channel when I went down and he saw my board just floating there after I got a two-wave hold down. He started screaming at my friend Benny, who had fallen on the first one. Benny got to me first and thankfully one of the local guys was out there on a jet ski. Benny had me and pulled me on the sled. Kelly ended up holding me on the sled and Hippo drove the ski flat out into the harbor.
What were the damages?
I hit my board, which was a 9'8″, with my jaw and somehow my jaw is still in one piece. The board, which has five layers of 6-ounce glass on the rail, has a huge hole in it. It looks like someone hit it with a baseball bat. But nothing is broken or sore at this point. I was just in the hospital for a few days on antibiotics and a breathing machine, because I had water in my lungs.
I didn't show any signs of concussions, strangely. The doctors said there's a nerve at the back of your jaw, along with a carotid artery in your neck, and if you hit either of those, you can black you out. I guess it hit me straight up towards my jaw. I think if hit it from the side, my jaw would have been broken into pieces.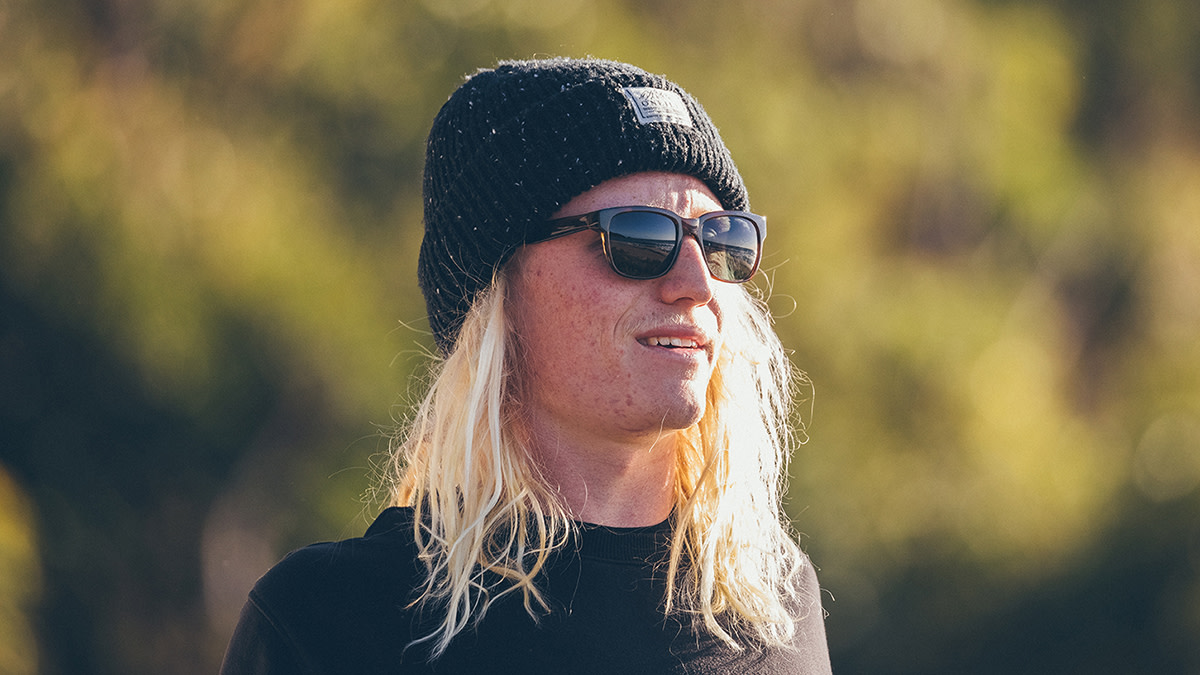 Are you still pretty unnerved by the whole experience?
I feel fine. I've seen a couple photos of the wave I did it on. It wasn't a crazy wave. I read the wave as well as I could. I think I just have to take it as a freak accident and move forward. I've done many more stupid things than that and I turned out fine. I just have to keep that fact in the back of my head [Laughs]. But I'm definitely super keen to get that first big flogging out of the way.
That's great, considering Cape Fear is around the corner and I assume you'll need a clear headspace going into that.
Yeah, I'd love to take the title again. That's definitely my goal, but I'm just going into it to see what happens. Everything still hasn't completely sunk in really from last year.
What was your reaction when you won last year?
I was in shock. Standing up there with the trophy was a super surreal feeling. Going into the event, I just figured I'd see what would happen surfing against the best guys in the world. Then all of a sudden I was in the final and I was like, 'Wow, I actually might have a shot at this.' Those two days were absolutely crazy. Standing on the rocks looking at it between heats– I didn't even want to watch it. I'd go watch it on the TV [on site] because it made it look less heavy.
Are there any lessons you took from last year that you'll think you'll apply this year?
The whole contest format is a bit different than just going out for a surf and pulling into the biggest, craziest barrels of the day. I was talking to Dave Wassel the morning of the first day, and he kept telling me, 'You just need two waves; don't just send it on one big one.' So I'll definitely keep that in mind this year. It isn't just about sitting out there all day and getting one huge one. You have to be a bit more consistent.
Do you have plans to surf any BWT events in the future?
I'd definitely love to have a shot on the Big Wave Tour. This year I'm going to try and put more time into surfing the northern hemisphere. I'd like to start off in Europe, then go to Hawaii, and finally Mavs. I'd like to put some time in over there. I've been trying to go to Mavs for the past two seasons, but my timing as been off. Hopefully the third season is a charm.
More from SURFER
The Significance Of The Frontier In Surfing History
For access to exclusive gear videos, celebrity interviews, and more, subscribe on YouTube!