After Keala Kennely took the win at the Women's 2018 Jaws Challenge, the first men's heat kicked off with local Billy Kemper taking a steep drop and laying into a bottom turn powerful enough to kick him into the barrel. At first, it looked like he was going to make it, but the sheer power of Jaws took him out.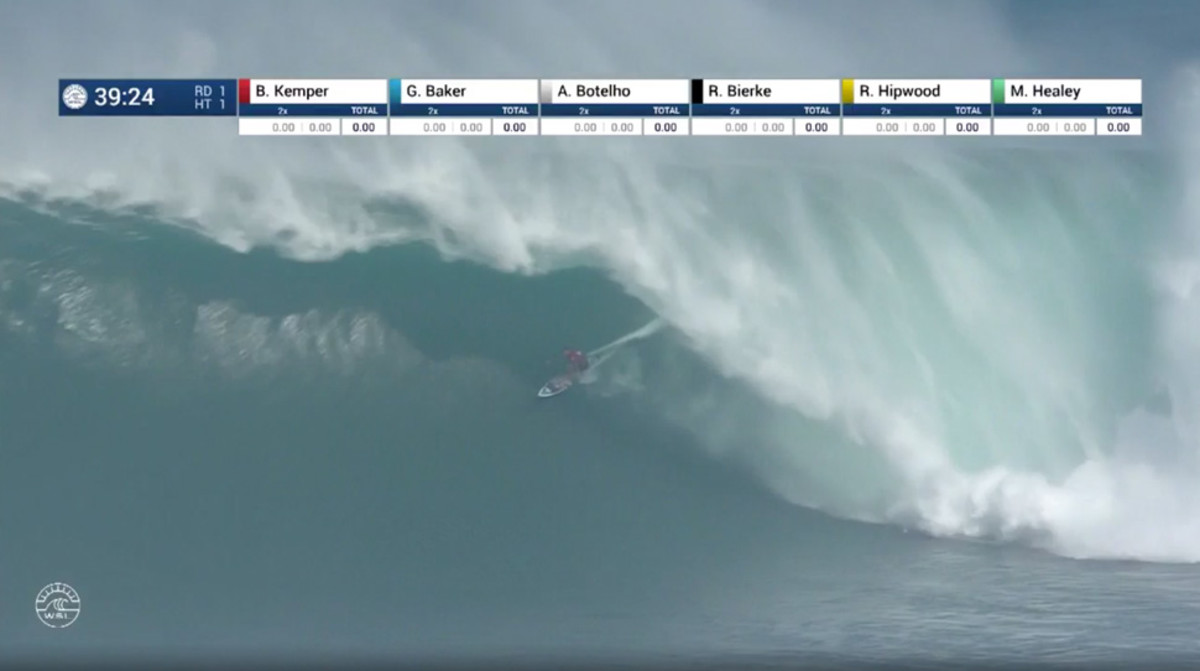 About five minutes later, Alex Bothelo had a similar-looking first wave and immediately, the show was on. Although, after Heat One ended, Commissioner Mike Parsons put the event on hold because, "The conditions aren't favorable considering the safety of our surfers are number one priority."
They then broadcasted a freesurf tow-in session where instead of paddling into the waves on their big boards, surfers got towed in on their tow boards with foot straps. And it certainly was a show. Some of the highest level of surfing, without scores or prize money attached. It had a similar vibe that the Air Show Exhibition had at the 2018 Surf Ranch Pro.
So, on day two of the Jaws Challenge, the world's best big-wave surfers pushed the limits with hopes of being crowned champion. Although this time, the waves had backed off a bit and the wind was heavier.
The first heat of the day (Heat Two) resulted in Nathan Florence, Albee Layer and Lucas Chianca advancing. Both Layer and Florence came out swinging as Florence finished in first place with a 17.27 and Layer with a 17.23.
For the most part, the wind was messing with the size and shape of the waves. Still large; still Jaws – but noticeably more choppy – making it harder for surfers to connect clean turns and find good barrels.
By making the best adjustments to the unpredictable conditions, Koa Rothman, Kai Lenny and Aaron Gold held the top three spots in Heat Three.
In Heat Four of the first round, Tyler Larronde, Greg Long and Ian Walsh advanced to the semi finals with Larronde scoring a 14.29, Long with a 13.34 and Walsh with a 12.54.
In Heat One of the semis, it was clear that the surfers were adapting to the windy conditions as Layer and Chianca were catching air in the choppy sections. Chianca placed fourth and did not move on. Layer placed first, Baker second and Kemper third, all moving onto the final round.
With wind making barrels tough to find, it became apparent that if discovered, a potential first place score would come your way.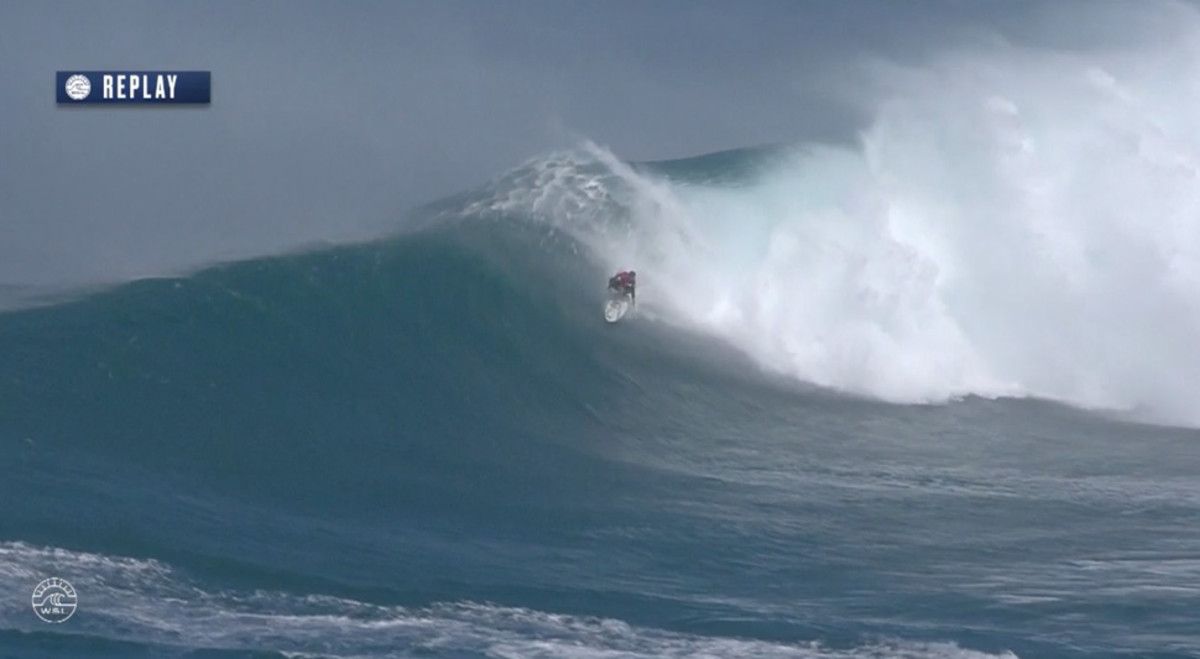 Lenny's first place score was temporarily tied by Rothman, until Lenny found yet another spitting barrel to regain first place.
At the start of the final round, the waves picked up (and so did the competitive atmosphere). Layer, Lenny, Larronde and Kemper (Kemper coming up just a few feet short of making it) kicked it off by being spat out of gargantuan barrels within the first 15-minutes of the hour-long heat – making it apparent that they are all there to win.
At around the halfway mark, Kemper and Lenny were exchanging blows with massive barrels. Kemper finding the longest barrel ride of the day, only to miss making it out by a hair, yet again. Still, this scored him a 16.14 (8.07 multiplied by two because it was his highest score) and kept him in first place. If he had made it all the way through, it had "Perfect 10" potential written all over it.
After that, the only thing to happen was Layer taking off on two waves that didn't barrel and flattened out taking him safely out to the shoulder.
The only major set to come in within the final 25 minutes of the competition was out of reach – Leaving Billy Kemper with a well-deserved victory for the third time.
"This is for my mom," Kemper said in his post-heat interview.
For access to exclusive gear videos, celebrity interviews, and more, subscribe on YouTube!