Note to anyone who wants to see a great white shark: Visit Manhattan Beach, California, and walk out onto the pier.
And if you happen to be out paddling a SUP board, keep your eyes peeled.
Your chances are pretty good.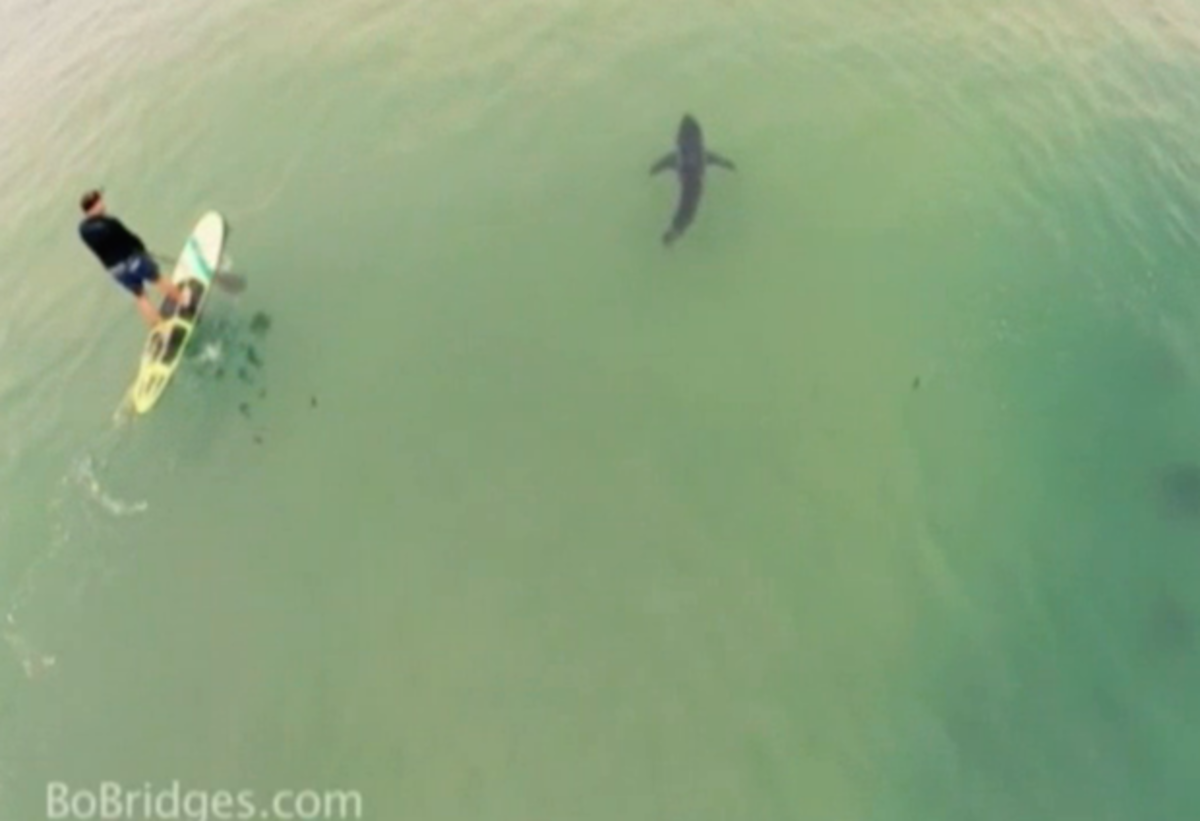 Sightings of juvenile great white sharks began early this season, and have skyrocketed during the past several days.
Taking advantage of the situation, photographer Bo Bridges recently launched a camera-fitted drone and videotaped a reasonably large great white swimming among two SUP paddlers.
It might be the first drone-captured footage of a great white shark in an area that has produced numerous underwater videos, captured via submerged GoPro cameras.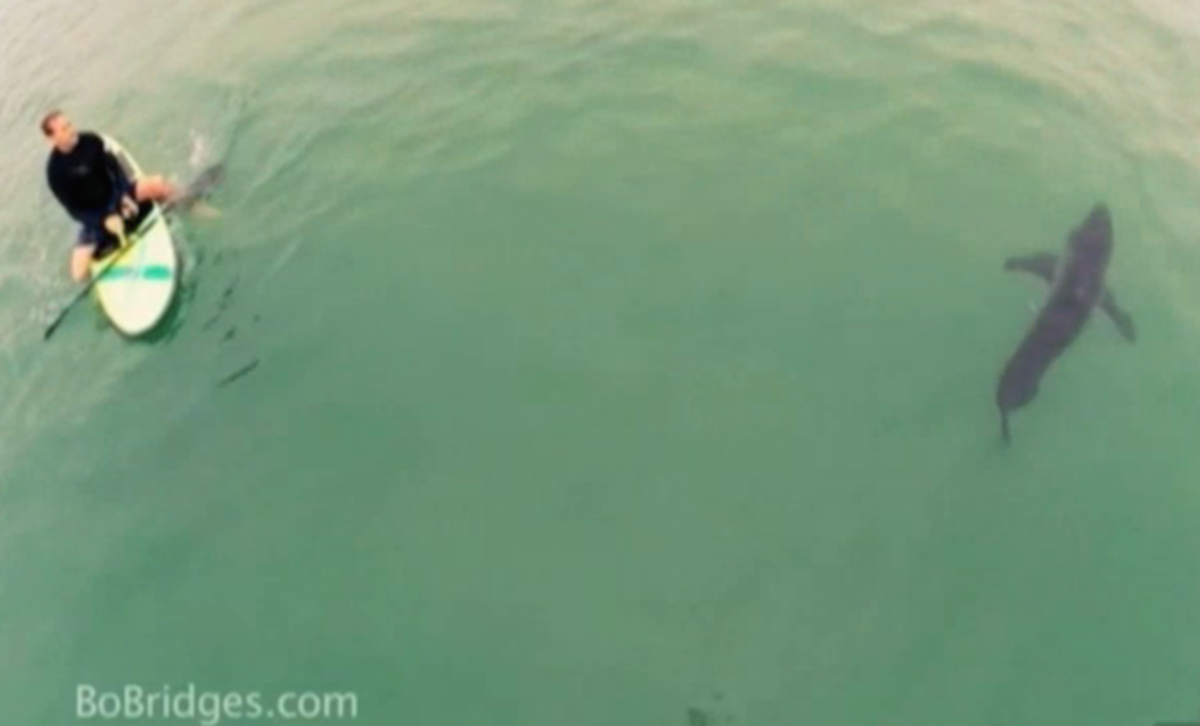 Bridges' footage, sold to NBC, affords a bird's eye view that reveals a shark that wants no part of its pursuers, and most likely is trying to avoid them.
It helps illustrate the fact that juvenile white sharks, though they belong to the most notorious shark species on earth, pose no significant threat to swimmers, surfers, and paddlers. That's a line shared by experts with concerned beachgoers just about every time someone reports a sighting.
The presence of juvenile white sharks off Manhattan Beach is neither alarming nor abnormal. The junior apex predators feed throughout Southern California coastal waters, mostly on fish such as halibut, rays, and smaller sharks.
Once they reach about 10 feet, typically, they begin to migrate north in search of larger prey.
Nobody is sure why Manhattan Beach has become the epicenter of sightings, but its location deep in the warm and tranquil waters of Santa Monica Bay probably is a chief factor.
What's interesting this season, however, is that the shark sightings began in early May.
Eric Martin, co-director of the Roundhouse Marine Studies Lab and Aquarium at the end of the Pier, said the first sightings typically occur in late June. He said the water warmed up early this year, and that could explain why.
Also, the number of sightings has sharply increased.
Bridges told NBC that until this year he had spotted only a couple of sharks in 14 years as a surfer in the community. But in the past 12 months he has spotted sharks about 30 times.
What's unclear is whether more sharks are feeding in the area, or whether the same few sharks are being spotted over and over.
Martin, who is watching out for sharks daily, says the latter is most likely the case, explaining that sharks are often seen in different areas on different days.
He also said that a lot more people are looking for sharks this year, which could help explain the uptick in sightings.
However, Martin has noted that the sharks this season seem a bit bigger than in past seasons, and that a shark spotted last Saturday by a surfer measured at least 12 feet.
"She said the shark stayed under her board, and wouldn't leave even when she paddled away," Martin said.
So far the sharks have not bothered surfers or paddlers, but the opposite is far from true.
Martin and other experts, including lifeguards, have expressed concern about the number of SUP paddlers, such as those in Bridges' footage, trying to get close looks at the sharks.
It's unsafe for them, and not healthy for sharks that are merely trying to find something to eat.
But the season has only just begun. Many more sightings and close encounters can be expected to make the news over the coming months.  Hopefully, there will be no ugly accidents.
More on GrindTV
The most extreme fishing video you'll ever see
Wedding photo taken amid forest fire goes viral
Shark diving with lemon sharks provides unique photo op
For access to exclusive gear videos, celebrity interviews, and more, subscribe on YouTube!