It's quiet and glassy out on the reef at Poche. Every 20 minutes or so a small, long-interval set dances unimpeded to the beach. Wayne Penn-Schafer sits comfortably in an easy chair.
"In the beginning it was just a group of guys down here, no organization or anything," Wayne tells ASN. He's lived on Beach Road in Capistrano Beach, California, since 1953, when he first bought his slice of beachfront heaven for $5,500. Today, the property is worth some millions of dollars, but the nostalgic value is even greater. It's not be a stretch to say that the sand Penn-Schafer lives on is where both surfing and sailing changed forever.
"One day I was down hanging out at Trestles with a few guys," continues Wayne. "Phil [Edwards] was down there. I was introduced to this rather tall guy, you couldn't forget his name: Grubby. We got acquainted on the beach. He seemed like a pretty fun guy. He was down at Hobie's a lot, glassing boards. He had this yellow truck with a camper on the back that he built. He'd sleep in it. He was like a homeless person. As I got to know him, one day he said, 'Can I park down at your lot and sleep?'
"Finally, I said, 'If you want, I'll rent you a room.' He jumped at it, so he moved in here. Later on, in came Phil. He was living in Oceanside and doing a lot of surfing up here and hanging out and he worked at Hobie's. So now there were three of us here and it was a great time period of us surfing and diving and fishing, and just being surfers."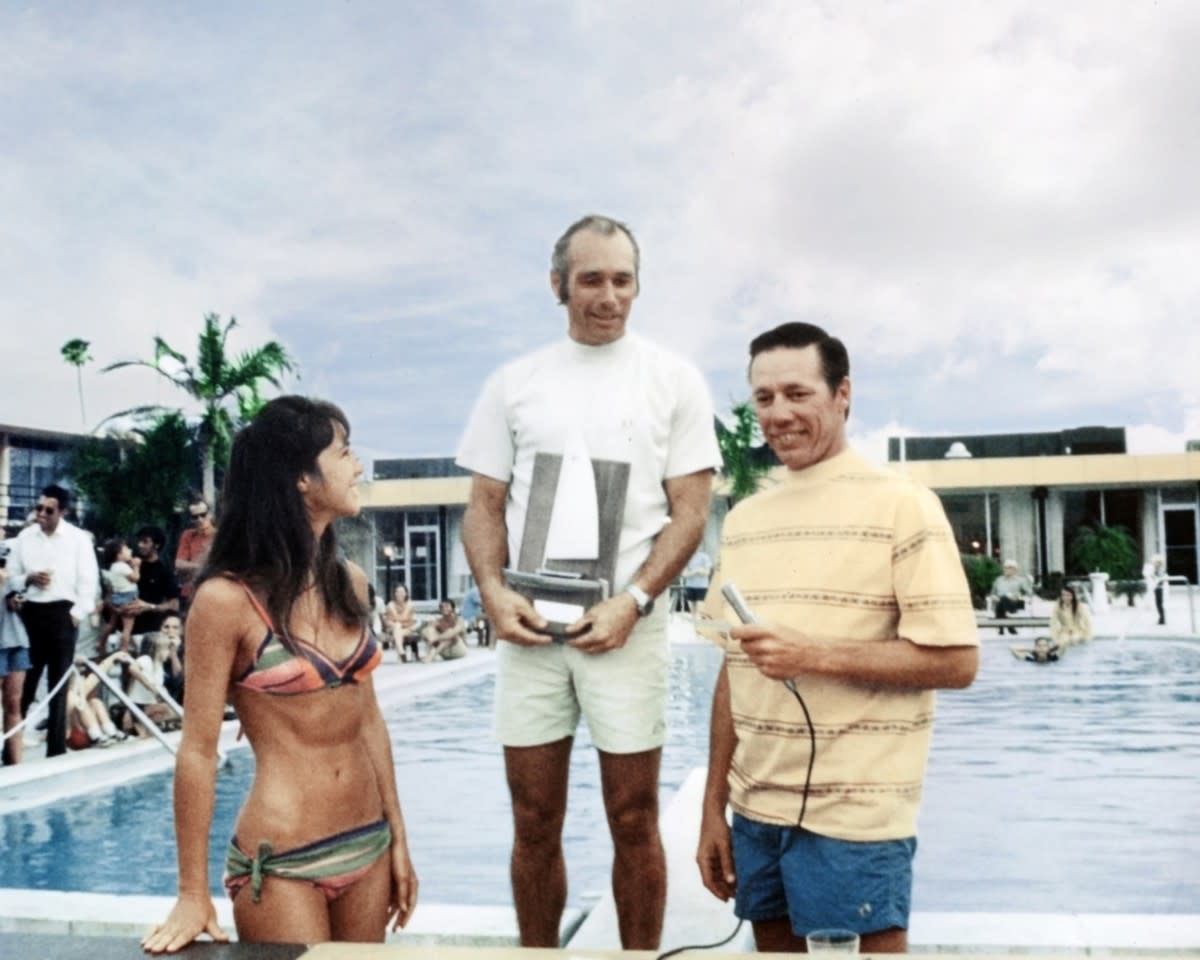 And so, Gordon "Grubby" Clark and Phil Edwards (two of the most influential surfers of the modern era) rented rooms from Penn-Schafer. Meanwhile, a dozen more lots were for sale on Beach Road. Penn-Schafer helped broker the sale of most of them to his friends: Walter and Flippy Hoffman, Hobie Alter, Bruce Brown and a number of other surfing pioneers.
"I got to build my own neighborhood on the beach with all my friends," he chuckles, fully aware of how blessed he's been. "We were basically living the surfer's life, the dream, the whole thing."
Clark would go on to start Clark Foam and revolutionize surfboard construction with his top-secret foam recipe. Meanwhile, Alter built his own empire, building all the new foam and fiberglass shooters to the masses. With his classic, drop-knee cutback, Edwards became the poster child for powerful, stylish surfing.
"Grubby had been in the Army and he talked about doing a sailing outrigger," Penn-Schafer tells ASN. "Phil picked up on it. Basically, Phil has always seen himself as a sailor. While he's known as a surfer, he likes to think of himself as a sailor first. That never got played up much, but he always kept this boat model, he brought it down here, and he still has it – a sloop.
"Anyhow, he started in Long Beach, I guess, and ended up in Oceanside. I first encountered him at San Onofre at the same time as Miki Dora. They were kids and they were surfing San Onofre. Of course, they were pointed out to me and they were both fantastic surfers. As you know, Miki Dora ended up at Malibu. That was his bait. And Phil was here.
Phil said one day, 'I'm going to build that outrigger we always talk about at dinner.' So, he did. That broadened our whole surfing life. Our surfing life was such that we'd get up early when it was still glassy and head to one of the spots if the swell was showing.
"But around 11 or 12, the westerlies start. The surf's still good, but it's blown out and not so attractive. So, when Phil built the outrigger we'd get through surfing in the morning, we'd come back up here, hoist the sail and continue. That broadened our whole day. We could now spend the whole day surfing and sailing."
Ever the innovator, Alter envisioned a faster, more maneuverable boat that could go from beach, to surf, to outer waters in the blink of an eye. So, he commandeered Penn-Schafer, Edwards and friends to help develop a new sailing craft.
"Phil started it with the 16-foot outrigger that he built," says Wayne. "Then guys would say, 'If I buy this catamaran can I keep it on your beach?' So, we had different catamarans here that different people bought. We had this cross section of catamarans, which was very good because it allowed us to try all these different boats, including the Pacific Cat, or the P-Cat.
"None of them worked the way we liked, but that was the state of the art at the time. The one that worked the best was Phil's 16-foot outrigger canoe. It was simple. We could take it on and off the beach. And that's what put the concept of the '14' in Hobie's mind. He felt he needed to amplify off of that."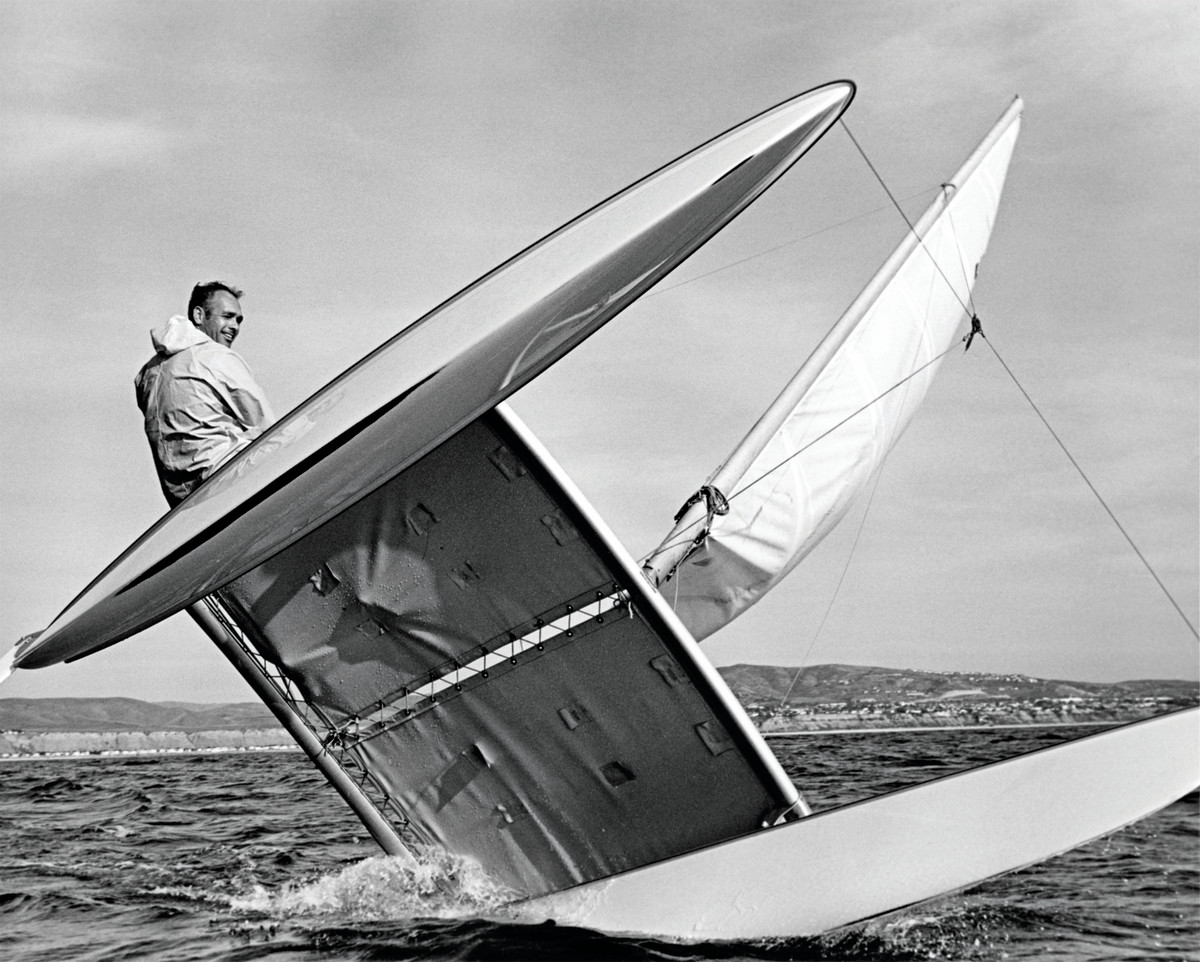 They began testing hull designs in the waters off of Poche. They'd shape them, fine-tune them, and experiment with all kinds of different concepts until they eventually came up with what would come to be known as the Hobie 14.
"Catamarans give more options for going bigger or smaller and they're very steady boats," explains Wayne. "And they're quick and fast. When he did the 14, basically, our concept was that we wanted to be able to take it on and off our beach here. Of course, Hobie had more in mind than just satisfying a few of us, though we were naturally part of the influence.
"In his mind, I'm sure when he designed this boat he knew that California was going to be a market, and it was. We did very well here in California – I say 'we' because I feel like I was part of it – but Hobie looked beyond that."
During its heyday in the late '60s and '70s, the Hobie Cat would bring sailing to the masses around the world. From California and Hawaii, to the East Coast, to inland lakes and rivers around the country, to further afield in international waters. For awhile it seemed that everyone was "surfing their sailboat," as Bruce Brown famously said in "The Endless Summer."
Officially launched to the public in 1968, this month, the Hobie Cat turns 50 years old. Festivities were held around the milestone, including a regatta of more than 50 Hobie Cats from around the world in the Dana Point Harbor on Oct. 27.
For access to exclusive gear videos, celebrity interviews, and more, subscribe on YouTube!