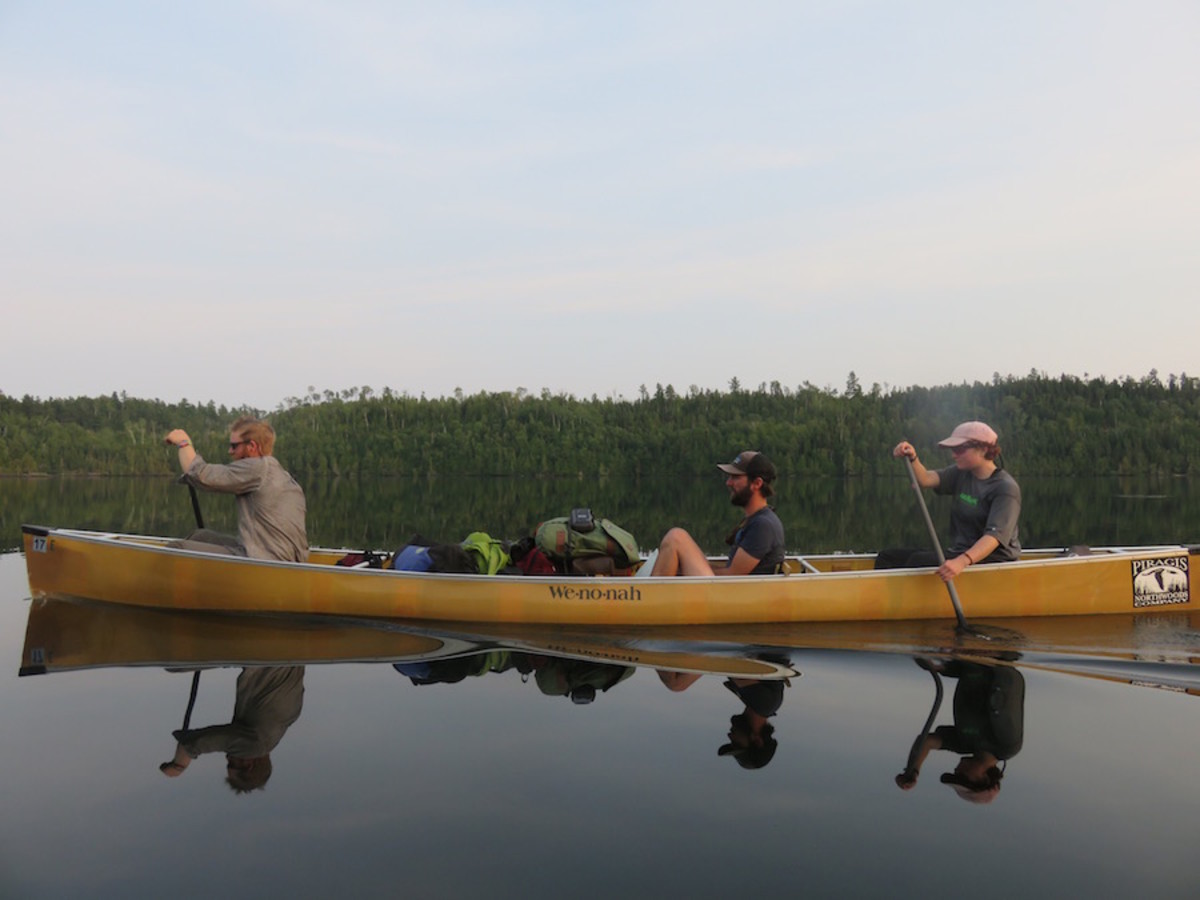 Speed-obsessed paddlers have been drawn to the string of lakes along the Canada-U.S. border just west of Lake Superior for centuries. European explorers paddled the present-day Boundary Waters, Voyageurs National Park and Quetico Provincial Park as they penetrated the New World; and French-Canadian voyageurs raced their 26-foot birchbark north canoes across this watery landscape to the fur-trading post at Grand Portage, the site of a notorious raucous rendezvous.
This summer, the North Country once again attracted the fast and the furious. In July, Claire Jencks and Ann Raiho completed a 212-mile border route in 100 hours. The modern speed record is thought to be held by the late Verlen Kruger, a long-distance canoeing legend who is rumored to have traced the Minnesota-Ontario border in just over 80 hours. But that was back in the 1980s, well before the days of satellite tracking devices. Raiho extended a challenge to other paddlers to top her mark. Within weeks, a crew assembled by Ely, Minn.-based Outward Bound instructor Rob Warner (who had already been planning an assault on Kruger's record) responded—and added 65 miles to Jencks and Raiho's route.
In early September, Warner teamed up with fellow Voyageur Outward Bound School staffers Darin Martin, Rachel Hedlund, Saeward Schillaci, Geer Gillespie and Justin Brewster to launch two Wenonah Minnesota 3 canoes at International Falls, Minn. We caught up with Warner to see how the VOBS crew fared.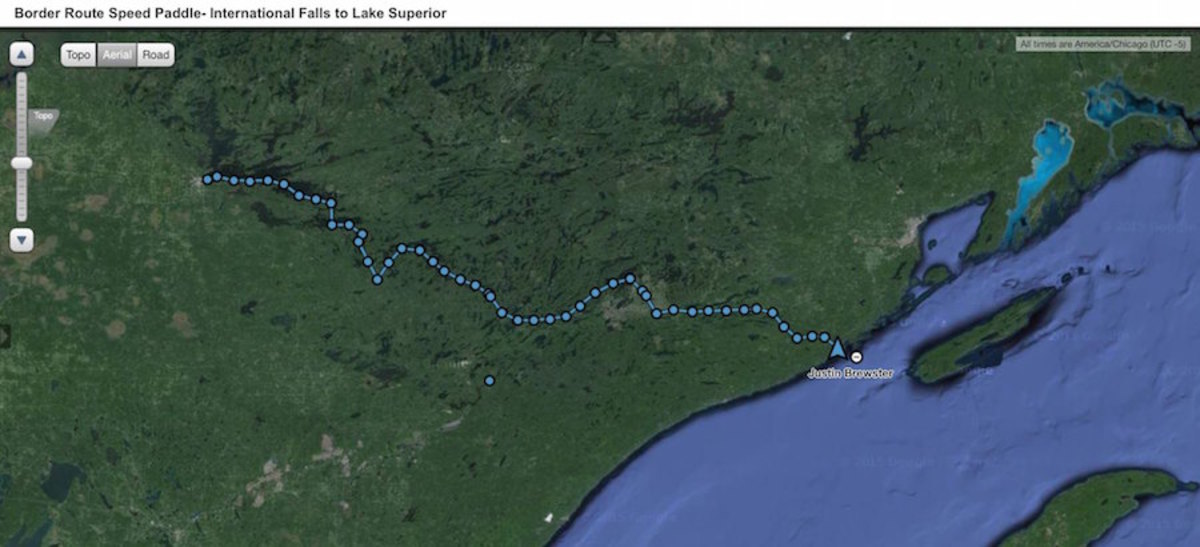 CanoeKayak.com: Why did you decide to start at International Falls? Was there an element of upping the bar set by Ann and Claire?
Rob Warner: The decision to start at International Falls was deliberate. First and foremost, we wanted to do more than "just" the Boundary Waters. The trip did originally manifest after learning of Verlen Kruger's International Falls to Lake Superior speed paddle. We wanted to use our three-seater canoes and knew we had to up the ante from Kruger's paddle.
The expedition was initially going to be Lake Superior to Lake of the Woods. After pitching the idea to others, an important variable was brought to my attention: the infamous predominant northwest winds of the fall. The initial route was east to west, to avoid paddling up the Rainy River. However, after pondering the pros and cons, we decided we would start at International Fall and skip the Rainy River. This would allow us to go with the wind, or at least put us in a situation that favored us.
I imagine most of you had paddled this route before. What was it like to do it at such a fast pace?
We were all familiar with large portions of the route. This keen knowledge of the area allowed us to spend less time navigating and more time paddling. The section from Crooked Lake to American Point on Lake Saganaga was paddled almost entirely without a map. We marveled about how we normally travel between 100 and 150 miles total on a 22-day VOBS course; on this trip, we covered 250 miles in four days. It was surreal to look at the maps and trace back 60 miles to where we started earlier in the day.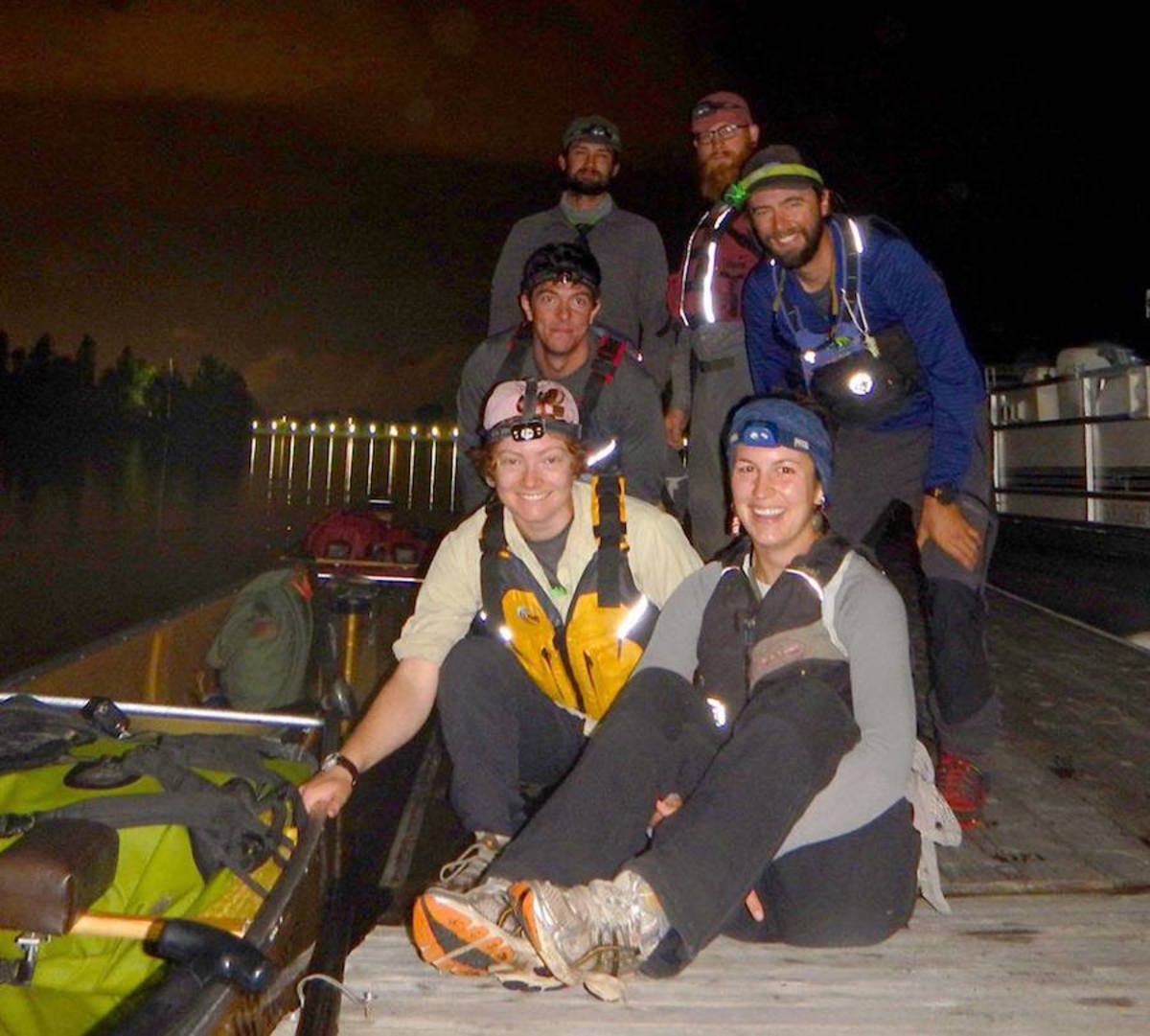 What is your favorite part of the route?
Pinpointing one section on this route is difficult. I would have to break "favorite" into two parts defined by comfort and challenge. I have so many memories along the section between Little Basswood Falls and American Point and it was great to relive them as we paddled through. The second memory relates to the challenge of hopping onto the portage out of South Fowl around 11 p.m. on our last full day. We had already been traveling for about 18 hours and still had a long portage and the low-level Pigeon River to navigate, in addition to the Grand Portage, which we began around 3 or 4 a.m. I can remember being so strung out and pumped up all at once. We were on track to make our 100-hour goal. We traveled for 28 hours straight to finish on time. It was hard and in my mind, hard is fun.
What did it feel like to finish—especially after completing the Grand Portage?
Finishing was a pretty indescribable feeling and complex beyond words. For starters, we traveled 250 miles of flatwater and portages in 99 hours and 26 minutes. That's nuts. Second, everyone on the team was super excited to finish and wants to do more speed paddling in the future. We started as six and all of us finished. Third, I had been dreaming up this expedition with Darin since our first speed paddle in 2013. A tremendous amount of planning went into the expedition and it was satisfying to know we were successful. Finally, we had a support crew waiting for us by Lake Superior comprised of friends and my favorite person, my wife Nadia.
Do you think it was advantage to do this as a group of six?
There are certainly pros and cons to traveling in a group of six split between two boats. More people usually means more opinions to take into account and potential conflict. We were lucky and intentional, as no major conflicts arose. Two boats versus one boat usually means slower travel. On the flip side, two boats allowed us to switch up paddling partners and keep things fresh.
We utilized a paddling station rotation of bow, stern, duff. Each rotation began in the bow, moved to the stern, and ended with duff. We switched stations every two hours. This meant that out of a six-hour cycle, a person would only paddle for four hours. This definitely is an advantage over only two people per boat. We only ever had two people paddling in each boat, despite the temptations to go faster with three paddlers at once. It just didn't fit our model. We paddled Wenonah Minnesota 3 boats. Between the duff bench seats and the extra volume and length, the boats were perfect for the job.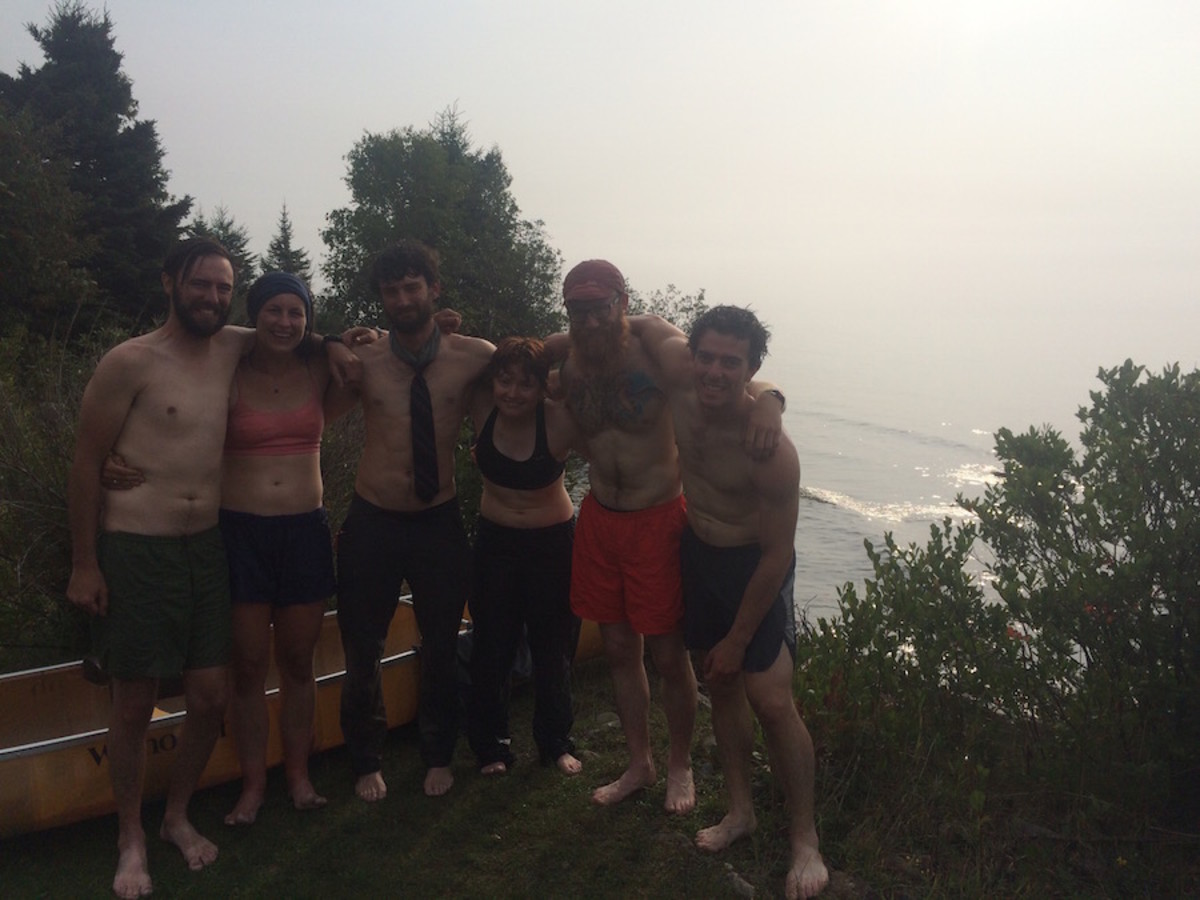 Would you do this again? Do you hope other paddlers accept the challenge?
I would definitely do this route again. It's a classic. However, I plan to continue upping the ante on distance and speed in future expeditions. Similar to Ann and Claire, I plan to enter a canoe ultra-marathon next summer. I'm considering the Yukon 1000, Yukon 360, or Yukon River Quest.
Just like Ann and Claire, I hope that other paddlers hear about these expeditions and get excited. Paddling is a tremendous sport and life-long pursuit that not only keeps a person in great shape, but also can take them to beautiful and peaceful places. I hope that other paddlers find a partner (or five), pick a route, and start planning. Get out and paddle!
MORE FROM C&K
— Dave and Amy Freeman set off to spend a year in the Boundary Waters.
— A Digital Feature on a canoe country family reunion.
The article was originally published on Canoe & Kayak
For access to exclusive gear videos, celebrity interviews, and more, subscribe on YouTube!